I love the comforting warmth and savory richness of a thick and creamy chicken pot pie. But I also love taking the first bite into a spanakopita (a Greek spinach and cheese-stuffed pastry), the tissue paper-thin phyllo wrap shattering effortlessly. If we were to imagine what the food-child of both might look like, it would be this chicken phyllo pie!
It's a one-dish meal that's appropriate for either a cozy home dinner or a refined weekend summer brunch. Tender chicken and mild leafy greens are lightly coated with herbal creamy goodness, studded with a mild cheese, and cradled within a light phyllo crust. The crust is equally satisfying to a flour and butter pot pie crust, but with considerably less guilt, which makes me feel much better about indulging in eating it.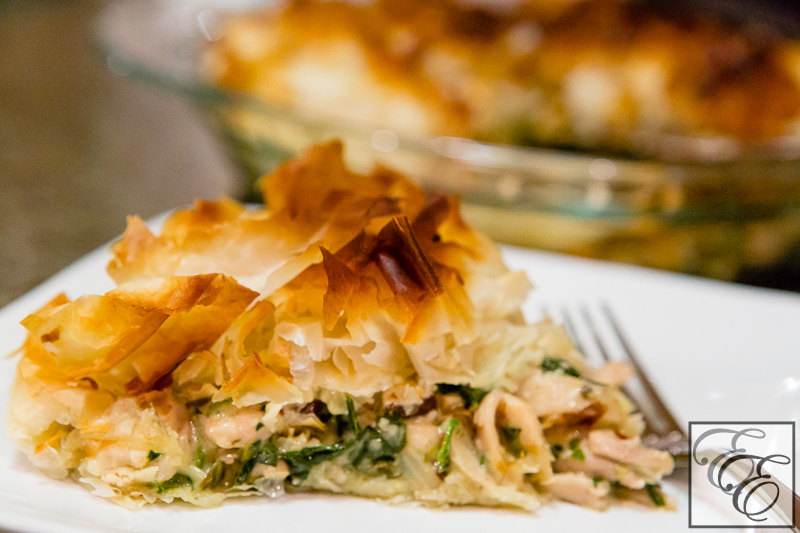 Chicken phyllo pie (serves 4-6)
[Adapted from Everyday Epicurean: Simple, Stylish Recipes for the Home Chef by Catherine Bell]
Ingredients
3 boneless, skinless chicken thighs, sliced ¼" thick
olive oil
1 T dried Italian seasoning (or 2 T fresh oregano, chopped)
salt and pepper
½ C half and half or cream
2 T unsalted butter
½ onion, finely chopped
2 cloves of garlic, finely chopped
1 bag of greens (or 5 oz spinach, chopped in 1×2" pieces)
2 T flour
¼ t freshly grated nutmeg
10-12 sheets of phyllo dough
¼ C unsalted butter, melted, for brushing phyllo
2 oz ricotta salata or feta cheese, crumbled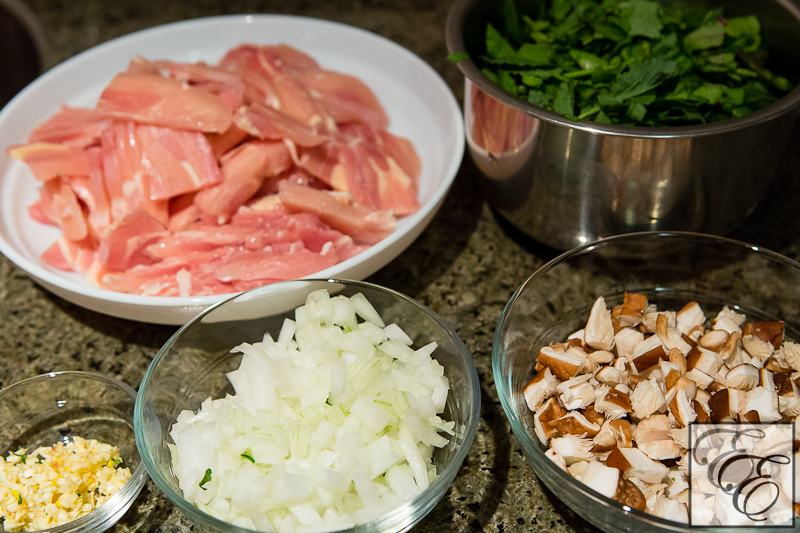 Directions
Heat a large pan over medium-high heat and when hot, pour in 1 T of olive oil. Toss in the chicken strips and Italian seasonings and pan fry until cooked. Season to taste with salt and pepper. Remove from the pan and set aside.

In a small saucepan, heat the cream to almost boiling (small bubbles will appear along the edges) and keep warm.Melt 2 T butter in the chicken pan over medium heat. Add the onion and sauté until translucent. Add the garlic and cook for another two minutes. Add the greens and cook, stirring often, until wilted and crisp-soft.

Add the flour and stir well to blend. Then add the warm cream and bring to a boil. Add the chicken and chicken juices back in, reduce the heat to low, stir in the nutmeg and salt and pepper to taste, and simmer off excess liquid.

Preheat the oven to 400 degrees F.
Lightly butter a pie dish with melted butter. Lightly butter one phyllo sheet and cover with another sheet. Place the two sheets into the pie dish. Repeat this process three more times, placing the sets of sheets at a diagonal to each other in the pie dish. Pour in the chicken mixture and spread until even. Sprinkle the crumbled cheese over evenly.

Fold phyllo sheets back over the pie mixture so that it is covered. Brush top with melted butter and bake in preheated oven for 10-15 minutes until the phyllo is light golden.

Cook for another 10 minutes until crisp and golden brown. Serve hot.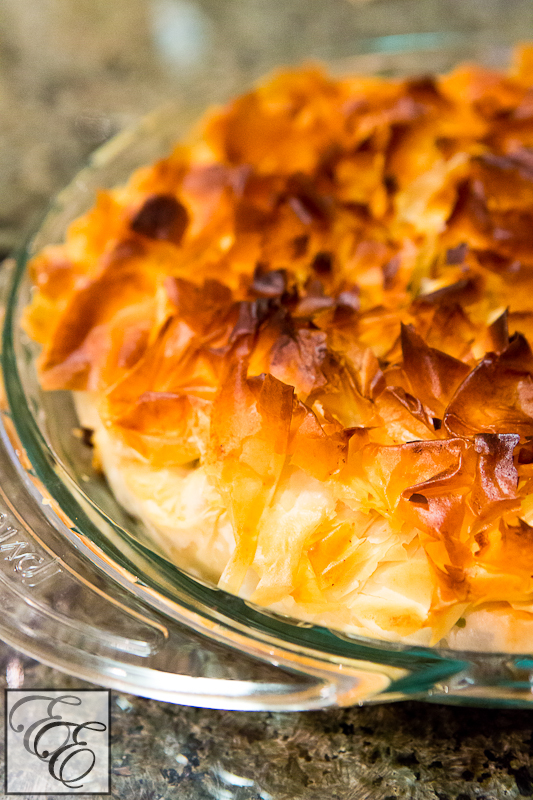 Making the filling is as easy as a pan-fried sauté; the most complicated part of the recipe is separating and buttering the fragile phyllo sheets. A few notes about phyllo dough handling; 1) completely defrost the sheets (keep wrapped in plastic) before using and 2) open and lie flat; keep sheets covered with a damp paper towel during preparation to prevent them from drying out and cracking.
This is a lovely dish to present, but be prepared for it to go quickly; the light flavors and airy covering will prove irresistible to have just a single slice!
Xoxo,