As fall sets in, so does my desire to make comforting dishes that fill our home with tempting aromas and warm flavors. I found a fantastic candidate in 'Martha Stewart's Slow Cooker'. It's one of many actually; the 267-page cookbook is filled with flavorful-sounding braised, baked, steamed and roasted dishes ranging across red meat, poultry, seafood, vegetarian main and side dishes (breakfast, lunch and dinner), as well as desserts.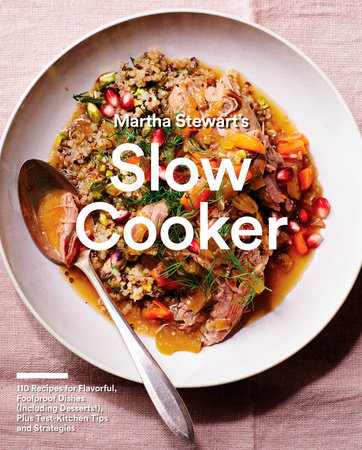 A Moroccan-styled chicken tagine dish called out to me, with its curious blend of cumin, garlic, apricots, green olives and (rather unconventional) kaffir lime leaves. I haven't traveled to Morocco, so I couldn't say how authentic this recipe is, but it's certainly uniquely delicious. My husband raved that he loved the dish and said that it was the first time that he had a dish where he actually enjoyed the olives (he'd rather avoid them if possible).
I adapted the recipe to be cooked via pressure cooking (in my case, with the Instant Pot) to decrease the cooking time from 4 hours to 30 minutes. It yielded a moist, tender and fragrant chicken stew-like dish that I was quite pleased with. The kaffir lime leaves lent an intoxicating, light tint of floral zest and the wine imbued the dish with rich notes. The olives, garlic, onions and dried apricot all dissolved into a quiet, melodious savory-sweet accompaniment.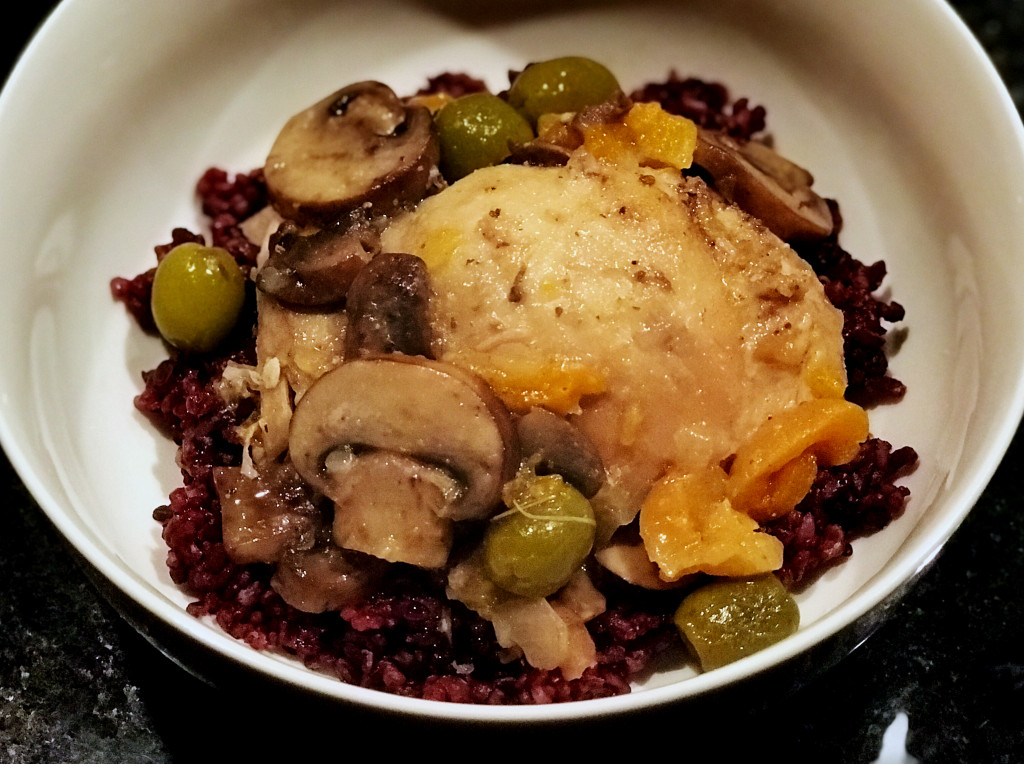 Chicken Tagine
(adapted from 'Martha Stewart's Slow Cooker')
Ingredients
1-1.5 t ground cumin
1/2 t paprika
1 t chipotle chile powder
1 t dried oregano
sea salt and freshly-ground pepper, to taste
7-8 bone-in chicken thighs (about 3 pounds; skin optional)
2 T extra-virgin olive oil
1 onion, chopped
8-10 whole, peeled garlic cloves
3/4 C dried apricots, sliced
3 kaffir lime leaves
1 C green olives, pitted
8 oz slices cremini mushrooms
1 C boiling water
1 C dry white wine
Instructions
Set Instant Pot to the 'saute' setting. Add oil and let heat for a minute (you want hot oil, but not so hot that moisture from the chicken pops and splatters when you add it). Add chicken. Immediately add the cumin, paprika, chili powder, oregano, 1 t salt and 1/4 t pepper. Stir chicken to coat with spices and sear until golden brown (about 3-5 minutes), stirring occasionally.
Add onions and garlic to pot, stir, and cook for 2-4 minutes until onions are glossy and a little softened. Add apricots, lime leaves, olives, mushrooms, boiling water and wine. Stir to combine.
Press 'keep warm/cancel' button to exit the sauté setting and then press 'poultry'. The display will show a cooking time of 15 minutes at high pressure. Close the lid and rotate to lock it (make sure that the steam vent is pointed to 'sealing').
Let cook for the allotted time. At the end of the high-pressure period, the machine will beep several times. It will then enter the natural release mode. Let naturally release for 15 minutes, then rotate the steam vent to 'venting' to manually release the remaining pressure. (Recommend using a glove to avoid contact with hot steam.)
Open the lid, stir, season to taste with additional salt/garlic salt and pepper, and serve (making sure to spoon some of the delicious juices onto the chicken!). The usual accompaniment would be couscous, but I served mine on a blended bed of brown rice and black ('forbidden') rice.
Stew-like dishes certainly aren't the most photogenic, but what this dish lacks in color, it more than makes up for in flavor!
This was a quick (10 min for prep, 35 min for unattended cooking) and delicious success! The team at Martha Stewart seem to be very detail-oriented and thorough with their recipe development and testing (it comes through in the descriptive paragraphs before each recipe) and I'm looking forward to trying many more recipes, from Hawaiian-style short ribs, to roasted sweet potatoes with herbed creme fraiche, to cinnamon rolls(!). Bon appetit!
Xoxo and aloha,

[Disclosure: I received a copy of this book from Blogging For Books for reviewing purposes. All content herein solely reflects my personal thoughts and opinions.]