I enjoy an enormous range of flavors across all cultural cuisines – the sheer mention of Chinese dim sum, Italian white truffle fettucine, or French macarons instantly perks me up and causes Pavlovian-like salivation.
But perhaps most of all, Japanese cuisine singularly captivates and impresses me with its range of cooking methods and ingredients (selected in harmony with each season and region), masterful cooking techniques that highlight the pure, flavorful essence of star ingredients, and elegantly simple, visually artistic presentation.
It was my distinct pleasure to attend Japan External Trading Organization's (JETRO) event tasting of some of Japan's best ingredients and products. Hosted at the trendy and chic Ozumo in downtown San Francisco, the evening kicked off with speeches by the Japanese Consulate and Jeremy Umland (owner of Ozumo), encouraging us to enjoy the evening's representation of washoku, a traditional Japanese cuisine experience highlighting seasonal presentation of fresh ingredients, appealing to all five senses. Chef Sho Kamio of Berkeley's Iyasare created a decadent 14-course tasting (I captured 13 of them; I missed out on 1 because I got caught up in my photography) showcasing a large collection of delicious Japanese ingredients, including wagyu beef, Kinjirushi hon-wasabi, and Wadaman gold sesame oil.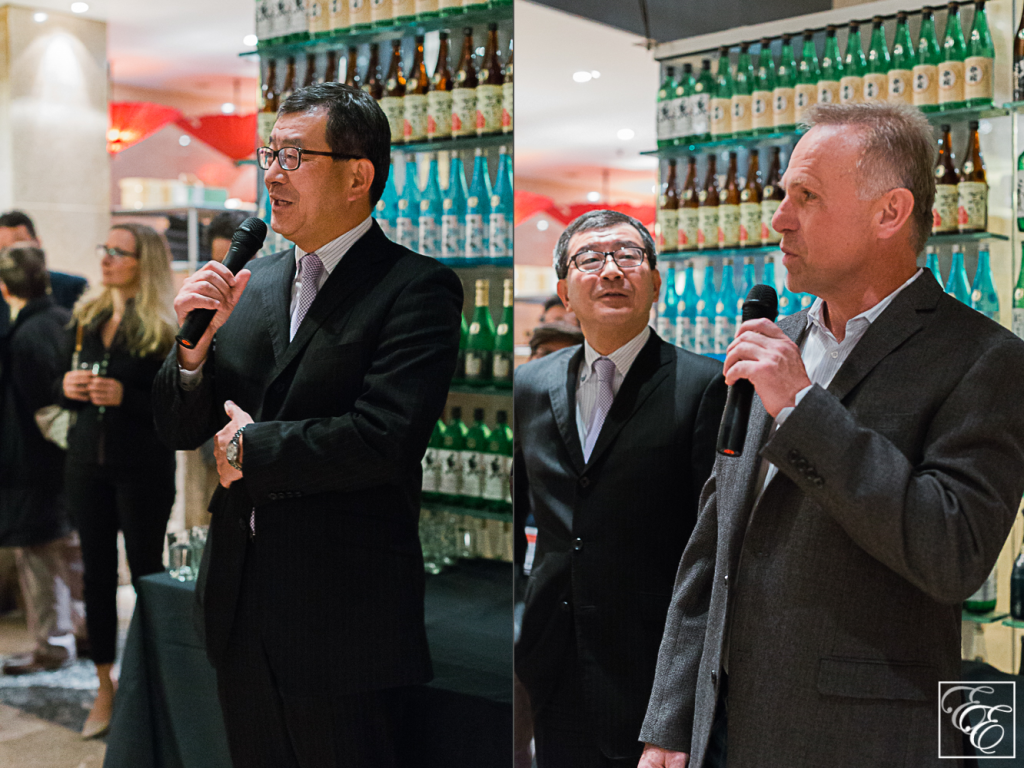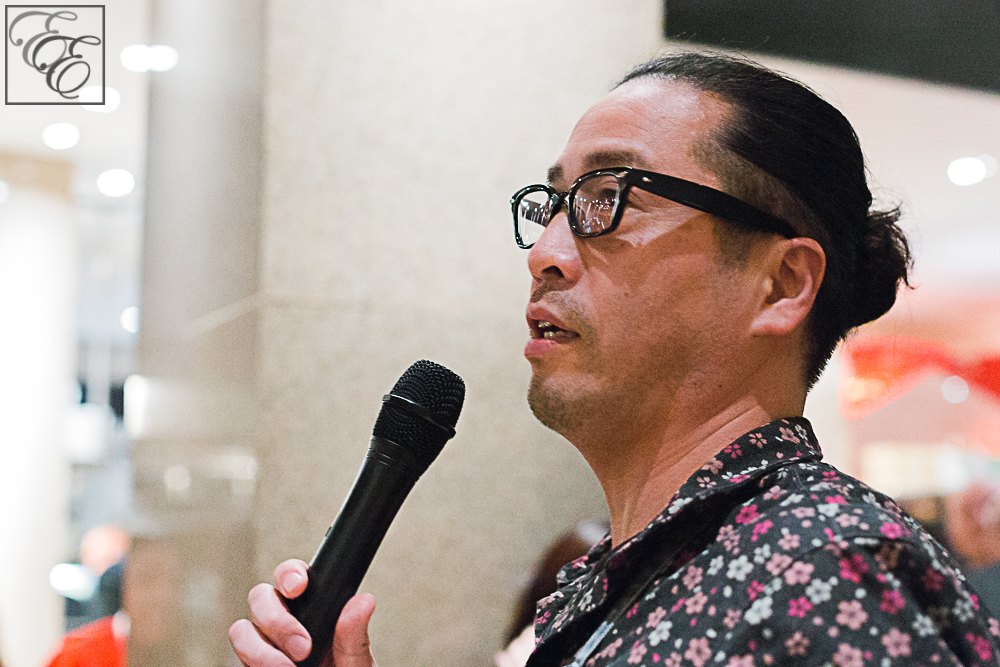 Enjoy this photo narrative as culinary inspiration!
We started off with a refreshing sunomono (vinegar-based dish) of paper-thin slices of vibrant heirloom carrots, tender radishes, napa cabbage, pickled cucumber, and burdock root, lightly salted and piquant with yuzu ume (citrus plum) vinegar.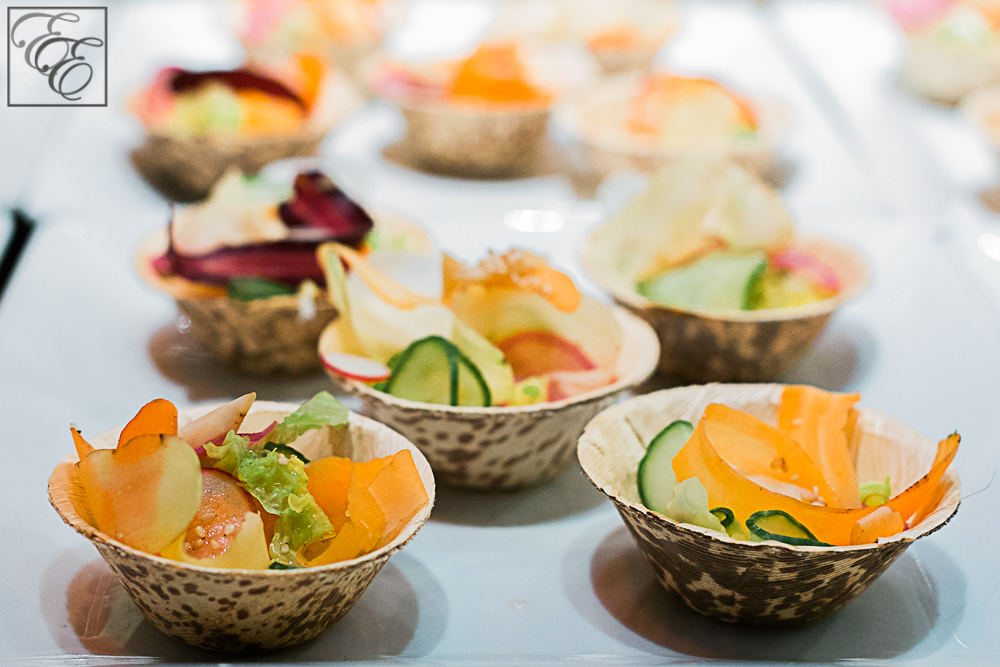 Next was a light, citrusy kampachi (amberjack) sashimi with sliced pear and turnip, and adorned with flakes of toasted nori (roasted seaweed).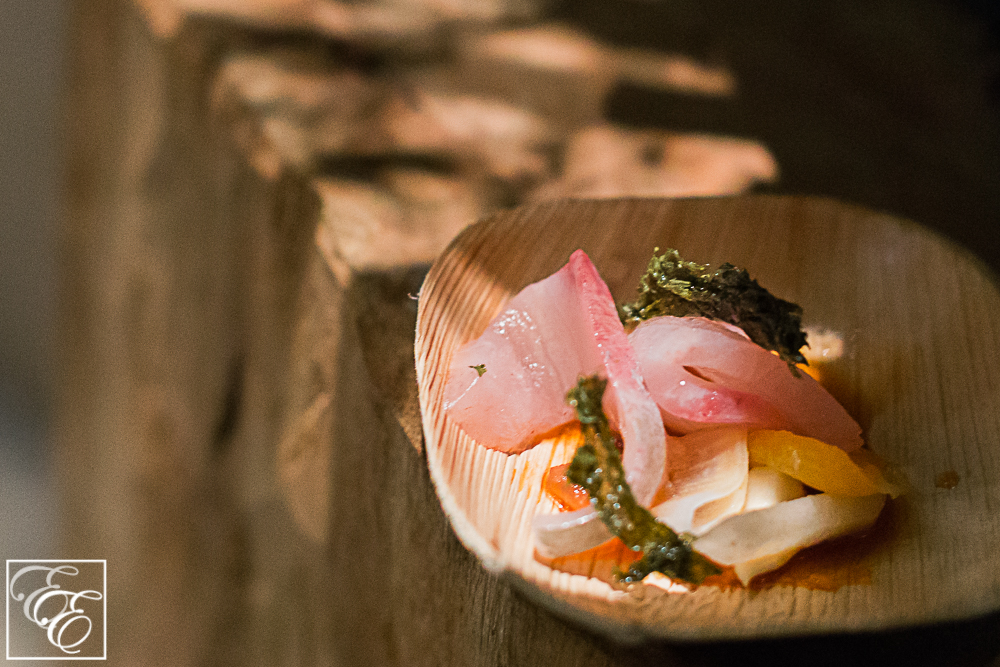 This was followed with a tender, beautifully minimalist kampachi nigiri with a dab of what I can only guess is a cool and crisp wasabi-based relish.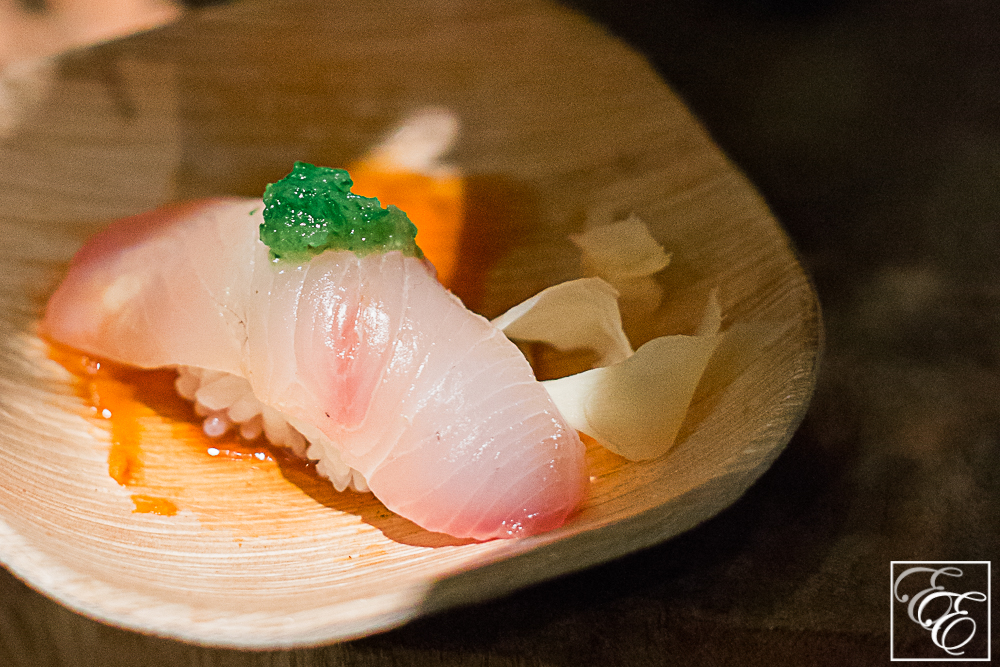 A soothing, simple miso broth studded with winter-appropriate carrots, lotus root, firm tofu, and toothsome konnyaku (yam) noodles (delicious and super-healthy, with zero calories!) was lightly sweet, with a faint nutty tone from delicate sesame oil. This is a good example of healthy but hearty, Japanese winter home-cooking.
Our refreshed palates were then indulged with marvelous, meltingly tender wagyu beef nigri adorned with a lightly garlicky, green onion paste. Beef sashimi is hard to describe if you've never had it, but the best way I can describe it is as a silky-smooth (absolutely no indication of it being a 'muscle meat'), buttery, rich morsel of the highest-grade steak you can imagine – the beef flavor is elegantly subtle, not assertive or 'meaty'. Unless you're a vegetarian or pescatarian, this can easily become an addictive indulgence!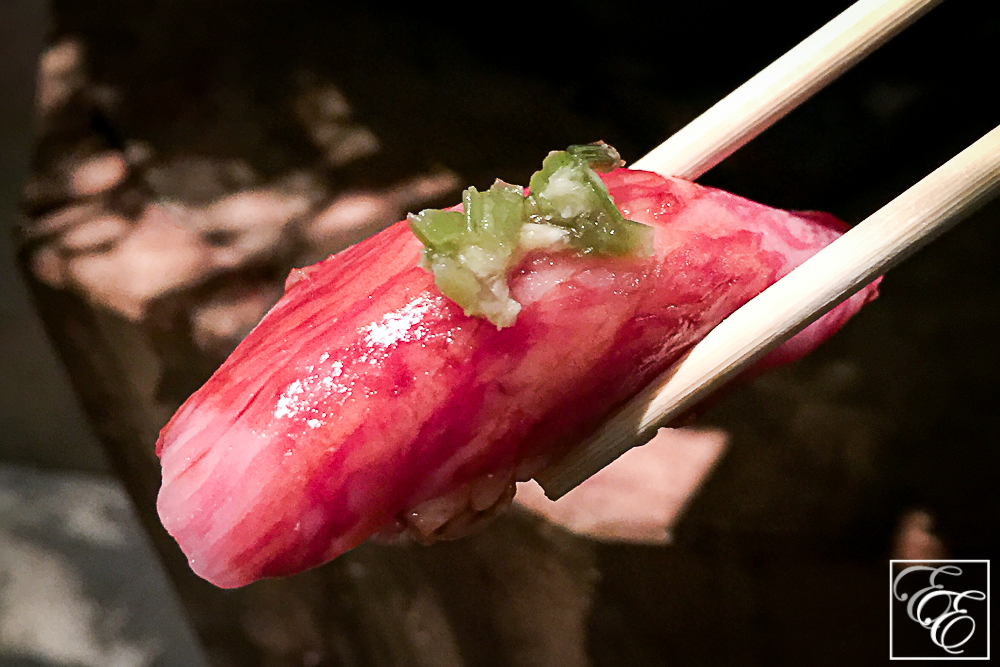 We returned to the sea with frothy-looking rice-based shrimp chips – light and airy – used for scooping up creamy blue fin toro (tuna belly) tartare studded with dashi-braised nori and edamame (soy bean) puree. Have you had Hawaiian poke before? This is basically a gourmet version of that!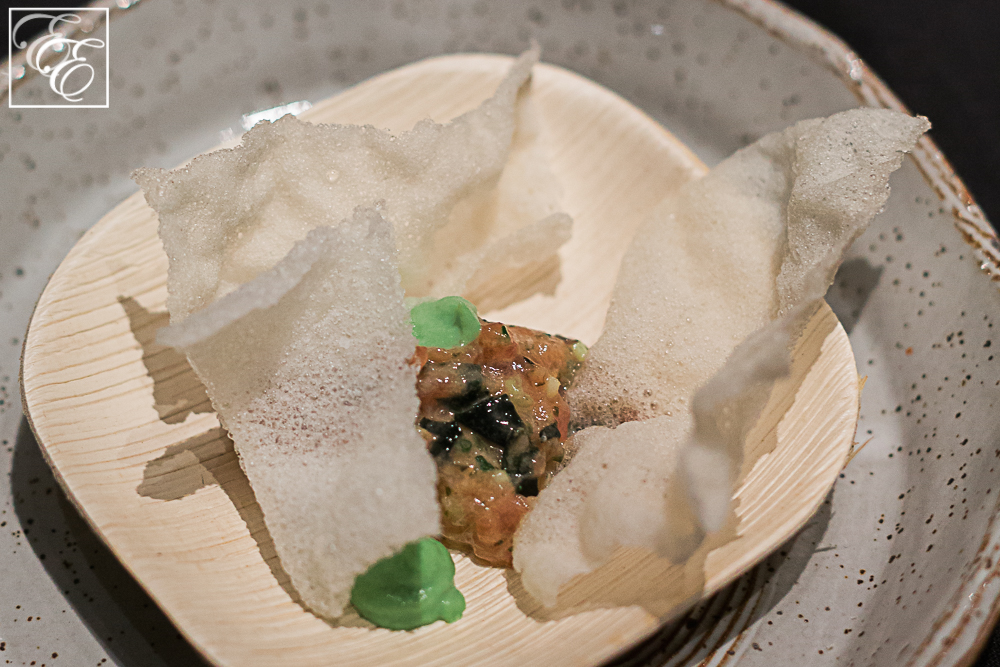 Next up was one of my favorites of the evening. Fresh, sweet scallops dusted lightly with shichimi togarashi were indulgently paired with equally sweet uni (bliss!), with fermented wasabi leaf and ikura providing bracingly, salty umami tones. I could have happily eaten an entire bowl of this…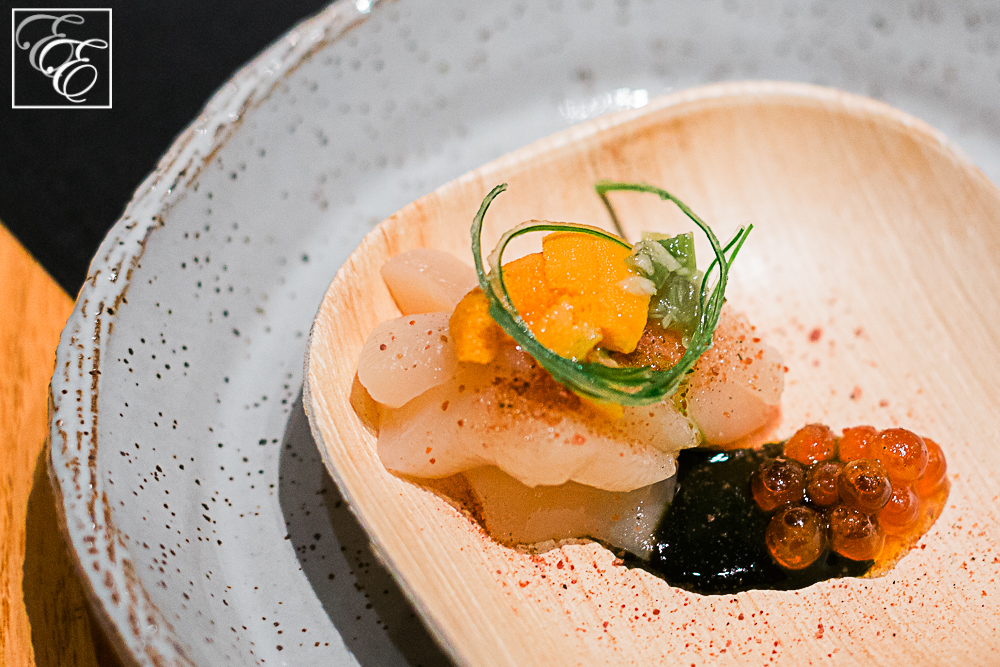 One of my favorite nigiri is harasake (seared salmon belly), and this ever-so-lightly seared sake nigiri with basil chiffonade aoili was utterly lovely. The creamy mayonnaise was invigorated with the fresh basil, and reinforced the creaminess of the salmon. Salmon, basil and cream is a fantastic combination.
Meaty portabello mushrooms sauteed in garlic soy sauce and served atop a buttery miso-Kabu turnip puree is the satisfying vegetarian parallel of a meat-and-mashed potato dish. A super-crisp gremolata (bread crumbs with parsley) provided fun, crunchy texture to each bite.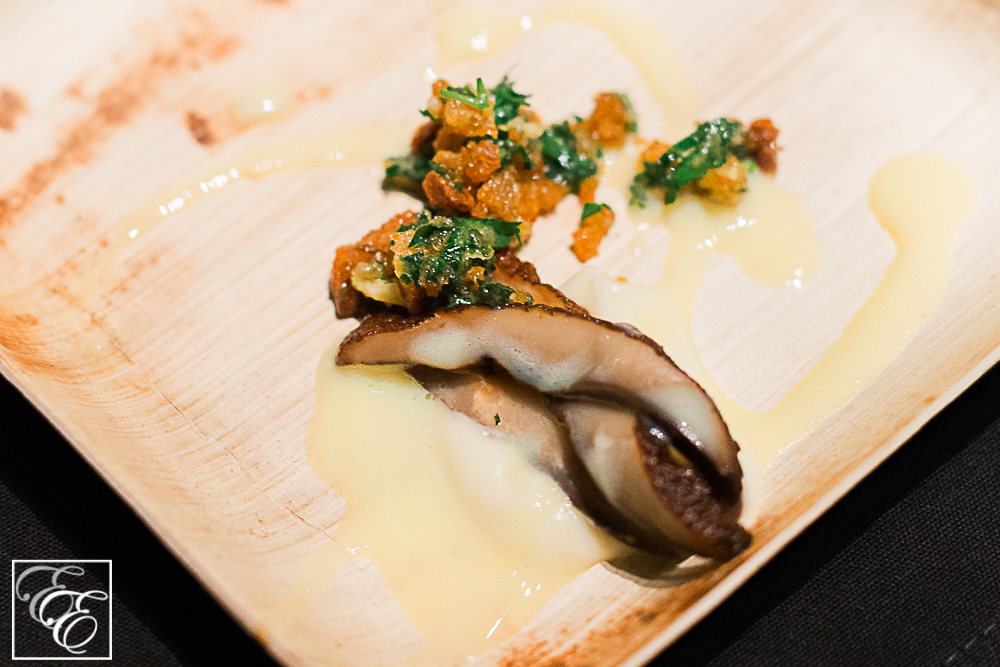 Maguro tsuke nigiri (bluefin tuna marinated in soy sauce, mirin and sake) was jewel-like, fresh perfection.
We got a welcome encore of wagyu beef in the form of a tamari soy-basted roll stuffed with enoki mushrooms and micro-greens. I would love to serve this as sophisticated finger food at a future party!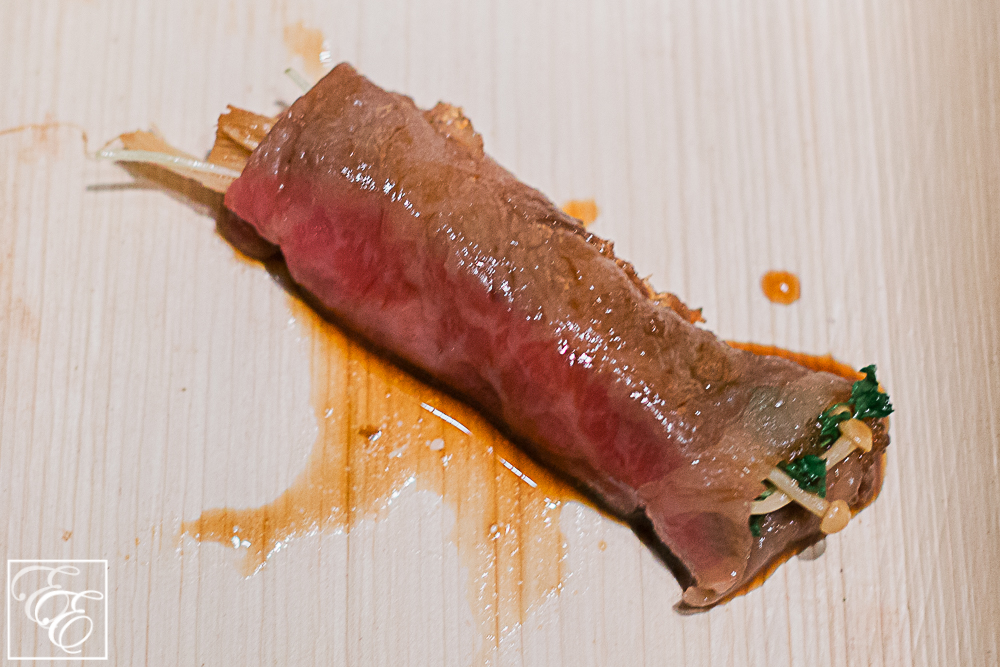 The Japanese have a lovely way of taking inspiration from other cultures, and making deliciously innovative new dishes. The sweet, briny, and lively spicy sacs of marinated polluck roe are thickened with cream and used to coat spaghetti or fettuccine. Here, improvisation has gone one more step – this dish is served with a gluten-free fettuccini by Kobayashi Noodle Co that impressively tastes and has the mouth feel of egg-based pasta! As a pasta-loving girl who has had to significantly cut down on carbs to improve my body's health and chance at successful pregnancy, I am beyond thrilled and can't wait to have this option readily available!!
The evening's tasting was capped off with a moist, elegant matcha (green tea) cake nestled in a decadently dense kinako, honey, sesame and matcha paste, crowned with a dollop of barely-there miso cream, and festooned with a kinako crumble.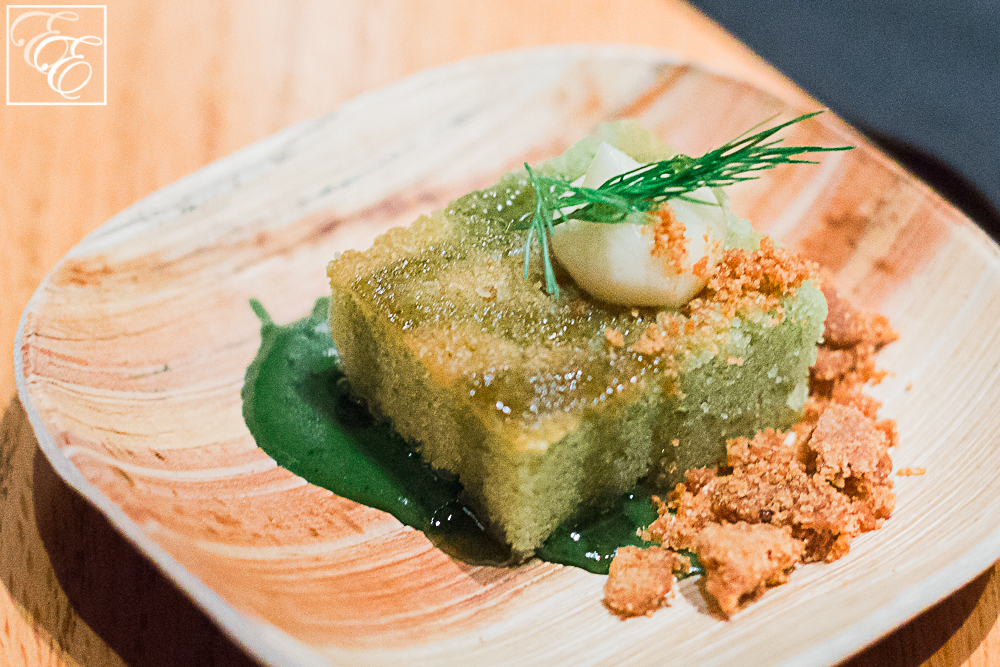 The tasting was a lovely experience – each dish combined tradition and innovation in a well-executed combination of flavors, textures, and cooking techniques. Many kudos to chef Sho Kamio, and arigato gozaimasu to JETRO, Ozumo, and each of the product exhibitors who brought their best for us to experience.
I hope you've enjoyed vicariously experiencing this, and perhaps have been inspired to try new flavors or ingredients that have been introduced above. Itadakimasu!!
xoxo,