Fresh spring produce is popping up all over in farmer's markets, and it makes me giddy to see so many culinary newcomers arriving! Last weekend, we treated ourselves to feathery fresh dill, mild mache greens, plump marigold-yellow Meyer lemons, and velvety clusters of gourmet mushrooms.
I have to say, they contributed to an amazingly elegant and sublime meal. It's amazing what working with high-quality ingredients will yield. The main dish was a creamy citrus pasta, fragrant with lemon and dill, and rich with freshly-shaved Parmiggiano-Reggiano. The mushrooms were roasted until crisp-tender and layered atop a springy bed of mache drizzled with a sweet balsamic glaze.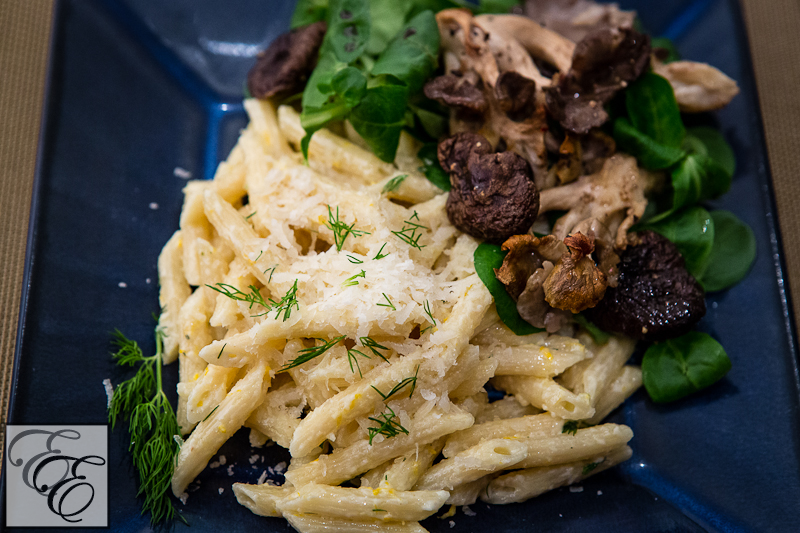 Utter perfection. (The blissful sounds we made while inhaling it was testament. It vanished in an instant…!)
Pasta with Meyer Lemon Cream adapted from Jean-George Vongerichten's "Home Cooking with Jean-George: My Favorite Simple Recipes"
Ingredients (serves 4)
8 oz fresh or dried pasta (I used penne)
Kosher salt
1 1/2 C heavy cream
Grated zest of 2 Meyer lemons
2 T fresh Meyer lemon juice
4-5 individual fresh dill fronds, very coarsely chopped (about 4 T of chopped dill)
1-2 oz. block of Parmigiano-Reggiano cheese
Coarsely ground black pepper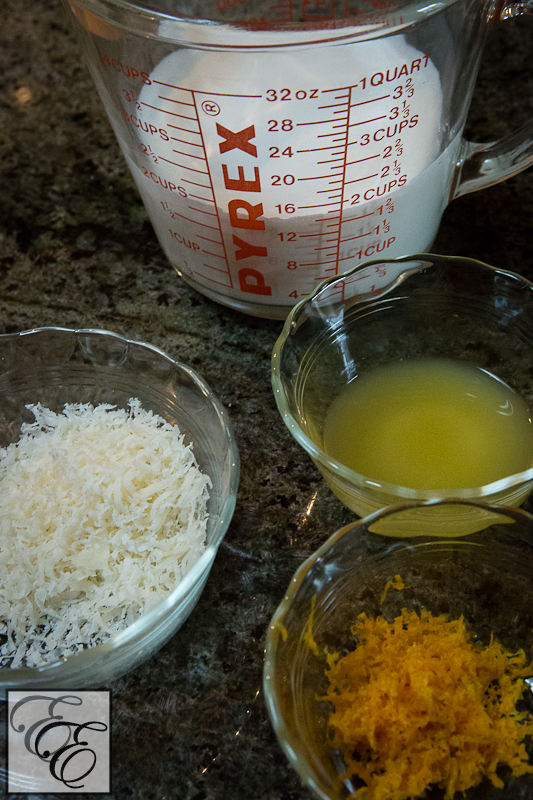 [From top to bottom: heavy cream, lemon juice, Parmigiano-Reggiano cheese, lemon zest]
Directions
Bring a large pot of water to a boil, and salt generously (it should taste like sea water). Cook the pasta to an al dente (chewy) texture, according to the package directions. This will be 1-2 minutes less than the indicated full cooking time. Drain the pasta well.
While the pasta is cooking, whisk together the cream, lemon zest, and a pinch of salt. Pour 1 cup of the mixture into a deep skillet or pot. Boil rapidly, stirring continuously (watch that the cream does not overflow the pot, as boiling cream can bubble up quickly!) until reduced by half, about 8 minutes.
Add the drained pasta to the lemon cream. Reduce the heat to low and toss until well coated. Add the remaining cream mixture, lemon juice, 3 T of dill, and continue tossing until well coated.
Divide the pasta equally among serving dishes. Grate the cheese directly over the pasta, forming a mound. Garnish with the remainder of dill. Grind pepper over (as desired) and serve.
Roasted Mushrooms
Ingredients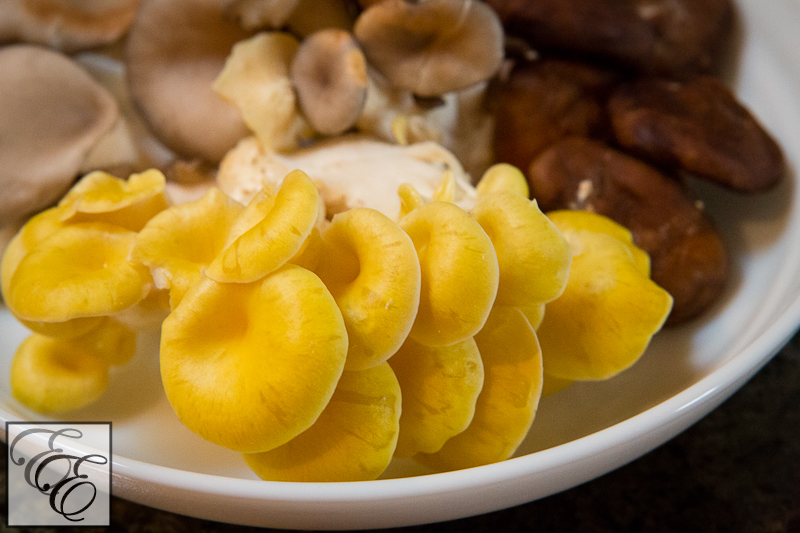 [These yellow oyster mushrooms are gorgeous!]
Directions
Preheat the oven to 450 degrees F.

Break the mushrooms into plum-sized clusters (if needed). Drizzle oil over all the mushrooms and toss to coat. Spread mushrooms in a single layer onto a baking sheet. Season generously with salt and pepper.
Roast until the mushroom edges are browned and crispy and the overall texture is tender, about 20 minutes. Serve immediately (I think a bed of salad with a bright, sweet-tart vinaigrette is a perfect foil to the juicy, meaty mushrooms).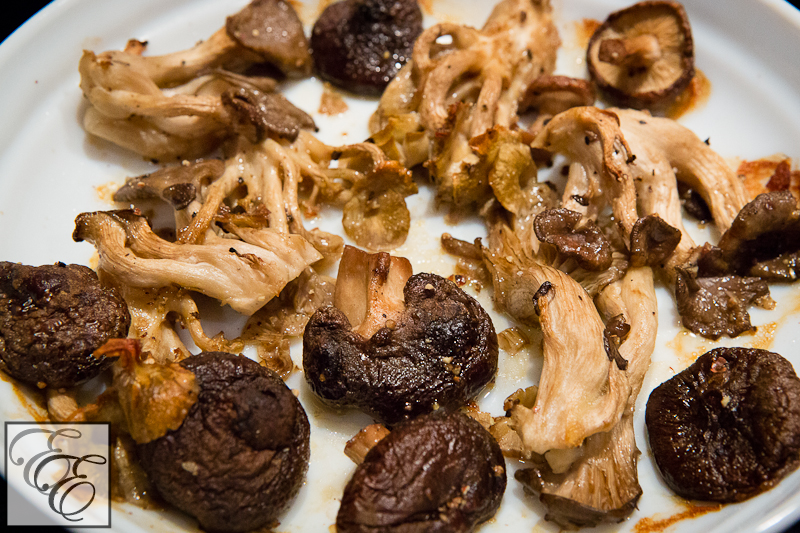 [Unfortunately, roasting took away the yellow; cooked, they're not so photogenic, but they smelled heavenly!]
The two dishes together was an incredible pairing. The creamy, cheesy nature of the pasta was comforting, yet elegant from the lemon and dill. In contrast to the rich creaminess, the salad was light but lively with the balsamic glaze, and fortified by the mushrooms.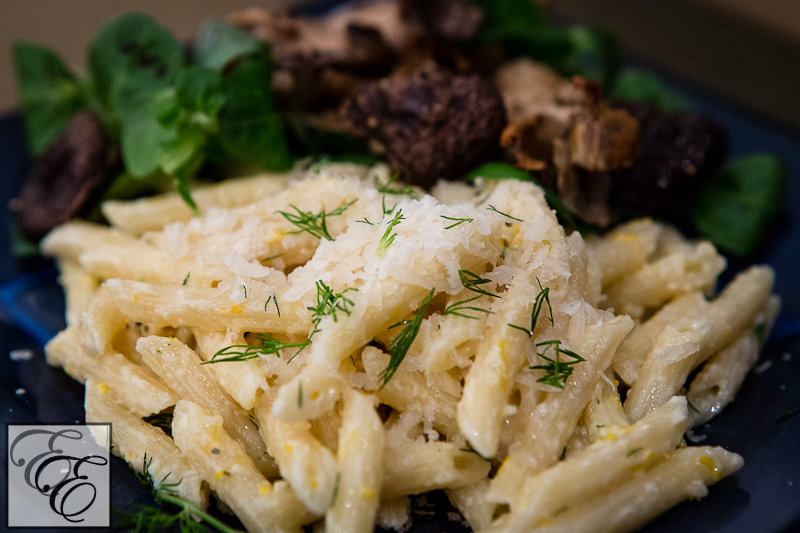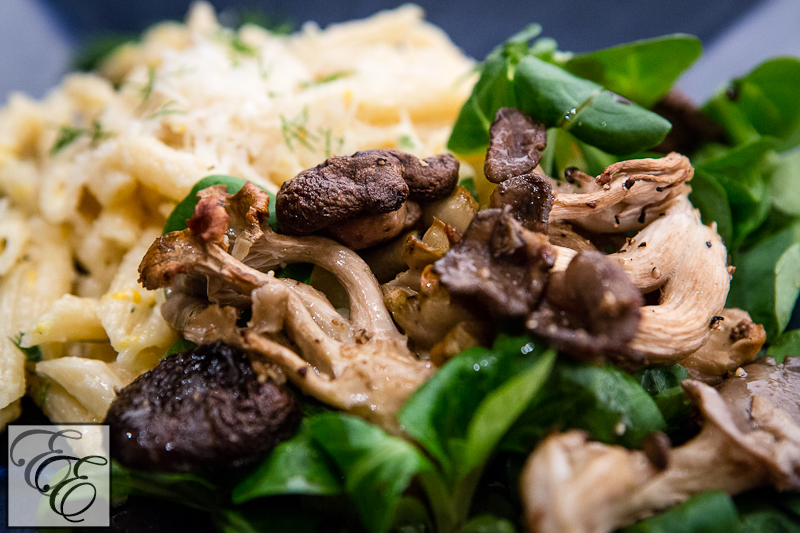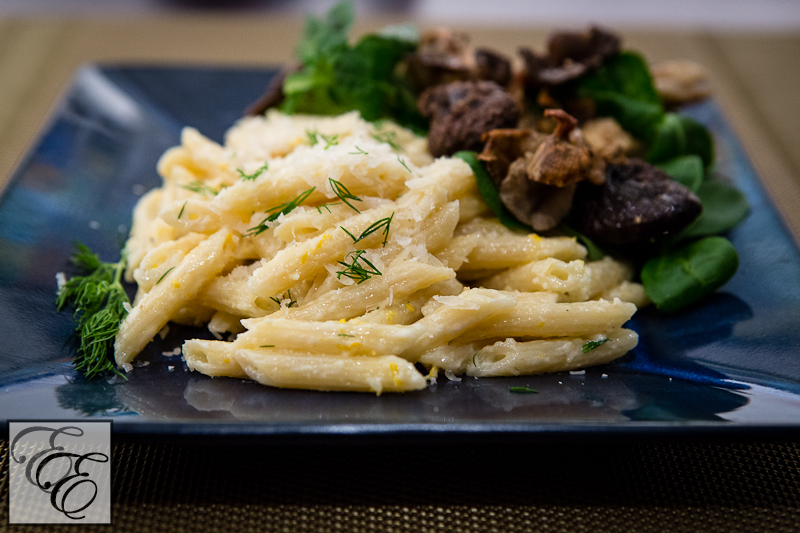 This gourmet meal might be more suited for weekend prep than a busy weeknight, but I think it's totally worthwhile to make at least once to treat yourself. It's gourmet comfort food with a sophisticated spin. Can't go wrong with that! :9
xoxo,