With Valentine's Day coming up, one's thoughts may drift to chocolate, roses, and berries. But a heart-shaped box of chocolate, a dozen roses, and some chocolate-dipped strawberries are so cliche. We can do much better than that!
So, I took these classics and translated them into a unique, delicious and impressive-looking dessert for you to indulge your loved one(s) with.
It's actually quite simple, requiring as little as eight ingredients; six for the cookie (all of which are common pantry ingredients), plus fresh berries and store-bought whipped cream. Although, I hope that you'll instead use my recipe for a rose and raspberry-flavored whipped cream (totally worth the effort!).
I started with flourless fudge cookies – seductively soft and slightly chewy fudge-like morsels that stay moist for days (not that they'll last that long). If you'd like, these are perfectly wonderful on their own. However, let's go for presentation – that's the fun part!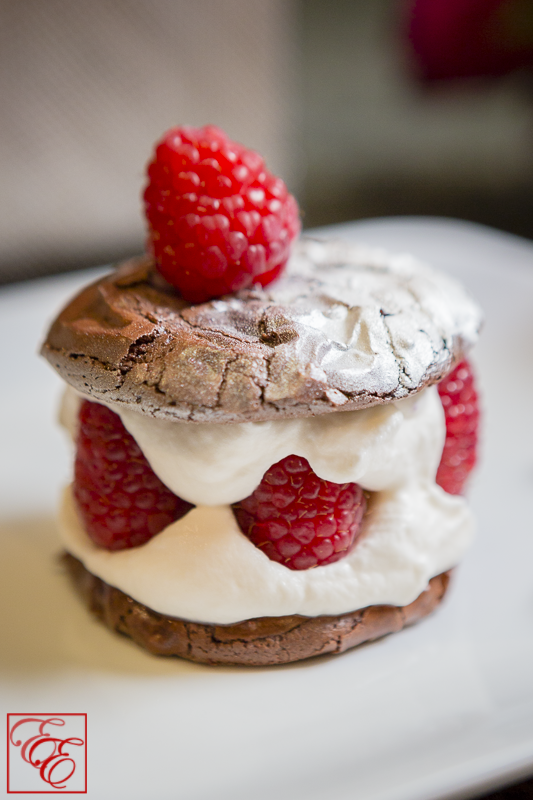 Sandwich the cookies with a layer of fresh raspberries softly nestled in a cloud of soft whipped cream made exotic with notes of floral rose and fruity raspberry. Accompany dessert with a glass of champagne – complete with pink, raspberry-studded ice cubes.
I can't imagine a better way to romance someone than with this sweet treat! (Bonus: it's gluten-free.)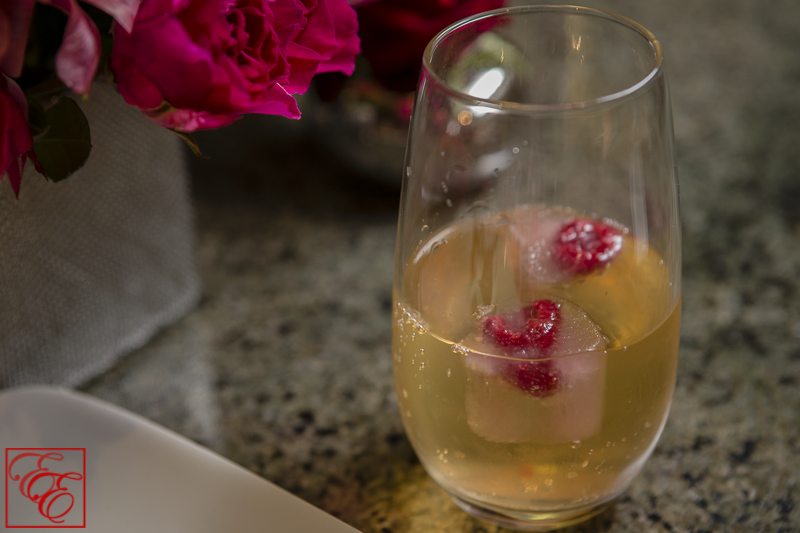 Raspberry and Cream-Filled Chocolate Fudge Tower
Flourless Fudge Cookies (makes 16 cookies)
Ingredients
2 1/4 C (9 oz) confectioners' sugar
1/4 t salt
1 t espresso powder
1 C (3 oz) cocoa powder (dark chocolate is preferable)
3 large egg whites, beaten slightly
2 t vanilla extract
Instructions
Preheat the oven to 350 deg F. Line a baking sheet with parchment paper and lightly grease it with cooking oil or softened butter.
In a medium bowl, stir together the confectioners' sugar, salt, espresso powder, and cocoa powder until evenly mixed. Stir in the egg whites and mix/fold until completely blended to a thick batter consistency with no lumps. Make sure to scrape the bottom and sides of the bowl to incorporate all of the dry ingredients. Be forewarned that this mixing process may take some time and arm power because of the high ratio of solid to liquid ingredients. Add the vanilla extract and mix until smooth; it will look like a very thick cake batter.
Drop the soft, sticky dough onto the prepared baking sheets in 1 1/2″ mounds (a tablespoon-sized releasable cookie scoop works well).
Bake the cookies for 8 minutes. They will spread and develop shiny, crackly tops.
Remove from the oven and let cool in the pan.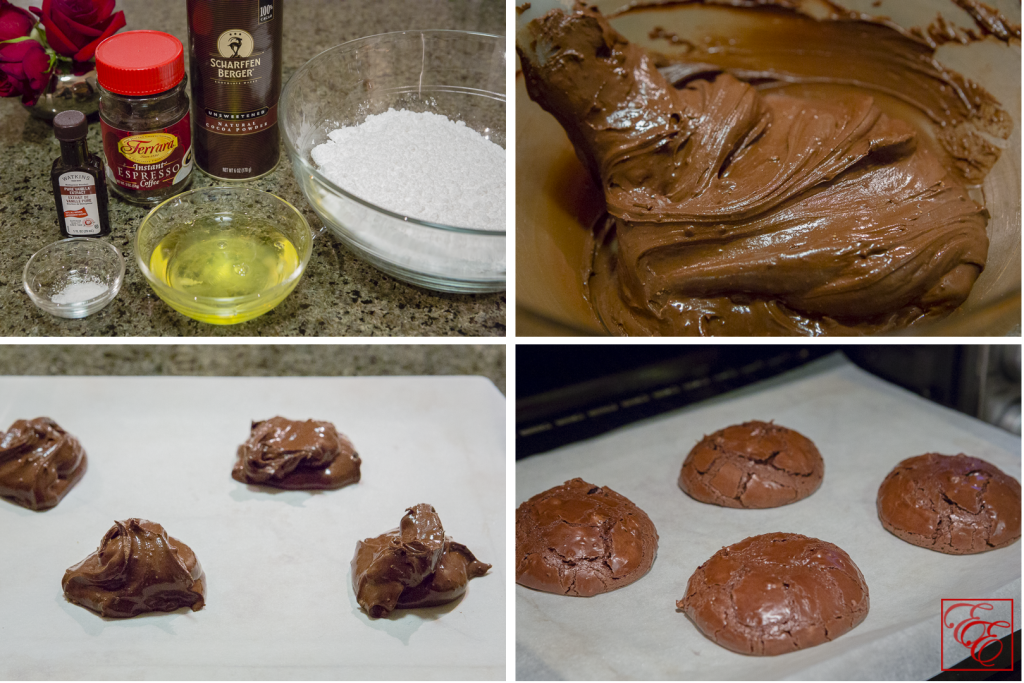 Rose-Raspberry Whipped Cream Filling
Ingredients
1  chilled heavy whipping cream
2 1/2 T powdered sugar
1 1/2 t framboise (clear raspberry brandy)
1/2 t vanilla extract
1/2 t rose water
Instructions
Combine all ingredients in a deep glass bowl (to prevent/minimize splattering) and mix with a handheld mixer until soft peaks form.

Champagne with Pink Raspberry Ice Cubes
Ingredients
Container of fresh raspberries (to be used for both the dessert, as garnish, and for the ice cubes)
Pink juice or soda (I used a pink grapefruit sparkling soda)
Bottle of champagne (I used an almond-flavored sparkling wine from Trader Joe's)
Instructions
Place 1-2 raspberries in each ice cube partition. Fill 3/4 with the juice or soda. Place in the freezer, until frozen.
Chill champagne in the refrigerator until ready to serve.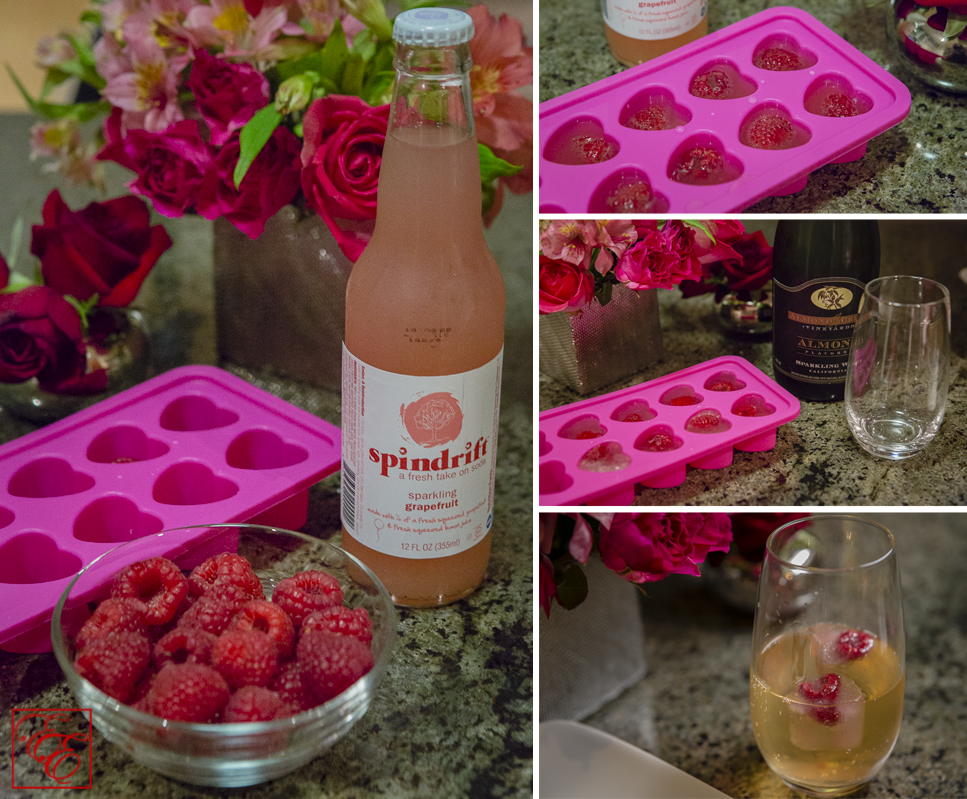 Assembling The Dessert
Place a cookie on the serving platter.
Put a small dollop of whipped cream on the cookie and spread towards the edge of the cookie.
Place a layer of raspberries upside down on the cookie. Cover with a medium-sized dollop of whipped cream and lightly smooth so that the cream fills the space between the berries.
Place a cookie on top of the berry and whipped cream layer. If desired, garnish with powdered sugar (I used a pearlescent edible aerosol spray) and a raspberry.
Retrieve the ice cubes and champagne; put a few ice cubes in each champagne class and fill with champagne.
Serve to 'ooohs' and 'aaahs', toast with the champagne, declare your love/affection, and enjoy! <3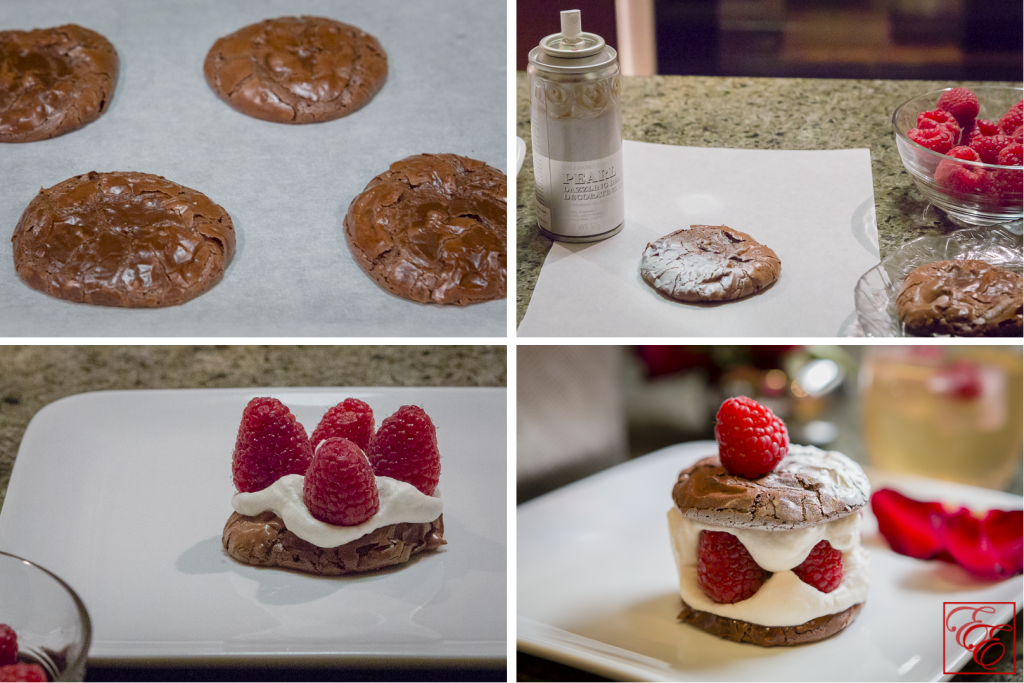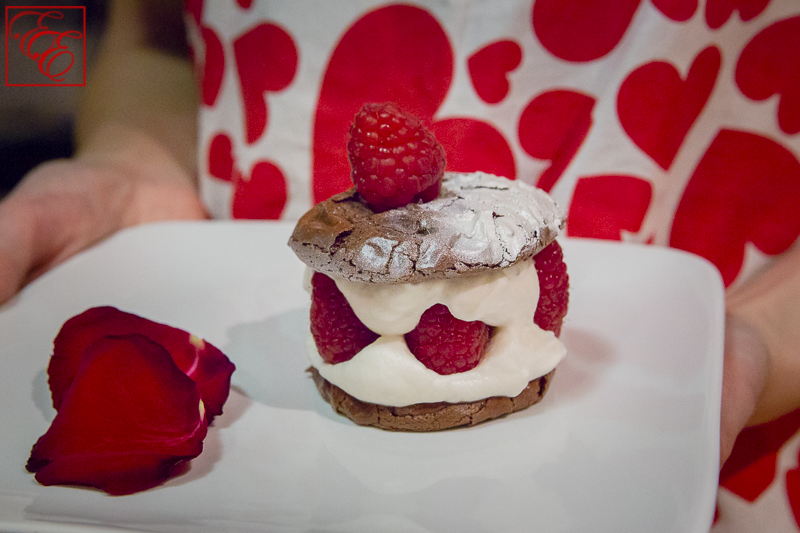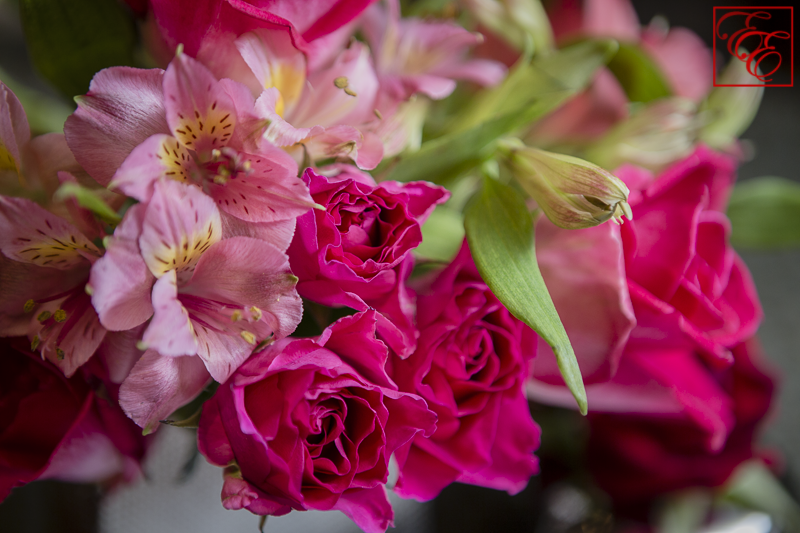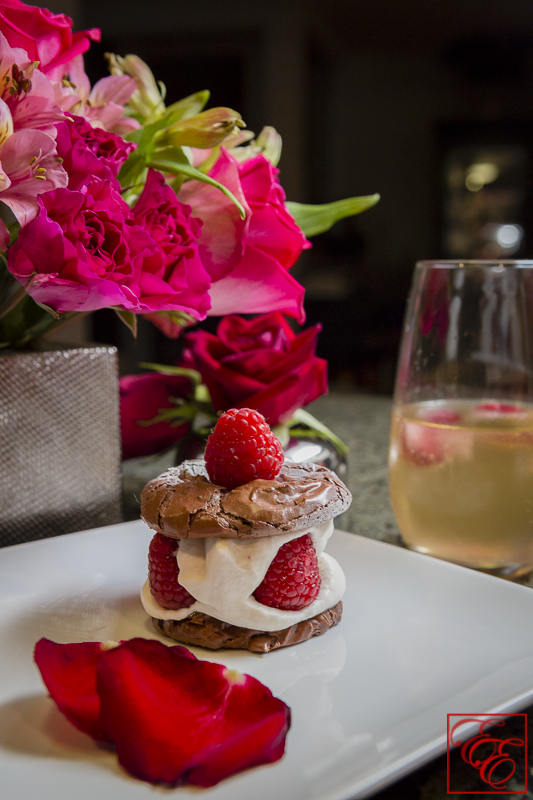 Wishing you a lovely Valentine's Day, and I hope that this dessert may make an appearance anytime you want to indulge in something special and unique. Cheers!
xoxo,