Ladies, in anticipation of the premier of 'Fifty Shades Of Grey' on Saturday, February 14 (awesome marketing strategy), do you have thoughts of turning up the heat at home? Here's something fun you can do to prepare for a romantic tryst.
Seductive Style

There's no need to go out and purchase an outfit of seduction solely to play the part (although guys, if you're looking for a gift for your someone special, consider going all-out with Agent Provocateur, to make a top-of-the-line impression). Here's some inspiration for creating a romantic and sexy look with some fun accessories.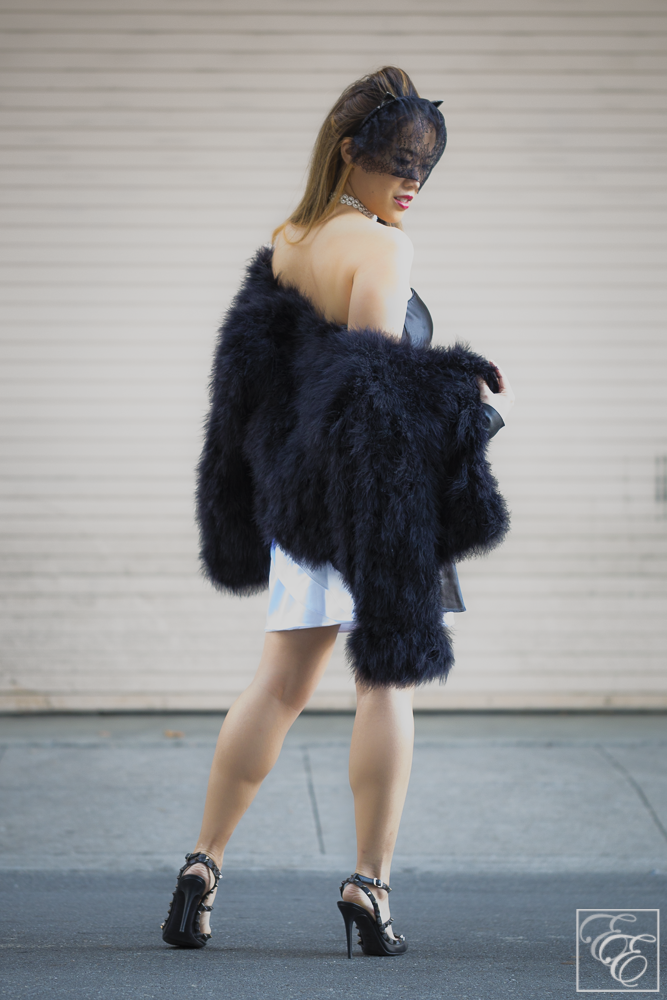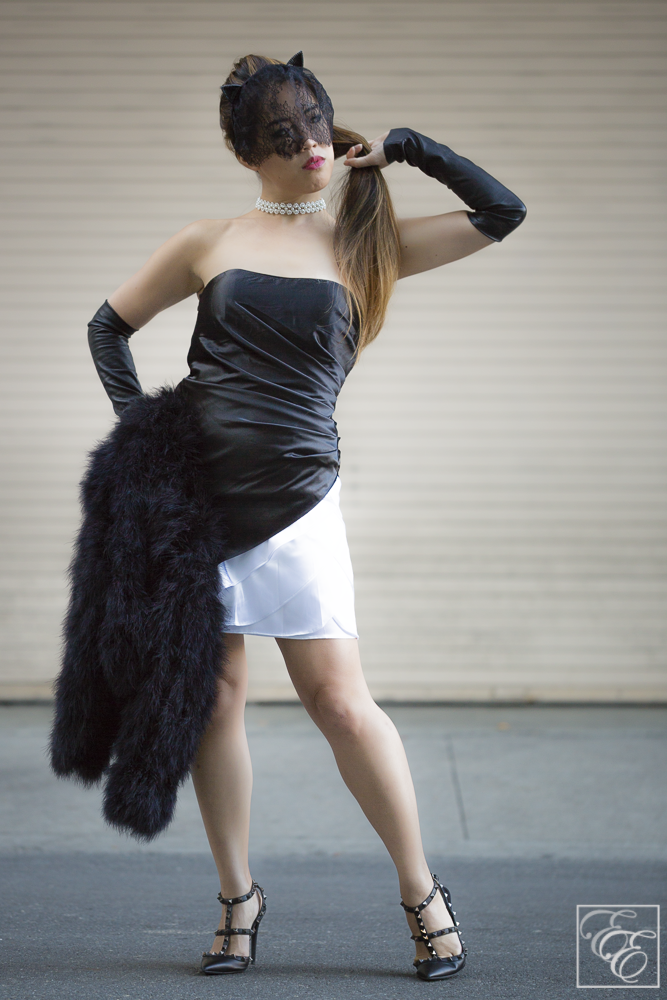 Top: BCBG cropped ostrich feather jacket (similar option), strapless black dress,
BCBG cat headband with lace (similar Etsy option), pearl choker, Marissa Webb long leather sleeves
Bottom: Valentino black rockstuds
The point of this post is that you can create your outfit from pieces likely already in your closet, plus a few additions.
Do you have a LBD (little black dress)? And strappy black stilettos? If so, great! To further illustrate the point that you can pull this together with any LBD, I styled my look with a dress casually pulled from my Poshmark closet (if you're a size 2/small, it's available for purchase!).
The LBD: Choose one that hits above-the-knee and is form-skimming. Sleeveless is good; strapless (or spaghetti straps) is better! The lack of straps accentuates the gentle curvature of your clavicle and exposed shoulders. Make an entrance with a temporary covering of a coat (or his white collar shirt). Slowly pull off one side to reveal your shoulder to play up the sexiness. Extra points for keeping your back or side to your audience, and peeking coyly downwards over your shoulder (demonstrated in one of the photos).
Strappy black stiletto heels: Pull out a traditional pencil-shaped stiletto heel (over a sturdy, thicker-heel style). The shoe can be either a pump or sandal style, but the overall feel should be slim and angular/linear – no curves. Add edge and attitude with a subtle accent like studs. Valentino's rockstuds are a surefire way to steal the show. 😉
Long, minimalist black gloves: Either satin or leather works; you want a sleek style with a close fit – nothing baggy or bulky. I'm obsessed with Marissa Webb's long leather sleeves (which have made an appearance previously).
Choker: I love chokers because they represent timeless, sophisticated glamor. They beautifully accentuate the feminine curve and length of the neck. A simple black or white choker would complement this look well. An alternative is to go purchase a 1/2 foot length of black ribbon (1/2″ or thinner) or velvet cord from a fabric store. (While you're there, you might also want to pick up some fabric for a silky or velvety sash for other purposes….)
Lace eye/headband accessory: I spent the last six months looking for such a lace accessory, and fell in love with a rhinestone-studded cat-ear headband with a lace veil. Below are a few similar options. You could also get a 1/2 foot length of wide (2-3′") elasticized lace from a fabric store. Lift hair away from your ears, and pin one end of the lace to the lower layer of hair with bobby pins. Loosely arrange it in front of your eyes, and pin the other end of the lace above your other ear, to a lower layer of hair. Cover the pins and lace ends with hair.
Strutting Your Stuff

Clothing and accessories – as fun as they are – are just that. They're just accessories. All of the fun comes in based on how confidently you channel your feminine sexiness. Own it! *rowr* Here are a few tips.
Throw/roll your shoulders back. To exude strength and confidence, you want to convey a good, strong frame. That's most evident in your shoulders (this is even more accentuated when your shoulders are exposed). So, remember to keep your shoulders back (imagine someone is massaging in-between your shoulder blades and gently pulling them back) and down (let your shoulders relax down naturally, don't raise them towards your ears).
Accentuate your legs. When you're walking, move in long, slow strides that draw appreciative attention to the line and length of your leg (the stiletto helps with this). When you're standing still, draw your legs together at the knees – imagine that there's a mild magnetic attraction between both knees – pointing your toes inwards slightly towards each other, and your heels outwards. Try testing out how this feels and looks in the mirror; if it feels uncomfortable, don't force yourself. It's better to be naturally comfortable. 🙂
Move your arms in fluid movements, e.g. "come hither" beckoning, and stroking your hair, face, and neck lightly with your fingertips. Watch how his eyes follow the movements you make…
The *subtle* seductive pout. No fish lips or duck-face pouts that you see across Instagram selfies. Just a slight narrrowing of your lower cheeks and slight pushing out of your lips to enhance them, while keeping them slightly separated. A mysterious smile, slight narrowing of the eyes, and lean forward (bringing your chin slightly forward to tilt your head up) for a kiss…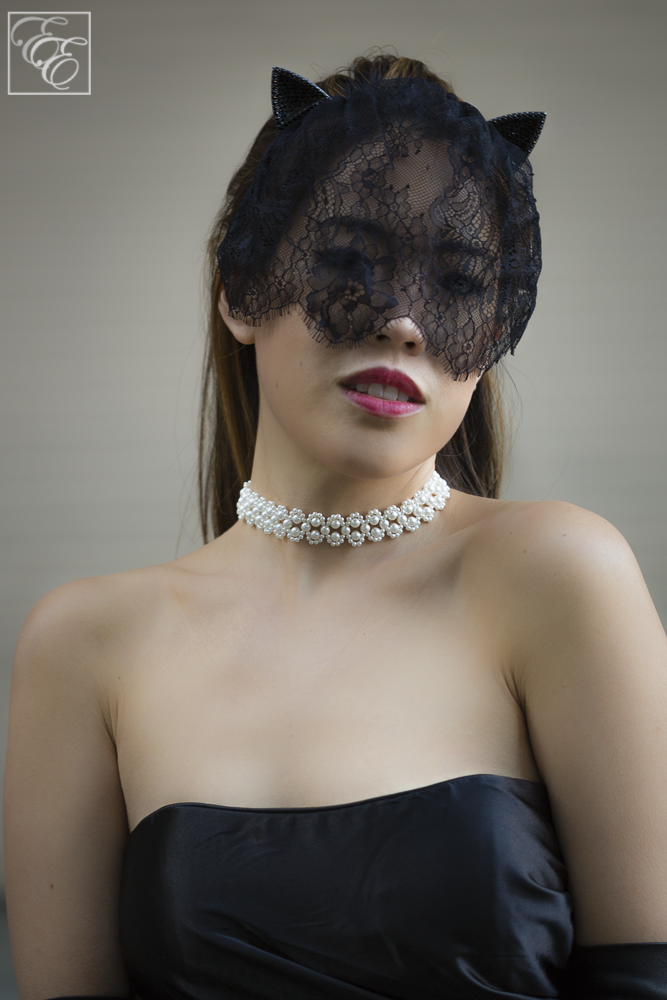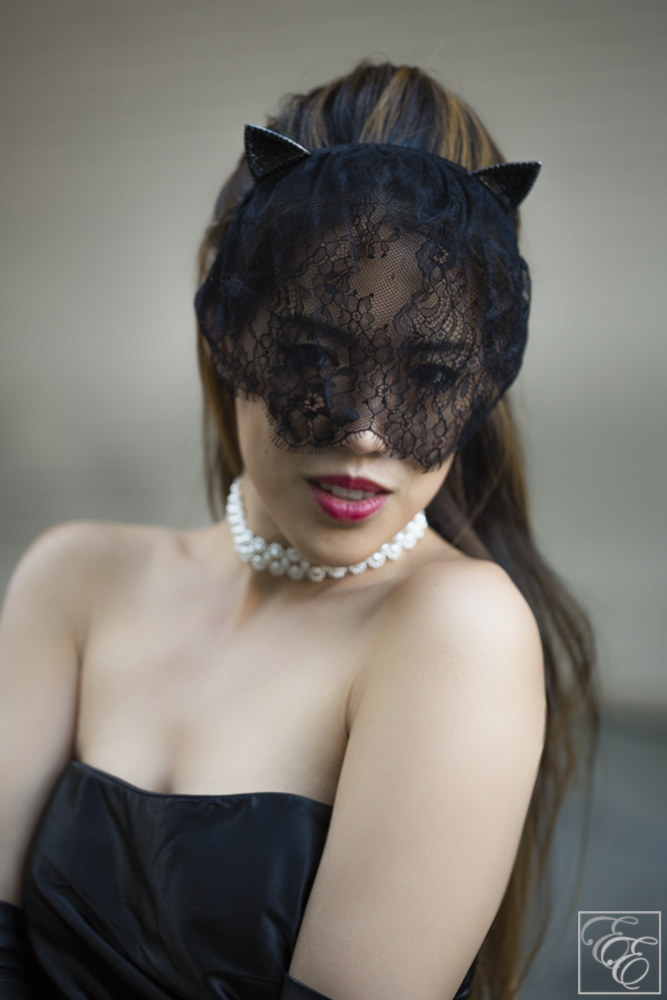 The Makeup & Fragrance
Nail polish: From the packaging to the application, the Christian Louboutin 'Rouge Louboutin' polish is the ultimate luxury splurge, with its 8″ cap mimicking the height of the Balletina Ultimate (his highest heel) and the iconic red of each of his shoes' soles.
Fluid eyeliner: Apply a dark black fluid eyeliner for dramatic eye; here are a few of my favorites.
Perfume: Spritz on a musky, complex, mysteriously sultry scent that will appeal to both of you on an instinctively deeper level. The animalistic nuance of musk (formerly extracted from animals, but now generated from plants or synthetically in the laboratory) adds complex sensuality to a scent. Here are some of my favorite musk-embued scents.
And lastly, here's a few more photos… when we took things indoors. <3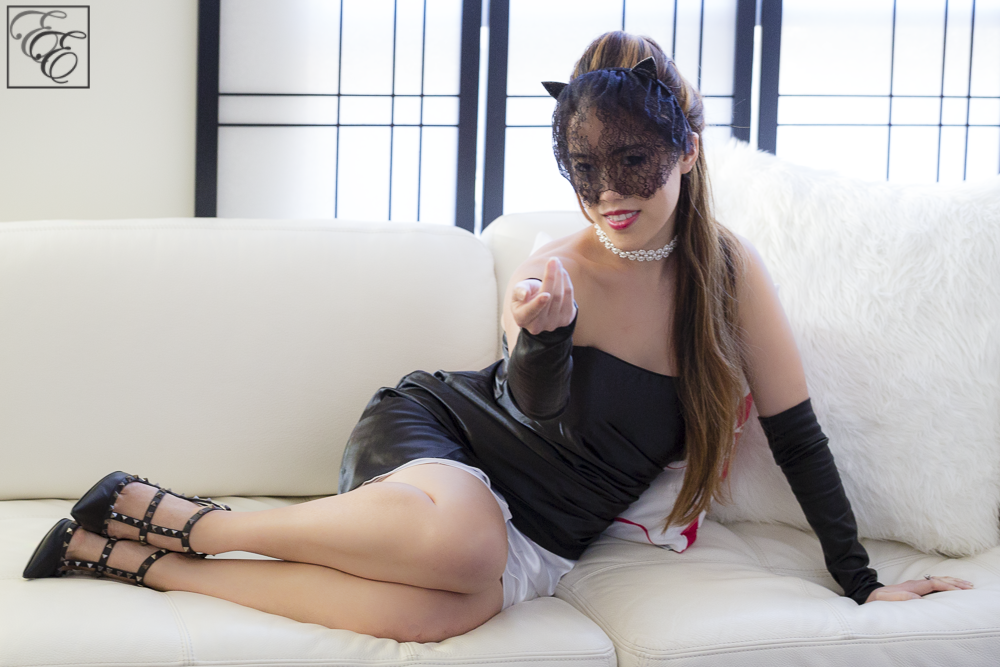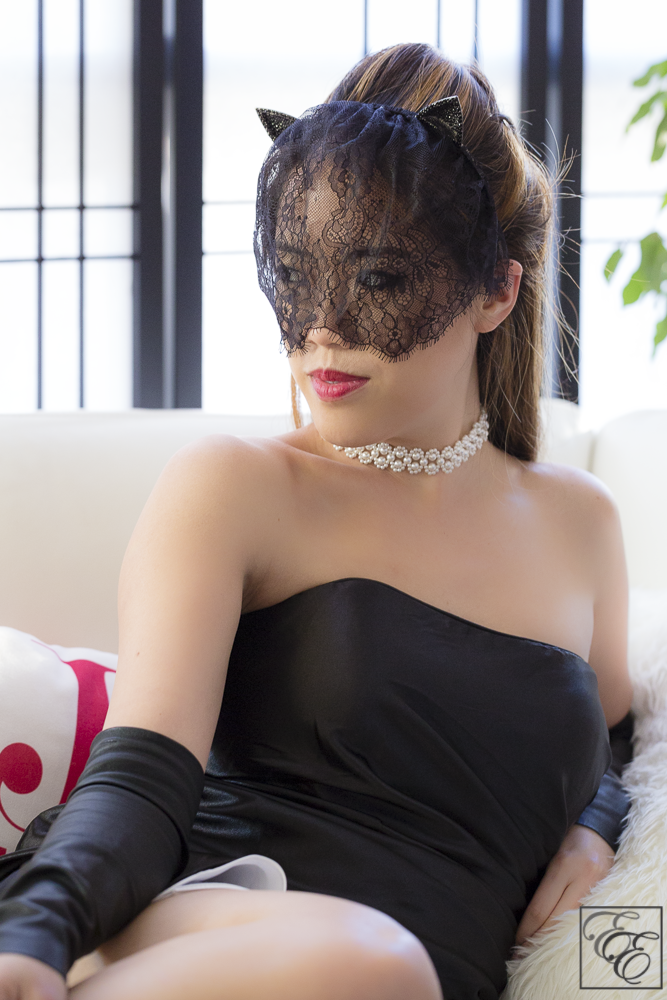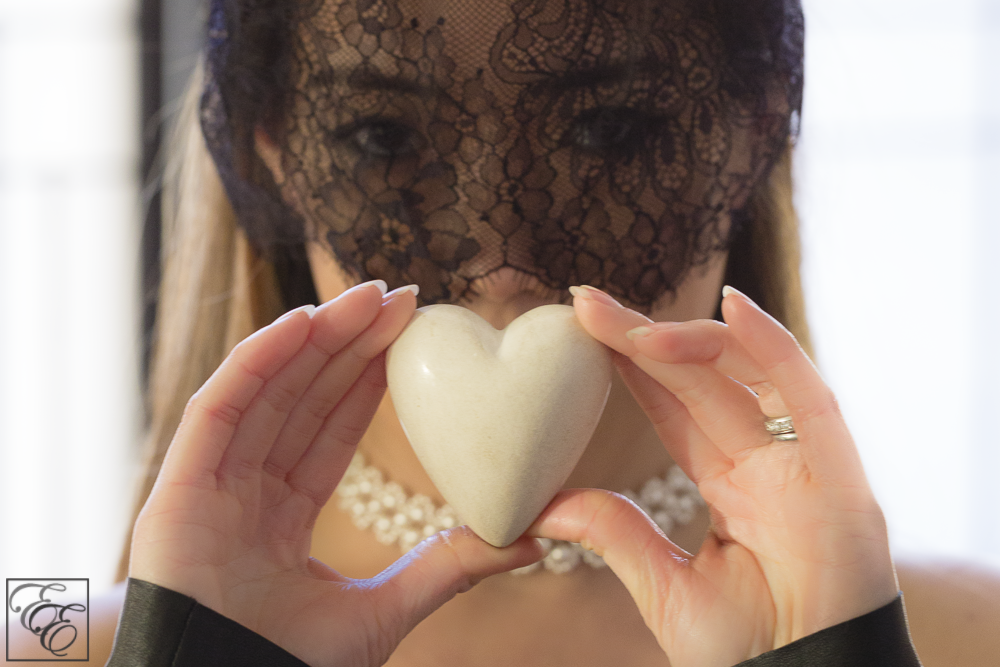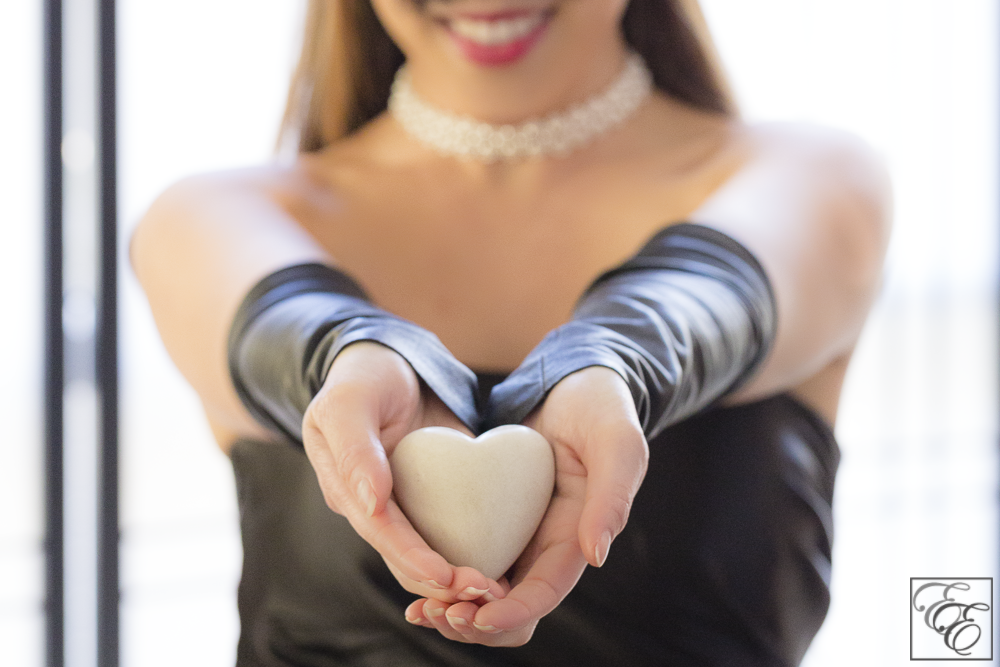 Wishing you a wonderfully indulgent and sexy Valentine's Day!
xoxo,