If my daily life had a soundtrack accompaniment, it would be filled with flowing, soothing tunes from female divas like Diana Krall and Adele Adkins. It would help me in conveying an air of confidence and subtle power, serenity, and elegance (of course!).
My clothing and accessories would fall along the same lines. Simple, graceful, and beautiful.
The Chloe & Isabel jewelry line reflects this aesthetic well. The designs are great for easy, everyday living, and can be worn individually, or in combination. There are also striking statement pieces – bold, dramatic collars and cuffs – but the ones with a delicate simplicity are the ones that pique my interest.
I couldn't resist this necklace made of a free-flowing arrangement of bejeweled and hammered leaves in muted, 'worn' 12K gold. It has an rustic, organic feel to it, but the inset crystals add enough glitz such that it can be dressed down – with a turtleneck and jeans – or up – with a long evening gown.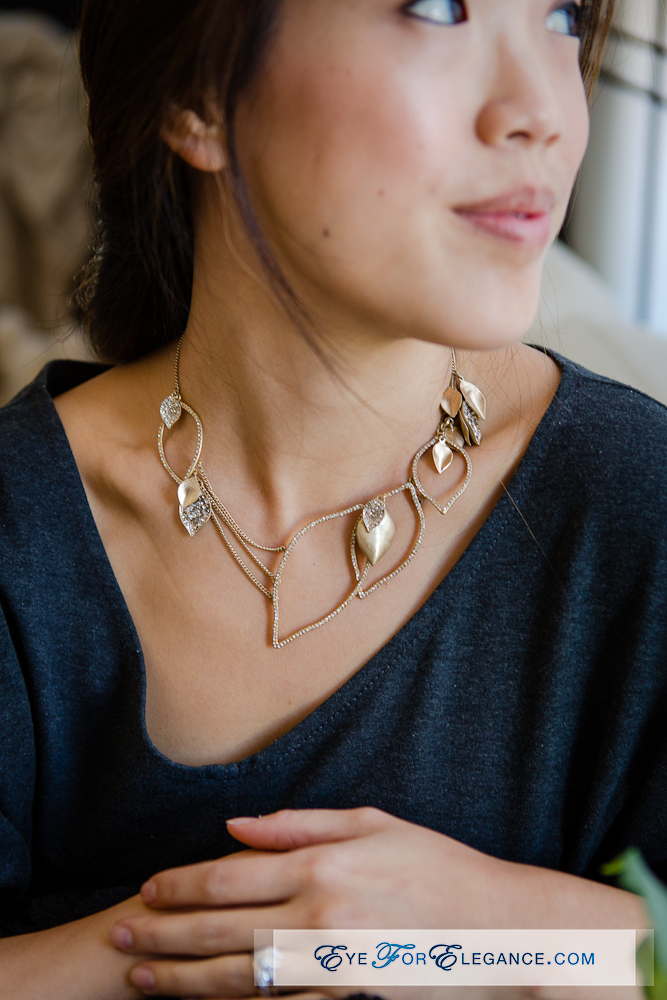 As the weather turns cooler, my wardrobe shifts to warm pull-overs and leggings that I can curl up on the couch with, accompanied by a book and hot apple cider. This is the look that I live in when I'm indoors over the weekend. 🙂
The necklace's 'worn' gold material has a warmth that shiny gold does not, and it looks fabulous against the skin. This necklace has a unique V-shape drape, which goes well with the deep V-neck of my pull-over.
Chloe + Isabel Pave & Textured Leaves Drama Necklace thanks to Doran
Maxstudio oversized pullover (old – similar Maxstudio option on sale)
Maxstudio leggings (old – similar Maxstudio option)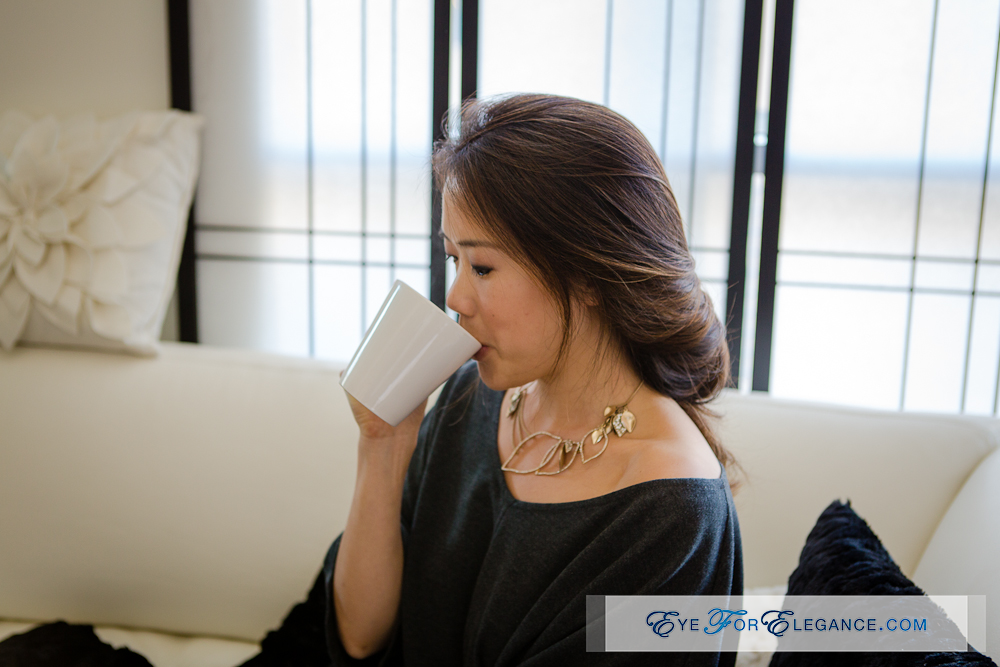 Here, I'm enjoying some hot apple cider, along with petite palmiers from La Boulange.
To get my hairstyle, I pulled my hair back into a loose ponytail, parted it just above the elastic, and flipped the ponytail over and through the part. I then pulled the ponytail down, and loosened the twisted hair on either side so that it frames the face softly and carelessly.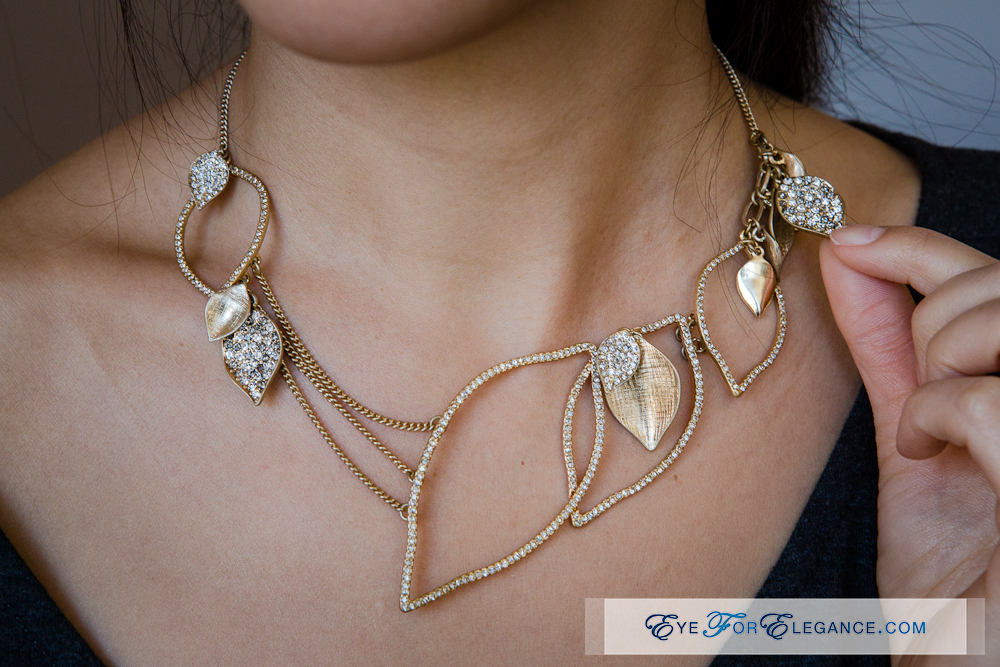 The arrangement of the varied leaves is reminiscent of all the fall leaves I see around, drifting to the ground like over-sized, golden confetti. The detail of the black and clear crystals embedded in the leaves is both whimsical and elegant. Love it!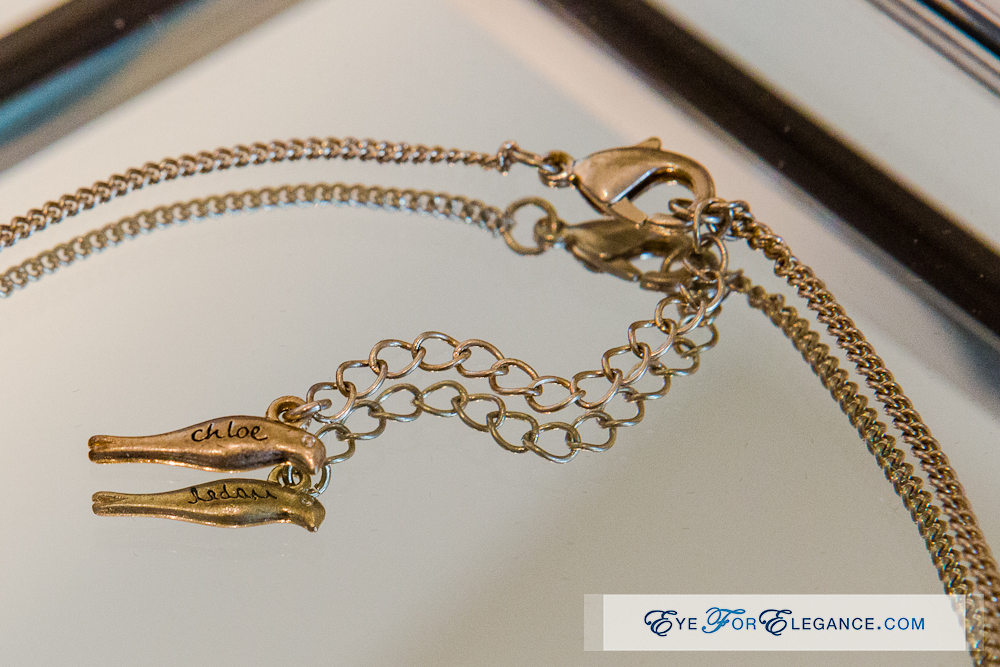 The necklace features a 2″ length of chain extender (I wore it at the shortest length to have the leaves frame my neck) and a bird logo tag that is etched with the brand name duo "Chloe" and "Isabel". The brand refers to a 'friendship philosophy' and pieces include a quality lifetime replacement guarantee.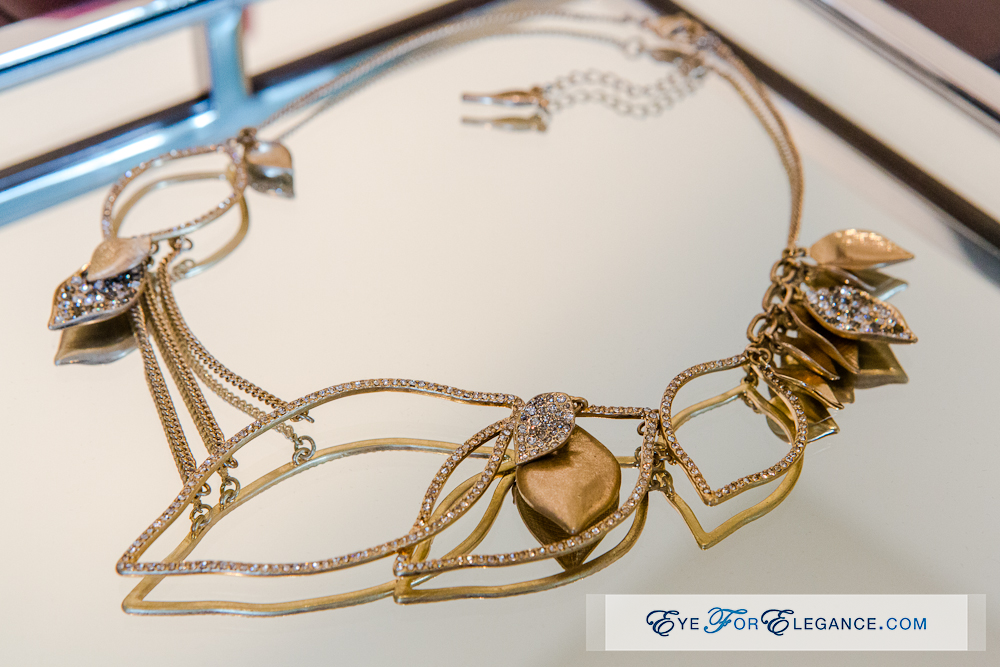 This necklace is such a lovely, distinctive addition to your jewelry collection, as are many of the Chloe + Isabel pieces. What pieces would you most enjoy wearing for the holidays?
xoxo,