One of the fun parts about cooking is riffing on a basic theme to create something new and exciting for your tastebuds!
My childhood is filled with many comfort food memories such as a simple deviled egg that my mom made for holiday parties. Creamy and comforting, it was made with mayonaise, garlic salt, green onions, and a dusting of vivid paprika.
Recently, some friends discussed their favorite wasabi-flavored snacks. When brainstorming a potluck finger food dish, wasabi popped back into my head. How fun would it be to update the classic deviled egg with wasabi mayonaise,  furikake, and green onions, topped with nori and crabmeat!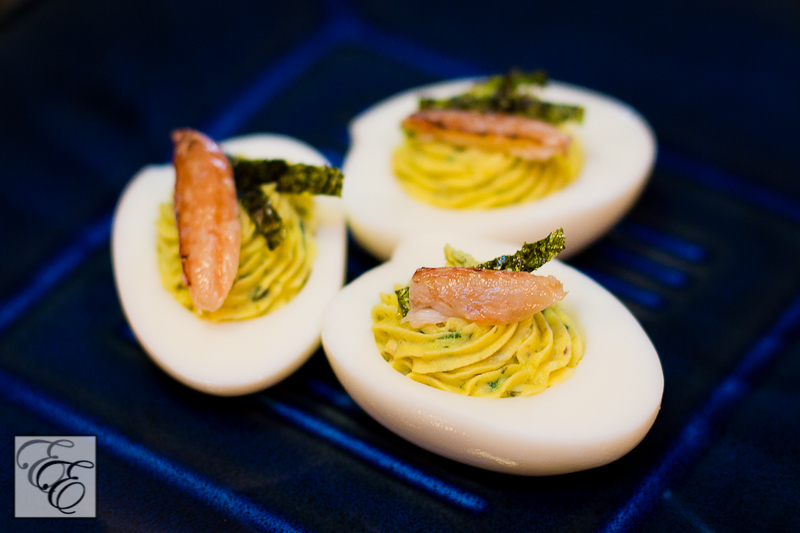 I nabbed wasabi mayonaise and a wasabi nori snack package from Trader Joe's. Wasabi mayonaise and furikaki can also be found at Asian supermarkets like Mitsuwa and Ranch 99.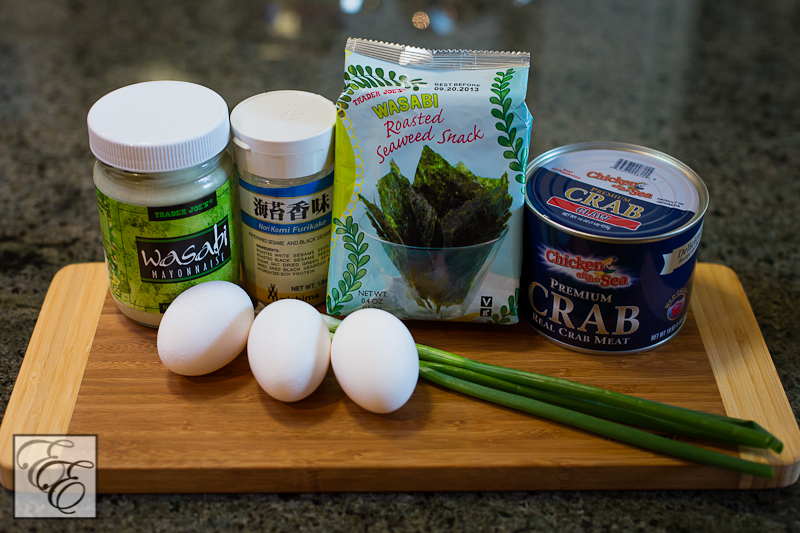 [Instructions]
Take 7-10 day old large eggs (new eggs have a higher pH that causes the inner membrane to stick to the egg white, making it incredibly hard to peel when hard-boiled) and place them in a pot.
Cover eggs with an inch of water, and put the lid on.
Place the pot on the stove and bring the water to boil. As soon as the water comes to a full boil, turn off the heat.
Keep the lid on and let the eggs sit for 11-12 minutes.
Immediately rinse under cold water until the eggs are cool to the touch, and then crack and peel.
Halve the eggs lengthwise and pop out the yolks into a small bowl.
Set aside the egg whites.
To the egg yolks, add minced green onion, furikake, wasabi mayonaise, and salt to taste. (To ensure the wasabi flavor was present but not piercing, I used equal portions of wasabi mayonaise and regular mayonaise.)
Mash or blend the mixture together until creamy and lump-free.
For party presentation, spoon the egg mixture into a pastry bag fitted with a wide rosette tip and pipette into the halved egg whites.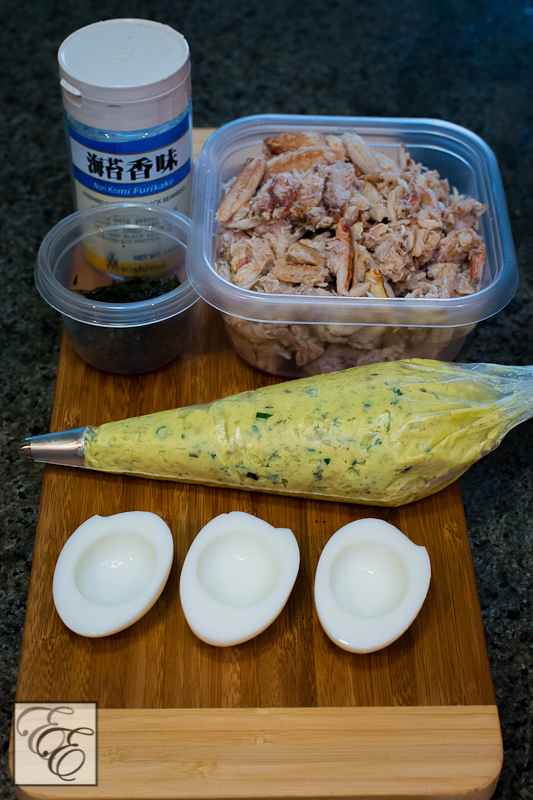 Gently top the eggs with slivers of the wasabi nori sheets (cut with kitchen scissors), and anchor with crab meat.
These turned out to be tasty and beautiful-looking bites, both at once creamy and edgy, and dressed up with the crab. I was quite pleased with the results, and so it seems, were the people who ate them that evening!
Next time, I'd like to make a true 'California roll' remix by mixing the egg with avocado (as a healthy alternative to mayo) and topping with a thin slice of cucumber and crab meat. I bet a variation with tuna sashimi or smoked salmon would also be great. Getting hungry just thinking about it…!
What are your ideas about updating well-loved food classics?
Cheers,
lauriel