Enjoy this 2-for-1 style special: a unique way to dress up your legs, and a braided hairstyle with the crystal elastic hairband created here. For a glamorous evening look, I went sleek and fitted with subtle sexy detail. Meow!
Through blogging, I've gotten to know some talented writers overflowing with personality and character. Alex, a supremely talented vector graphic artist from Toronto, CN is one of them. I applaud his brilliant idea to extend his artistry to the world of hosiery. Toights, his brainchild, is all about sexy, unique legwear, and it is gorgeous. His designs are delicate and graceful, and I can't think of a more beautiful way to simultaneously cover and showcase your legs.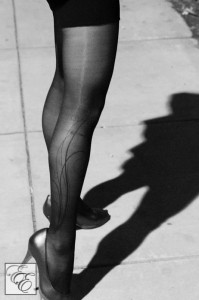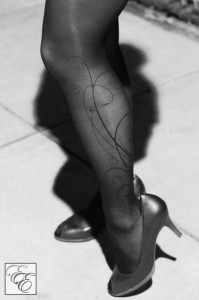 Toights are distinctive, fresh, and in an entirely different class from simple patterned tights that pale in comparison. They make me feel special and utterly feminine. Here I'm wearing
Wisp
.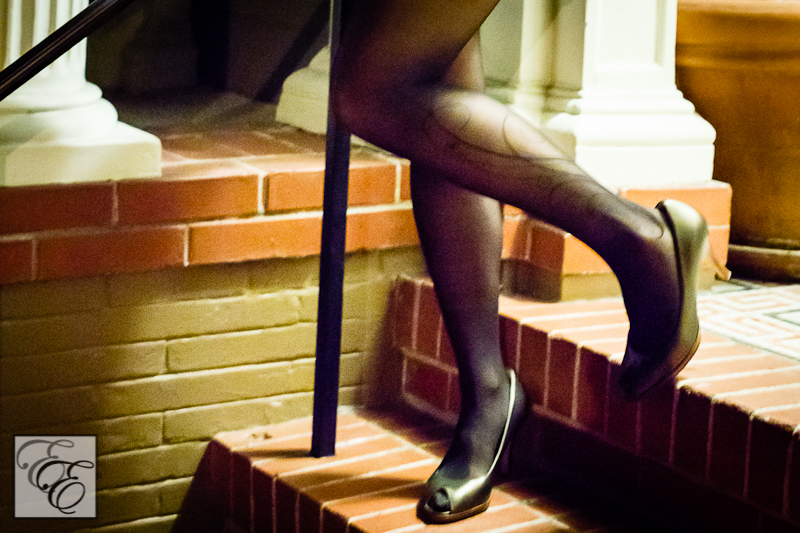 To best highlight the Toights design, I went with minimalist Ponte de Roma tuxedo shorts from Maxstudio and metallic dark green-gold peep-toe pumps by Cole Haan. On top is a flowing, green Japanese-yarn polyester tank top (silk-like, with a relaxed rippled texture to the fabric) and a black leather-sleeve open blazer, both by Theory.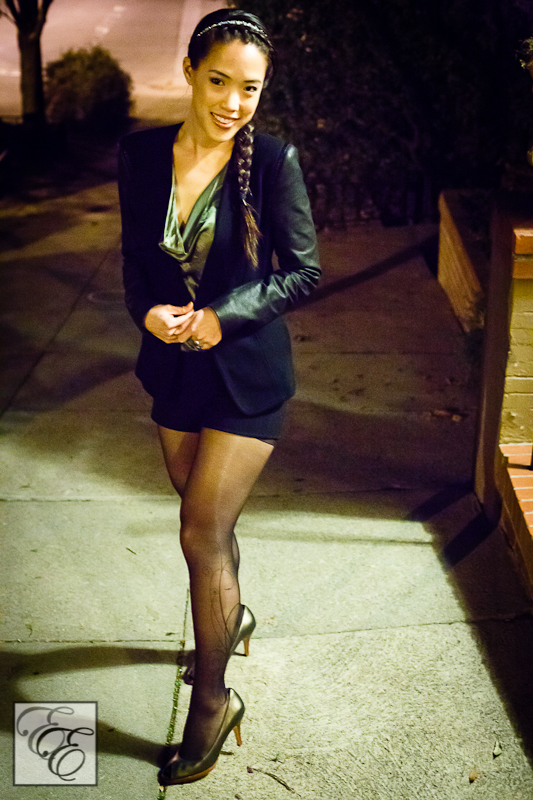 [Toights hosiery, Maxstudio shorts, Theory top and jacket]
The silk tank has a beautiful, loose draped neckline that falls just there, nestling lightly into my decolletage in a way evocative of Greek muse-meets-siren. The jacket, a lovely gift from my husband – adds tailored apropos – just the right touch of formality to an otherwise potentially risque outfit.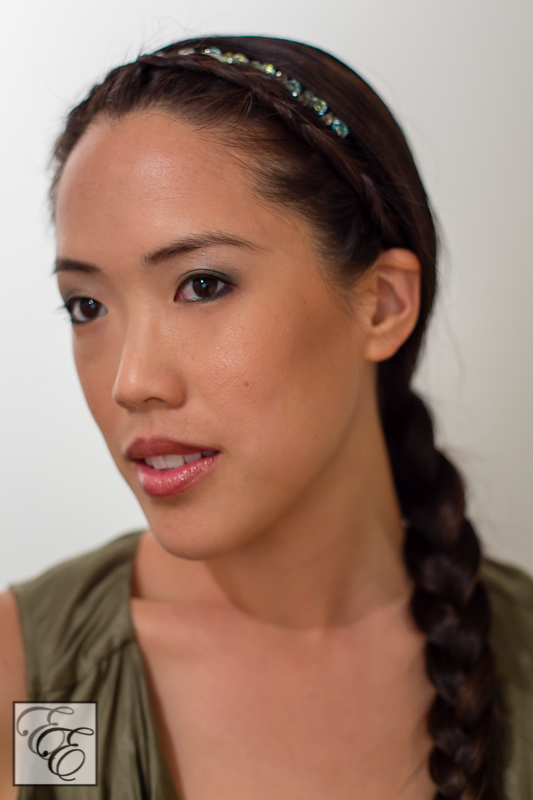 A two-part braid keeps things clean but feminine. I made a low side part over one ear and formed a thin semi-french braid along my crown, only pulling hair into the braid from the front of my hairline. I continued the braid behind the opposite ear, down to the nape of my neck, and then to the end of my hair. I then took all of my hair, including the thin braid, forming a single thick plait down my back. I finished with hair spray and to emphasize sleekness, and nestled the jeweled hairband just behind the braid.
STYLE SUMMARY

[Theme] Equestrian, formal, and sexy
[Colors] Dark, sophisticated neutrals
[Textures] Sheer, silk, leather, and tight-woven knit
Cheers,