It's past Labor Day (Still wearing white? You should – I'll continue to do so throughout the winter!), and I'm getting a few last wears out of my summer maxi dresses. September is one of the best months in San Francisco, when warmth makes one last appearance before cool autumn air whisks into town.
A super-simple look to put together is a soft cotton maxi dress with a casual linen blazer. Below are some photos of warm-weather layering that works beautifully for these lovely last days of summer.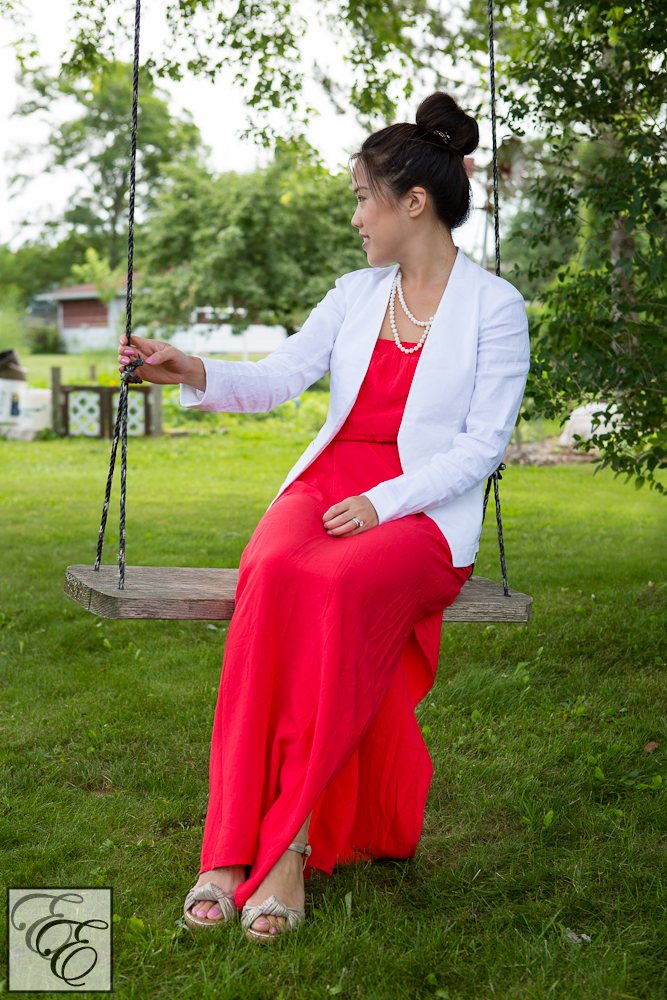 [Theory Lanai white blazer – similar summer striped version here, fall/winter wool versions here,
Bloomingdale maxi dress – similar options here on clearance; here's my personal pick!,
Indigo by Clarks golden wedge sandals,
and BCBG white stretch belt (old)]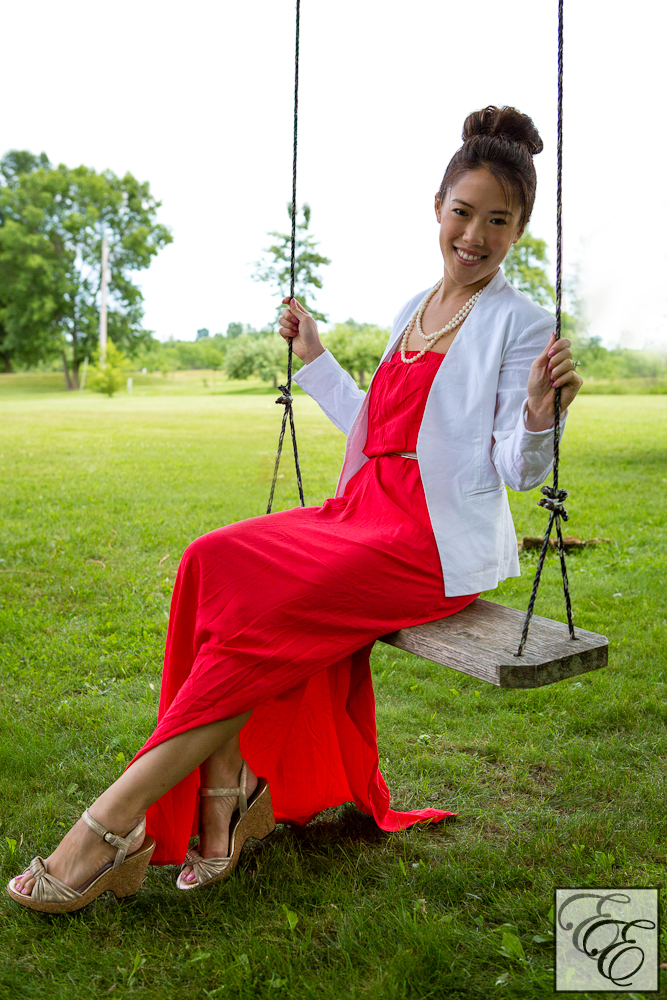 The long side slit is great for movement, increases air flow (keeping things cool in warmer weather), and makes for sexy leg posing (aka a more conservative version of Angelina Jolie's infamous leg pose). I popped my hair up into a topknot bun with a doughnut-shaped roll similar to this – it's done within minutes, stays securely in place, and is a chic DIY style.
These photos were all taken at my husband's parents' place in Wisconsin. It's a lovely place to enjoy nature, get away from it all… and have fun with simple pleasures like this tree swing. 🙂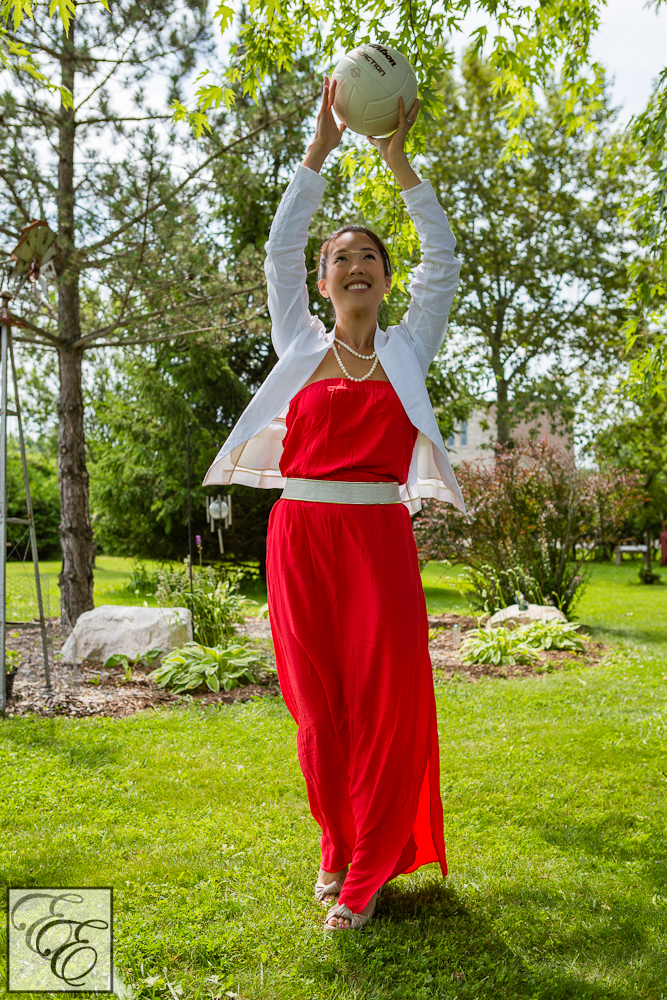 We were visiting for a family reunion, and there were lots of toys for me to borrow as props. Before a spirited volleyball tournament (5 on 5 with rotations; there were lots of family members around!), I nabbed the ball for a few action shots. This one shows how easy it is to move in the stretchy blazer. It only looks formal, it doesn't feel that way!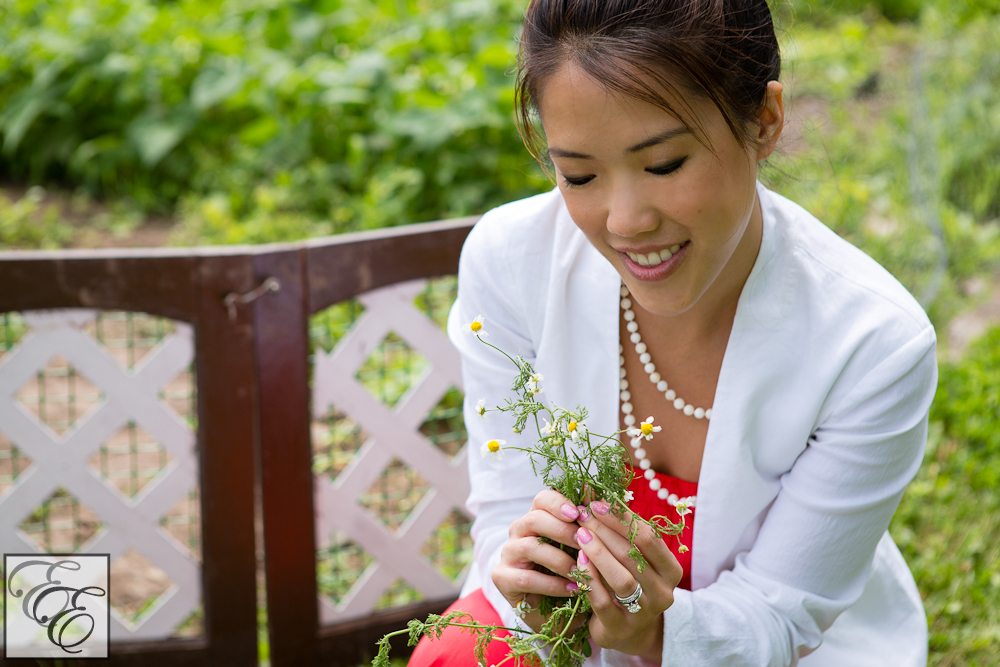 I think my favorite part of the expansive backyard is a thriving garden overflowing with everything from corn, tomatoes, sunflowers, squash, carrots, peppers, and more (pictured above behind me). As much as I love the city, I'll be thrilled to have a garden of my own someday. I'd fill it with berries (ollalieberries and strawberries are personal childhood favs), herbs and aromatics, figs, and persimmons. Mmm…!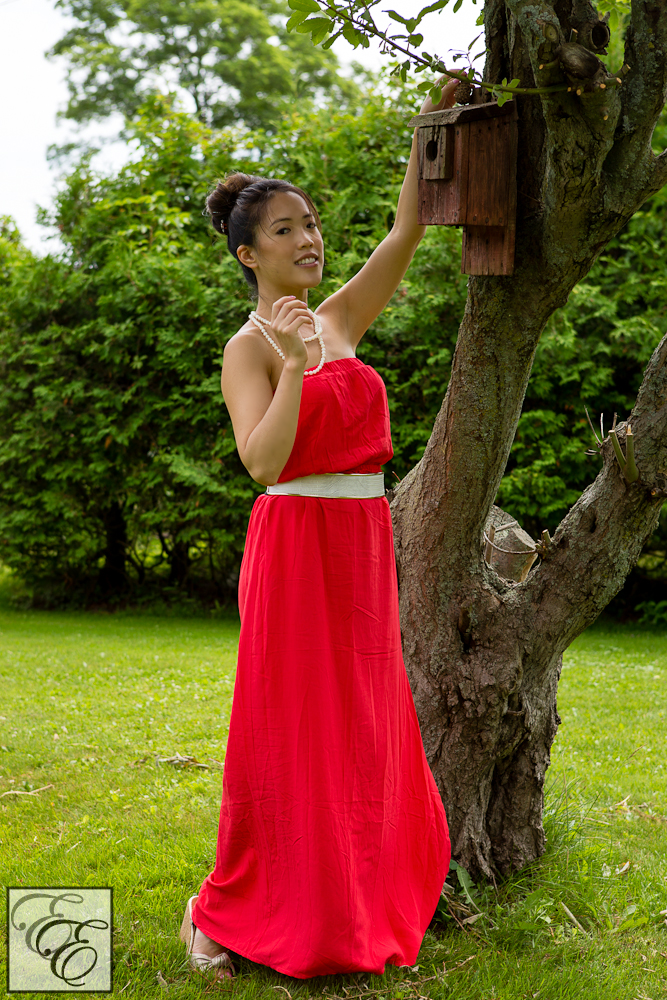 There all sorts of little treasures to be found in nooks and crannies. This little abode didn't seem to be in use at the time, but I'm sure it'll be a cosy niche during the cold winter. I can imagine hanging up pine cones with peanut butter for the inhabitants. 🙂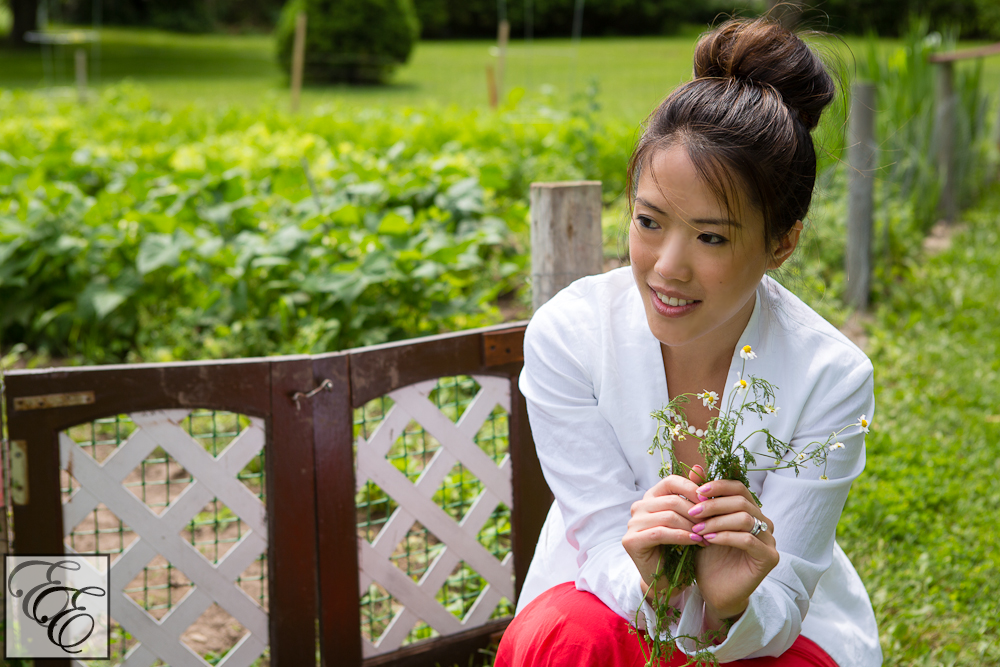 Soon, summer will be a slowly-fading glow… but ah, it's been filled with plenty of lovely memories. Savor them; I look forward to sharing the joys of autumn with you soon!
xoxo,