Today's the first day of New York's Fashion Week, and it's just about a week until Valentine's Day. Which means perfect timing for a fashion post for those romantically-inclined!
Lace is being incorporated into a multitude of silhouettes and fabrics (laser-cut into leather, even!), and it really works. The word 'lace' no longer brings to mind just a frilly-princess look.
It's an attractive way to add contrasting feminine detail to any article of clothing. It's the smallest touch of sexy flirtation when peeking out from under layers. And best of all, it's versatile based upon your comfort level; it's demure when backed by fabric, and it's seductive when there is nothing but skin underneath.
My color palette for this month is crimson red, black, and gold. Red and black is a classic, powerful combo. The passion and intensity of red balances well with minimalist black. Top that with gold – a natural pairing for both colors – and you have a luxurious and powerful look. With that, juxtaposing lace on top adds a feminine grace that works regardless of age.
I love this Jaiden sheer lace sweater by Theory because I can use it to dress up a number of tops, from a collared shirt, to a scoopneck sweater, or a cropped bandeau top. (Or, if you're feeling particularly fashion runway-ready, pair it with a pretty bra and blazer, and strut your stuff!)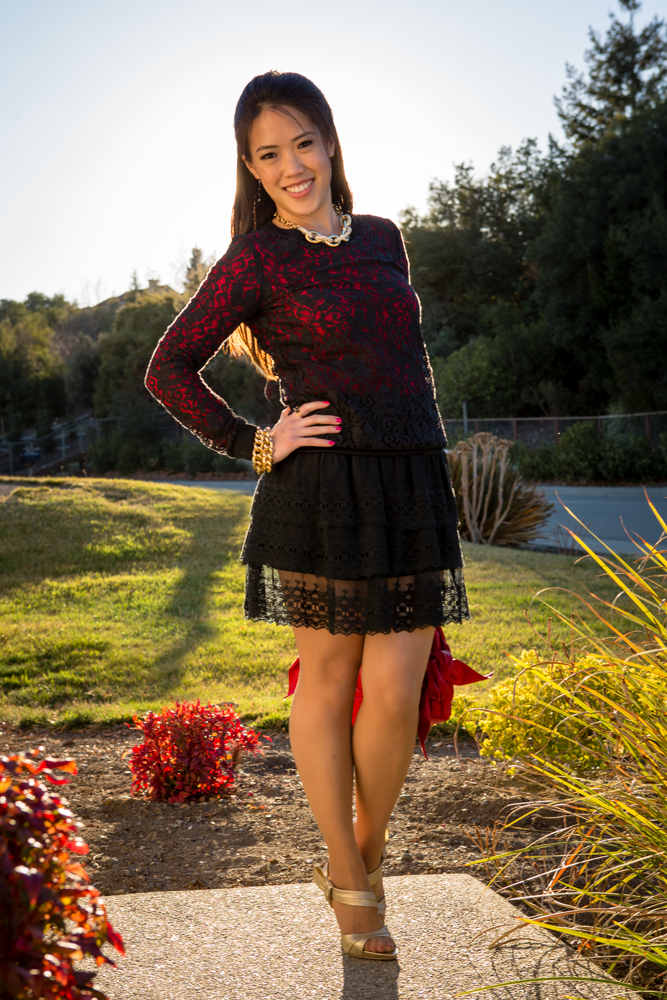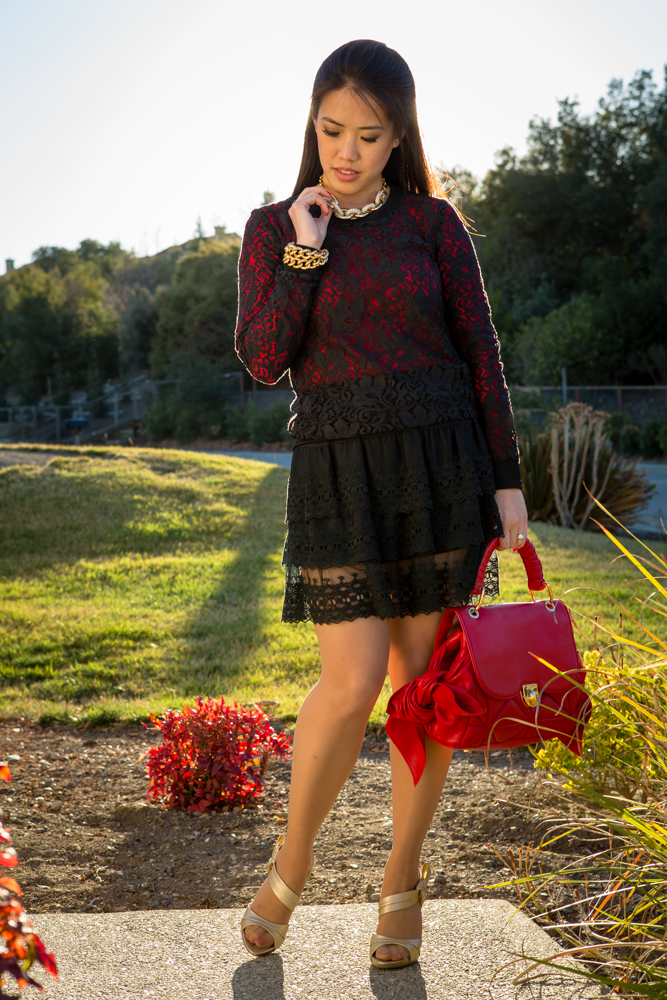 Here, I'm wearing it with a light Ann Taylor sweater and a tiered lace skirt I got from a Hong Kong boutique (asian styles are distinctly girly-feminine, so you'll find plenty of lace in fashions over there).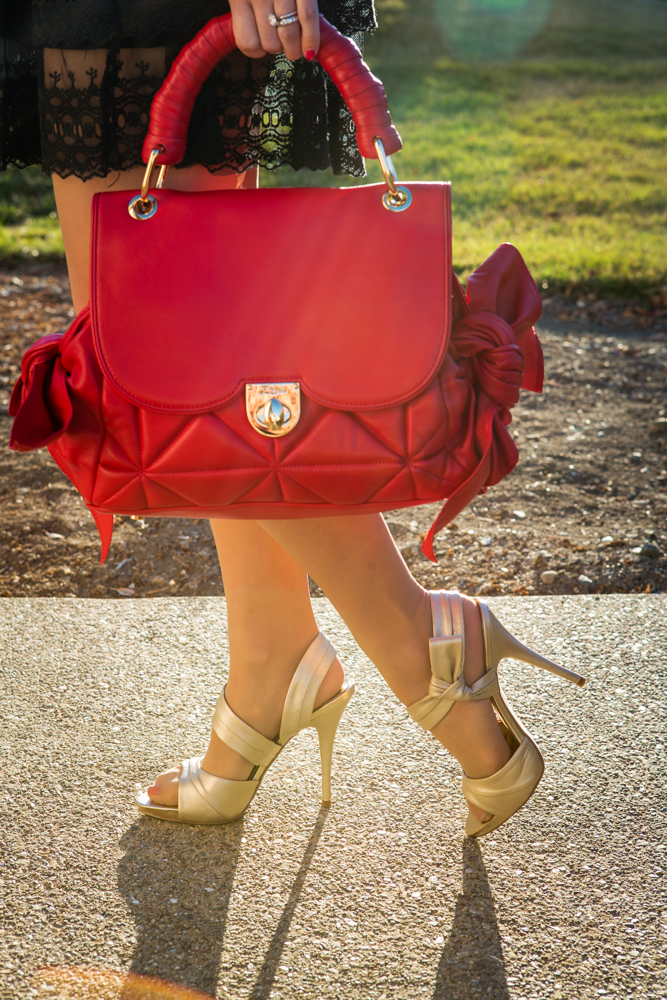 My Zac Posen leather bag pairs red with gold, and matte light gold Guess heels round out the look.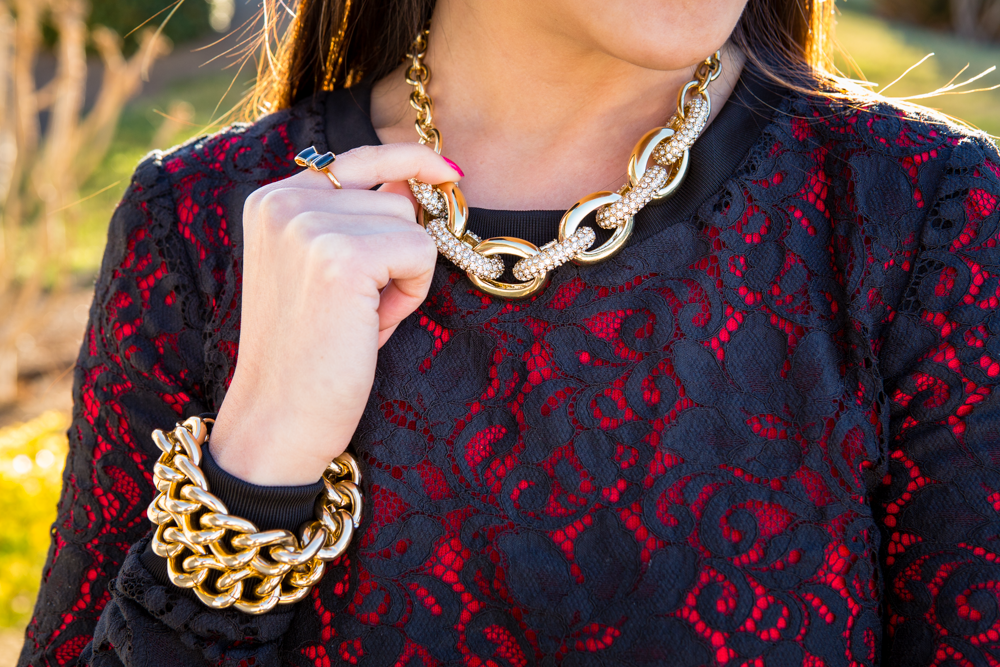 Thick gold-link accessories are timeless, and the larger size elevates them into statement pieces. I chose an Estate Pave Link necklace by Ann Taylor and a double chain bracelet by Sparkling Sage. Recently, I was delighted to find the cutest Kate Spade bow rings (they were recently on sale for $18 at a Kate Spade outlet!). They're the perfect accessory for dressed-up nails; I can't wait to try them out with a high-gloss black polish tipped with gold.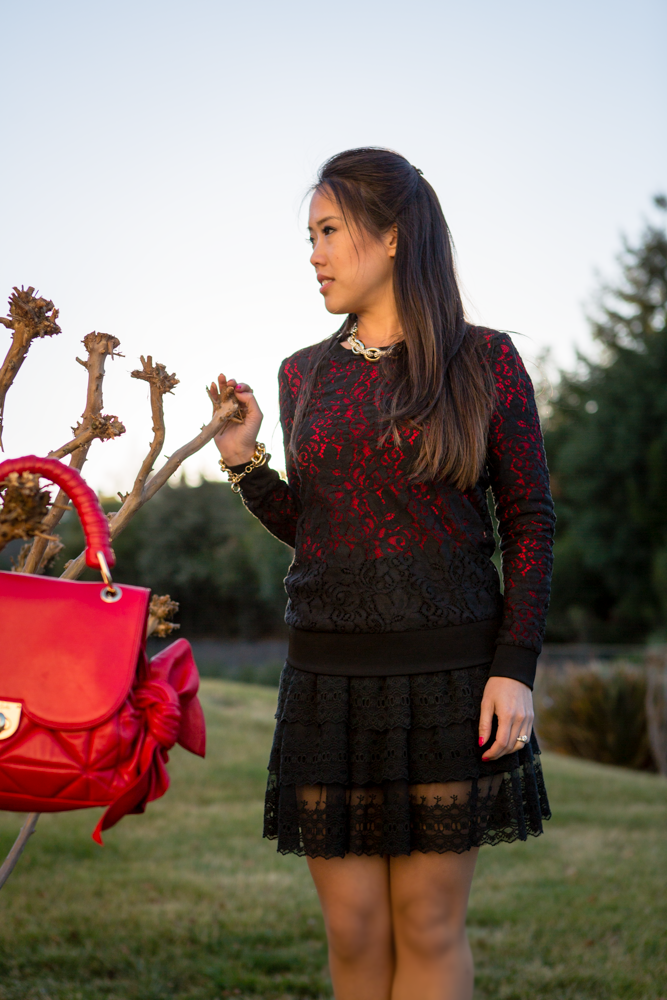 Top: Jaiden sheer lace sweater by Theory and red sweater by Ann Taylor
Bottom: Lace skirt (old; similar option by Alice & Olivia – super cute!)
Shoes: Guess gold pumps (old)
Accessories: Estate Pave Link necklace by Ann Taylor,
double chain bracelet by Sparkling Sage,
Kate Spade bow ring (similar option in gold by Madewell)
Do you have plans in the next few weeks to celebrate with girl friends or a loved one? What are you planning on wearing? 🙂
xoxo,