This month is synonymous with flirting, romance, and sweet moments. What to wear??
The first thought might be a red dress. But other elements are also evocative of romance: silk, feathers… and lace! I have a love affair with lace.
(On the subject of lace, Beyonce's Superbowl halftime outfit by Ruben Singer had the most gorgeous and sexy lace embellishment!)
For a fancy February date, I would choose a demure but curve-hugging sheath in white, caressed by intricate black lace. Here are three fabulous-looking selections across price points.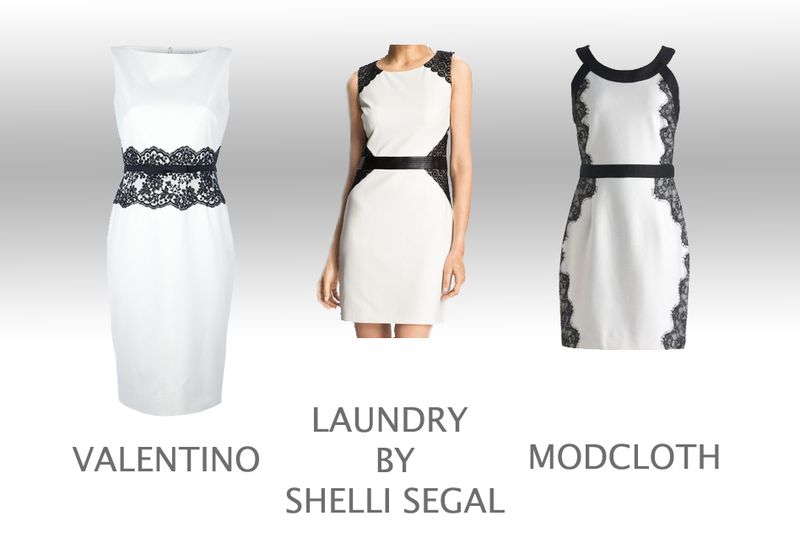 [Three variations on a theme]
Valentino, $1,795
This estemmed fashion house presents a clean, minimalist sheath that skims the shoulder blades, zooms down to a cinched waist corseted with black, and flows down past the knee. Invest in classic timeless glamour to last through the years.
Laundry by Selli Segal, $265
The LA-based brand is one of my favorites for its flattering cuts and on-trend looks. This dress has angular symmetry that nonetheless still alludes to an hourglass figure. This is for the lady that prefers a crisp and modern look.
Modcloth, ~$100
The SF-based retro-vintage company has a wide variety of styles, and this one marries the bold scoop neck and strong bordering of years past to a slimming lace silhouette. Cute and sexy at the same time!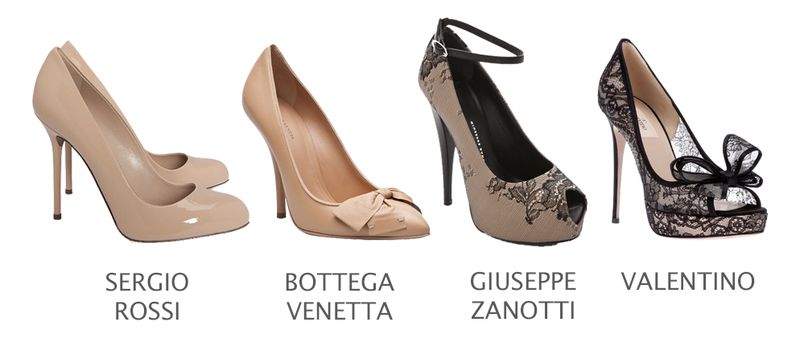 [Flirt with nudes]
Nude stilettos both keep your figure looking longer, and play great supporting cast to the focal point of your dress and accessories. Here's a range of classic nudes, to those with ribbons and ethereal lace. Personally, I would do anything to be able to flaunt those Valentinos!
Sergio Rossi, $595
Sergio Rossi's reputation is for quality, super well-engineered shoes that emphasize comfort. This pair is the ultimate in versatility and is a great closet staple.
Bottega Venetta, $780
The nude gets a ladylike lift with a low-profile bow draped across the front, a pointed heel, and thin piping.
Giuseppe Zanotti, $695
The lace overlay to this nude is like lingerie for the foot, and the addition of the slim strap eliminates the risk of slippage as you walk.
Valentino, $795
Full-out boudoir, with only sheer lace covering your feet! A beautiful puffy bow is the whipped cream to this already-perfect cake. Completely drool-worthy…
[Add bright red, white keeping with the B&W main theme]
We've kept things pretty conservative so far, so it's time to start adding some eye-catching red! Since this is for an upscale date, go with a decorative clutch rather than a larger bag.
Upstyle (Etsy), $75
The graceful curves of the white lotus design flatter the dress curves. It's a fun look that prevents the overall feel from being overly dressy.
Christian Louboutin, $1,595
This is for the cosmopolitan diva on the red carpet. Its assertive shiny hardware gives off the vibe that you know you're the center of attention, and you're not to be messed with.
Marni, $258
I enjoy the matte-patent contrast, with Japanese-like simplicity. This clutch is both understated and arresting, and the wristlet makes it functional as well as decorative.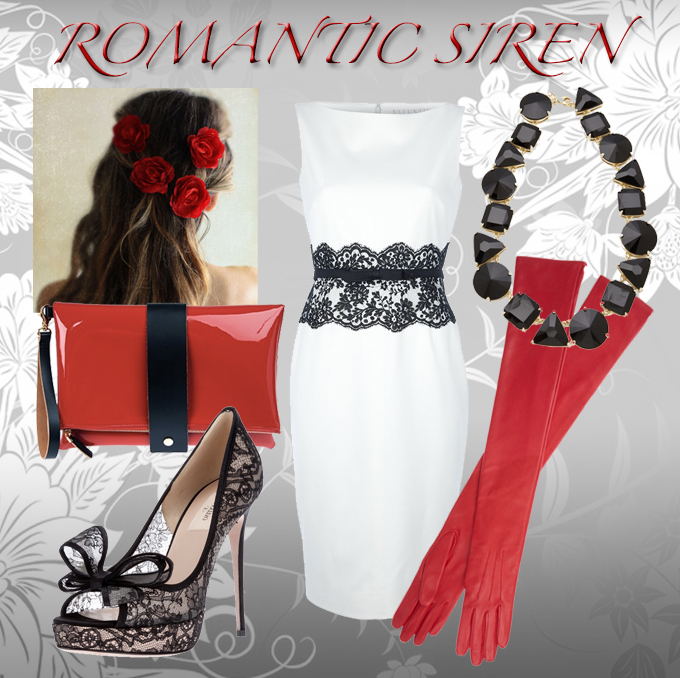 [Get maximum impact with this combination of feminine and strong lines.]
The above is what I would wear if I was aiming to utterly captivate a man's attention. *mew*!
I love the reflection of lace in the dress and shoes. I offset the feminine frills with modern geometric shapes provided by the clutch wristlet and necklace. Red leather opera-length gloves are the attention-getter of the entire look. Well-fitting long gloves are so sexy and rarely seen – your every move and gesture will be accentuated by them. Putting hair up would be overly formal, so I suggest soft waves carelessly pinned back by small red blossom clips.
Now that you have an audience captivated with your every move, let's also treat his other senses…

[Indulge in effervescent white peach soda with heart-shaped straws]
I recomend bellini, either by making this recipe or ordering from Cipriani, the original distributor of the white peach puree mix, as well as a canned soda version that is utterly divine. It's not cheap, but the non-alcoholic canned soda is entirely in a class of its own. Treat yourself to a splurge and enjoy in sips with your amour, with the adorable heart-shaped straws shown above!