When I think of Kate Spade, I picture classy, feminine designs with a conservative feel (very 'east coast', shall we say), rendered in joyfully bold colors and geometries. In the past few years, this brand has risen to become one of the new US luxury names, perhaps on a level to that of the quintessential US brand, Coach.
At the same time, Kate Spade is an entirely reasonably-affordable line – particularly during one of their periodic sales! Shop the surprise sale going on now through Thursday, February 13, for up to 75% off of original prices.
Here are my favorite picks from the sale, although be warned that they're going quickly – so much so, that the bag I chose is already sold out…! But I loved it so much, I still had to include it so that you can be on the lookout for a similar version if interested.
This (sold out) Magnolia Park Laurel trapezoidal satchel ($149, originally $398) is a great functional, everyday bag with flair. The neutral color-blocking, geometric angles, and gold block clasp are modern and sleek, and the leather construction gives it a touch of robust luxury.
The size and shape appeals to my practical side; I can handily utilize the open side vents for items such as a compact umbrella or water bottle. The satchel is lovely hung from the arm, but the longer strap gives you the freedom to drape it from the shoulder when you need your hands.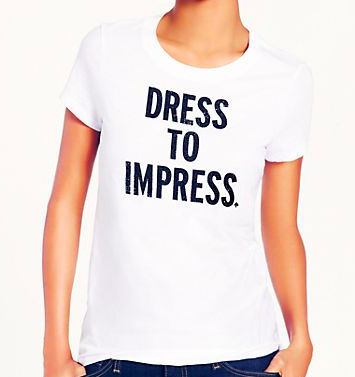 The Dress to Impress tee for $25 (originally $68, available in XXS, XS, S, and L at the time of writing this) is a fun fashion statement.
Layer with leathers – a cream leather moto jacket, black leather leggings, and leather perforated booties, liberally drape with gold chains, slip on a pair of oversized shades – and voila! Instant editor style. Love the back detailing of '24-7-365′.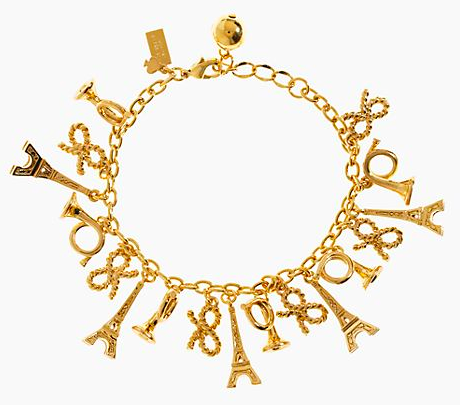 Lastly, this Parisian Lights Charm bracelet for $39 (originally $88) immediately charmed (pun slightly intended) me. I fell in love with Paris and all things related to Paris fashion and design last year, and this is a lovely reminder of the 'city of love'. The variable chain link length is great to fit a variety of wrist sizes. Tres chic~
Those are my loves. If you shop the sale, share your favorites!
xoxo,