We recently moved out from San Francisco to a scenic, idyllic neighborhood. The weather is stereotypically-California-beautiful (no more chilly San Francisco summers, yay!), we have plenty of space in our home, and we are surrounded by nature. My view from our living room window are gently-folding hills rising above a thick tree line that ranges  across the entire spectrum of greens. In love!
In addition to gaining a dream kitchen, I also now have a dream garden. It has a wealth of treasures including lemon, lime, tangerine and bay trees; mint and tarragon planters and abundant bushes of rosemary and roses. It also has four tiers of gardening boxes that I'll be filling with various fruits, herbs, and vegetables.
Looking for other ways to make the most of my new domain, I found "Harvest" by Stefani Bittner and Alethea Harampolis to be a fantastic source of inspiration. The owners of Homestead Design Collective, a San Francisco Bay Area landscape design firm, Stefani and Alethea have put together a collection of 47 projects of how to transform a garden's bounty into facial masks, cocktails, seasonal wreaths and more. This is a book immediately appealing to anyone who enjoys the intersection of nature and arts and crafts. Organized into chapters based on each plant's harvest season (early, mid or late-harvest), the projects are written clearly and are easy to follow. Besides the instructional projects, you also get information about the characteristics, benefits, and tips on how to harvest and use each plant. Each "recipe" is accompanied with a vibrant, full-page illustration of the plant and/or project results. An appendix offers a well-populated list of project ingredient alternatives so that you can substitute with whatever plant is conveniently available locally. Many of the projects are perfect entertainment conversation-starters (e.g. a flowering basil arrangement or a pomegranate margarita), while others are perfect for self-pampering (e.g. an apricot facial mask or a rosewater facial toner).
I had some lemongrass left over from making tom kha gai (Thai coconut milk-based chicken soup), and decided to make a salt scrub with it. Stefani and Alethea tout lemongrass for its antibacterial, antioxidant and other therapeutic properties, and recommend using a lemongrass salt scrub for relaxing sore muscles in a deep tub soak.
I used pink Himalyan sea salt crystals for my scrub because the blush-salmon crystals gorgeously contrast against the pale yellow-green lemongrass. I also tweaked the ingredient proportions to the following: 1 stalk of fresh lemongrass, 1/3 C sea salt crystals, and a scant 2 T of olive oil. It's a flexible "recipe", so feel free to adjust amounts to your personal preference.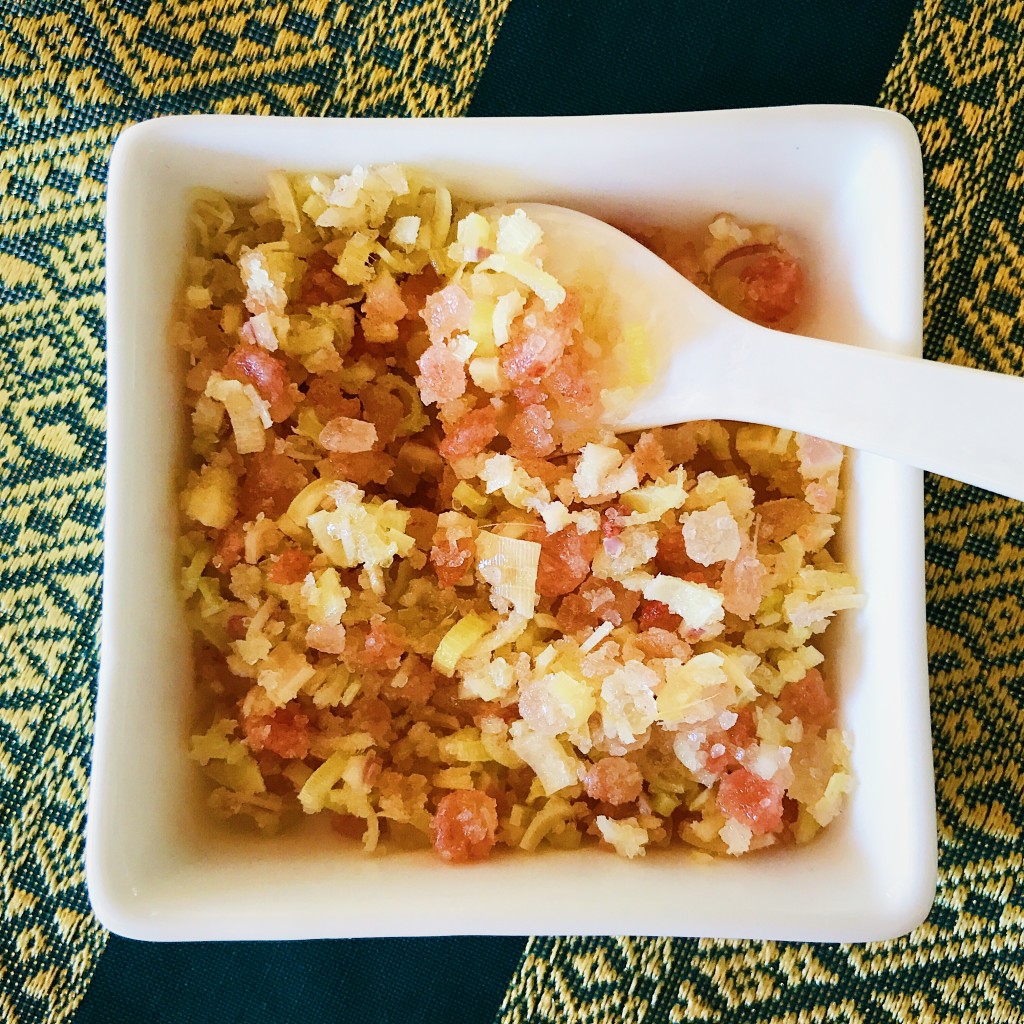 Lemongrass Salt Scrub (makes about 1.5 cups)
Ingredients
1-2 fresh stalks of lemongrass (I used 1 stalk)
1 C sea salt (I used 1/3 C Himalayan pink sea salt crystals)
1/2 C almond or olive oil (I used 2T olive oil but in retrospect, would recommend almond oil for a more complementary scent. The olive oil added more of an assertive olive scent than I anticipated, taking away from the star of the show, the lemongrass)
Instructions
Finely chop the lemongrass by hand or in a food processor.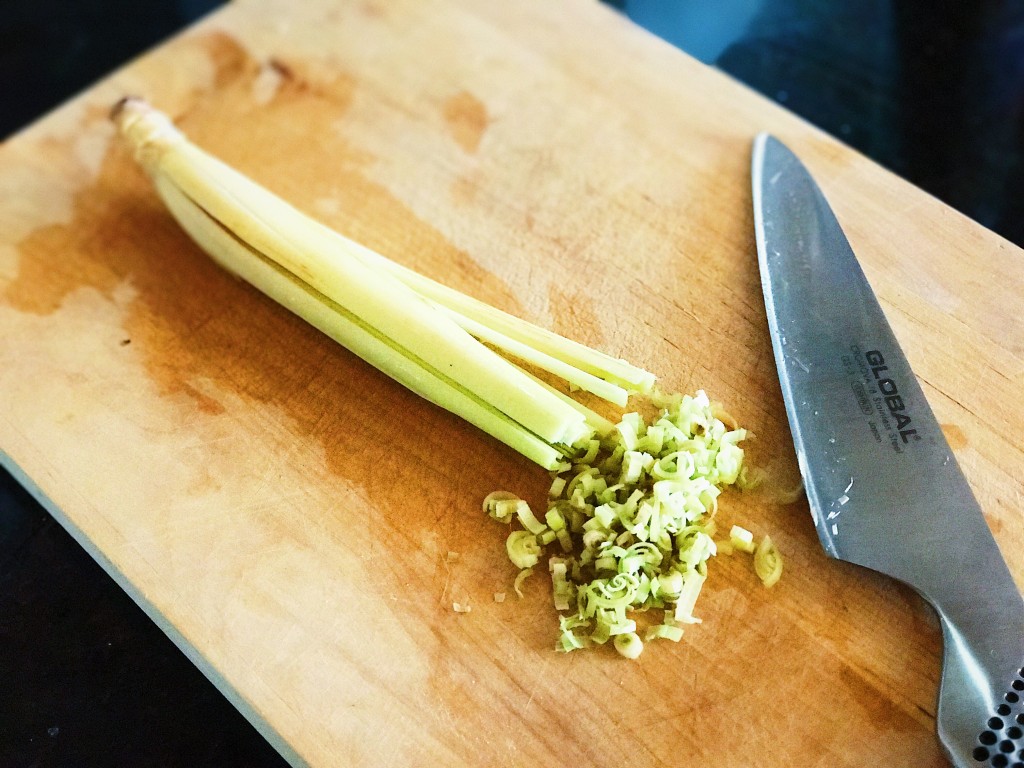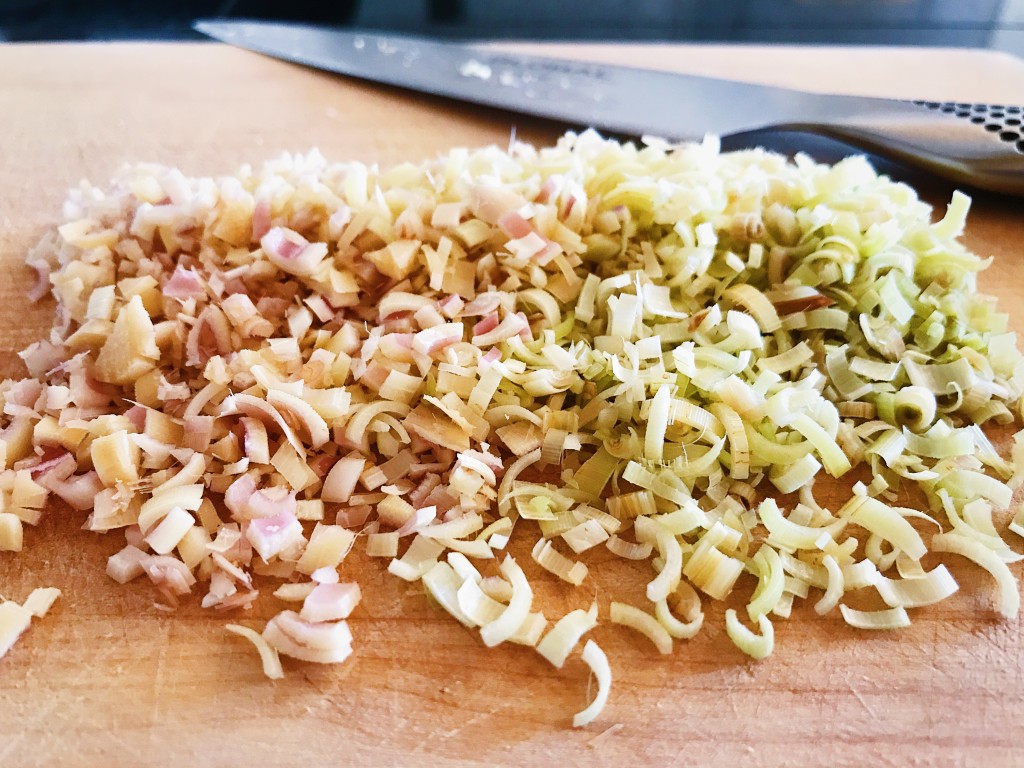 Combine the chopped lemongrass, salt and oil in a bowl and mix with a wooden spoon or hands. The texture should be moist enough to hold together but not overly oily. (If it does get too oily, add a pinch more salt.)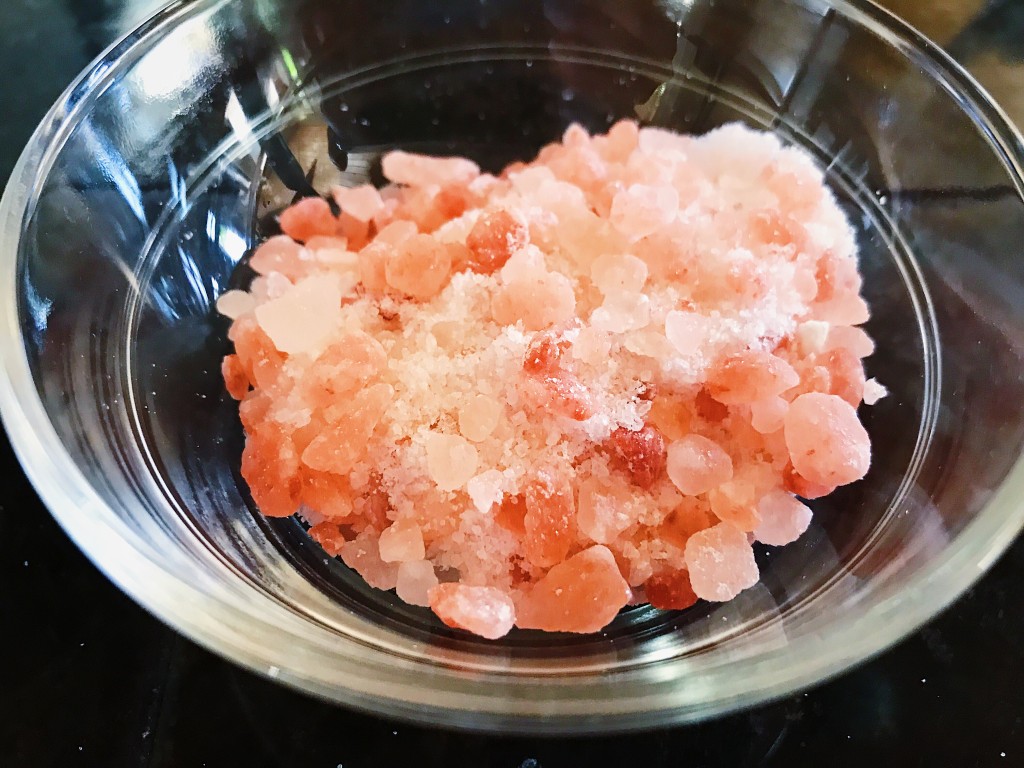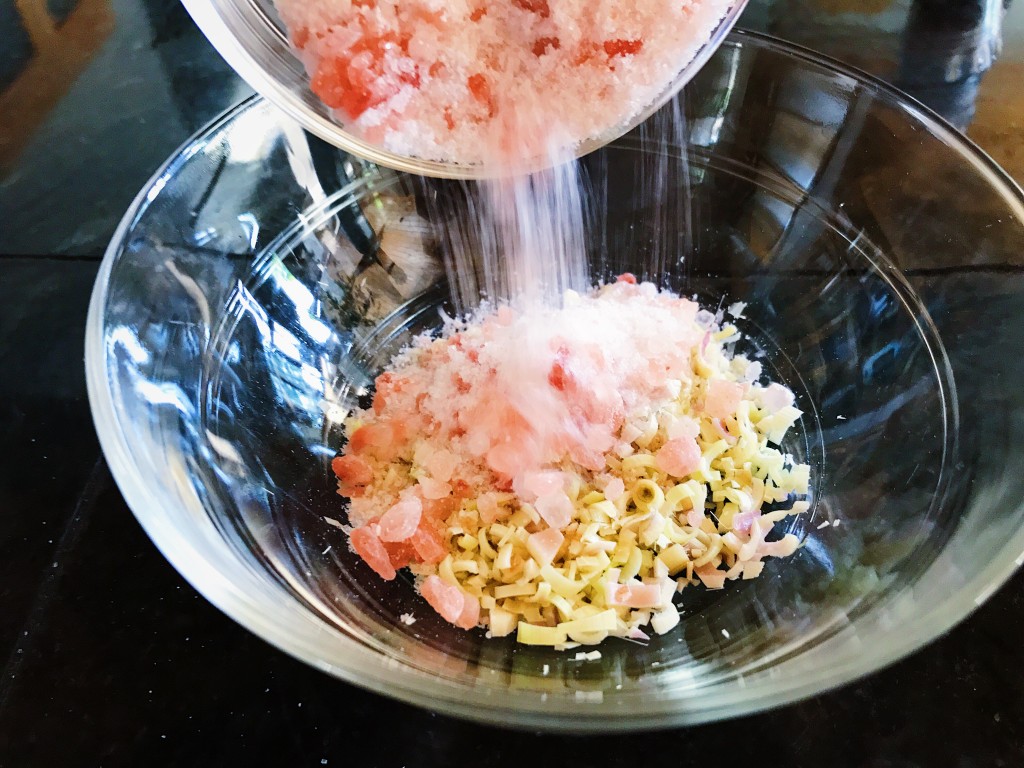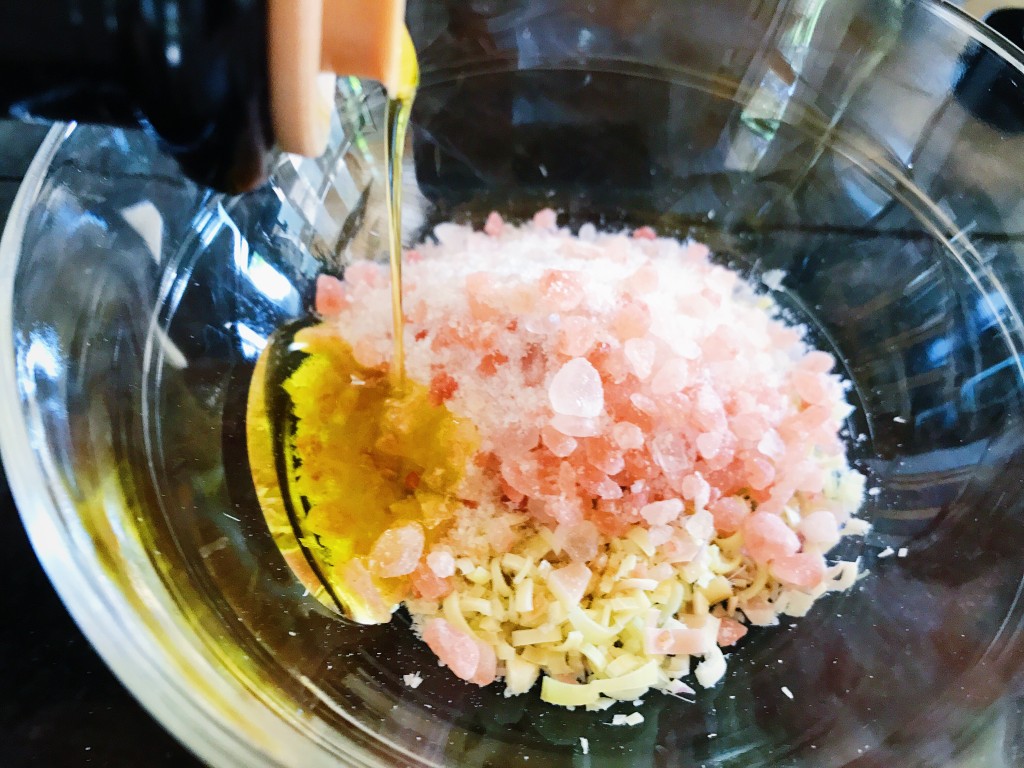 Scoop the scrub into a 12 to 16-oz jar and seal with a lid. Use within 2 weeks. (I'm storing mine in the fridge to prolong its life.)
To use, simply spoon a small amount into your hands, gently rub it in, and then rinse your hands with warm water.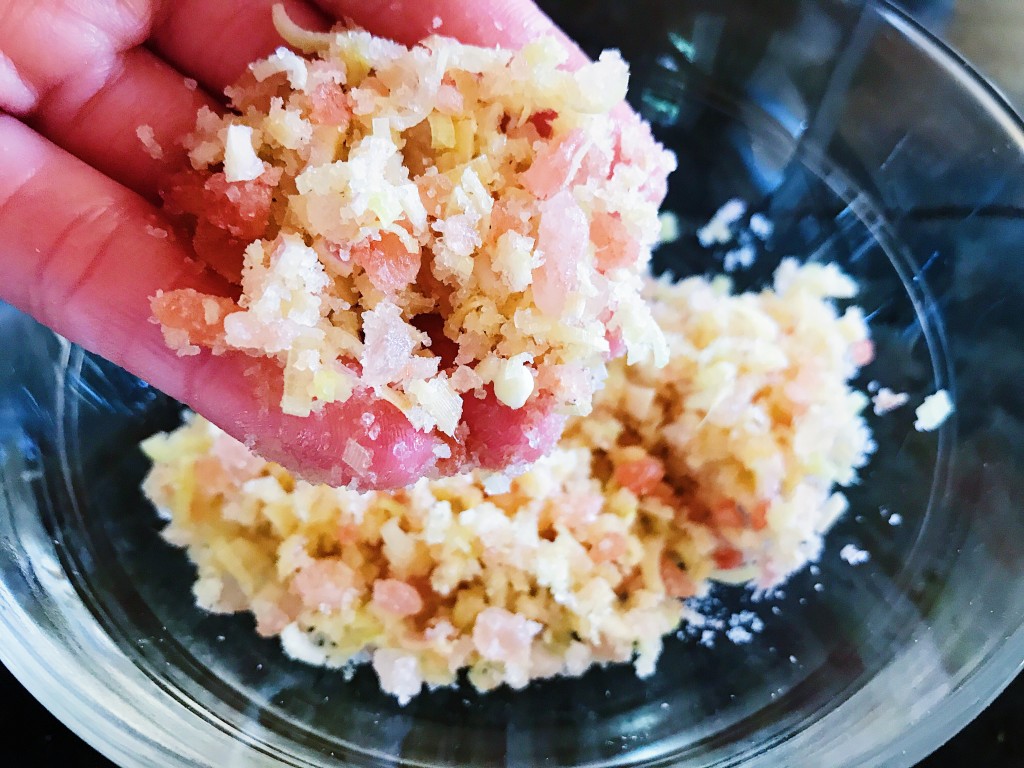 I love the lemongrass scent. It instantly transports me to the beaches of Phuket, where I've made many wonderful memories lounging and dancing with warm-hearted friends full of smiles and laughter. The rosy pink crystals make the scrub even more appealing looking, and would make a beautiful gift in a faceted glass jar.
This project, like many others in the book look,  was easy and fun to do. I'll be working my way through many more as we progress through the summer harvest seasons!
xoxo and aloha,
Lauriel
[Disclosure: I received a copy of this book from Blogging For Books for reviewing purposes. All content herein solely reflects my personal thoughts and opinions.]