I recently celebrated a milestone birthday – I'm 35! Halfway through the 'Sex and the City' decade, and I'm having a blast. I couldn't ask for a more loving, amazing life partner, and I have plenty of hopes – but no expectations – for the upcoming year.
Despite my age, I'm sometimes mistaken for a recent college grad. It doesn't exactly help for establishing professional credibility, but I'm happy to take it as the compliment that it is!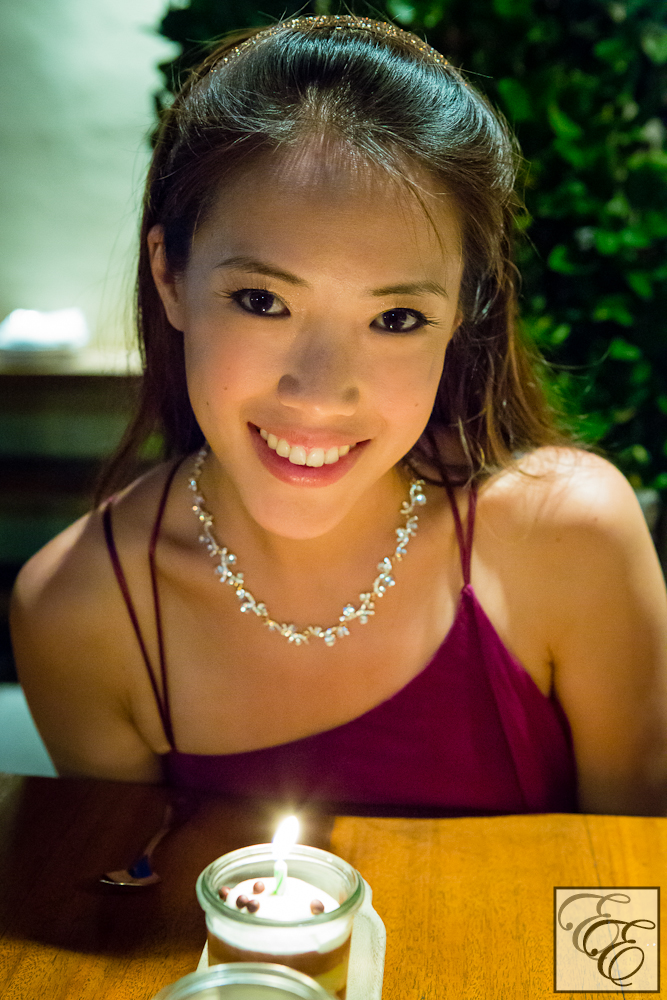 There's so much that contributes to youthful well-being; health and happiness top the list. You've likely heard some variation of these before, but I'm happy to share with you some of my philosophies that have served me pretty well thus far.
1. Surround yourself with happy people who inspire you. When you're surrounded by people achieving their dreams, you're incentivized to make your own dreams into reality. Happy, true (warm-hearted and sincere) people will bring love, support, and joy to your life. With a great support network, you can do just about anything.
2. Treat your body well by fueling it with good sources of energy, and taking good care of it. Enjoy good food and vibrant flavors. Indulge in homemade indulgences and skimp on artificial guilty addictions (anything with more preservatives and artificial colors/flavorings than pronounceable ingredients). To get a good idea of what you're really eating, MyFitnessPal (also available as a free mobile app) is a fantastic way to log your food intake. [Bonus: you can factor in your exercise efforts.] Don't try to overly restrict yourself from favorite foods, but if you can, look for sensible alternatives. For example, I love to relax with a hot beverage at night. My indulgence would be hot chocolate, but I've found a comforting and delicious alternative in Lupicia's Te de Frutas, an aromatic decaffeinated black tea redolent of strawberries, peaches, and lychees.
Take pride in your appearance. Protect your skin by wearing sunscreen daily, and use moisturizers and (retinol) serums that help keep your skin looking young. Find ways to emphasize your attractive features. You don't need to do anything extreme outside of your comfort zone; simply take pleasure in how you portray yourself. You'll exude happiness and confidence, and others will notice that attractiveness!
3. Be active and always keep learning new things. Regular exercise boosts your mood by releasing endorphins, improves your skin's appearance by increasing your circulation, keeps you at a healthy weight, and develops new brain cells and neural connections. With so many benefits, being active is something you want to enjoy throughout life. After a relatively sedentary childhood, I've been exercising since college, and have maintained my weight (and appearance, to some extent) since then.
Then take advantage of your new mental capacity by learning new things to strengthen your brain's flexibility. You've got one life to live; there's always something new and worthwhile to pursue. Make your life fun, fulfilling, and above all else, memorable.
4. Envision your goals and dreams, lay out steps towards achieving them, and ACT on them. You may not end up where you wanted or expected to be, but you'll have the satisfaction of knowing that you were brave enough to reach for your dreams rather than wistfully harboring 'what if' regrets. You'll be sure to have adventures along the way. As you go, record them – write/tweet, photograph, videotape, or otherwise immortalize them. You'll explore new experiences, and the emotions you feel that very first time are special. The wonder can never be repeated. Capture it to remember exactly how it happened and felt.
Lastly, as I was told by the exuberant folks at the infamous fish-flinging Pike Place Fish Market, "Do. There is no try." (By chanting that mantra, I successfully caught a 20-lb salmon from over 15 feet away, the first time it was lobbed at me. It was a thrilling, unique, and utterly fun experience. But that's another story.) Now get started with your own stories!
xoxo,


p.s. Always find delight in small discoveries and joys of life. And have fun sharing them with others. 🙂
Here's one of mine! 'Peek-a-boo', says this adorable flower that I found in Thomas Keller's garden in Yountville, opposite his French Laundry restaurant. Wandering through the garden was a perfect way to spend my birthday with my parents and husband, along with having a wonderful lunch at Thomas Keller's Bouchon.