For four of the past six years, we've had a short tradition of visiting Thailand over the holidays to catch up with overseas friends while soaking up humid heat on the beach and savoring aromatic and dynamically-flavored Thai food. Some of my life's fondest memories have taken place there, from first meeting my husband's friends at a beachside villa in Phuket for a wedding, to exchanging our own marriage vows two years later on a beach just a few miles down.
We've stayed close to home for the past two winters with our little one, but the travel itch is starting to really sit in again. Thailand is at top of mind, as we would love to reconnect with dear friends and meet the little ones that have been born in the last few years. 🙂
In the absence of visiting, I'm finding solace within the bright, clean pages of Andy Ricker's "Pok Pok: The Drinking Food Of Thailand". Andy Ricker, the owner of multiple restaurants under the "Pok Pok" brand ('pok pok' being the sound that Thai noodle carts make as they travel through neighborhoods, similar to our American ice cream truck jingles) and cookbook author, is considered an expert of northern Thai cuisine. "Pok Pok: The Drinking Food Of Thailand", his second cookbook, is a bright and clean narrative of authentic Thai dishes meant to accompany drinks at pubs, lounges, bars and the like. Simple but well-detailed recipes are equally interspersed with heavily flash-lit photographs of night-served street food. It's a tantalizing tour of local Thai dishes that may not make much sense to someone who has never been to Asia, but would be a welcome reunion for someone who misses the sights, smells, and flavors of off-the-beaten-path Thailand.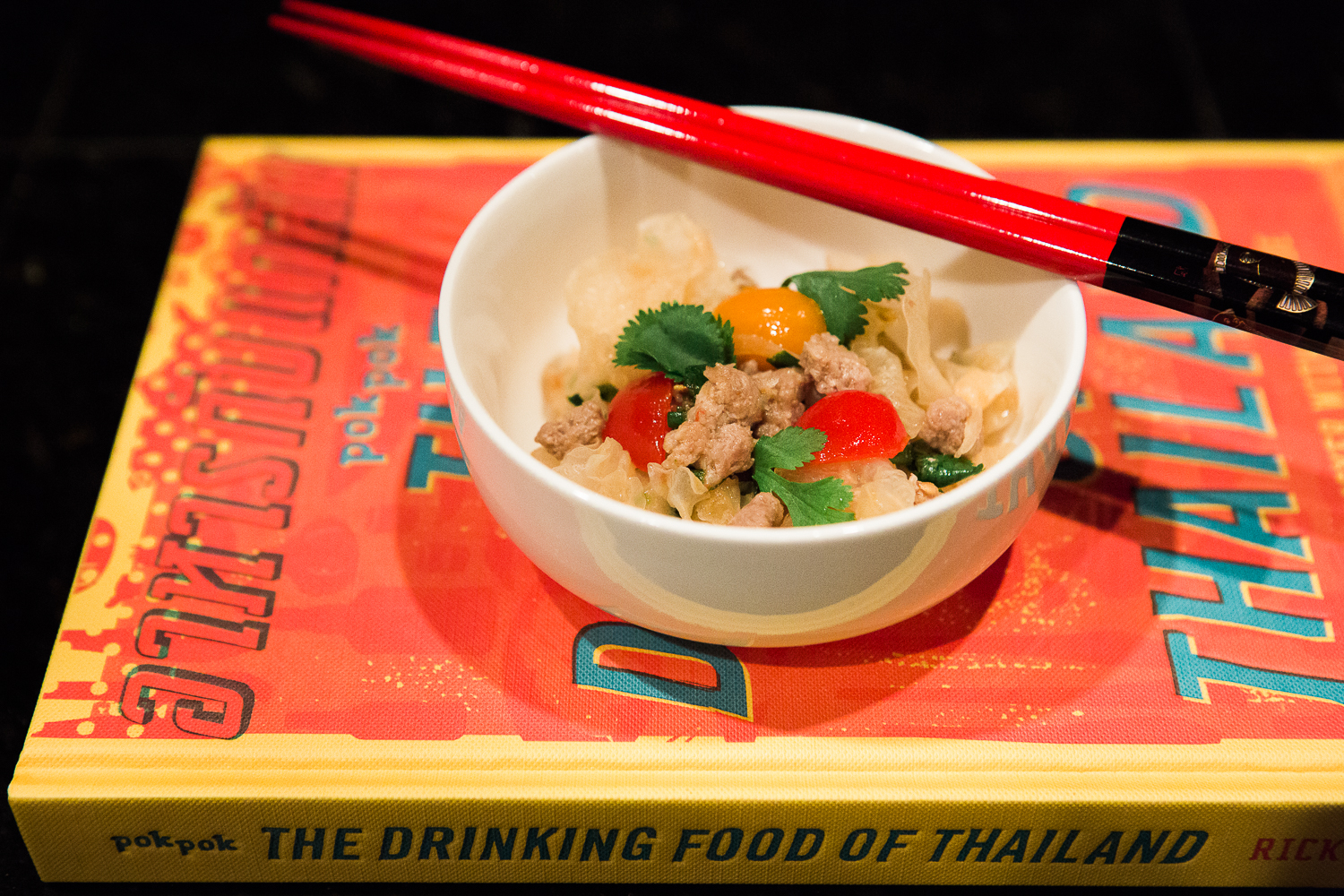 These are not dishes that you'll find at any Thai restaurant here, and recipes frequently feature ingredients that may be challenging to find (pigs brains, frog legs, and sawtooth herb, to name a few). However, this is part of what makes the book so appealing to me. This is the real deal: it demystifies an aspect of Thai life in a way that is accessible but still highly-authentic. It feels somewhat like having a private culinary tour of local Thai eats!
Even so, there are a good number of recipes that can be made at home – made easier with access to a well-stocked Asian grocery store. Here is such a dish, a light and refreshing salad made of tender-crunchy frilly fungus punctuated with bright red tomatoes, bits of savory pork, and a sweet-tangy, garlicky dressing with a hint (or punch) of spice. It requires a bit of advance planning since the fungus needs an overnight soak, but the dish comes together quickly once you start cooking.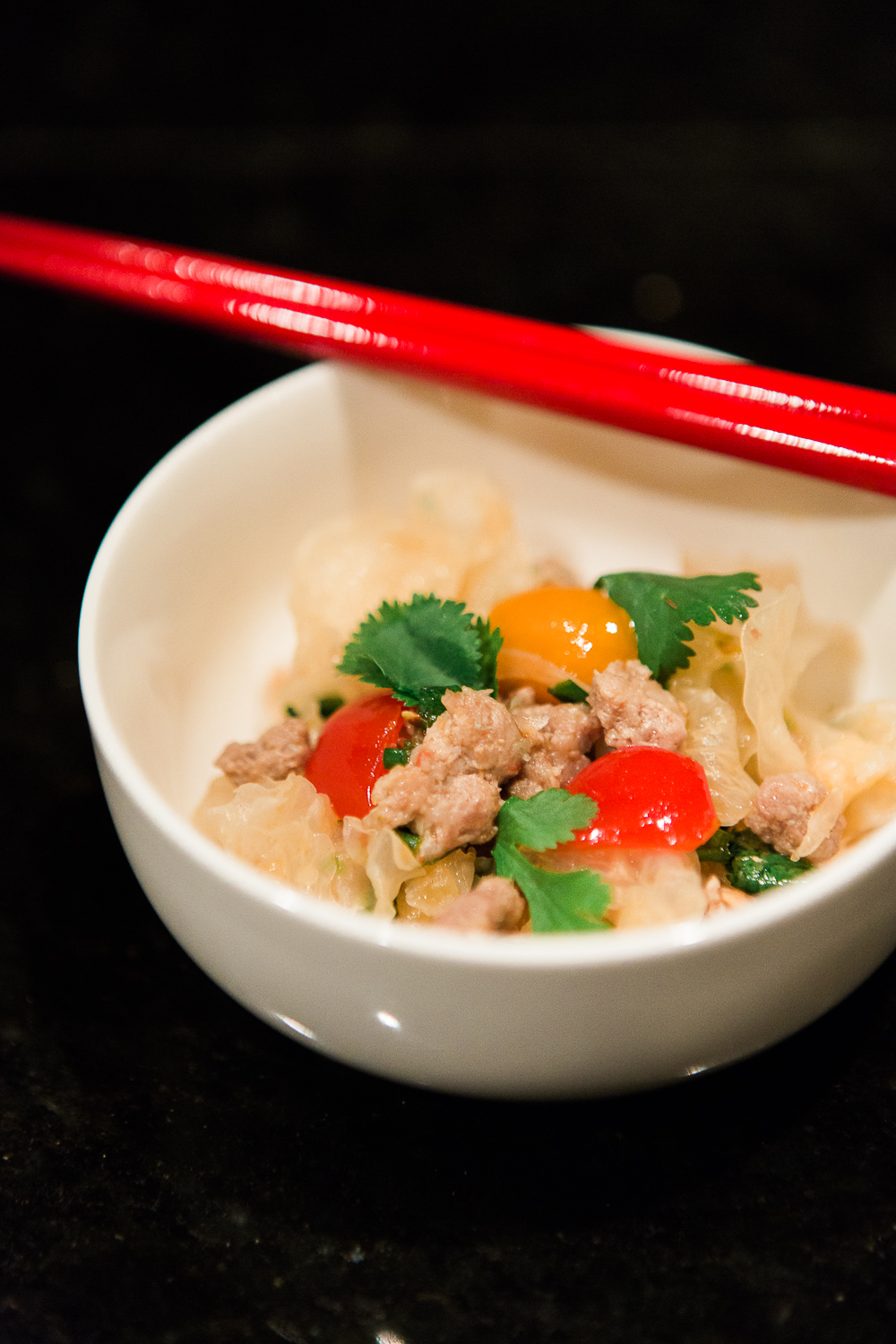 Yam Het Huu Nuu Khao (Mouse Ear Mushroom Salad)
(adapted from "Pok Pok: The Drinking Food Of Thailand")
Ingredients
1/2 t neutral oil (e.g. canola or grape seed)
2 oz ground pork
2 T Thai fish sauce, plus 2 dashes
4 peeled and chopped garlic cloves
1/2 seeded and chopped jalapeño or Thai chili for a very mild level of spice (up to 4 chilies for authenticity, depending on your heat preference)
2 T fresh lime juice
2 T palm sugar
1 C soaked, trimmed of hard portions, and lightly chopped white fungus (It may be labeled as silver fungus or snow fungus, and is found dried – boxed or bagged – in Asian markets. Each bunch of fungus is oblong and about the size of a tennis ball.)
2 oz cherry tomatoes, halved (quartered, if large)
1/8 – 1/4 C very thinly sliced white onion
1/4 C coarsely chopped green onion
2 T coarsely chopped cilantro
Instructions
Heat the oil in a saucepan over medium-high heat. Add the pork and cook, stirring and breaking up the meat. Add the two dashes of fish sauce after about 1 minute. Cook for 1 more minute, or until just cooked. Turn off the heat and let the pork cool while making the salad dressing.
Combine the garlic and chili in a mortar. Pound to a coarse paste. Transfer 1 1/2 T of the paste to the saucepan with the pork and add in the fish sauce, lime juice and palm sugar. Set to medium heat and stir the mixture until just warm (and sugar has dissolved and raw edge is taken off of garlic). Turn off the heat.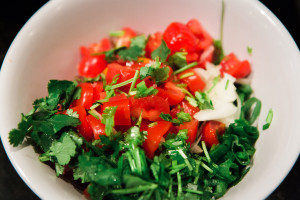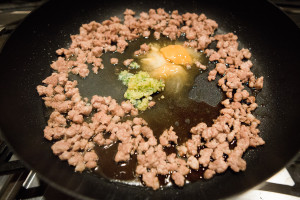 Add fungus, tomatoes, white onion, green onion, and cilantro to the pork in the saucepan and toss well. Transfer the salad and dressing to a plate and serve.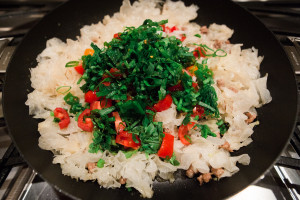 The salad was proclaimed delicious by everyone and quickly devoured. It's also very healthy, which makes for a great way to start out the new year. And best of all for me, it immediately transported me back to Thailand and the many dear memories of our times there.
xoxo and aloha,

[Disclosure: I received a copy of this book from Blogging For Books for reviewing purposes. All content herein solely reflects my personal thoughts and opinions.]