Looking for a light, summery-type meal that can make you momentarily forget that it's still winter?  This dish can do the trick!
A meaty crab cake crowning a simple and light salad is a temporary escape to an easy-breezy summer on Nantucket Island, with salty air, sandy wood benches, and easy laughter. (Oh, how I wish it was beach weather!)
The full-flavored crab cake gets a kick from a few  star ingredients including a lively seafood seasoning, curry powder, and sesame chili oil. Smoked turkey sausage slives plays well as the foil, with its smoky, savory tone. Light spring greens, delicate slivers of crisp Persian cucumber, and meaty, rich-flavored Kumato tomatoes provide a refreshing bed, and sweet-tangy orange vinagerette drizzled over it all makes the flavors bright.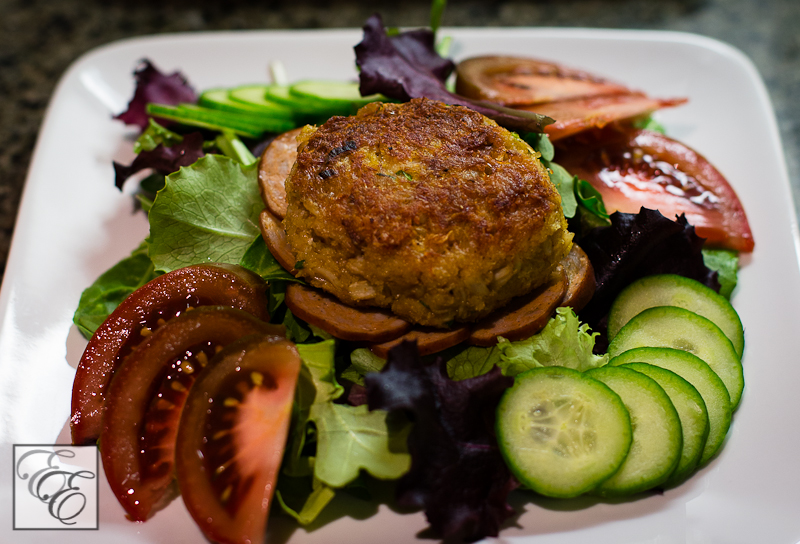 [Surf and a bit of turf: crabcake with smoked turkey kielbasa slices peeking out]
I wanted something light, fast, and healthy, and this dish definitely delivered. I was able to assemble most of the meal within minutes (just slicing a few ingredients), and making the crab cakes took less than fifteen minues from assembly to frying. Aand this was my first time making them!
(I gotta say – crab cakes are a lot faster and pain-free to make when you don't have to cook and shell the crab. And not only was canned much more convenient, the Chicken of the Sea crabmeat I used was of good quality: densely-packed,large, moist chunks of crab meat with a pretty 'fresh' taste for being canned.)
The crab cakes were fabulous, packed with evenly-balanced flavor, yet allowing the sweet crab flavor and texture to shine through. No over-abundance of filler material; one egg and panko bread crumbs were just enough to bind the patty together so that I had no worries that it would fall apart while cooking.
Curry crab cakes
Ingredients (Makes six 4″ crab cakes)
Directions
Combine all ingredients except crab and breadcrumbs and mix until evenly blended.
Add crab to mixture and mix together gently.
Add panko bread crumbs to mixture and fold in gently.
Form into crab cakes about 4″ in diameter and 1″ high.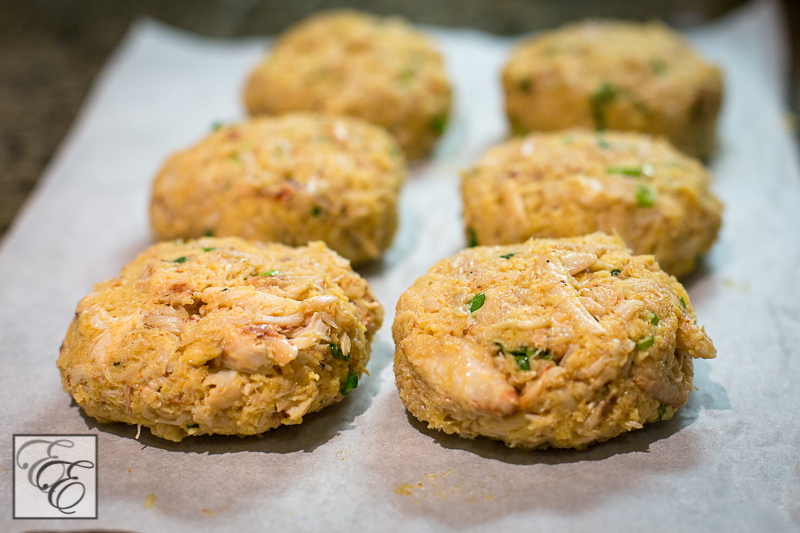 [Crab cakes resting on parchment paper]
Heat non-stick pan over medium heat. When hot, add oil to pan an swirl around. Wait a few seconds until oil is hot.
Gently place crab cakes into pan (do not crowd)
Fry on one side until medium golden brown (2-3 minutes on a gas stove) and flip over. Fry until second side is also golden brown.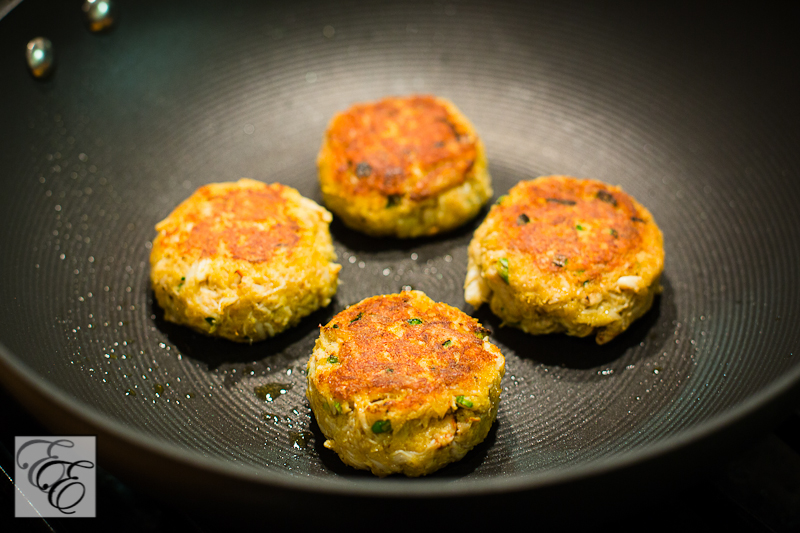 Remove and serve warm.
Crab cakes can be served on top of a salad as an entree, or made smaller (2″ diameter) as an appetizer course.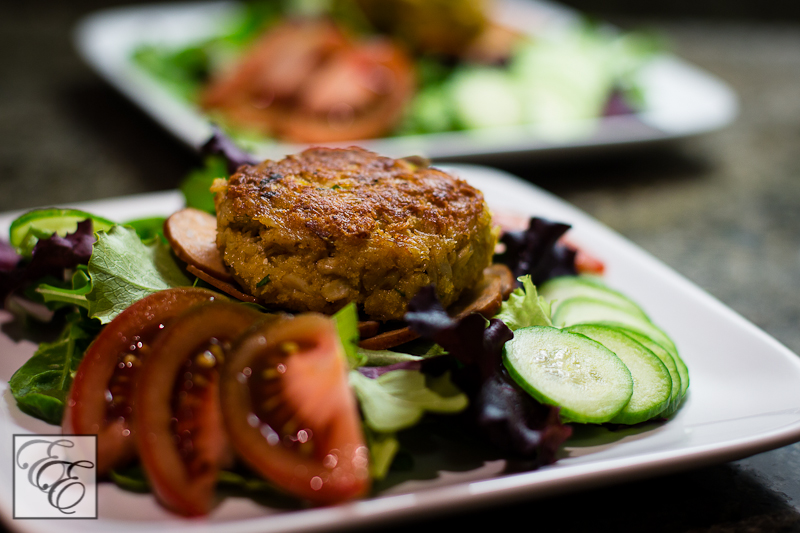 There it is; summer on a plate, to be savored slowly with a glass of white wine. Bon appetit!