For a special dinner occasion calling for elegant plated presentation, frenched rack of lamb is one of my favorites. It looks great (it's hard to resist 'popsicles' of meat!), has tender juiciness and savory full flavor, and is straight-forward and easily scalable. Prepped with a rub a few hours prior, and then popped into the oven about forty minutes before the desired serving time, it doesn't take much last-minute fuss, which is great for entertainment purposes.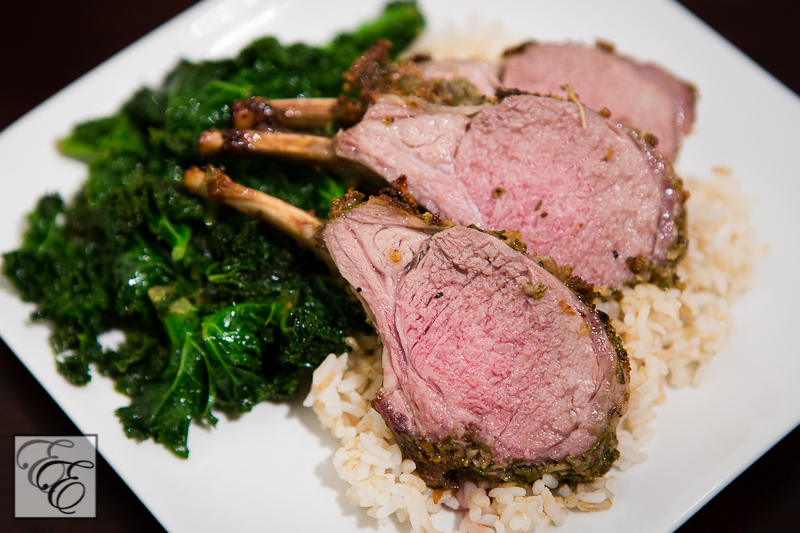 The basic steps are to create a thick paste of spices and oil and spread it liberally over the meat, allow the meat to marinate for a few hours, sear the meat in a skillet, and then transfer the skillet straight to the oven to roast for about 25 minutes. You can use any combination of fresh/dried herbs, but my preferred pairing is fresh rosemary and garlic.
Stripping 4-6 rosemary stalks of their needle-like leaves, finely mince them and set aside in a mortar (either wood or stone will work). Peel the same number of large garlic cloves as the number of rosemary stalks used, chop, and add to the mortar. To help with the grinding process, I liberally add sea salt, pepper, and other dried seasonings (e.g. an all-purpose steak seasoning) to the bowl.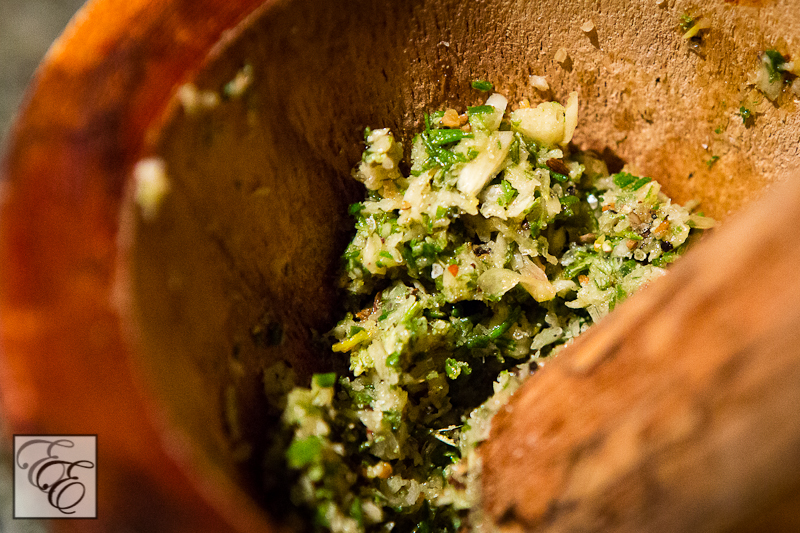 Pound away until the mixture is evenly mashed into a thick, fragrant paste. Note: this step can also be done in a food processor, but it's not hard to do in a mortar, and it's a nice little arm workout. 🙂 Scrape the mixture into a bowl and add 1-2 tablespoons of olive oil to moisten the paste; I like to use garlic olive oil.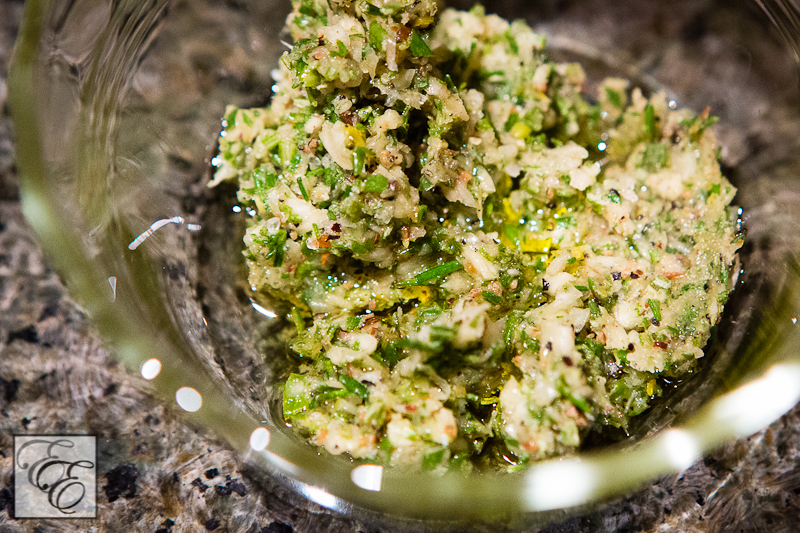 Take your rack of lamb (I recommend cutting and cooking a rack into groups of 4 to 8 riblets; a larger section is unwieldily to maneuver), clean off some of the fat (keep a thin layer on, as it helps keep moisture in the meat while roasting), rinse and pat dry, and massage the paste all over. Cover the upper, larger surface of the meat evenly with about 2/3 of the paste, as this will form a lovely crust while cooking. Cover and place the lamb into the fridge, and marinate for 1-3 hours.
About 45 minutes before the desired serving time, preheat an oven to 400 degrees, and heat an oven-proof skillet (preferably non-stick) over medium-high heat. Once the skillet is hot, add 1-2 t of olive oil. Swirl the oil around and then gently place the lamb in the skillet, crust-side down. Sear until the outside is browned. Using a spatula, flip over (being careful not to disturb the crust) and sear briefly on the other three sides.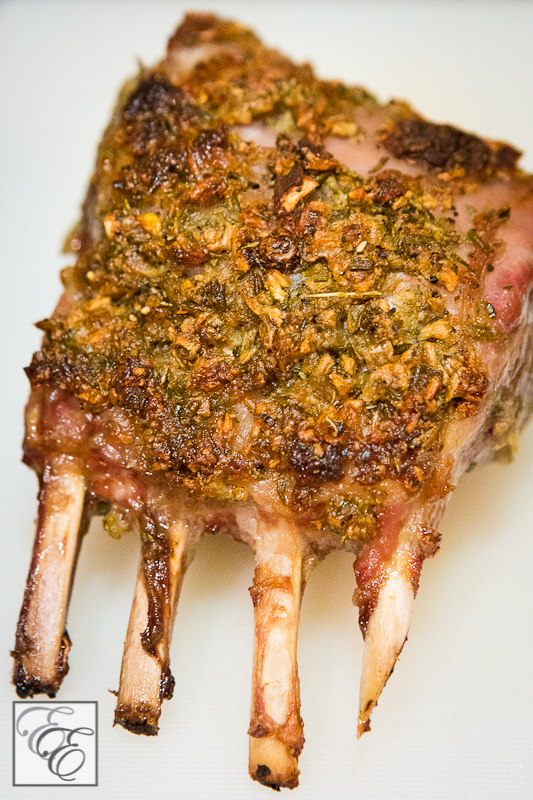 Once all sides are seared (to help seal in juices), places the entire sizzling skillet into the oven and roast the lamb for 23-25 minutes, or until the outside looks fully cooked. Remove and cool for 10 minutes to let the juices settle; resist the urge to cut into the meat and letting the precious juice escape!
In the meantime, you can create an easy side dish such as this stir-fried kale. Saute oil and garlic in a skillet until fragrant, add the kale and stir until glossy, and then add chicken broth and stir-fry until the kale is semi-wilted and crisp-tender to your preference. Season to taste with salt.
Carve the lamb into riblets and plate them in an arc with your sides. For this weeknight meal, I went the healthy route with brown rice and kale. Serve and enjoy – bon appetit!
xoxo,