Wearing white in winter brings me such joy, and these layers in light cream and soft gold lend themselves well to an uplifting, refined look well-suited for any age.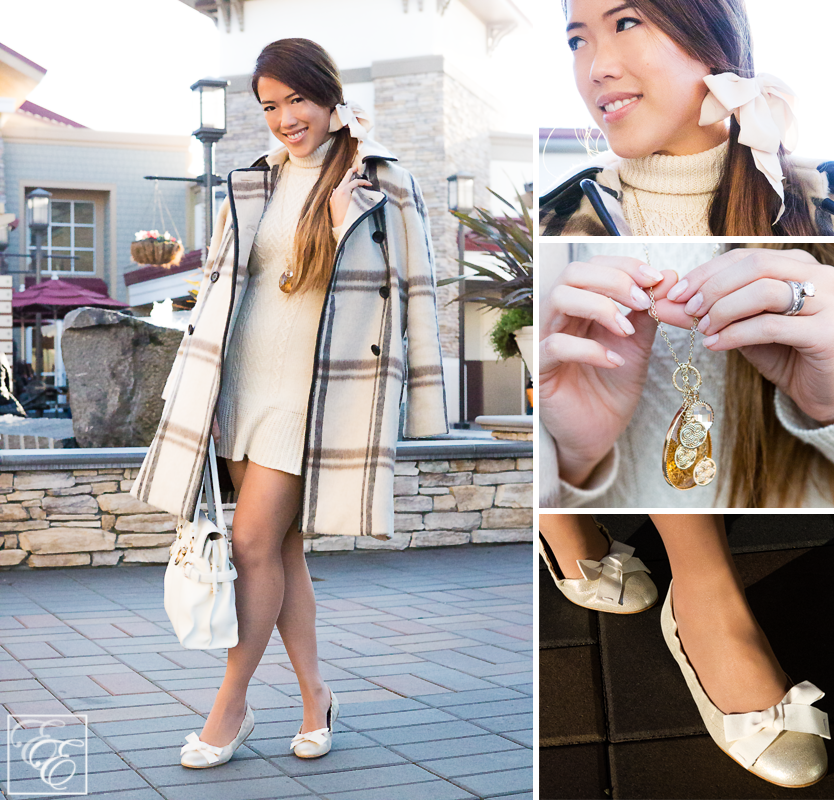 The plaid coat is a classic style (that would have fit right at home on the Gossip Girl set); it is one of my most-loved purchases of the season. In contrast, the ultra-soft cashmere-knit sweater dress is an older favorite. It's from Theory, one of my favorite brands for timeless, quality closet staples.
The Investment-Piece Sweater Dress
Are sweater dresses a small or nonexistent portion of your closet? If so, I hope I can persuade you to invest in a few select sweater dresses. Chosen well, they are are easy, elegant choices for any day/evening event, and keep you both stylish and comfortably cosy.
Look for a long-sleeved knit dress that very gently hugs/hangs on you with some freedom of movement. You're going for a modest, figure-flattering look. You don't want to look like you're buried in a shapeless thick cocoon, which can be an unfortunate side-effect of thickly-woven knits without a defined waist or shoulders/arms (save the cocoon shape for light, transitional-season coats). On the other hand, you're also not looking for a sexy-snug body-con dress. A sweater dress should be comfortable, to allow for layering underneath for when it gets really cold.
If you get cold easily, a sweater dress with a turtleneck adds delicious warmth. If you don't like the feel or look of a turtleneck, stock up on colorfully-contrasting scarves or wraps for easy alternatives.
If this is to be your first sweater dress, try a solid colored dress in either a rich shade that contrasts with your skin tone, or a light neutral. A black sweater dress, of which I admit to owning a few too many myself, seems like a logical first choice… until you pull on easily-available black tights and boots… and suddenly you're a floating head atop a sea of black. I promise you that having a light or colorful dress will also help lift your spirits a bit in the dark of winter. 🙂
When going for a solid color, look for details such as a knitted pattern or a subtle construction of complementary materials. This means a mixture of knit blends, not material-blocking like wool and leather.  The latter look is edgy and modern, but will likely date itself fairly quickly.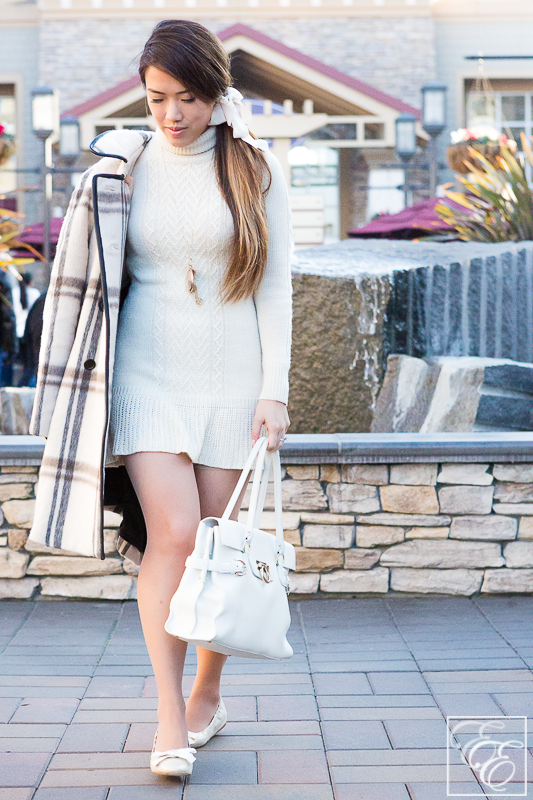 The Club Monaco plaid coat is utterly delightful, with a wonderful heft and warmth, structured form, and sophisticated extras of faux leather piping and button and belt detailing.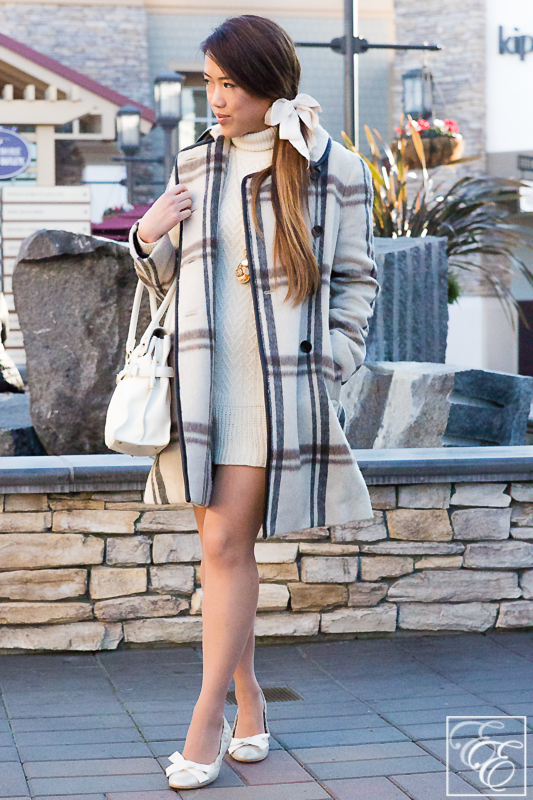 Top: Club Monaco coat (30% off), Theory sweater dress (classic options: Cynthia Steffe cream sweater dress, Tart grey sweater dress)
Bottom: Viajiyu Portofino flats
Last year, I was introduced to Viajiyu, an entirely custom-made leather Italian shoe company run by Nicole Still, an adorably warm and spunky woman with infectious and positive energy. She and her husband have roots in Australia (she's originally from Ohio), but have set up shop in Florence, where their shoes are made alongside some very famous, top-name shoe brands. The name Viajiyu comes thusly; VIA (vee-uh) is Italian for 'road' and JIYU (zhoo) is Japanese for 'freedom.' Together, VIA + JIYU (vee-uh-zhoo) = The Freedom Road.
The designing process (I recommend doing this in person, as it's wonderful to experience the tactile feel of the leather. Also, the company is still fairly small, so the website interface is good for browsing, but isn't yet optimized for an online ordering process.):
Select one of their modern-but-classic shoe silhouettes. My favorite (pictured) is the Portofino, a rounded-toe ballet flat with a flexible sole, generous padding (more than any other flat I've tried), and a detail of a 1/2″ hidden wedge heel for just a touch of height and ever-so-slight incline that is more beneficial to your natural stance than a completely-horizontal flat.
Select the leather you want the shoe to be made with. They offer an incredibly wide breadth colors, finishes, and textures to select from, including the season's newest shades.
Select decorative touches to dress up the toe (if desired). Perhaps a grosgrain ribbon? A patent leather bow? A fabric rosette? A beaded finish? I selected a removable, clipped-on grosgrain ribbon (in both white and black) to add accent versatility.
These are beautiful, expertly-made shoes that are meant to last a lifetime. They are for the woman with a rich life, globe-hopping and adventuring her way around the world for business and pleasure. With their combination of well-crafted comfort and polished, elegant look, they fit very well indeed into my lifestyle: current and desired!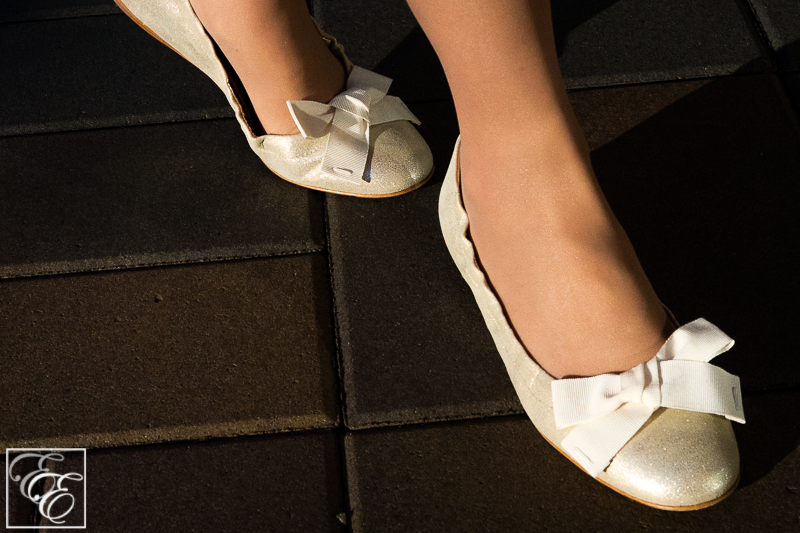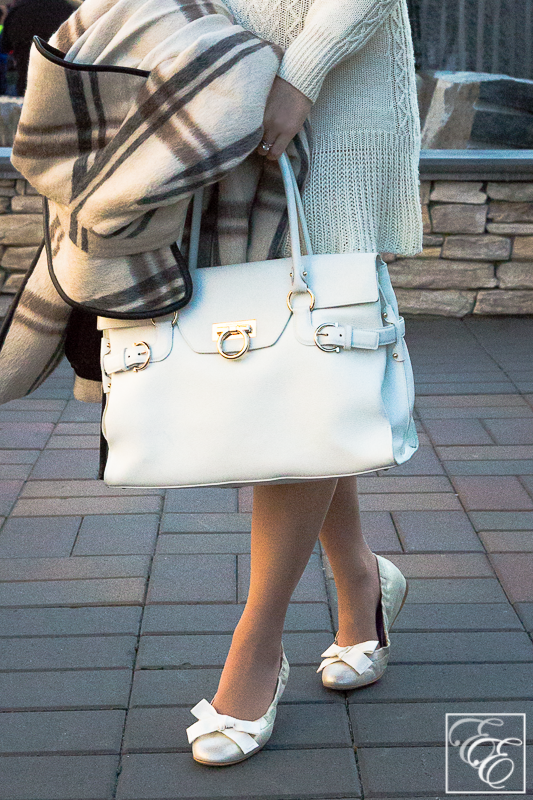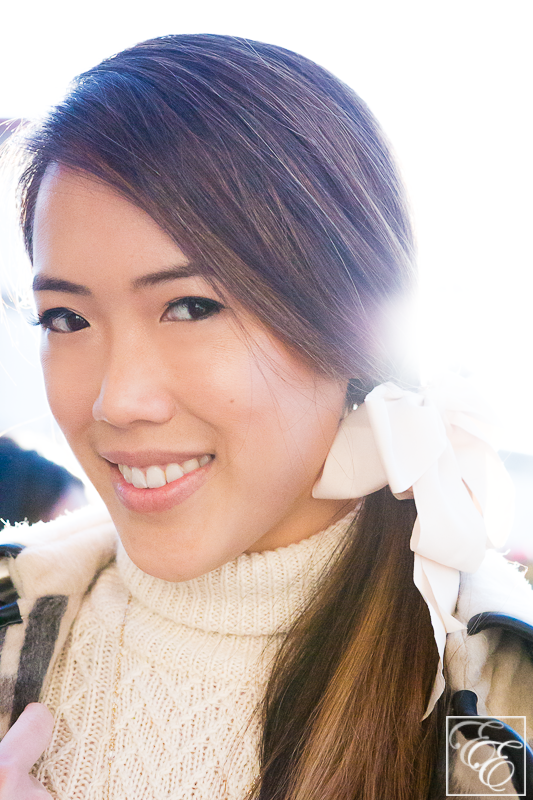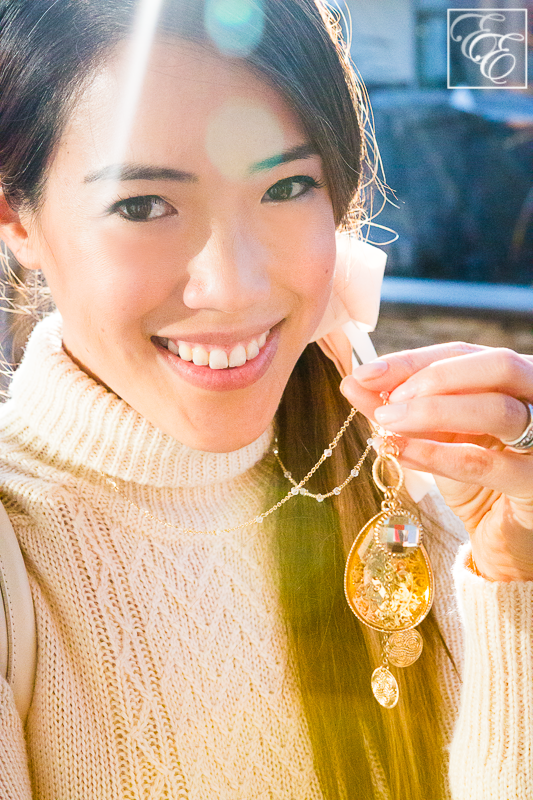 As I get older (I'm in the latter half of my 30s), I'm focusing more and more on investment closet pieces that will serve my style vision well for years to come. Do you have any investment pieces? Or if not, do you have any ideas of what you might be looking for in the future? If so, let me know if you'd like any help; I'm always happy to offer guidelines of what to look for!
xoxo,