Spring calls for clothing that makes you feel carefree, graceful, sexy and alive – and this dress does exactly that! A light-as-air silk dress that catches the breeze and floats gently around my body was the perfect match for this beautiful, unexpectedly sunny San Francisco weekend. This richly-hued red and fuchsia Carrie colorblock hi-lo dress is from Single by Galina Sobolev.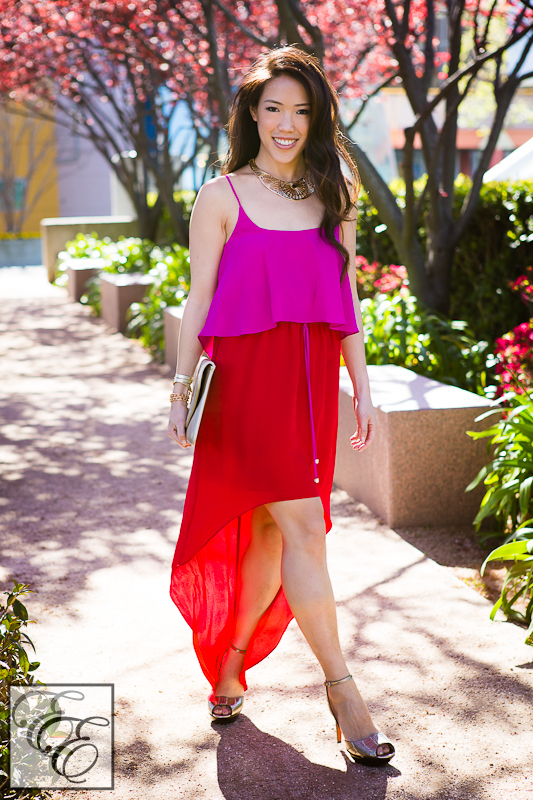 [Single red & fuchsia hi-lo dress – thanks to Single by Galina Sobolev,
Cole Haan metallic sandals, H&M collar necklace, Gorjana wrap bracelet, BCBG envelope clutch]
It's an utterly beautiful piece of clothing. The silk crepe de chine material is smooth and light, gently flowing over the body without clinging. It's also a flattering and comfortable cut for many body types, and the elastic waist means you can enjoy the day (and meals 😉 ) without feeling constrained. The thin belted waist provides form-flattering shape to the soft fabric, and the overlying top subtly accents the chest in a demure, appropriate-for-any-occasion manner.
The hi-low hem is one that I've always loved, particularly for dancing! As a salsa dance lover, this is exactly the type of style I look for. Dramatic around the legs, but allowing for full freedom of your legs for quick moves. The dress is super easy and comfortable to move in. I'm completely in love with the lower back hem, which creates a train-like effect that trails behind. Looking for a distinctive way to leave a memorable departing impression? This is it. 😉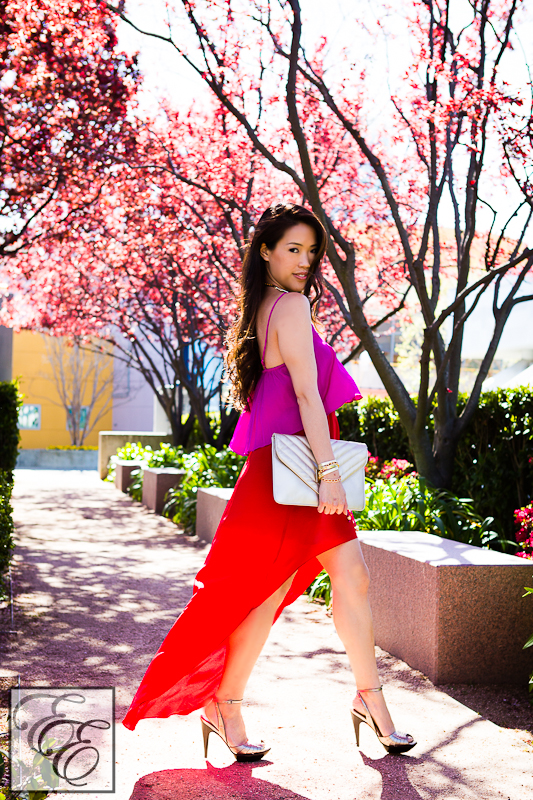 [Such beautiful movement as I walk! This begs for a confident, sexy stride, as this is a dress that will definitely pull attention to you.]
[Whee!]
It showcases legs wonderfully, particularly drawing notice to ankles; I suggest an ankle-wrapped sandal to accent it even more. The dress has a luxe embellishment of rhinestone-studded gold beads at the waist drawstring, so I continued that color scheme with my shoes and accessories. The dress is such a vivid statement piece, neutral metallics are the best way to frame it.
I'm wearing Cole Haan woven gold sandals from a few seasons ago, so they're not sold anymore, but similar options that would work are Coach Kamea sandals and Jimmy Choo Blast sandals.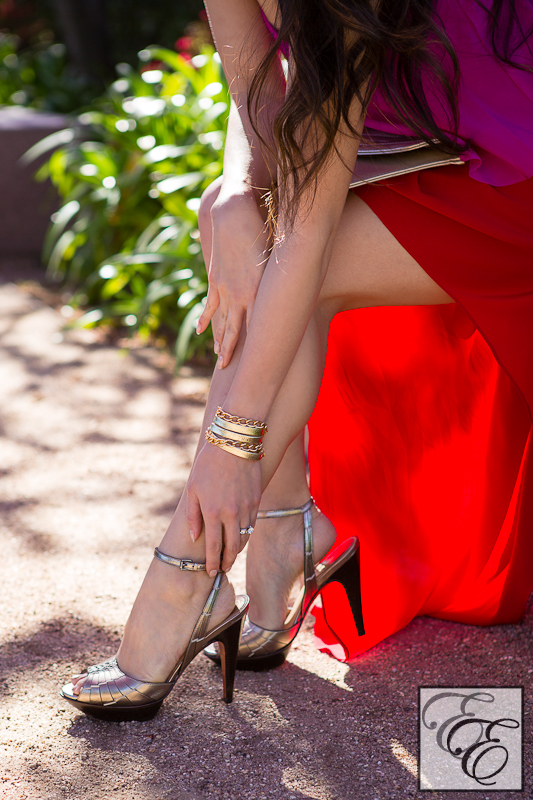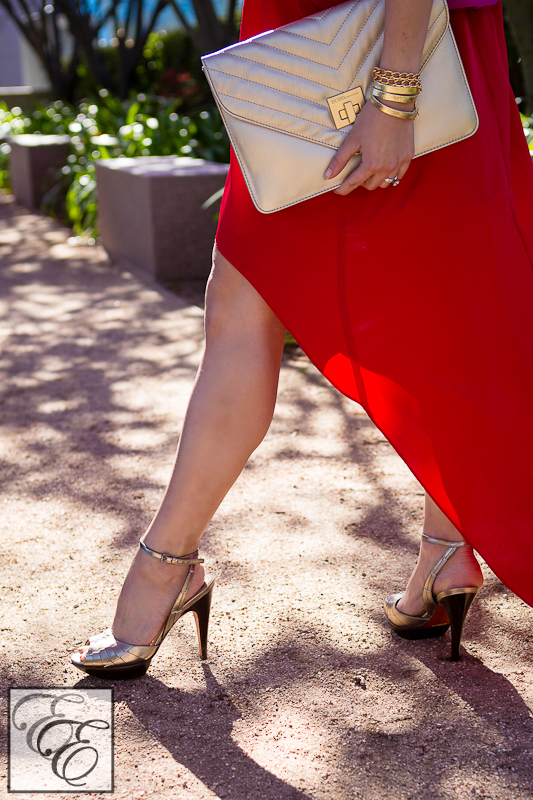 The dress is a highlight – and my personal love – of the Single Dress' 2013 Spring/Summer collection. Single style is confident, sexy, and feminine – all of which are embodied in this dress! It also comes in citron and royal blue (as shown here), and royal blue and black. For the spring and summer seasons, the red/fuchsia and citron/royal blue versions get my vote. 🙂
Single is designed by Galina Sobolev, an award-winning Fashion Institute of Technology grad with an talent for creating fresh interpretations of the latest trends, with luxurious fabrics from silk to cashmere. Based in LA, her creations have appeared frequently on the red carpet, and she has made appearances on Bravo.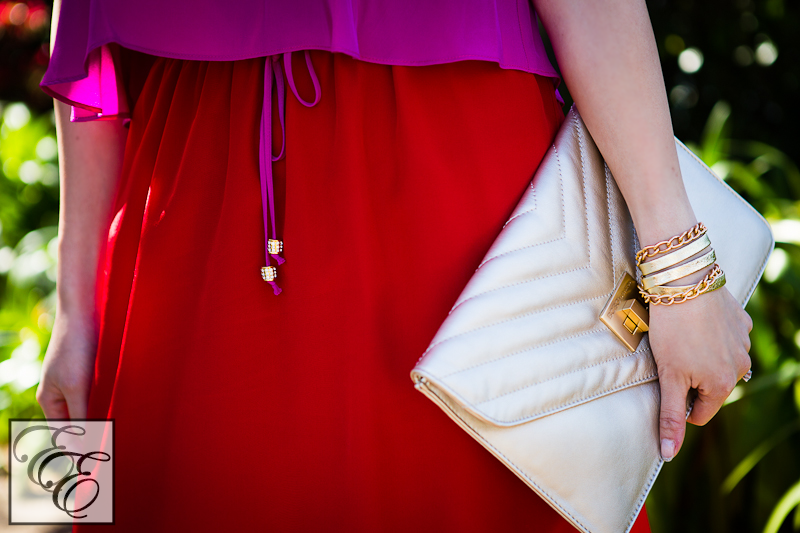 Close up, you can see the details of the rhinestone gold beads (a small but fun detail that adds to the luxury of the dress) that inspired my other gold accessories.
The Gorjana Griffen leather and gold wrap bracelet in particular, with its dual-textured materials, is one of my favorite ways to add a luxurious but slightly edgy finish to any outfit from a casual T-shirt and jeans to feminine dresses.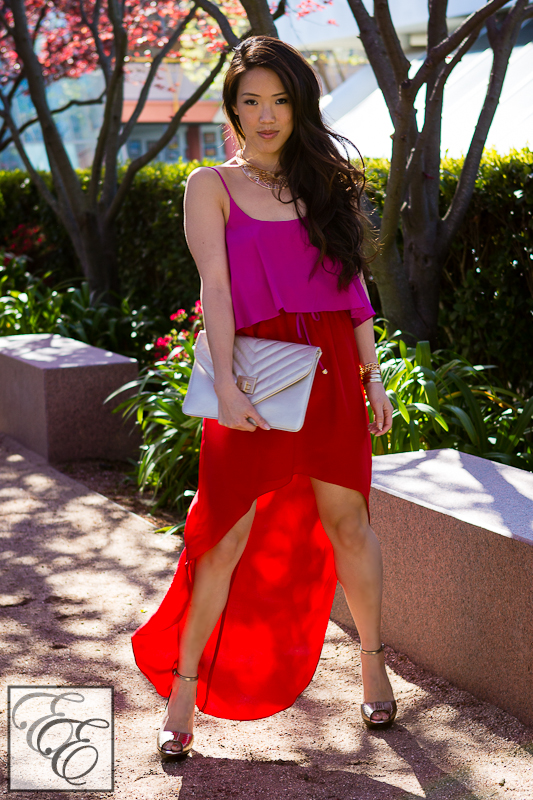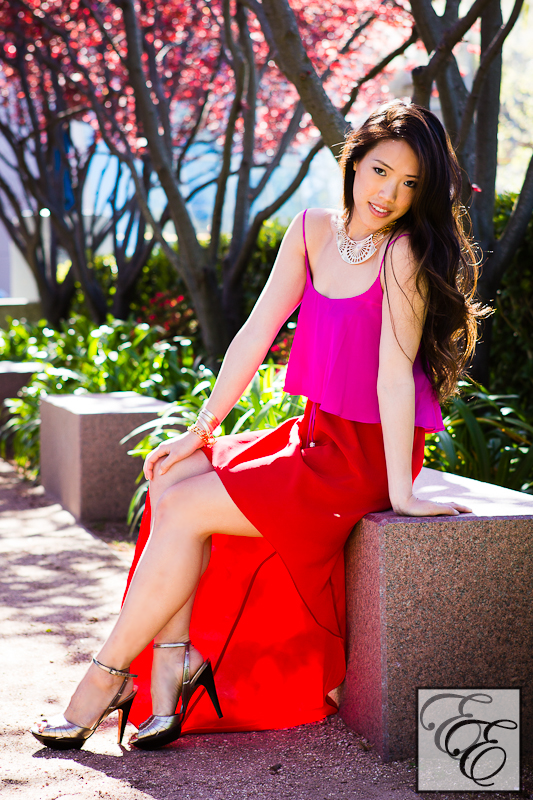 I love that this outfit inspires equal parts of dramatic flair, and sensual romance. Walking/dancing/flirting, it's an attention-getter, so have fun with it and own the scene! 😉
xoxo,