There's something so comforting to pull on a guy's well-loved, soft tee. And something so sexy when you tease him by wearing an unbuttoned dress shirt of his. So it goes to reason that a shirt dress with elements of both garments, yet solely designed for you, is sure to become a favorite staple of your wardrobe.
This black washed-silk version by French Connection can be dressed up or down, but I prefer it easy and casual, just like the laid-back weekend during which I wore it.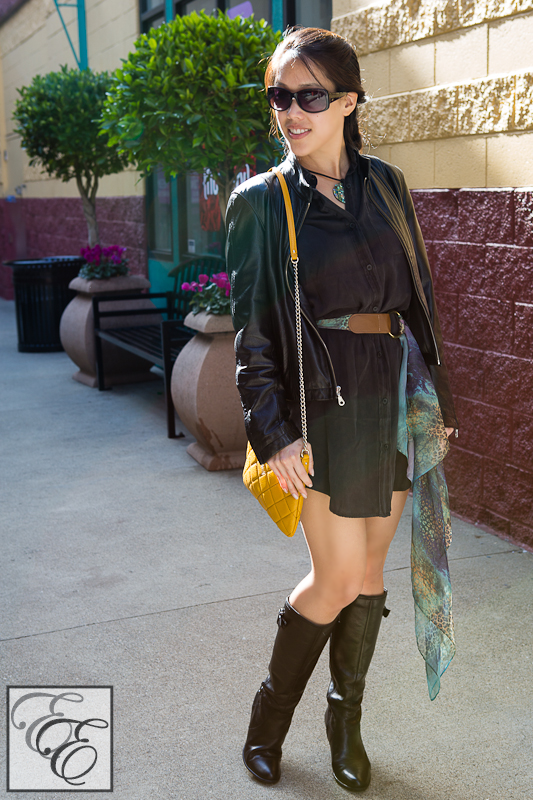 [French Connection washed-black silk shirt dress (similar options here and here),
Kate Spade Gold Coast Ginnie cross-body purse,
Cara New York scarf belt (previous season; no similar options currently available),
Kenneth Cole sunglasses (featured here),
Clark boots (similar option here)]
The dress is super-comfortable with its loose, soft draping silk. Until temperatures get above the 60s, leather boots and jacket are still
de rigeur
, but I did enjoy getting to show a little leg. For a work appearance, I'd pull on a pair of tights since the hem curves up on the sides – a bit on the cheeky side for professional impressions.
The scarf is an intriguing dichotomy of gauzy fabric anchored with earthy leather and brass rings. The free end of the scarf flutters and trails gracefully behind with movement (not unlike the Single hi-low dress that I love!).
To add some color interest, I pulled from both the scarf's warm yellow and cool aqua-turquoise tones.  The gold tones carried over to a simple goldenrod envelope purse, and green-blue tones re-surfaced in a lacquered mosaic shell necklace from Bali.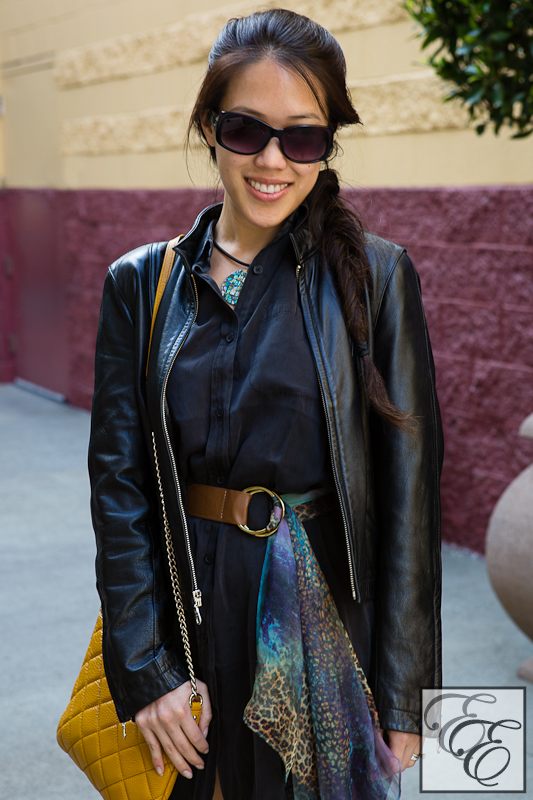 Lastly, I pulled my hair into a loose fishtail braid (that was more undone than anything else by the time this photo was taken). That's it for an easy-peasy, low-maintenance look built around a year-round dress staple!
xoxo,