My parents enjoyed the cosy intimacy and pampering experience of B&Bs (bed and breakfast inns), each with a distinct personality and endearing history reflected in its architecture, styling and knick-knack decorations. As a result, I have fond childhood memories of overnight stays at inns with crackling fireplaces, aged books and board games for evening entertainment, and lovely treats of afternoon tea and cookies, evening chocolates, and scrumptious home-made breakfast spreads.
Each inn had its own breakfast specialty, served piping hot by the innkeepers. Seated at tablecloth-covered table adorned with crocheted doilies, fresh flowers, china, and ornate silverware and being presented with a mouth-watering treat, I felt like royalty.
One such dish that remains firm in my memory is the whimsically-named Dutch Baby, an ethereally-light and buttery pancake-like dish gilded with a generous amount of powdered sugar. A simple mixture of the usual baking suspects – eggs, milk, flour, and butter – are magically transformed in the hot oven into a golden-brown pillowed cake with crisp edges and an eggy, smooth-textured body.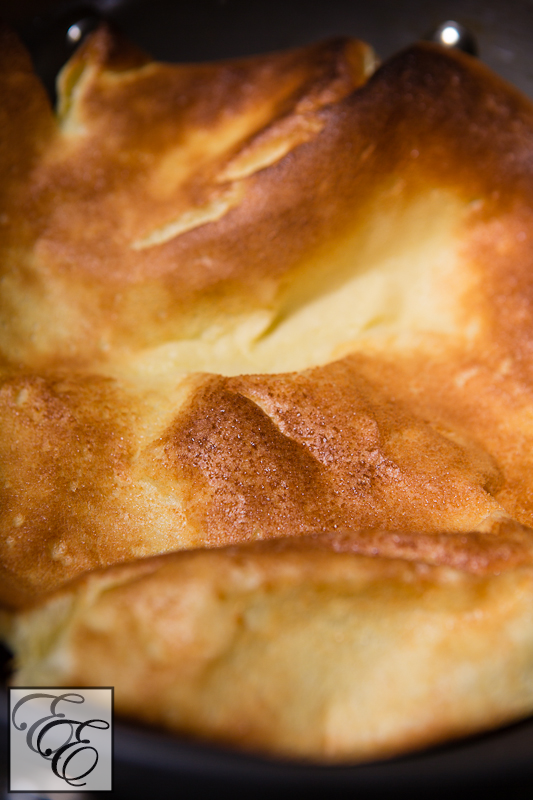 It's quite incredible to watch the heights that the batter can climb in the oven. This is a dish to be made and served immediately, as the pancake shrinks from its souffle heights soon after being removed from the oven. Happily, it isn't hard to make, and impressive to serve.
Dutch Babies (aka Baked German Pancake) with Blueberry Compote
Ingredients
Dutch Babies
3 large eggs at room temperature

1/2 C milk
1/2 C all-purpose flour
1/2 salt
1 T sugar
2 T butter, melted
powdered sugar, to serve
Blueberry Compote
1 pint of fresh blueberries

1/2 C of water (add more, if needed)
2 T calvados (apple liquor)
1-2 T of sugar, if the blueberries are tart
Directions
Preheat the oven to 450 degrees F. Butter a 8″ skillet with high, sloped sides and with ovenproof handles.

Break the eggs into a medium mixing bowl and beat until thoroughly mixed. Add the milk and blend well.
Sift the flour, salt, and sugar into a small bowl. Add the flour mixture slowly to the egg mixture while whisking the eggs steadily. Whisk until blended and smooth. Add the melted butter and mix briskly until the batter is smooth again.

Pour half of the batter (a bit more than 1/2 C) into the pan and bake for 12-15 minutes at 450 degrees F, or until deep golden brown.
Meanwhile, wash the blueberries and place into a small pot with the water and calvados. Bring to a boil and then lower heat to low-medium. Stir occasionally.
After a few minutes, the blueberries will have softened and split. Add sugar to taste, and continue to simmer, stirring occasionally, until the mixture has thickened and reduced into a thick sauce. Bring heat to lowest setting and let simmer until the dutch baby is done.

Serve the dutch baby in wide slices with a few spoons of blueberry compote and powdered sugar sifted over.
Pour the other half of the batter into the skillet (re-butter lightly, if desired) and bake for the same duration.
Eat and enjoy! 🙂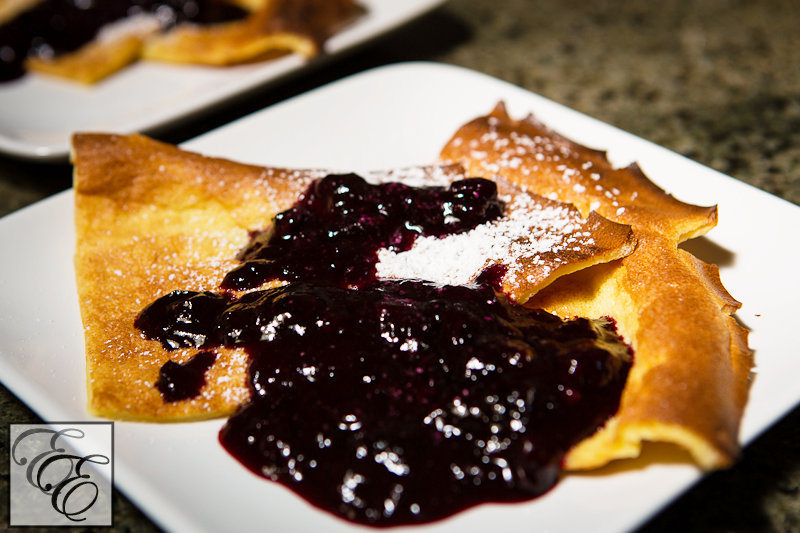 xoxo,