There is a rite of passage that every fashion lover takes.
When younger, your fashion choices are likely dictated by price and availability. My browsing circuit was limited to low-to-mid-end department stores, and economical teen-centric brands where it was common to find items under $10. I remember it being important to ensure my place on a club guest list, in order to justify spending the saved $15-$20 on a dress for said club night.
Over time, your financial responsibilities (e.g. school/car loans) start to even out with earning power. Spending limits for non-essential personal items edge up. With broader horizons, you can start to explore brands. Instead of buying a mass-constructed product loosely based on current trends and materials, you become free to delve into a designer's world. And what a heady experience it can be!
You are introduced to cohesive and compelling marketing of the brand's lifestyle and the customer profile. As a result, you may find yourself desiring – or more importantly, aspiring – to become the people provocatively portrayed on full-bleed glossy magazine pages, staring off with casually studied ease. Through media channels and the product line itself, the designer's voice takes front and center stage. You may learn about the designer's history and style philosophies – rich, delectable stories establishing the quality and soul of a brand.
It is a delight to discover how these tenets are deliberately and skillfully woven into each garment and accessory, with playful spins upon and re-interpretations of the classic theme, based on current-day inspiration.
When you get up-close and personal with the clothing or accessory item, it's a gratifying visual and tactile experience. Fabric weight and drape, construction (e.g. stitch and lining), embellishments, color/pattern, and fit all come together to create something that feels and looks like it was made for you. It represents a reflection of you, or who you wish to evolve into. You feel special and perhaps grateful.
When you are living that moment – when you are identifying with a luxury branded item for the very first time – it's a magical feeling. You'll know it. It's when you know you are very consciously making a selection that, based on its price point (which you'll spend hours upon hours trying to reason through and justify), is above and beyond anything you would have previously considered. But you love it so much, you feel that even so, it would be utterly worth it.
I remember every detail of my very first luxury splurge vividly. On April 30, 2009, I fell in love with my dream dress, a breathtakingly stunning piece. The Herve Leger Camille beaded dress is a one-shouldered asymmetrical hand-beaded woven-silk bandage dress (that weighs over 10 pounds) that was riveting. It just exudes timeless class and glamour.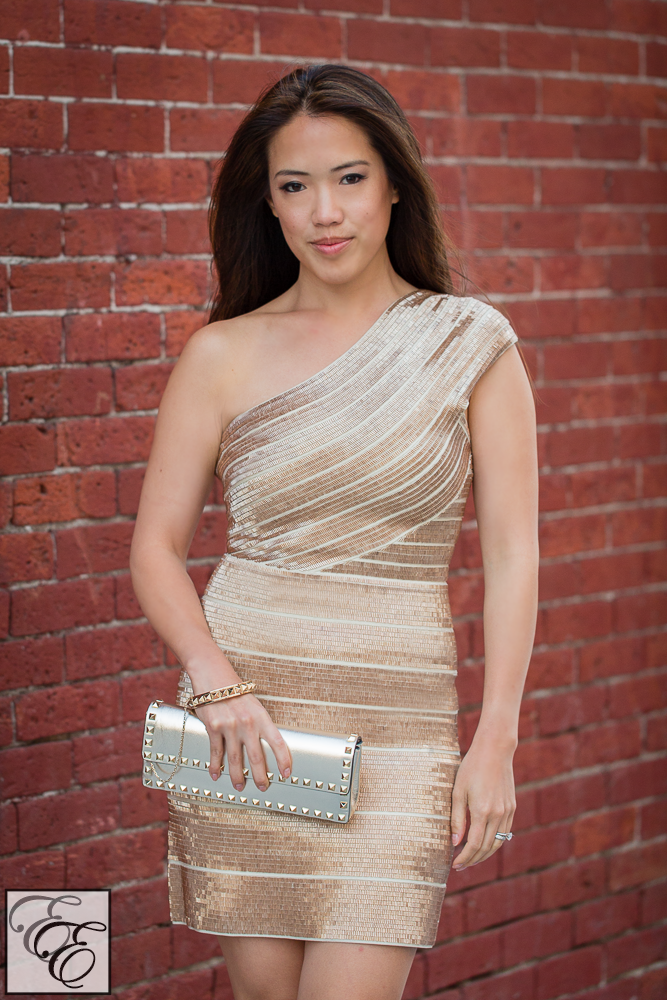 I first saw it when I was browsing the web for fashion inspiration to be rendered into virtual outfits for a female-oriented virtual reality world start-up that I was working for (It was a dream job for many reasons, the least of which was that I was tasked with the market research of reading a range of fashion magazines. My most-memorable interview question was also from that experience: "How many pairs of shoes do you own?" I kid you not.). This was the exact image that I promptly saved and subsequently blogged about.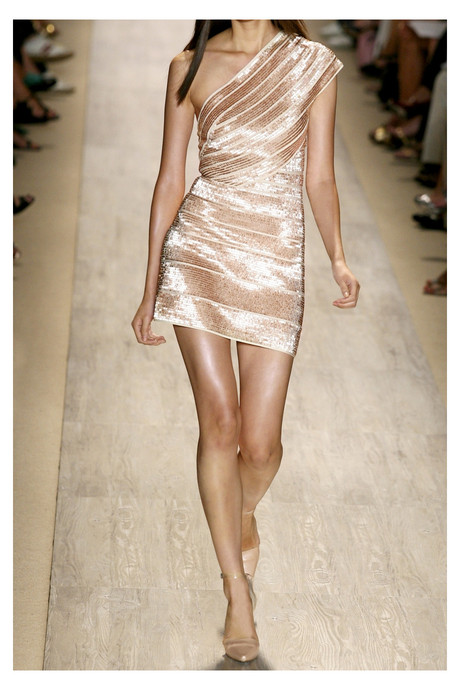 It's inexplicable, but I immediately felt a connecting 'click' to the dress. Something that went beyond coveting, but instead felt like if I was to wear it, I would be perfectly communicating my lifelong personal style aesthetic. Yep, lifelong. That's self-knowledge and commitment.
Even with my bold 'dream dress' declaration, I never expected it to solidify from dreams to real-life. But in November of that year, I wandered into the Herve Leger store. I saw it shimmering on a rack, highlighted in the center of the store, and decided to try it on (I have a habit of that. I'll have to tell you the store of my Herve Leger wedding dress sometime.).
…
I walked out of the store with a dress, in utter bliss, and with a very large credit card bill. (It's equivalent to a couture wedding dress. In bag-speak, it's more than Chanel and less than Hermes.) 🙂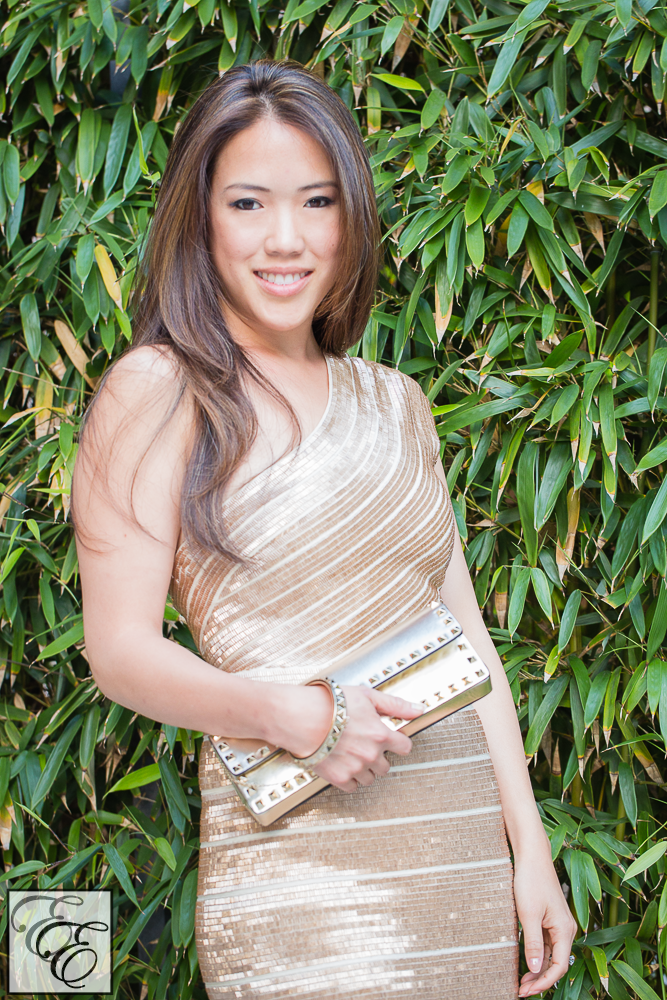 Enough talking, I'll let the photos speak for themselves. I've devoted so much of this post to my 'first love', my shoes and clutch are going to be side-lined for now. I'll just say that they are the fashionista-loved Valentino Rockstud Pump in pale pink, and a rare gold Valentino Rockstud Bracelet Clutch. Both are beloved and match beautifully, but I think the clutch is a narrow favorite over the shoes.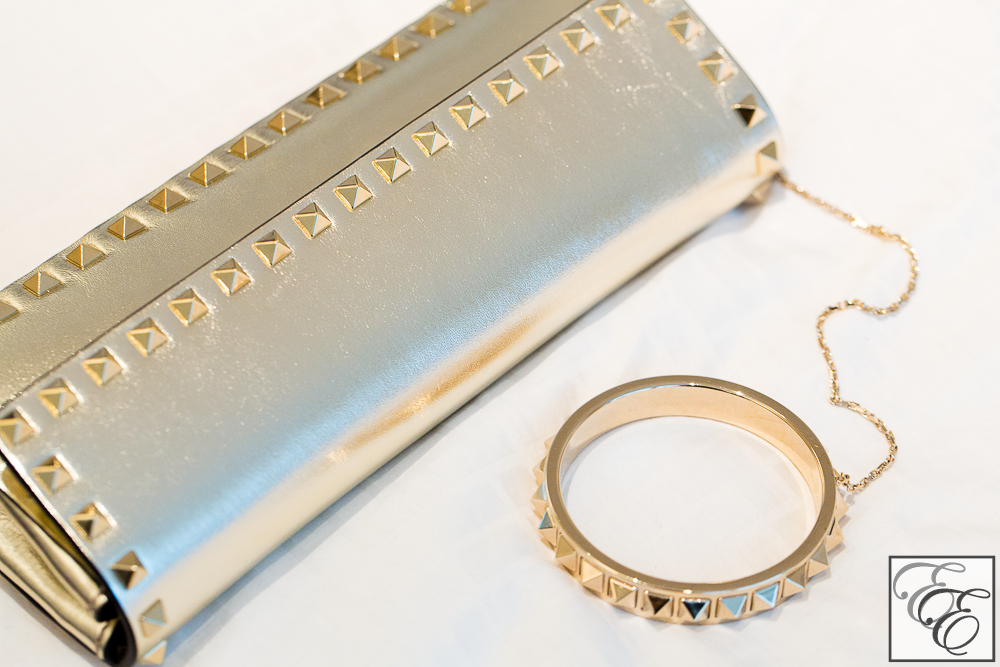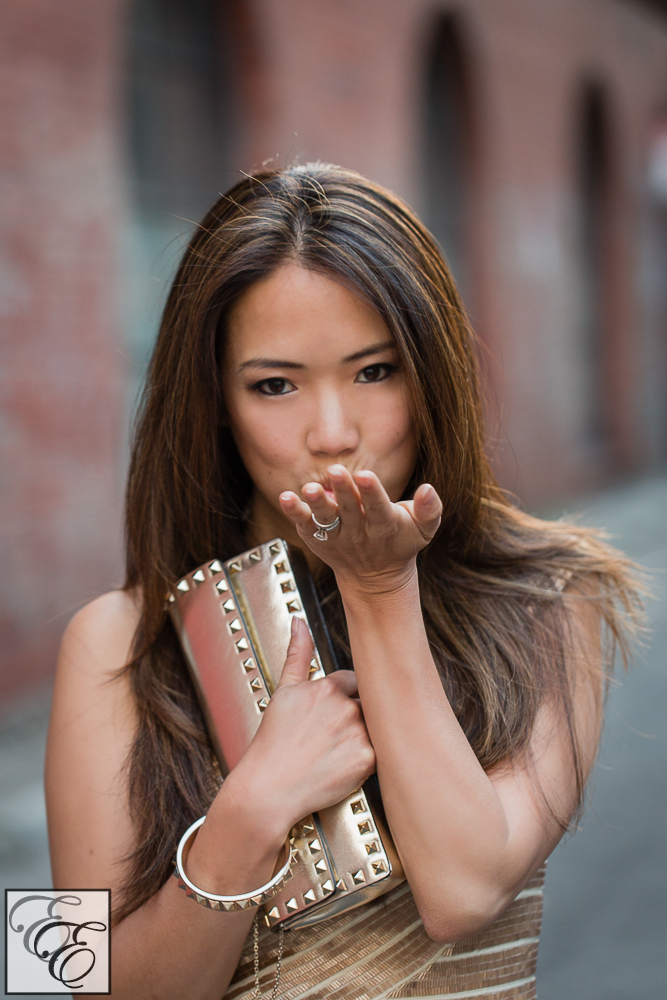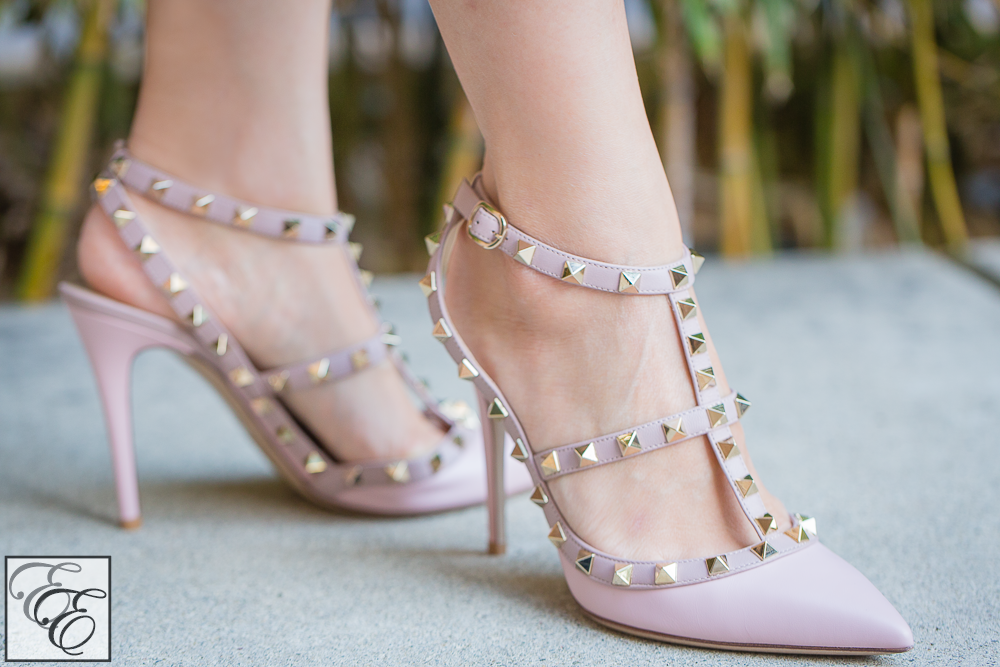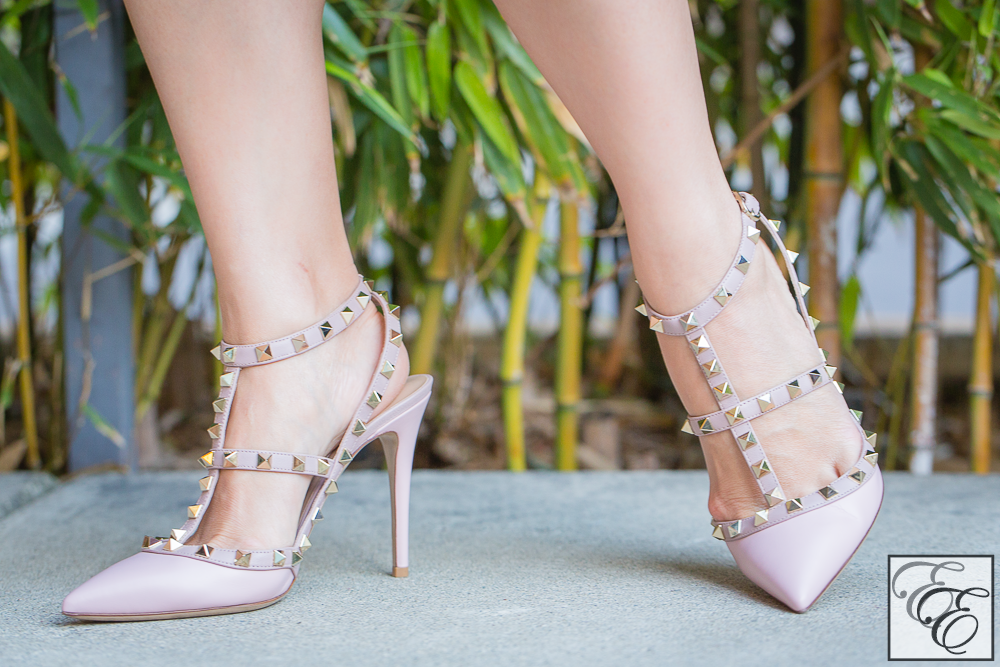 Also, unseen but very much part of my outfit is the Herve Leger Paris Eau de Parfum. It's not widely available, so look for it in Herve Leger or flagship BCBG stores because it is a treat. It is as luxurious, sensuous, and provocative as the rest of the brand, with notes delicate jasmine, creamy sandalwood, and heady heliotrope. It is a romantic scent, and it is my favorite fragrance. The bottle pictured below has special significance because it was given to me by the staff of an Herve Leger store as a wedding gift. <3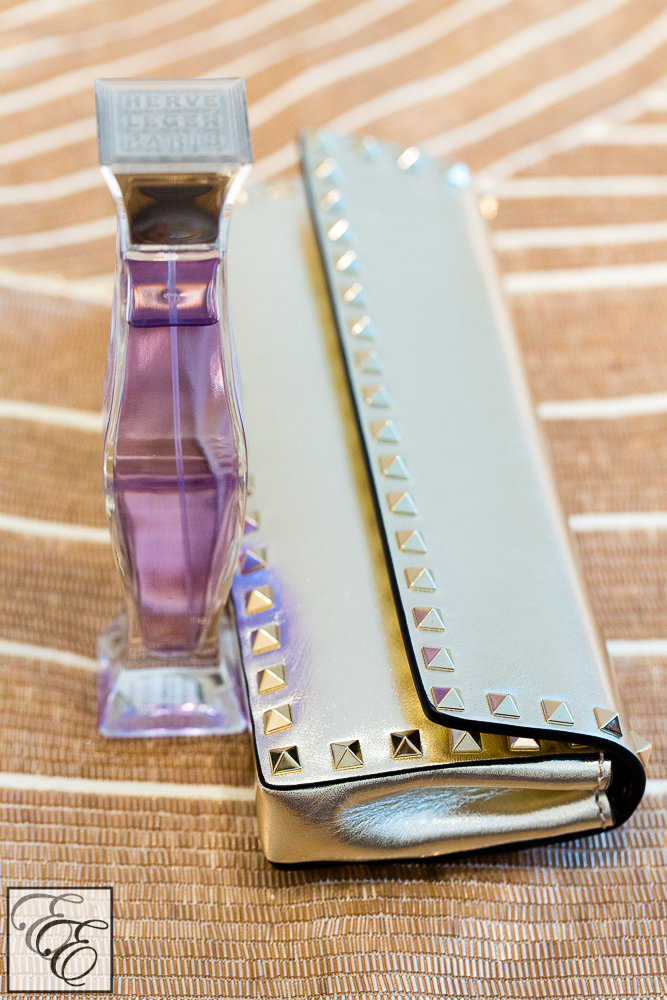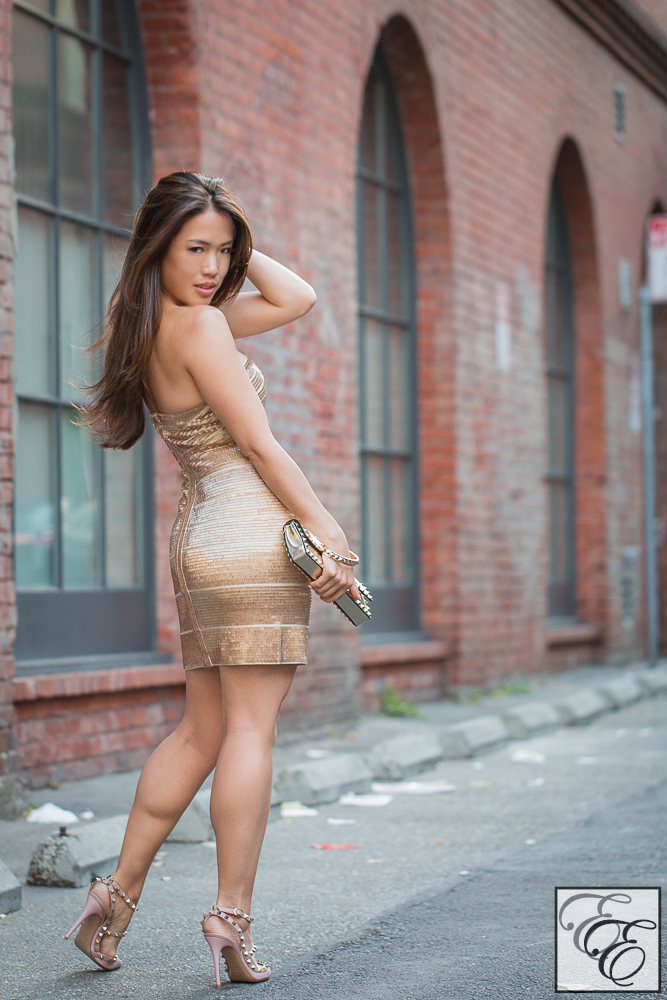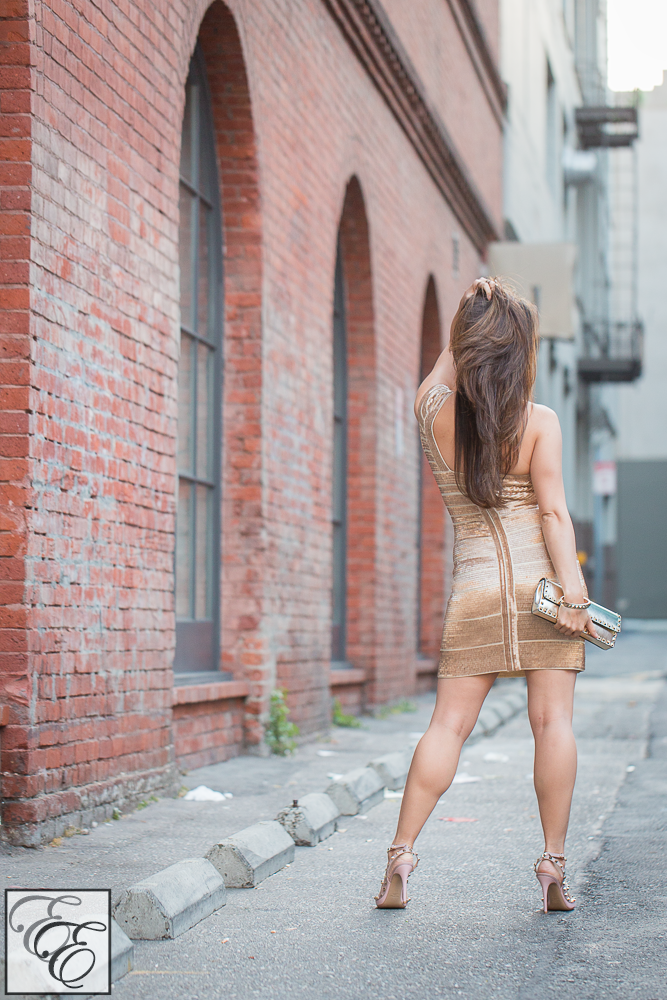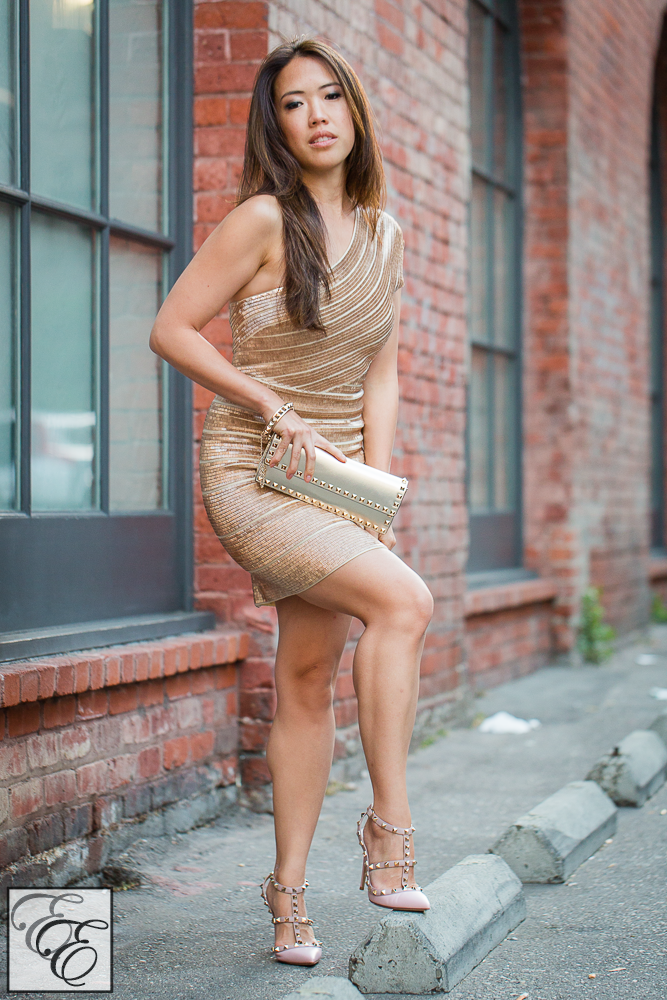 I hope you enjoyed reading my fashion 'rite of passage' narrative as much as I did, writing it!
I usually ask questions at the end of my posts because I enjoy getting to know you and hearing your thoughts. Especially so this time; I would absolutely love to hear about your first fashion love. There's nothing better than a great love story, and I'm sure you've got some great ones!
xoxoxo always,