It has been a decade (how time passes!), since the bittersweet ending of a memorable TV series that offered all the best of girlfriend bff benefits; introspective insights, dating mishaps, emotional bonding moments, and fabulous fashion.
I was a devoted fan, organizing girls-night-in viewings around it, and frequently referencing its pithy, au courant quotes. Additionally, the Sex and the City title inspired the names of one of my blogs, Sex and San Francisco (now deleted; it had its time), my single-girl SF dating narrative that serendipitously became the love story of how my husband and I met.
Carrie Bradshaw and her entourage provided us with a constant runway of high-style fashion ranging from fun and whimsical, to drop-dead gorgeous, and provided us with iconic fashions such as these blue satin Manolo Blahniks. The shoes were always a highlight. And who could ever forget the creme de la creme: a massive, ethereally white walk-in closet with an entire back-lit wall to be lined with precious jewels of shoes. I remember my breath catching at that moment…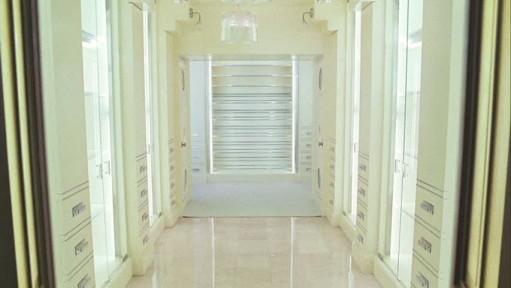 Our realities may not hold such luxuries, but we do have something incredibly exciting to embrace. Sarah Jessica Parker (SJP, aka Carrie) is launching her first shoe collection on February 28, exclusive to Nordstrom.  How thrilling to be able to attain something symbolizing that strong feminine confidence and joy!
SJP partnered with George Malkemus, president of Manolo Blahnik USA, to create a collection of shoes evocative of late 70's-early 80's NYC glamour – Italian leather single soled, court heeled, colorful jewels of shoes. Each shoe has a small grosgrain ribbon detail on the heel; a nod to the grosgrain ribbons that SJP's mother tied in her childhood braids. Handbags and trench coats will also be included in the collection, although only the shoes are currently in the spotlight. From a Nordstrom blog post describing SJP's design inspiration:
"I recall being a younger girl in New York City, arriving in 1978, say, and looking around, as many young girls do, at women who were older and more sophisticated. They seemed to be cosmopolitan; they seemed to have an air about them I was convinced I did not have but seemed possible to acquire after time spent in this sophisticated urban city.

Just people-watching while sitting on the crosstown bus that went across 59th Street—carefully observing who got on and off, what they wore and how they carried themselves—the one thing that stood out, and has stuck with with me, was the simplistic beauty of leather goods and shoes at that time. There was an enormous French and Italian influence in our country then, and that is what I thought maturity was. It was an aspirational look I thought any woman could achieve once she was grown up, had money of her own and could make her own aesthetic choices."
What a beautiful, nostalgic memory of NYC. The styles may have since changed, but the cosmopolitan energy and sharp sophistication are still unmistakable foundations of the city. And the woman that SJP has so eloquently described above is one that I believe we can all relate to.
After all of that, I'm sure you're curious to see the shoes! The most comprehensive gallery of shoe styles I could find was at Vogue UK; see the article here, and the gallery here.
My personal favorites are these: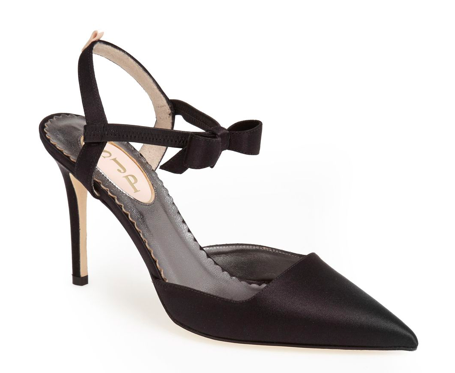 Pola in black satin: an dinner date or evening wear shoe that is both dainty with its structured bow, and daring with a hint of toe cleavage.
Fawn: A classic with a warm, pink blush tone and an elegant, gentle curve along the sides.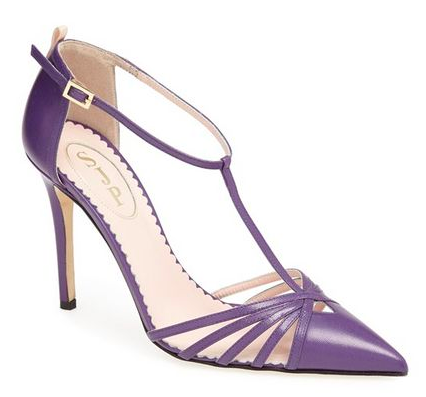 Carrie (named after SJP's Sex and the City character): Delicate vintage, with a low heel strap that doesn't cut the line of your leg (especially important for those of us short-statured) and a sexy center strap.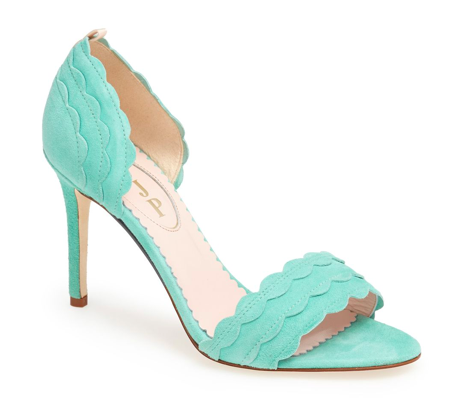 Bobble: A fun and flirty spring companion that's half-sandal, half-pump, with exposed sides and closed heel. Just looking at this makes me smile. 🙂
I'm very much looking forward to the line launching tomorrow, February 28th!  Shoes will be priced at $195 – $485 and bags $375 and under, on the Nordstrom site here. What about you? Are you as excited as I am, and did anything catch your eye?
xoxo,