The past nine months of pregnancy have been completely new territory for me, full of discoveries and revelations… and of course, some moments of hilarious distress. Example: As my belly button area expanded, the newly-exposed skin was ultra-sensitive that if anything came near it, I'd instantly clench my arms over it in protective mode, a la Toy Story's Hamm (the wise-cracking piggy bank) when he inadvertently loses his cork screw plug in the middle of the street. (#DontTouchThis)
I spent my time doing plenty of research and reading countless articles of pregnancy advice and 'maternity essentials'. After a while, they all started sounding pretty similar. From my personal experience, I've gathered some unique findings (not addressed in the before-mentioned articles) that helped me to feel and look close to my original self. And now, as I close out this chapter, I'm super-excited to share them with you!
One might categorize me – as a two-time mama friend dryly remarked – "one of those pregnant women". Uh… the energetic, perky, annoyingly happy woman with a cute baby bump that's often villainized in mom rom-coms. (I gained all of my weight in the belly, had no swelling issues, didn't experience any morning sickness, didn't have a single food craving, and experienced very few aches.)
I strongly believe it wasn't due to luck or genetics though. I think it's significantly due to a healthy lifestyle, how one prepares their body for pregnancy, and how they continue to treat their body throughout pregnancy. I can't conclusively argue that my experience was a sole result of the following factors, but I'm confident that they helped me to feel better overall, through this time.
Health and Skincare
Eat healthily for a good amount of time (6+ months) BEFORE you intend to become pregnant: You are what you eat, and if you can prepare your body for pregnancy well before you become pregnant, your body will have stocked up on key nutrients and your gastrointestinal system (microbiome) will be well-balanced. Since food cravings can be correlated to specific nutrition needs, this is a good preventative measure against them (and ensures an optimal life-support environment for your little one)!
Due to my infertility issues, I had a strict pre-pregnancy diet that called for no carbs, no sugar (including most fruits), no dairy, no caffeine, and reduced-fat. I termed it the 'no fun' diet (I have a long-professed love of carbs), but I'm sure it was great for my gastrointestinal and hormonal health. I continued a less-strict version of the diet through pregnancy, in addition to taking nutritional supplements and prenatal vitamins throughout the process. The result? No food quirks, neither aversions nor cravings. Yep, I was pretty surprised about that. 🙂
Do pre-pregnancy workouts that strengthen your back muscles: Having heard so much about all of the back pains that come with the pregnancy territory, I wanted to make sure that my back and core were as strong as possible. So in the year prior, besides doing general cardio and strength, I also put an emphasis on building up lower back, core, and corset (side) muscles. It seems to have served me well, as I had almost no back pain (there were only ~4 days when I felt some back pain/discomfort).
Work out (carefully) during pregnancy to keep your core strength up: Careful (no sudden movements), low-impact workouts are fantastic to continue through pregnancy. My co-worker and barre teacher extraordinaire is poised, graceful, slim… and one of the strongest people I know. She taught barre class (performing all the moves, not just talking through them) and took hard-core bootcamp classes (that had me, a non-pregnant gym rat crying silently) up until her maternity leave. Incredible. I was so inspired and determined to do similarly. I'm proud to say that I continued barre up until my maternity leave, and it felt awesome to feel my strength increase during that time (you need stronger arm muscles to support the 25-lb weight that grows around the waist).
The core workouts likely contributed to my smaller-sized bump, as my stronger core muscles seem to have kept my stomach more compressed and pulled-in.
Moisturize the belly after showering, first with a cream and then with an oil: Everyone's heard of how you should moisturize your belly, whether to prevent stretch marks, or relieve itching. The jury is still out as to whether I'll get stretch marks, but they haven't made their appearance yet, at 38 weeks.
I previously posted about the benefits of layering serums and moisturizers for overnight facial skin rejuvenation. A key point was to apply oil after serums and moisturizers because the hydrophobic-properties of oil help lock in moisture. I figured it made sense to apply the same logic to my belly care. Immediately after my daily evening shower, I moisturized my belly and breasts (as both can be prone to stretch marks) with a generous amount of Burt's Bees Mama Bee Belly Butter and then sealed it in with a layer of Bio-Oil. Again, I don't know if my ritual will help to prevent stretch mark reduction, but it certainly kept my skin feeling soft, super-moisturized, and non-irritated (no itching!).
Check out prenatal yoga: This class is invaluable for so many reasons. It increases self-awareness of one's body (and how to alleviate discomfort of bodily changes), introduces moves that will help the hips in the birthing process, and it's the perfect opportunity to relax the mind and focus on yourself and the little life within you. I can't recommend this highly enough!
Self Image: Style
Try on and purchase maternity clothes (with a sense of the upcoming seasons that you'll be wearing them through) before you have a visible bump: Why would you try on clothing before you have a bump? So that you know you're investing in a style that you can wear before and after pregnancy, versus something that you can only get 3-6 months of use out of. Some pregnancy cuts have excessive side ruching or shapeless, roomy fit around the belly, both of which are likely unflattering on a non-pregnant figure.
How would you know if clothing will fit through your pregnancy? Online sites provide fairly accurate sizing estimates; order based off of your normal size for a piece that should fit for the majority of your pregnancy (those last few weeks may be a bit challenging). Or, if you're doing in-person shopping at a maternity store (e.g. Destination Maternity/Pea In The Pod), ask to try on a padded belly to get sense of how the clothing will fit with your bump-to-be.
Swim-suit cover ups make great tunic tops or dresses: Summer fashion is full of loose, flowy, feminine caftans and cover-ups in beautiful patterns. Take advantage of them! So many maternity styles are conservative and boring black, blues and greys; very few have appealing patterns or colors. Swimsuit cover ups are bright, breezy, and have generous room to hide your bump in comfort. Transform a sheer cover-up into a dress with a bottom layer like this Topshop body-con maternity shapewear slip.
You can still wear regular clothing while pregnant; mix and match staples with maternity pieces: Being pregnant doesn't mean you have to forego all things cute and trendy. In fact, I sincerely hope that you don't resign yourself to the world of maternity knit tees and over-the-belly leggings. Sure, they're comfortable, but you'll feel much more 'normal' and true to yourself if you're still able to express your personal style.
My recommendations of wardrobe staples that can translate into maternity wear:
Embrace patterns and colors: Color and designs are great ways to show your personality and dress up your bump! I found it depressing that so much maternity clothing is solid-colored. Namely, black. I choose to go cheerful, and felt much better because of it. I think just about anyone would, unless your regular closet is already predominantly black and neutrals. 🙂
Here's some shots of my eighth-month pregnancy style, illustrating some of the style tips described above.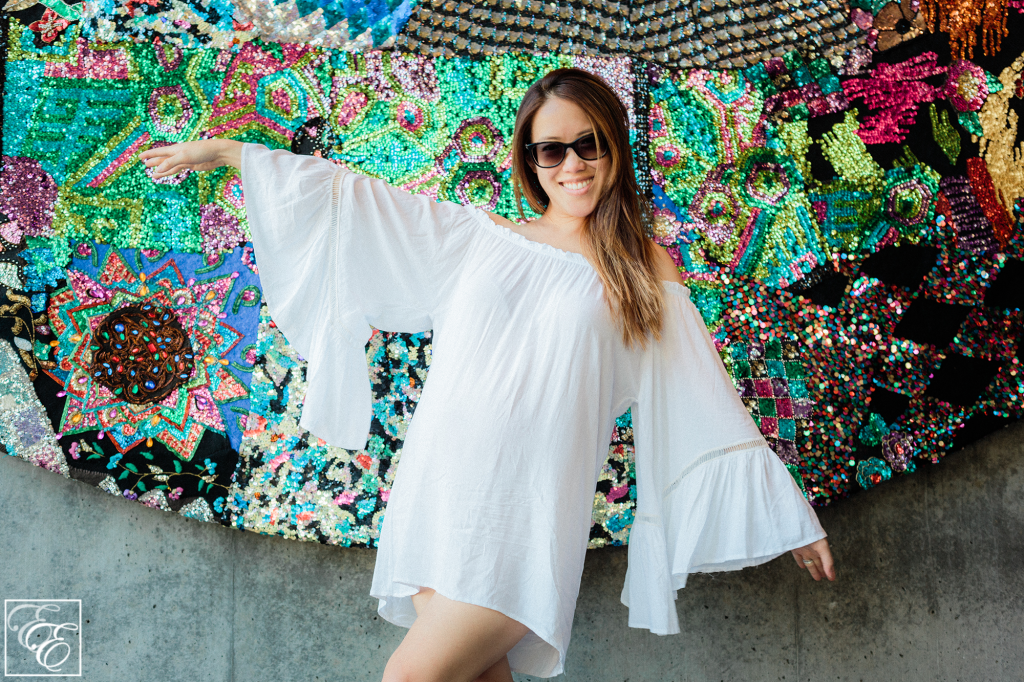 I love the relaxed fit, smooth and light feel of the rayon fabric, and the simple boho-chic style of this Elan cover-up tunic so much, I bought it both in black and white and have enjoyed wearing them as maternity dresses through the summer.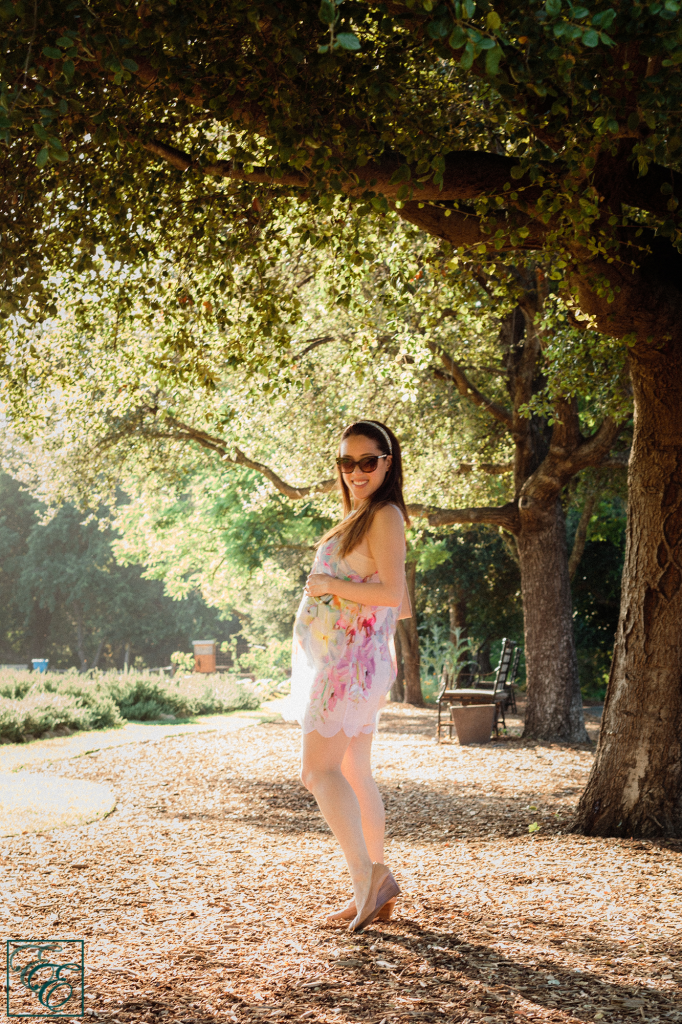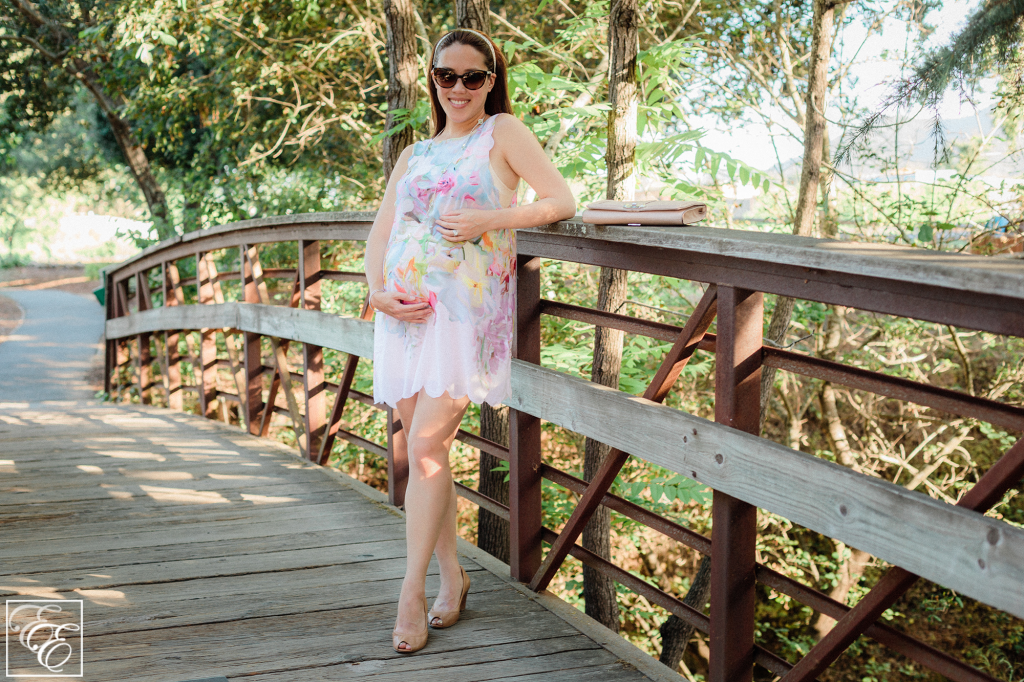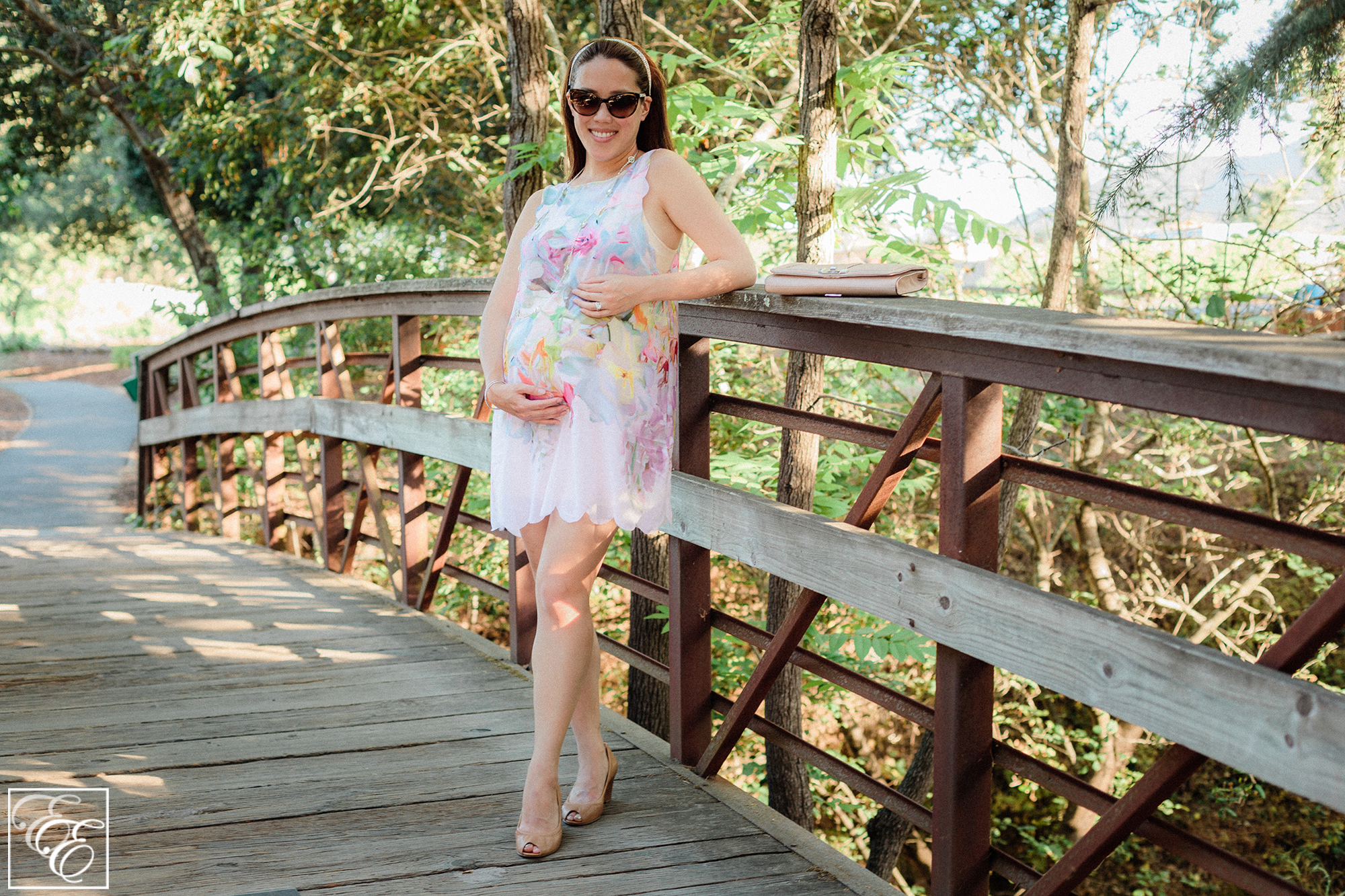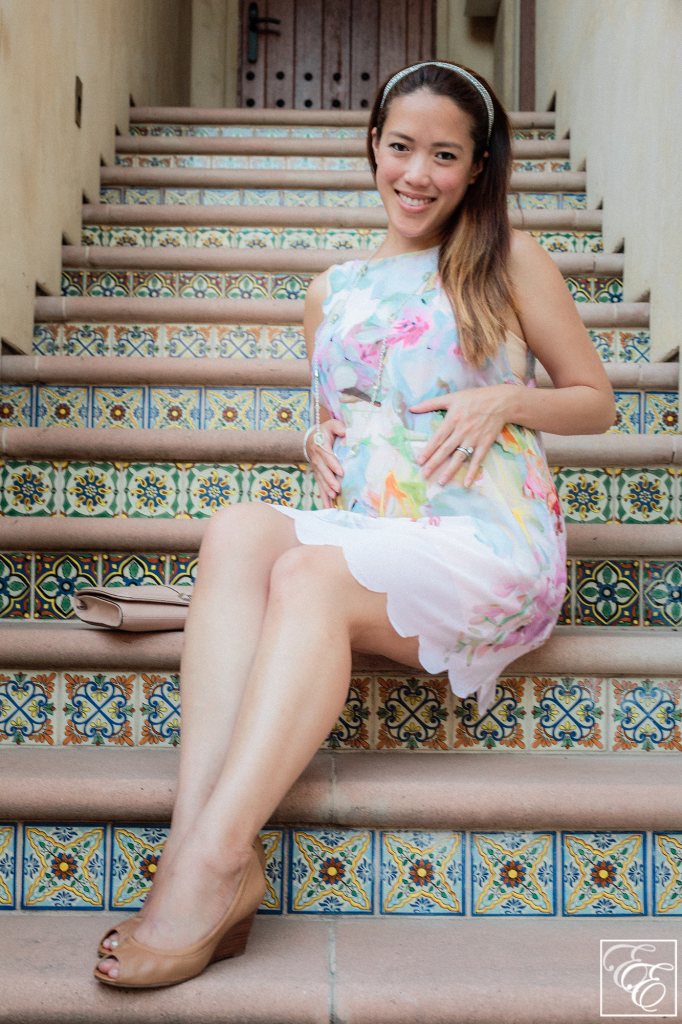 I am obsessed with Ted Baker prints. I lived in this swimsuit cover-up-turned-dress throughout my entire pregnancy, and got countless compliments on my "gorgeous dress" every time I wore it. It just may be my very favorite 'maternity' piece! This Ted Baker "Hanging Gardens" swimsuit cover-up is sold out at Ted Baker and Nordstrom, but it looks like there are still a few pieces available through Amazon. Highly recommended!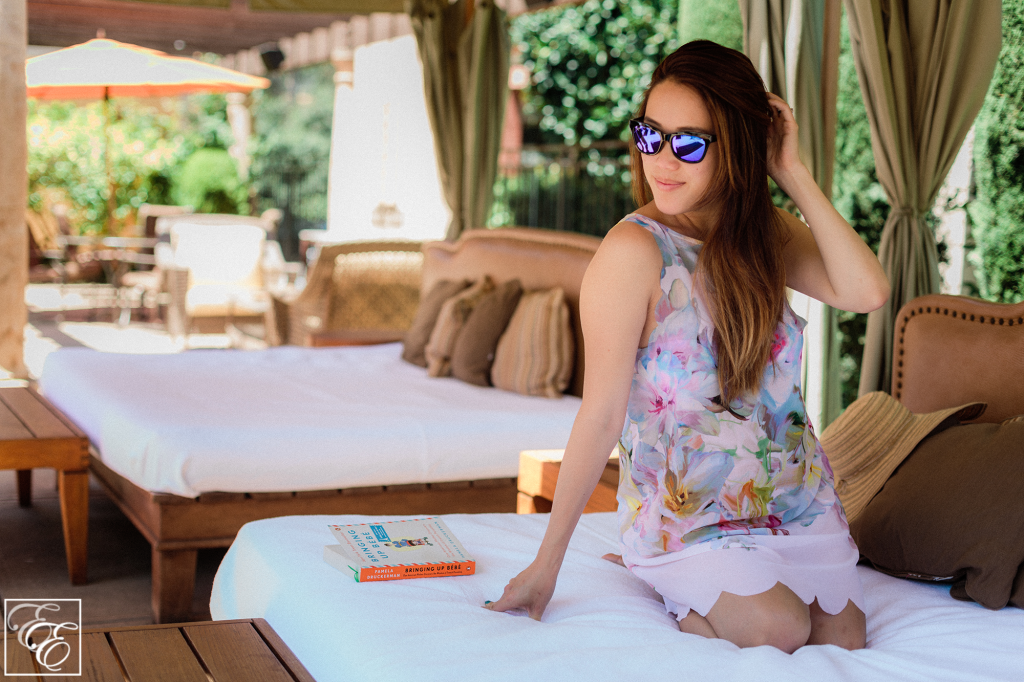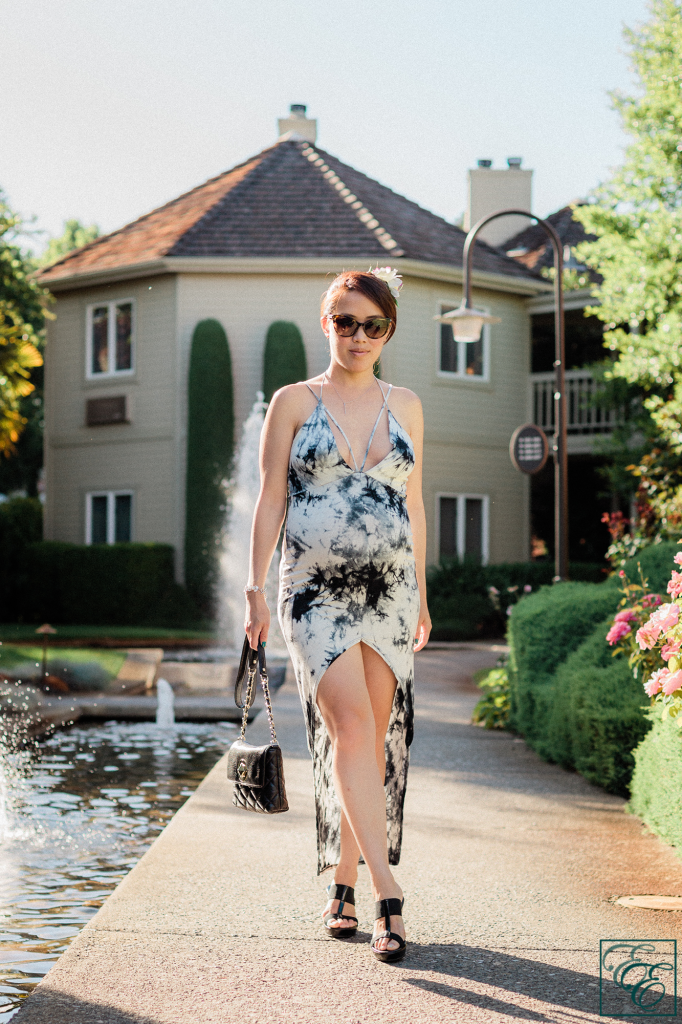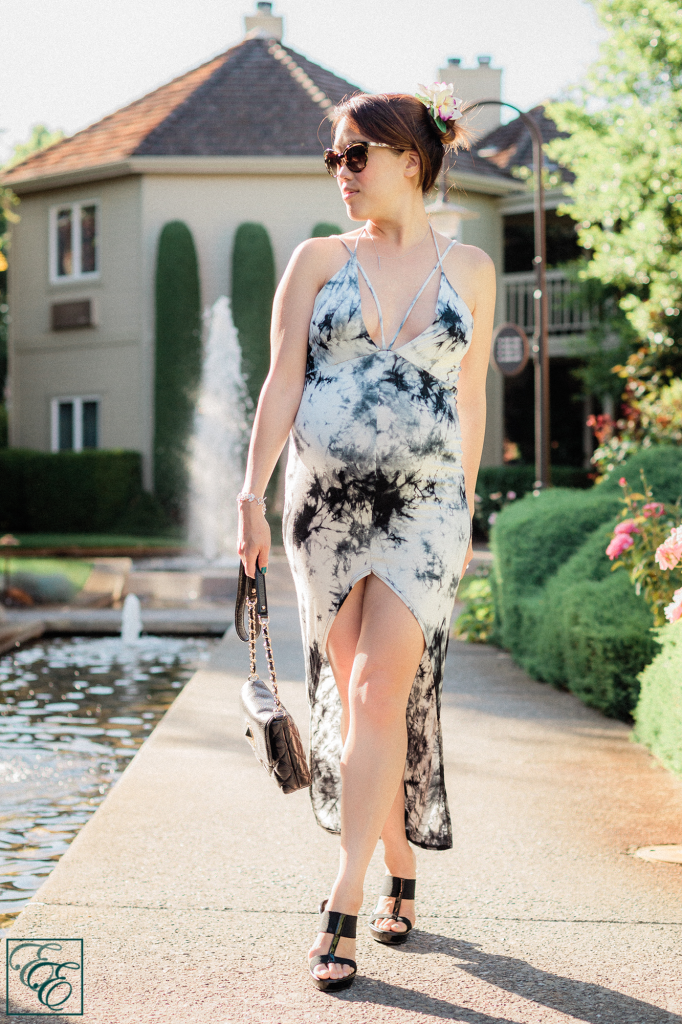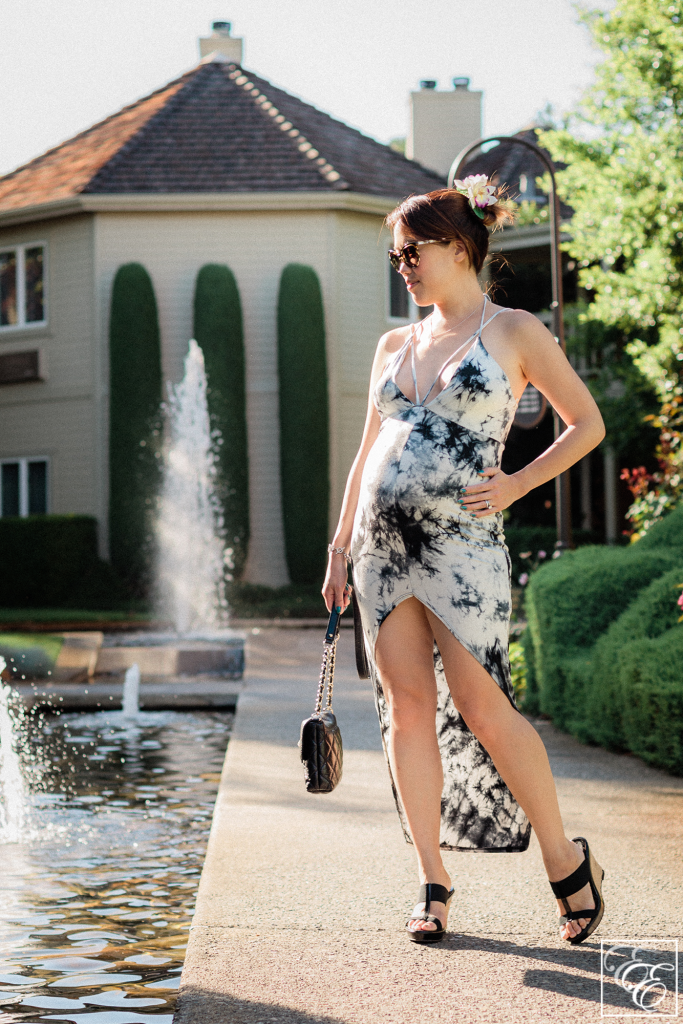 Here's an example of how you can transform regular pieces into maternity ones. Maternity dresses are fairly conservative and middle-of-the-road (solid color and traditional cuts with a longer hem). Makes sense for everyday wear. But what to do when you want to feel glamorous, sexy, and the opposite of 'I feel like I'm carrying around a spare tire' maternity?
You recruit stretchy (fabric blend with 5% or more of elastane or spandex) body-con pieces that range the gamut from reasonable (Forever21) to luxurious (Wolford Fatal dresses). Look for dresses that are either a single panel or are stitched under the bust; you don't want one with a stitched waist because they don't expand, and won't fit your enlarged torso. If you're feeling particular proud of your pregnancy-enhanced breasts… go ahead and have fun with it! I quite enjoyed my newfound temporary curves. 😉
I loved channeling my feminine and sexual confidence through bodycon dresses like the one above. Surprisingly, I realized that body-con styles actually made my bump look smaller. One day I wore a loosely-draping high-low tank top dress – which would look just fine on my regular frame – to work, and a co-worker said "WOW, you look super-pregnant". That was the end of that. From then on, stretchy cotton-blend sheath dresses became my daily go-to's.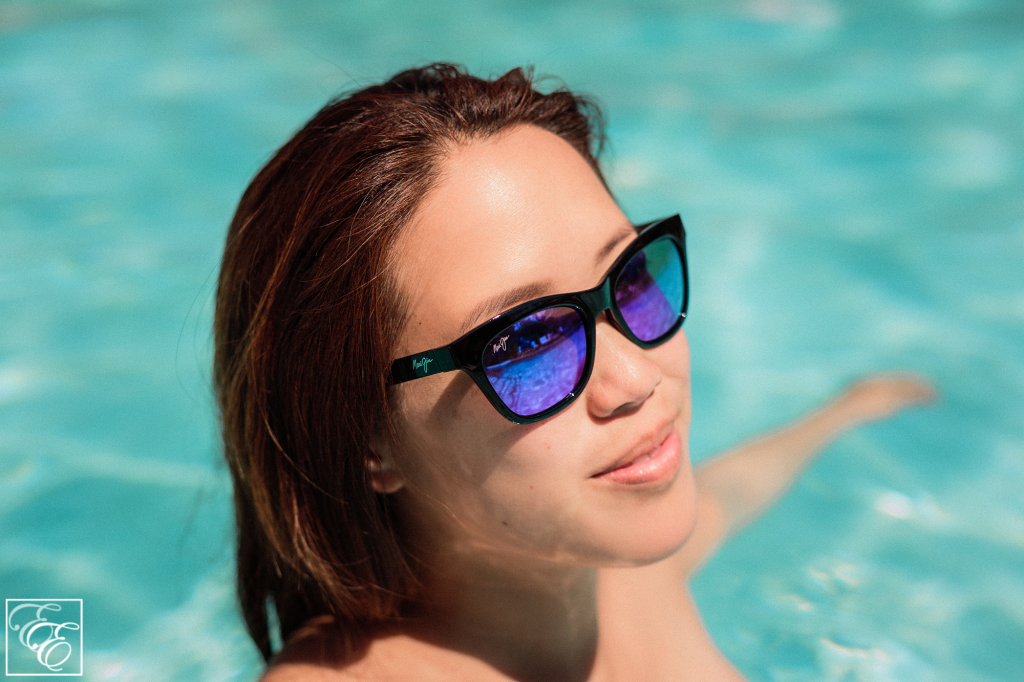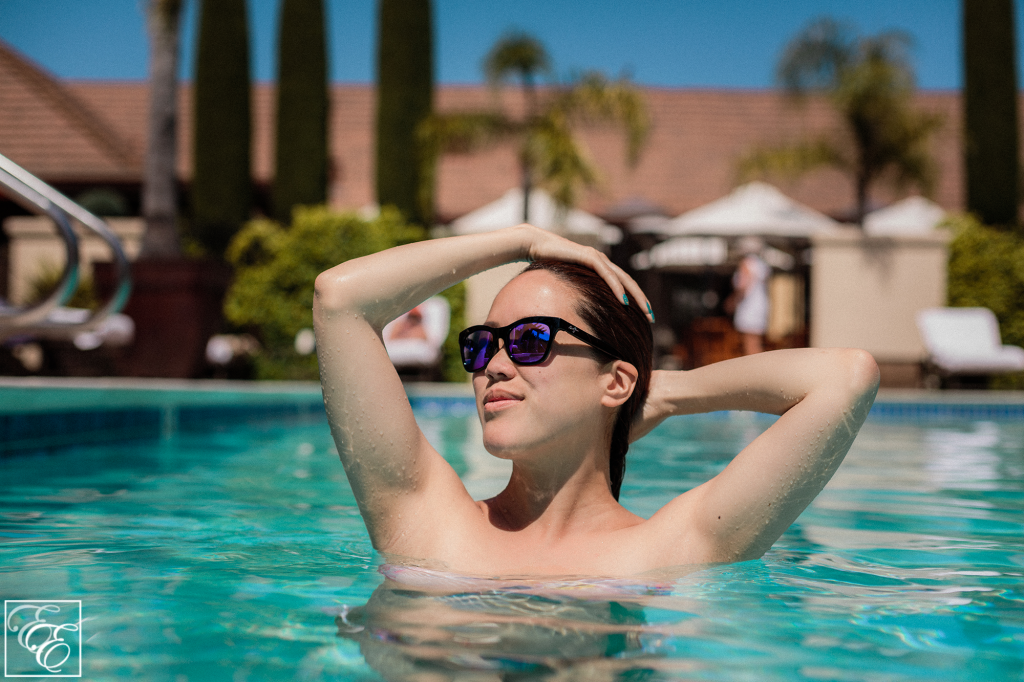 Sometimes your body's changes can be hard to deal with, and nothing in your temporary maternity wardrobe is going to make you better or 'normal'. If and when that's the case, lean on accessories that bring you joy. Perhaps it's a cheerful silk scarf, or a fabulous hat. Or a necklace monogrammed with your little one's initial. I've been religiously wearing a Kate Spade "L" circle-shaped charm necklace with the words "one in a million" engraved on the back of it, and will pass it on to my daughter when she's old enough to appreciate it.
This summer, my favorite accessory are these gorgeous blue-purple reflective Maui Jim cat-eye shades. I'm particularly partial to the classic, retro cat-eye, but this particular style has even more significance to me. This style is named "Sweet Leilani". The name of our soon-to-arrive daughter will be Leilani.
My dad's side of the family is from Hawai'i, and if you've been a regular reader, you know that I love the islands as a second home. When I was born, my parents debated between the names 'Laurie' and 'Leilani'. When they told me, I was so disappointed that I didn't get the name that I considered to be more beautiful, I vowed as a young child that if I had a girl of my own, I would name her Leilani. And so it shall be. 🙂 We can't wait to welcome her into the world!!
I hope that my pregnancy discoveries may be of use to you… I'd like to think that these are some unique insights that you aren't likely to find elsewhere. As always, thanks for reading, and coming along on this journey with me!
Much love and aloha,