My fashion challenge to myself these past nine(!) months has been to find creative, fun ways to create a maternity wardrobe that reflects my personal style (it seriously feels like the majority of the maternity palette is black and dark blue – so boring!) and that flatters (versus enlarging) my baby bump and figure. I'm also adamant about selecting pieces that can be worn pre-pregnancy, during pregnancy, and post-pregnancy. If I'm going to invest in clothing, I want to make sure I can wear it beyond the 4-7 month period of having a beach ball belly! (There's also maternity clothing rental options, but I prefer curating my own hand-selected collection.)
I've had fun incorporating and translating trends into my maternity style, such as this season's crop top and off-the-shoulder trends. I'm not going to let having a round belly prevent me from enjoying them! So now, let's talk about how to rock a crop top while pregnant. 🙂
Out of curiosity, I tried pairing a crop top with (maternity) short denim shorts, which resulted in a look that truly defies conventional standards… and ended up looking more like a brazen 'I-outgrew-my-clothing' look than anything else. I laughed at myself, and quickly went on to explore other options.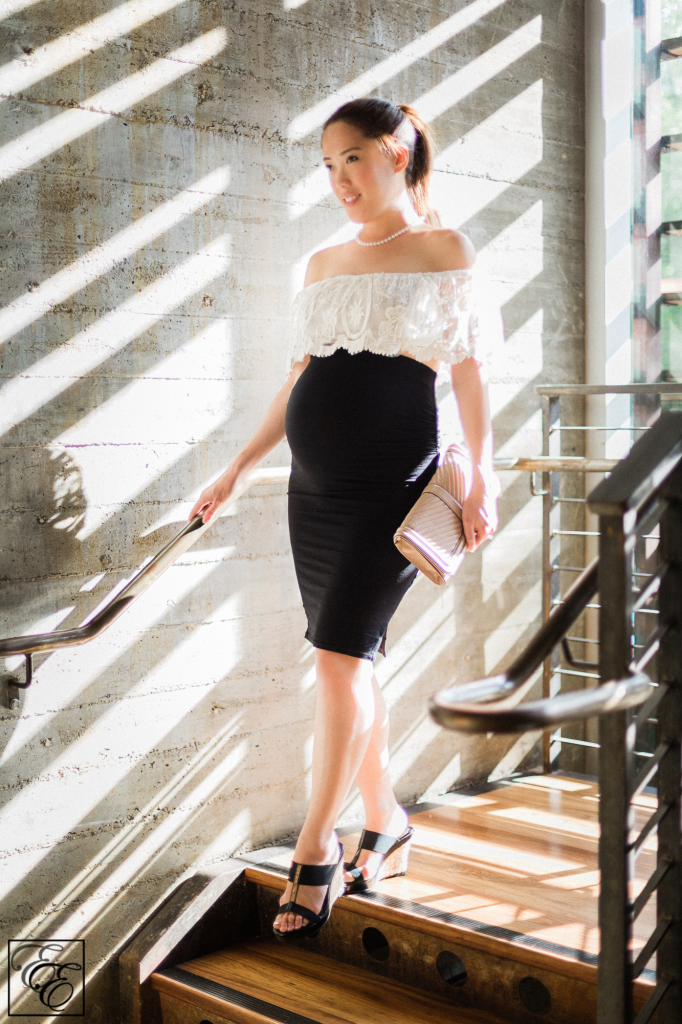 I found success with a high-waisted pencil skirt that was more appropriate, versatile, and appealing to my aesthetic. This comfortably-stretchy skirt with subtle side ruching from French maternity brand Envie de Fraises (see a similar, longer style here) is one of my maternity favorites and a 'maternity essential' in my book! The high-waist fit makes for a highly-flattering, feminine fit. Most maternity skirts tend to fit under the belly, which has the unfortunate effect of emphasizing a full, round bump. The above-the-belly cut gives the desirable illusion of a waist (something I've dearly missed this past half year!), drawing the eye upwards to the face, rather than focusing on the stomach area. The raised waist also has the benefit of lengthening my legs, which is advantageous for those who have a petite build and/or short legs.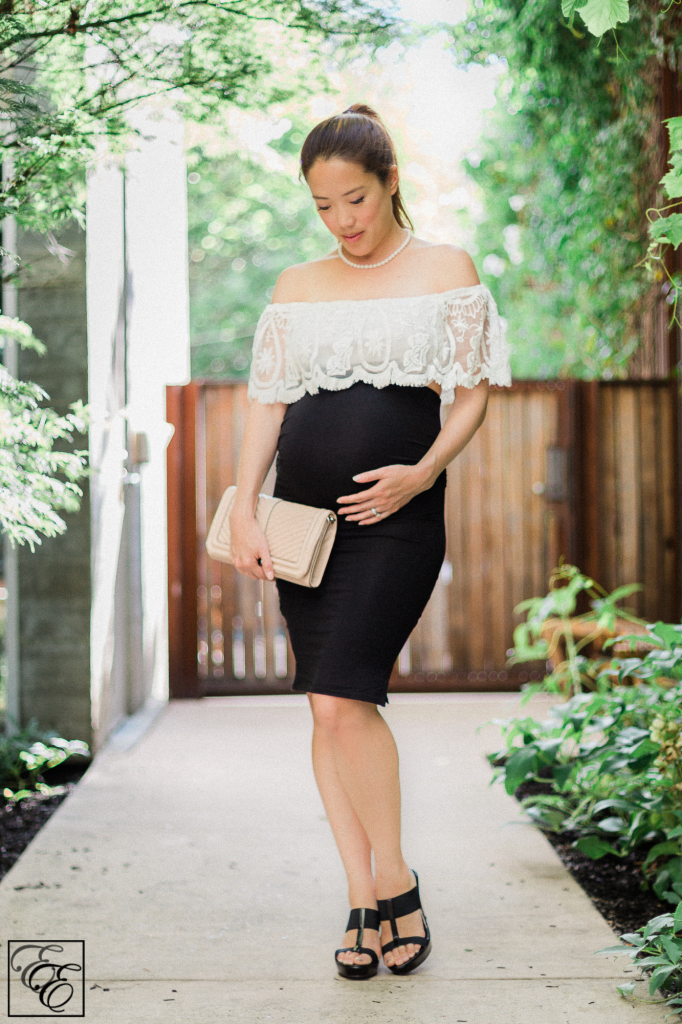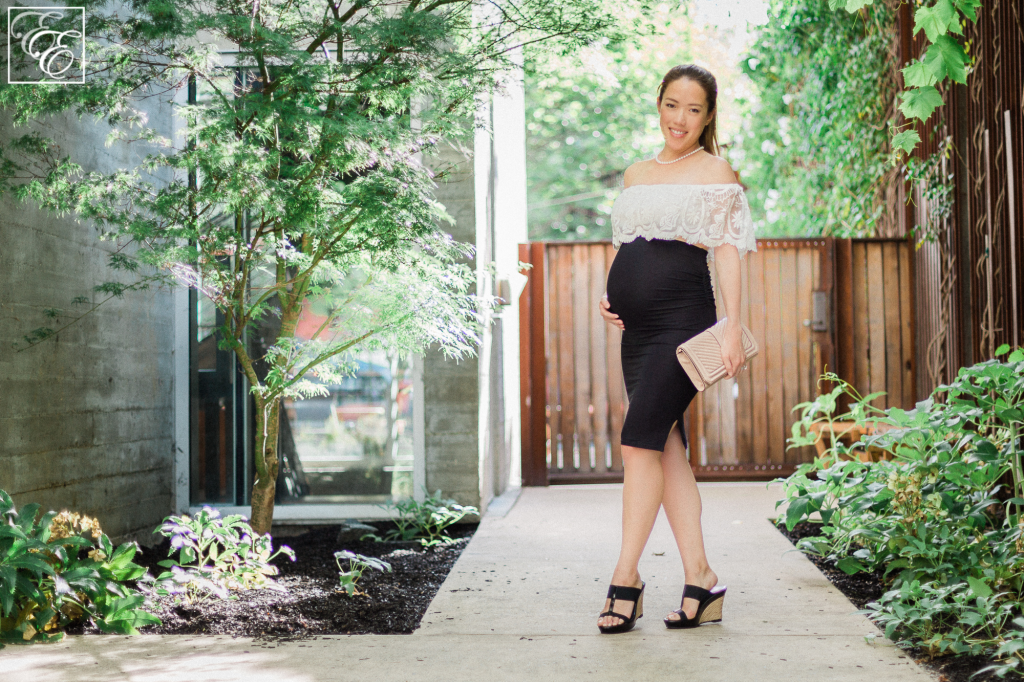 Any crop top looks great with this type of skirt, allowing for just a hint of skin to peek out. Forever 21 has a great variety of crop tops; this light and lacy off-the-shoulder one appealed to me with its flirty elegance. Pregnant ladies will want to choose tops that are shorter – more bandeau-style than a 3/4-length top – so that the hem hits above your rounded mid-section.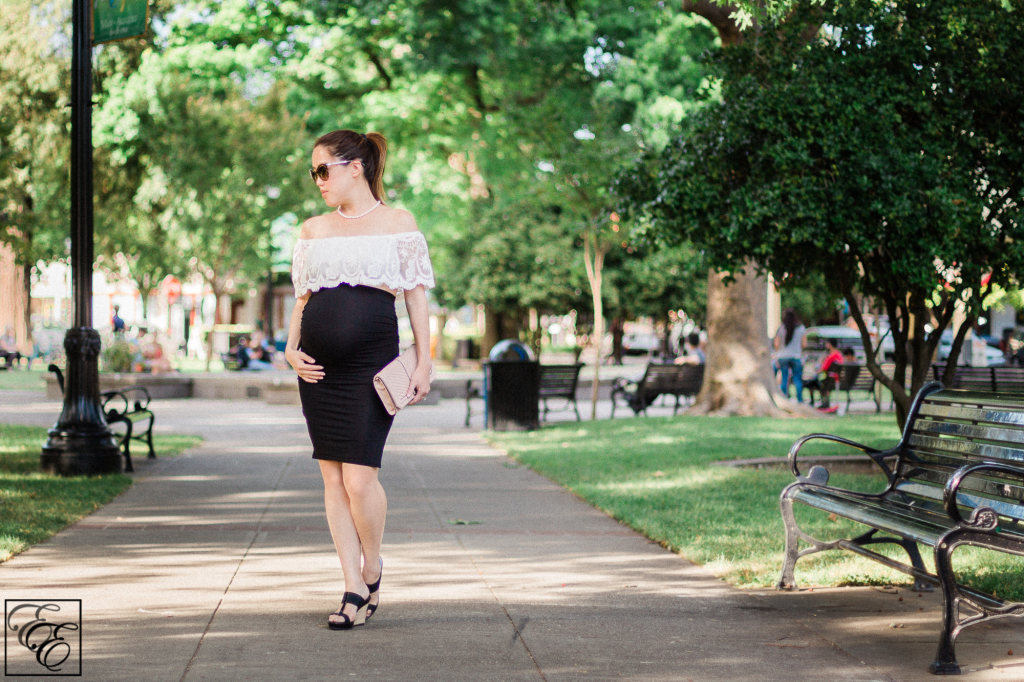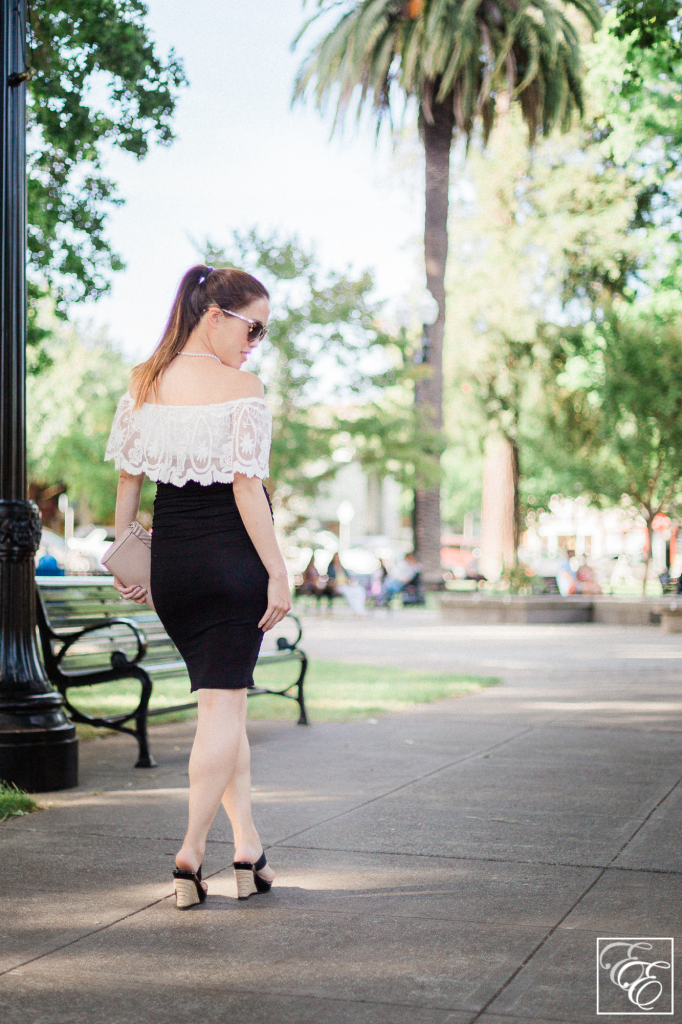 Paired with wedge heels (for height, yet stability) and simple, classic accessories of a string of pearls and a neutral clutch, the crop top and skirt pairing becomes an elegantly effortless look for a summer soiree. The construction of the skirt, with its wide elastic band to keep it in place and subtle ruching, translates into a beautiful look that looks pretty much the same before, during and after pregnancy. Also, the off-the-shoulder style is conducive for easy breast-feeding access. All of those characteristics make for a versatile, long-lived maternity look that gets my highest recommendation! 🙂
Cheers and aloha,