We're welcoming the warm weather with open arms, and enjoying introducing our little one to outdoor fun! This last week, we've spent time relaxing outdoors and checking out the season's first art and wine festival.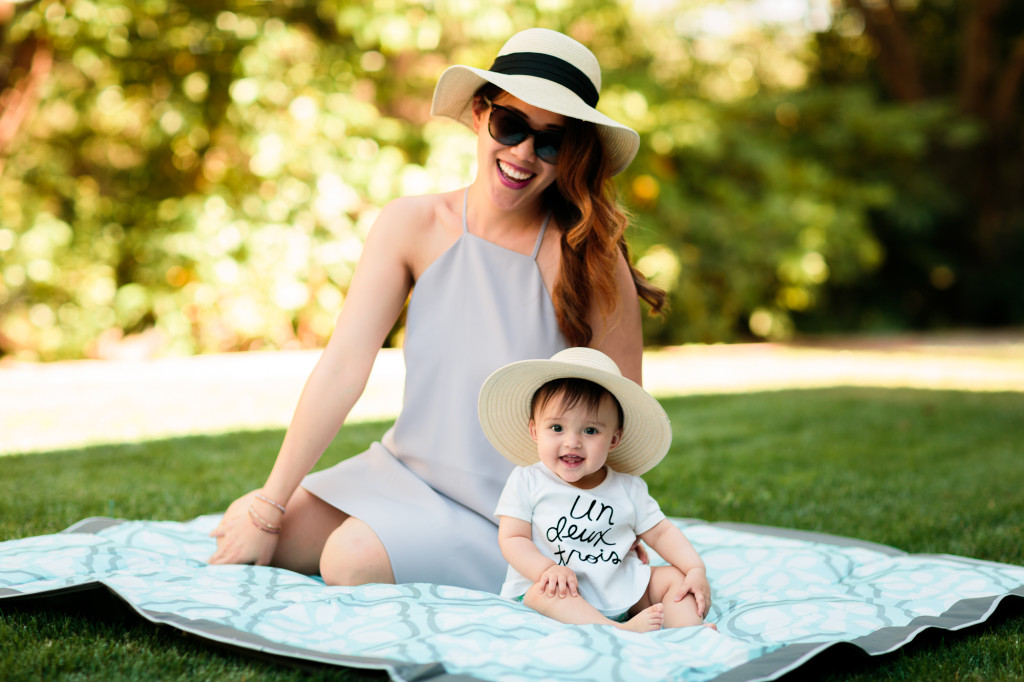 While baby girl stayed cool in a light tee and diaper panties, I relished the comfort and freedom of an airy lilac shift dress by Tobi. It's a simple and classic A-line silhouette that's flattering to all body types. The loose style and light spaghetti straps (that slide freely in the back, for adjustable comfort) make this a great pick for summer, along with flat sandals and a jaunty straw sunhat. Because of the exposed back and loose sides, I recommend wearing adhesive covers (e.g. Nippies), rather than a traditional bra. The popular dress style comes in a range of colors – black, ivory, lilac, mauve, olive and wine – and the site frequently has 50% off discounts, which makes it extremely reasonable at $26.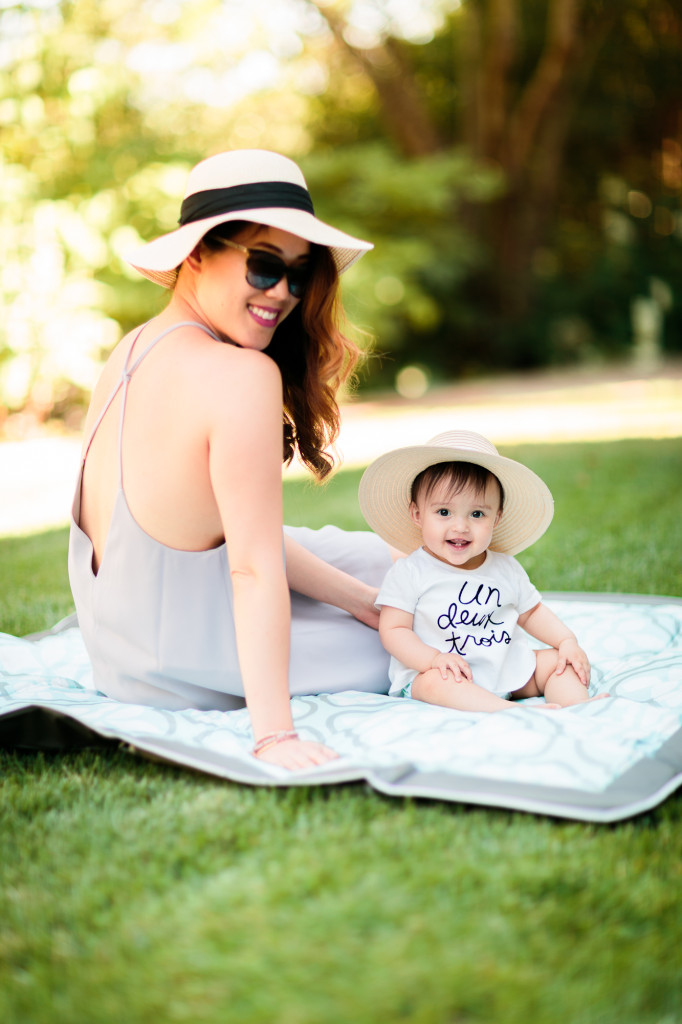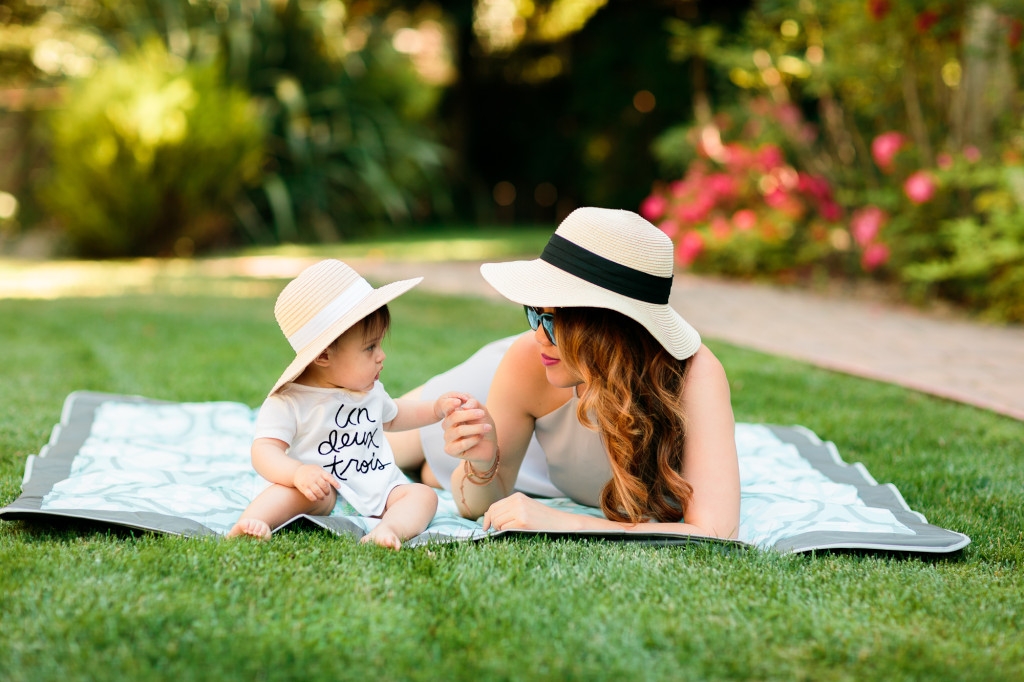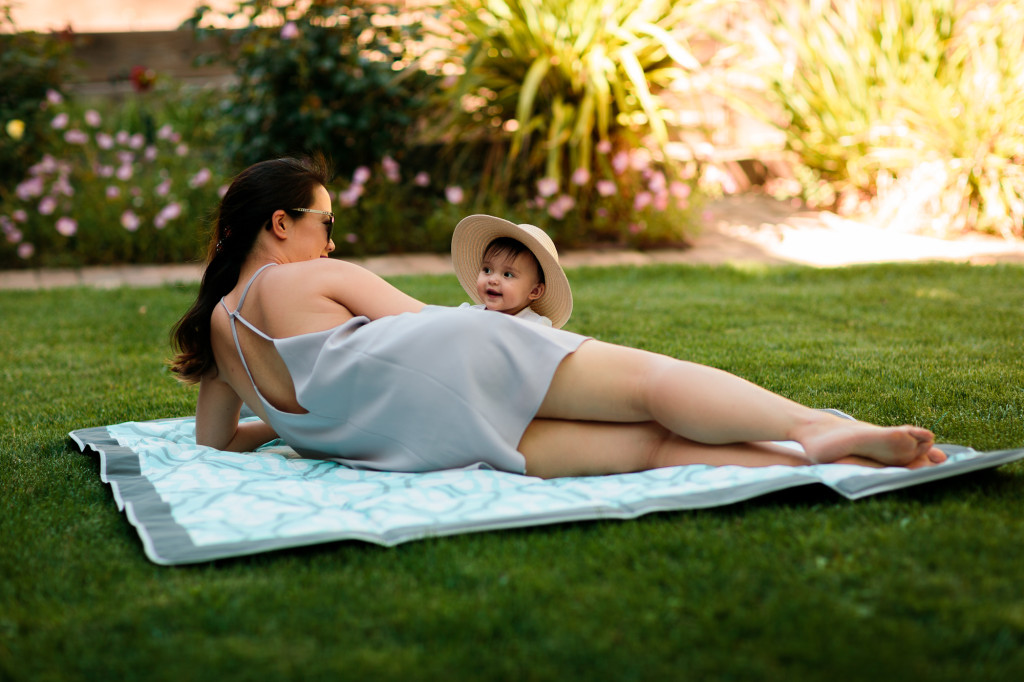 This day in particular was a special one because it was Leilani's first exposure to grass! She had been outdoors on the mat previously, but had yet to venture off of it. This time, after eyeing the grass skeptically for a while, she was willing to take my hands and take some slow steps through it. She's still not enthusiastic about it yet and I think it'll take some time before she gets used to the feeling of the cool, rustling, crunchy-flexible texture of grass. 😀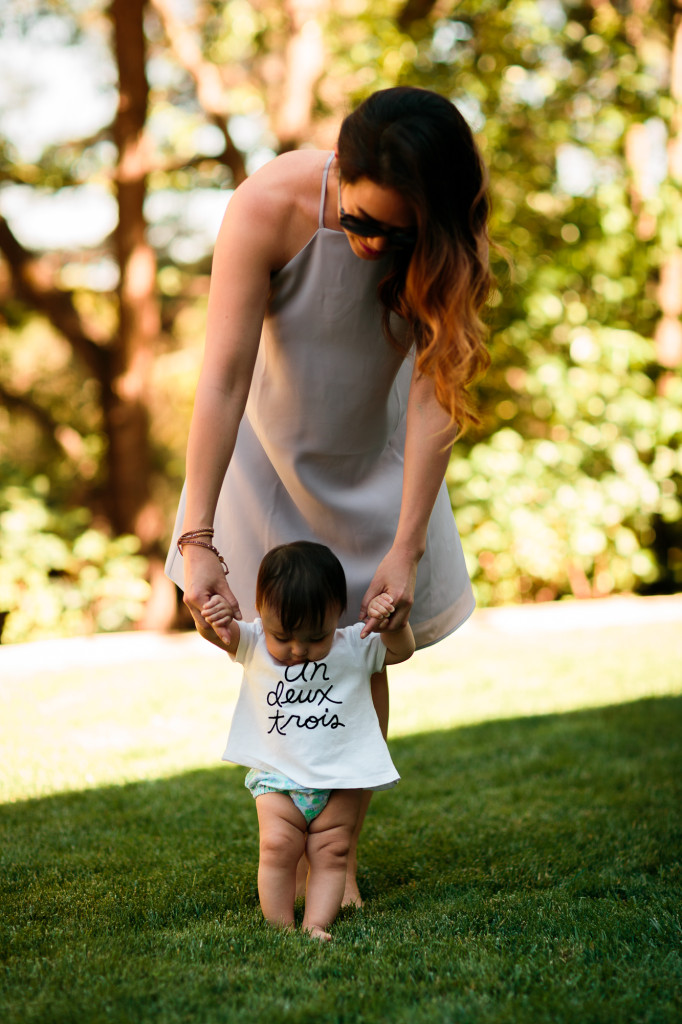 Another day, for a local art and wine festival, I enjoyed wearing a stylish, easy-breezy Tobi romper set with a gorgeous teal and white tropical print. Made of a light, silky-cool polyester, it's great for hot weather and is a welcome addition to my summer wardrobe.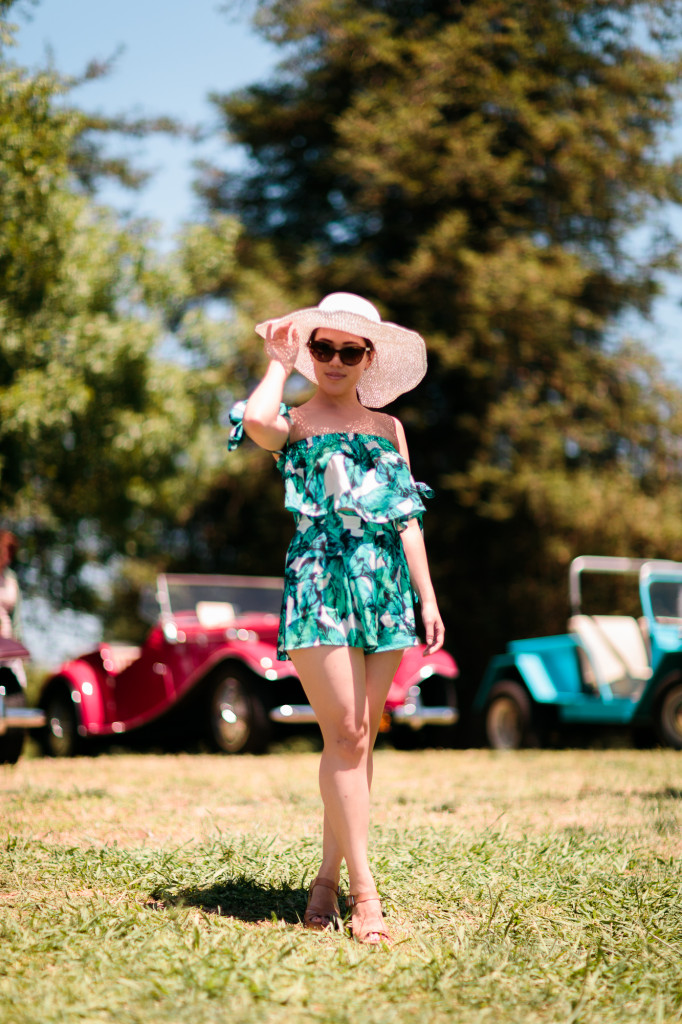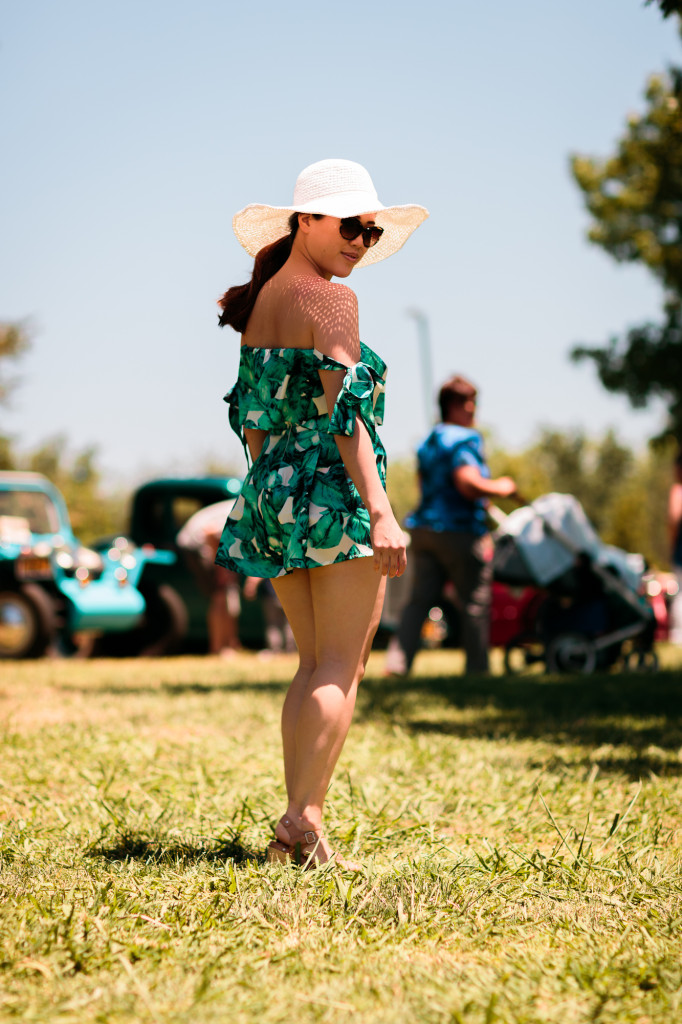 The top is essentially an elasticized crop top with long sashes on the sides. Since you tie the sashes yourself, you can make them into bows as loose/tight or large/small as you'd like – or forego bows all together, and just knot the sashes, letting them hang straight down. The shorts have a zippered back, with a tapered wide waist and a flared, skirt-like bottom. As both pieces are so lightweight and flowing, they feel incredibly comfortable in the heat, but may take some care to keep under control if strong breezes come up(!)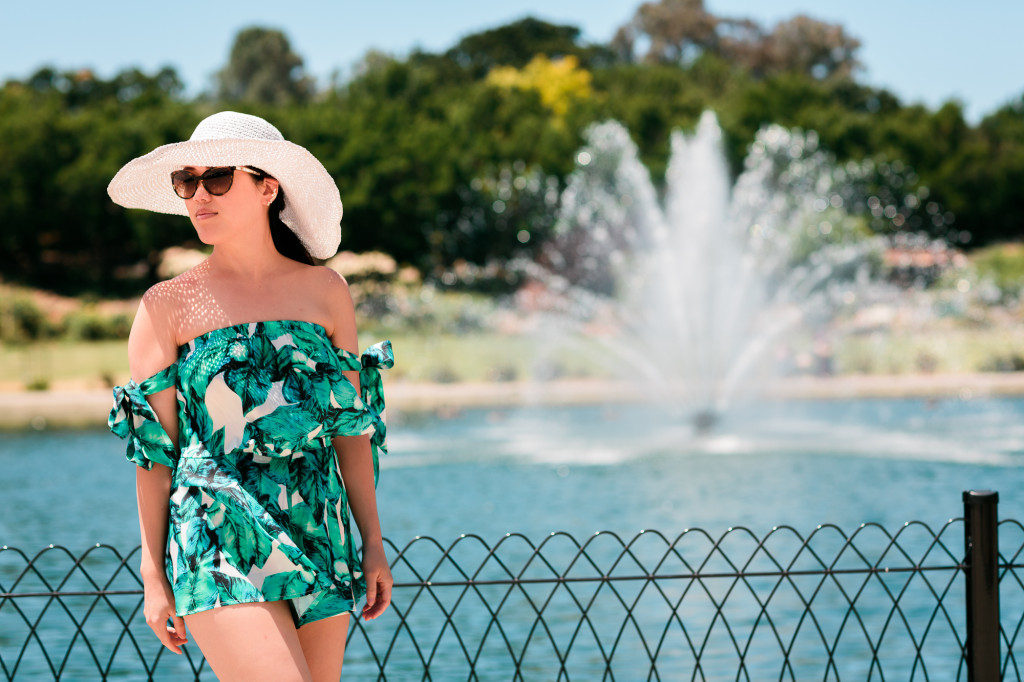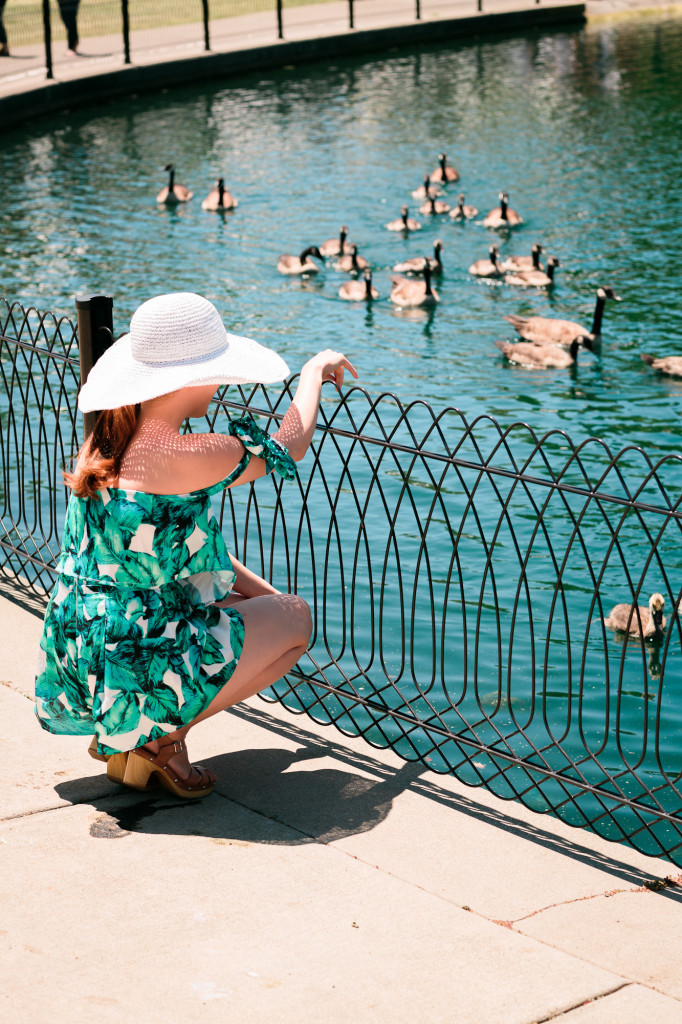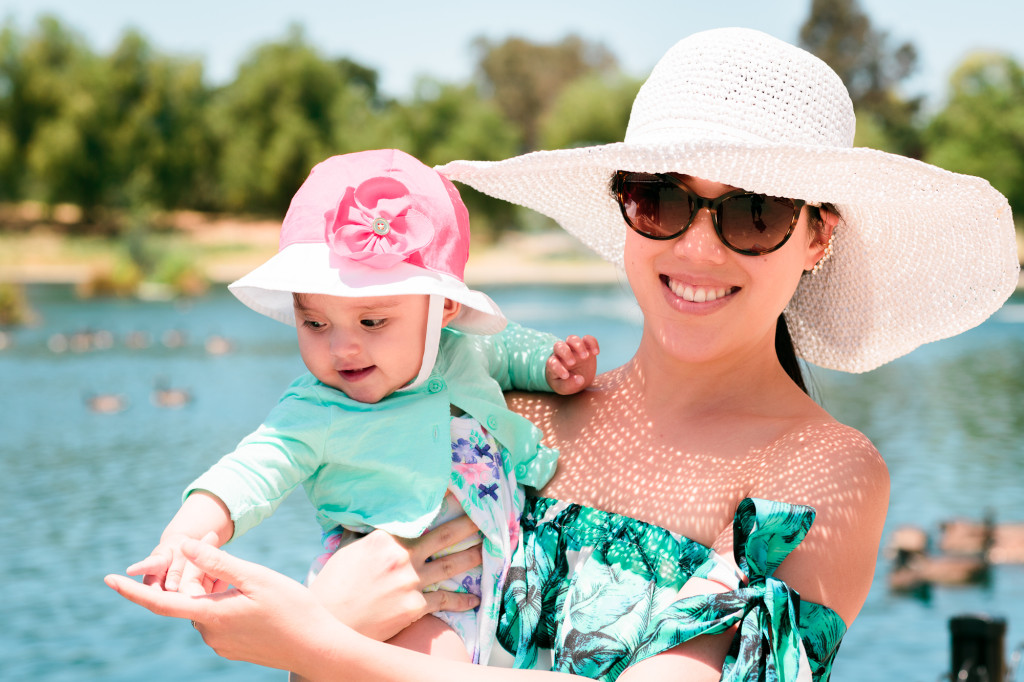 A wide-brimmed, loosely woven Hatattack sunhat provided great protection with style, and retro chunky-heel Clarks sandals added me a bit of height with stability and cushion while allowing me to traverse the uneven grass with grace. Peeking out from under my hat was also a rhinestone ear climber. It's been my recent jewelry of choice since baby girl isn't tempted to pull on it, as she is with necklaces and dangling earrings.
The dress and romper are both solid summer staples, from picnics to pool parties. They'll be accompanying me on an upcoming vacation to the southern corner of the US, to keep me as cool as possible in the humid heat. Here's to staying cool and comfortable this summer, cheers!
aloha,

(Disclaimer: I received this dress and romper from Tobi for reviewing purposes. All opinions expressed are my own, and there are no affiliate links in this post.)