There is so much beauty in rainbows, especially when they show up in unexpected places, like the chromatic film of oil on wet black asphalt, or the brilliant refraction of light through a sparkling diamond. And rainbows are magical. They lie at the ephemeral junction of rain and sun, and they scintillate and skitter across bubbles before disappearing in a small splash. I'm easily mesmerized by all appearances of rainbows.
Asked "What's your favorite color?" as a child, my instant response was "the rainbow!" After all, why pick one when the collective sum is so much more interesting? As an adult, my preference still holds; this look is the proof. 🙂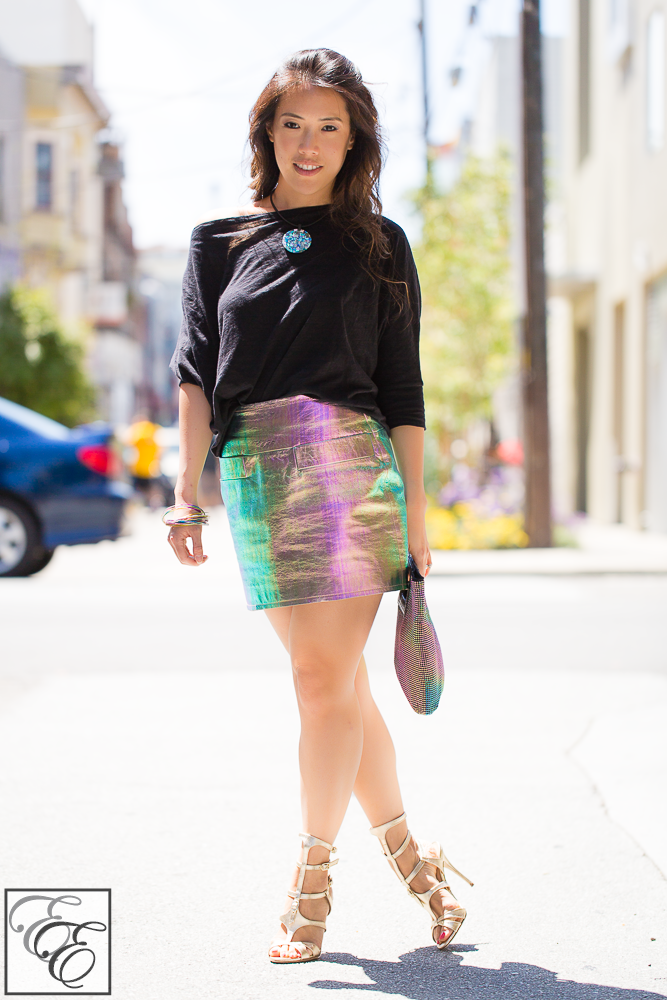 I can't tell you how thrilled I was when holographic colors finally started appearing on clothing fabrics and accessories. This leather mini-skirt by Marc by Marc Jacobs may be my absolute favorite rendition! The skirt is well-structured, but is fairly flexible and soft, considering its thicker construction. The holographic finish is vivid and is holding up very well to wear (it made it through a Vegas party weekend, which says a lot). 😉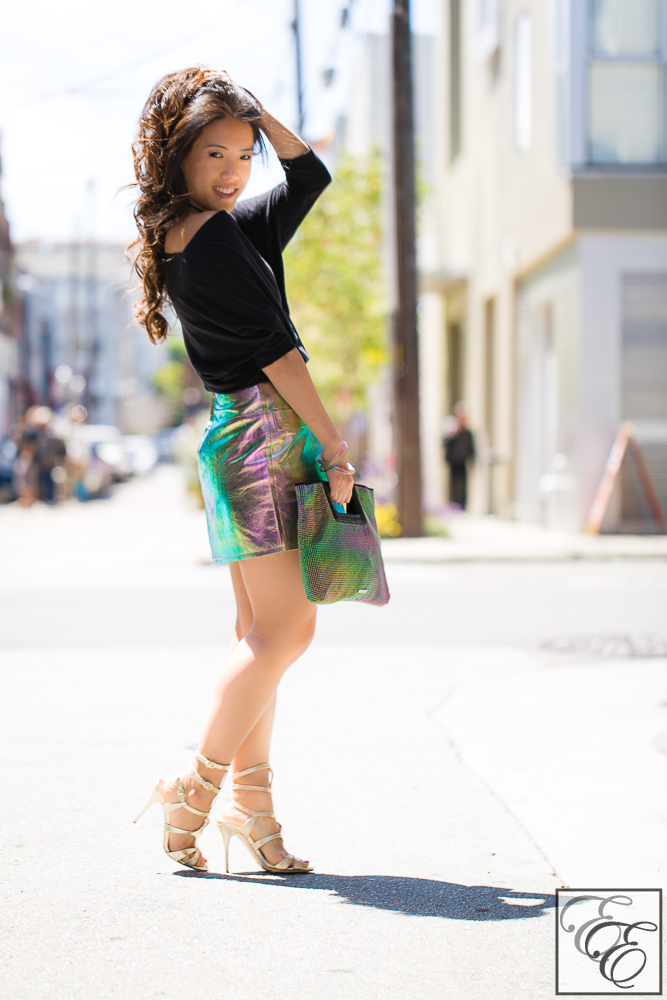 A slouchy, dolman-sleeved 3/4-lenth tee by Vince adds a nice casually-thrown-on side vibe. It's a necessary balance to the delicate but statement gold gladiator sandals by L. K. Bennett. These mid-height gladiator heels are sexy, yet not so trend-specific (and therefore, less likely to be dated) as higher versions. They're comprised of soft, thin leather buckled segments down the middle of the shoe and around the ankles. This thoughtful bit of customization, particularly down the top-center, allows for perfect fitting to the foot. I'm a fan.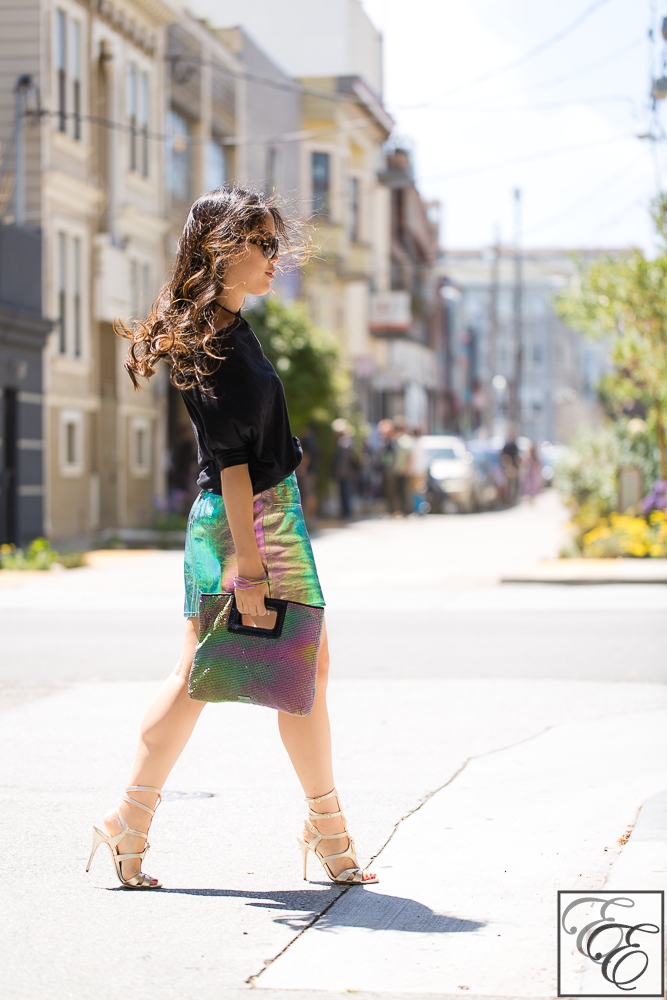 The cute BCBG clutch is a simple silhouette that's flexible enough to carry a surprising amount of things (including foldable flats, for ahem, Vegas post-partying wear).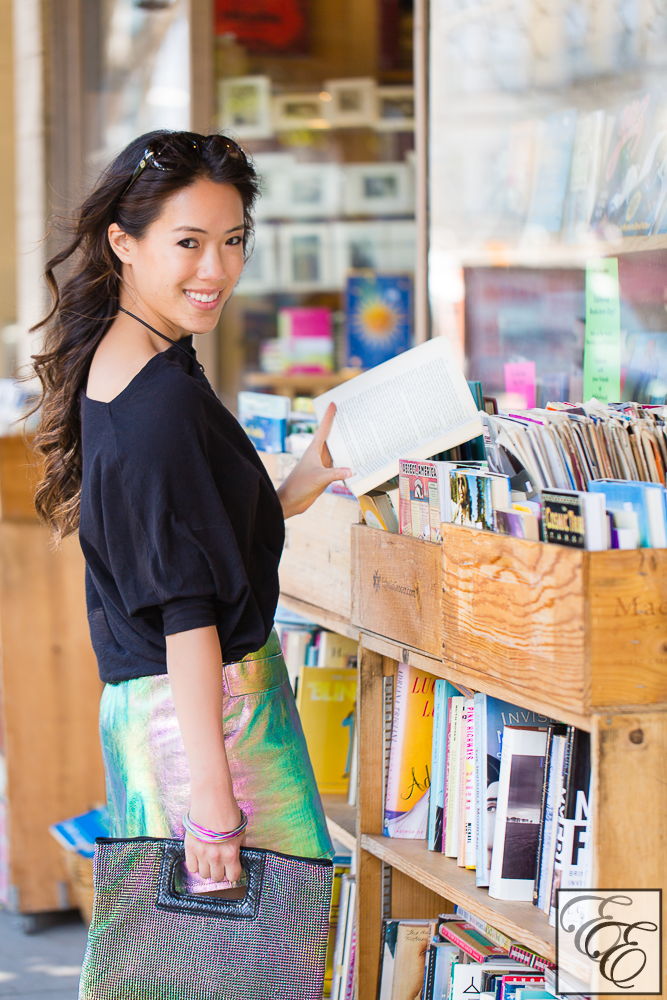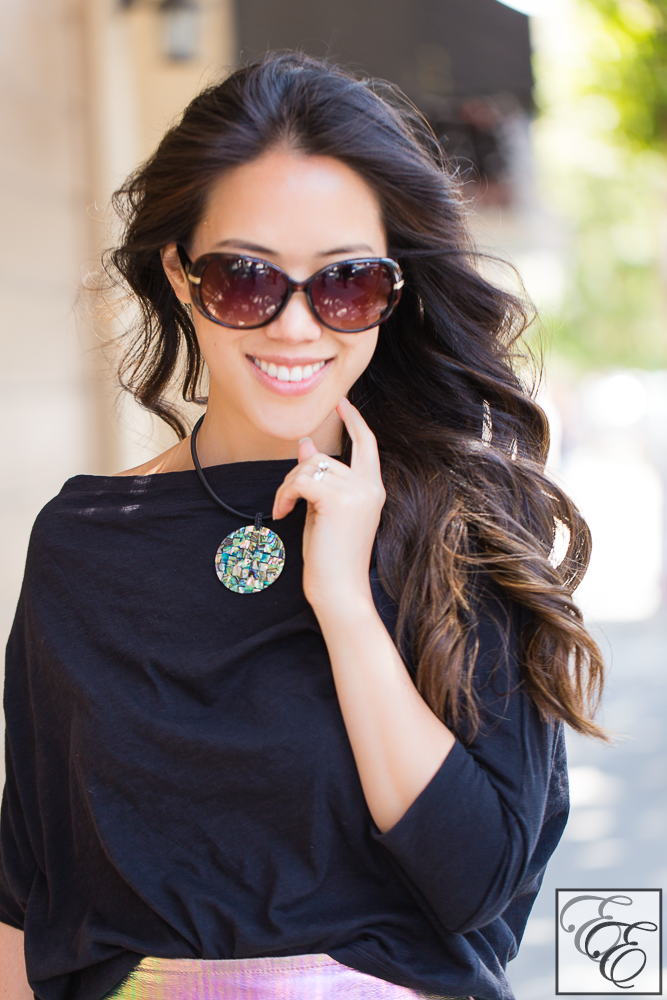 My two jewelry accessories are souvenirs from international travels. The lacquered mosaic shell necklace is from Bali (gorgeous shell-based jewelry abounds at shops along the road), and the interlinked bracelet is from Kathmandu, Nepal. They are representative of the bright colors of the clothing and accessories of both cultures.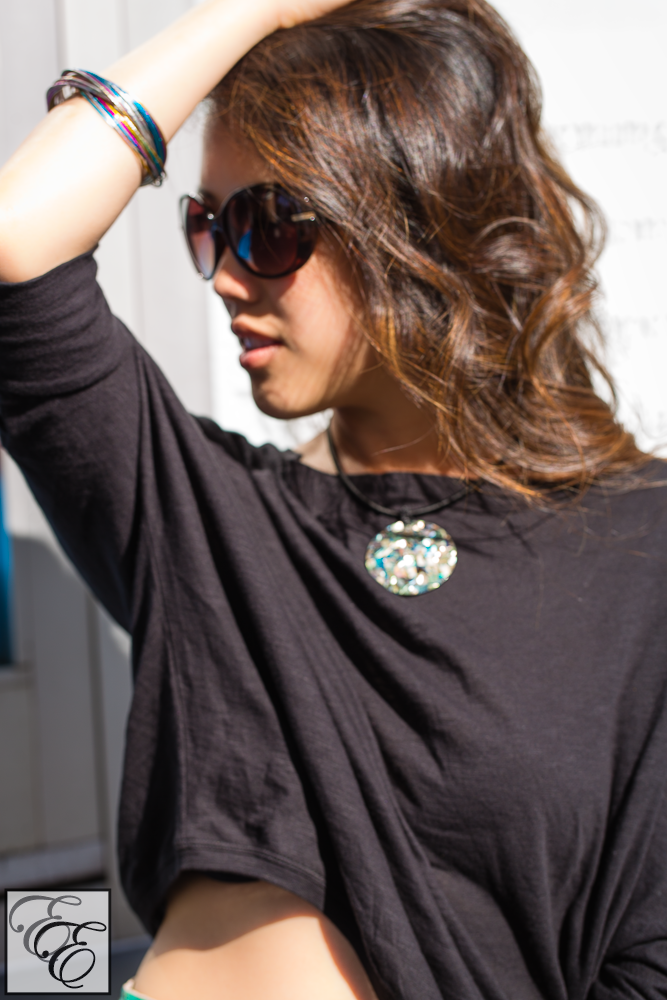 My beachy-wave look was created with the Sarah Potempa Beachwaver. The iron has nifty features including a motorized rotating mechanism, ionic conditioning, and an equally-heated long length that works particularly well with long hair. I've never gotten so many compliments on my curled hair, than I have with this curler. It has a fair amount of celeb endorsement (to be taken as you will), but given the perfect-long-lasting-curl results I've gotten with it, it seems fairly deserved.
My hair is thick, on the coarser side, and usually doesn't hold a curl longer than 6-8 hours. As a result, I usually use higher heat (375 degrees F), which means more damage to my hair even though I use a heat protection lotion. With this iron, I get well-formed curls at a low 310 degrees F, by holding the iron in place for 8-10 seconds. The curl shape relaxes slightly (into perfect beach waves) after the first day, but the wave and voluminous body holds for three days, which is the longest-lasting results I've ever gotten from an iron. (To compare, my previous irons include various 1.5″ T3 and Hot Tools models, all of which are well-rated.)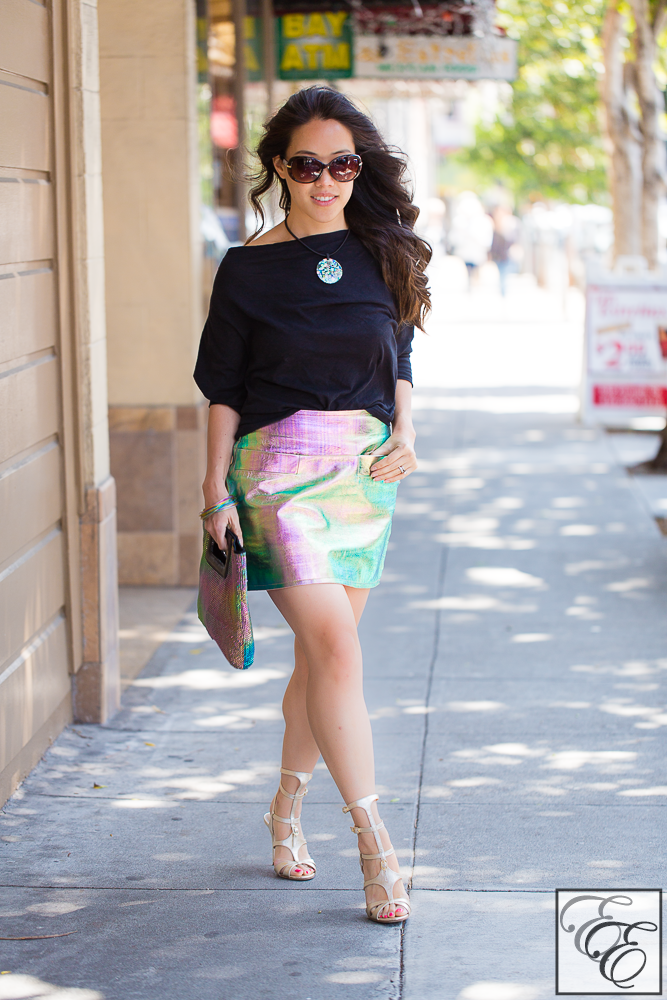 [Top] Vince dolman tee (lilac and ice blue options)
[Bottom] Marc by Marc Jacobs metallic leather skirt
[Shoes] L.K. Bennett gold gladiator sandals
I'm loving these bright, beautiful colors in modern silhouettes for summer! How about you? Do you love the look?
xoxo,