Dear readers, I'm wishing you all a very Happy Holidays!! I'm super-excited to release the final episode of this season's Winter Wardrobe series, a four-part fashion/couples photography collaboration with Nha Phan of Just Pictures. It's a decadently luxurious look for holiday celebrating, and it's my favorite of the collection!
The season abounds with sparkling lights, ethereal holiday music, and cheerful, heart-warming decorations. I'm always thrilled to have the opportunity to indulge my love of dressing up – this is the perfect time to be add your personal glow, glitter, and radiance to a magical-feeling world.
Be enviably elegant in rich black fur and crimson lace, gilded with glittering gold. It's a classic, simple, and stunning theme.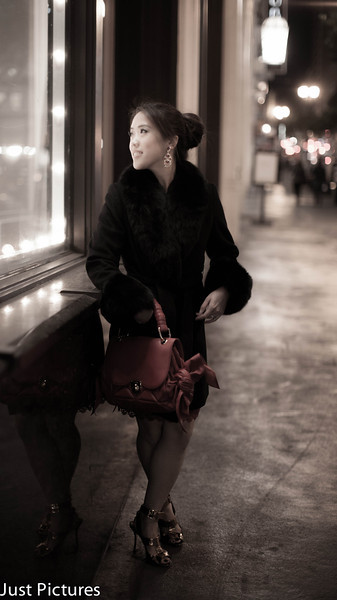 Overland cashmere and wool fur-trimmed coat (options)
Laundry by Shelli Segal red lace dress (similar option in plum)
Sergio Rossi metallic bronze sandals (options)
Zac Posen bag (previously featured here)
Kenneth Jay Lane earrings
Your holiday coat deserves to be as show-stopping as the outfit that lies beneath it. My big splurge this season was this collar and wrist fur-trimmed coat. This will be a lifelong, timeless piece for festive celebrations, concert hall performances (e.g. symphonies or musicals), and classy (semi-formal to black-tie) evening events. It's not just a luxurious statement piece however; it's made extremely well and I appreciate how the wrap-around style and tied sash cocoons me from the chill, and the thick, plush fur keeps out the wind.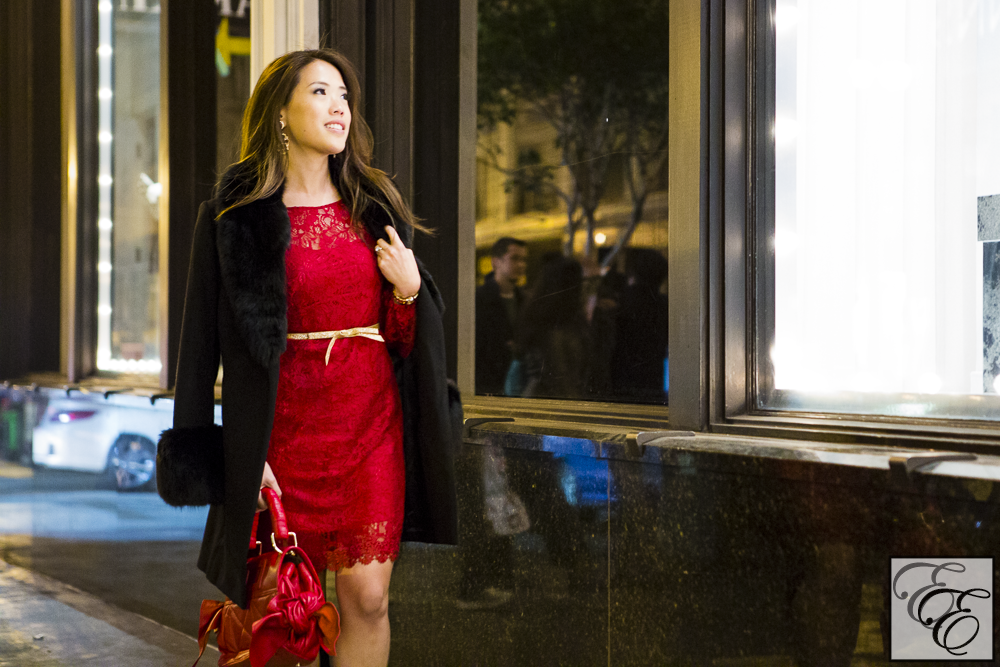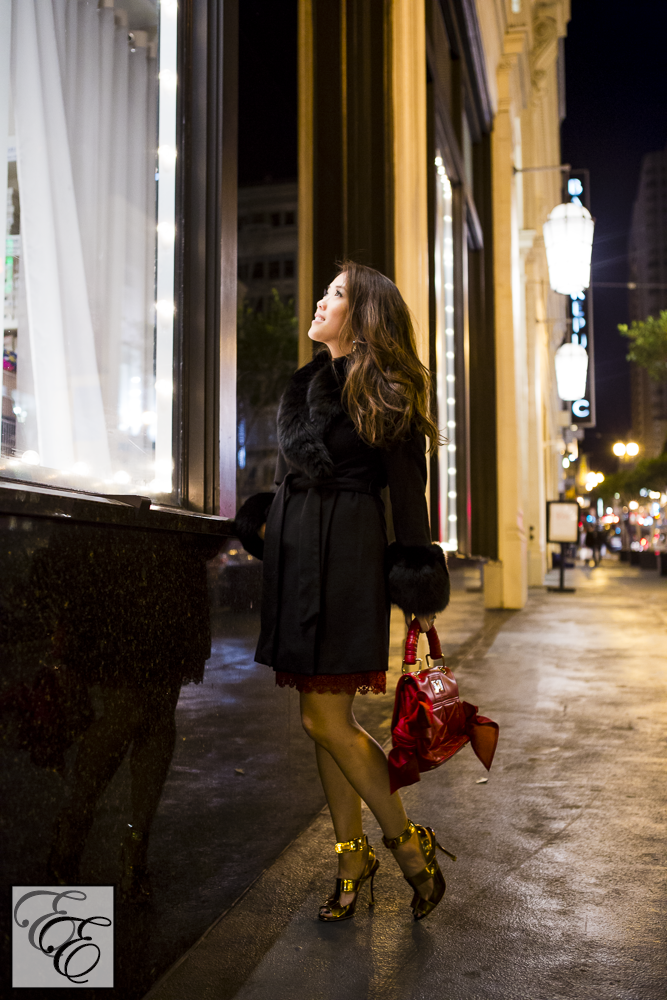 Sergio Rossi is an Italian shoe brand boasting a high level of craftsmanship, whose philosophy is to create a shoe that looks and acts as an extension of the body. I'm enamored with their thin-soled shoes because the combination of the lightweight shoe structure and the soft, supple flexibility of the shoe makes walking in their heels more natural and effortless than in other heels, which are stiffer and heavier in contrast.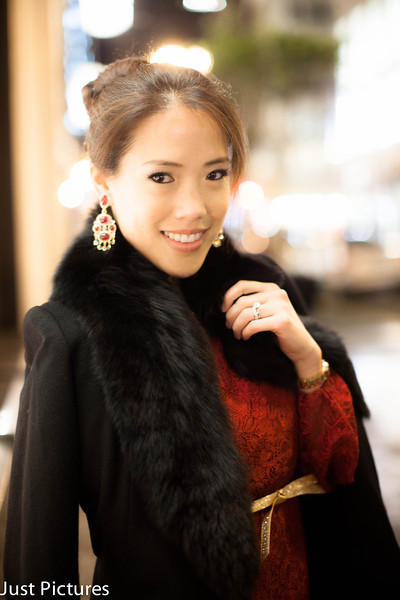 Peeking out from under the coat is a rich red lace dress with romantic blouson sleeves and a satin red slip that adds subtle shine. I added a glittery gold skinny bow belt to pull in the dress slightly above my natural waist. I love how it playfully mimics the imagery of a gift wrapped with a gold bow. <3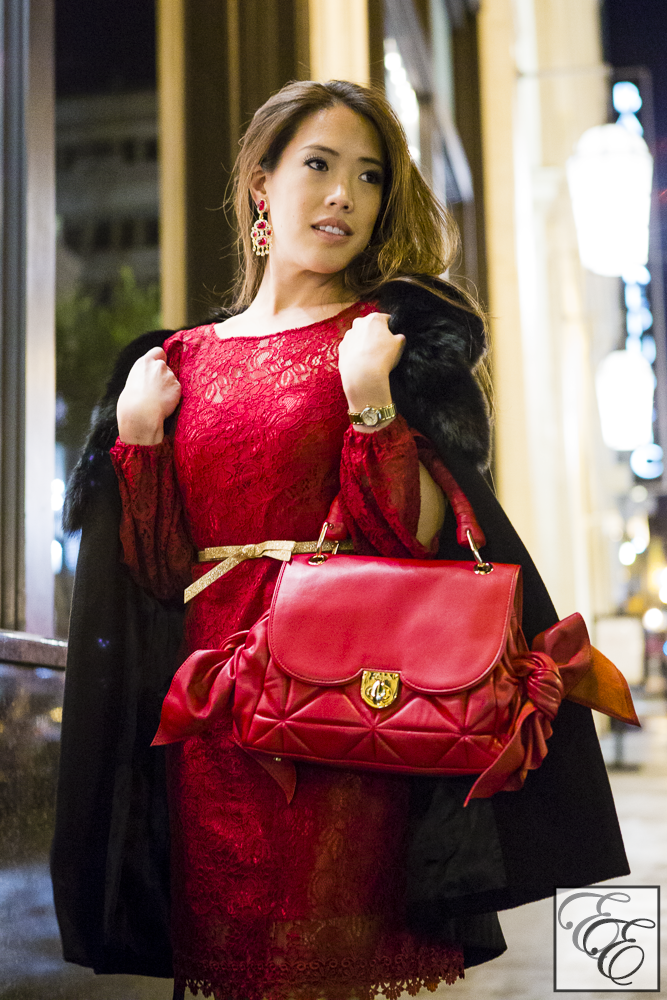 To continue the feeling of decorative opulence, ornate cabochon chandelier earrings bring visual attention to the face. No necklace is needed; the lace stands well enough on its own!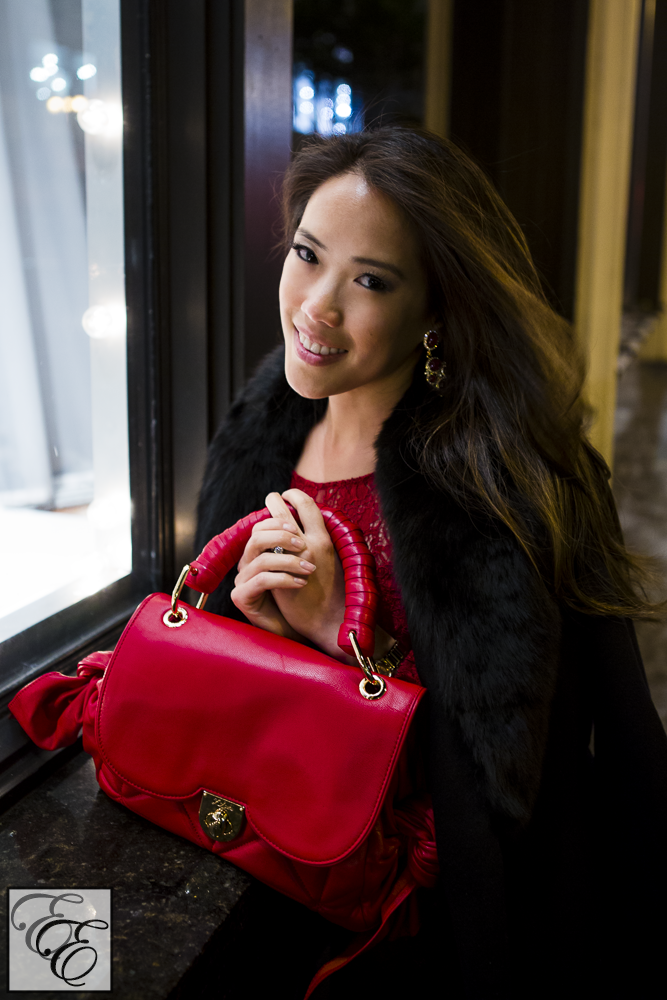 Here, J is polished in a Ted Baker tweed blazer. It is a warm-toned beige shade, but with light blue threads interspersed intermittently, which help the blazer coordinate with both warm and cool-toned elements. My favorite combination is this worn with a white buttoned shirt and dark jeans.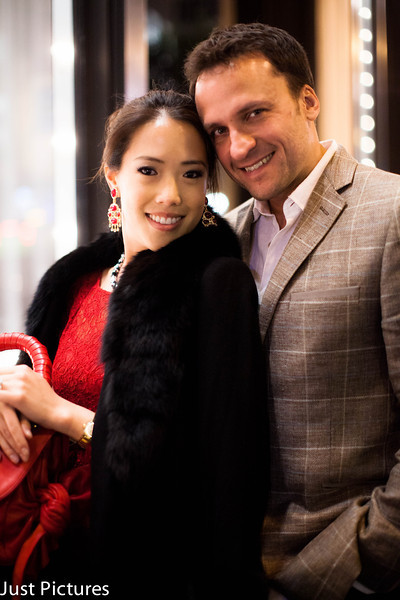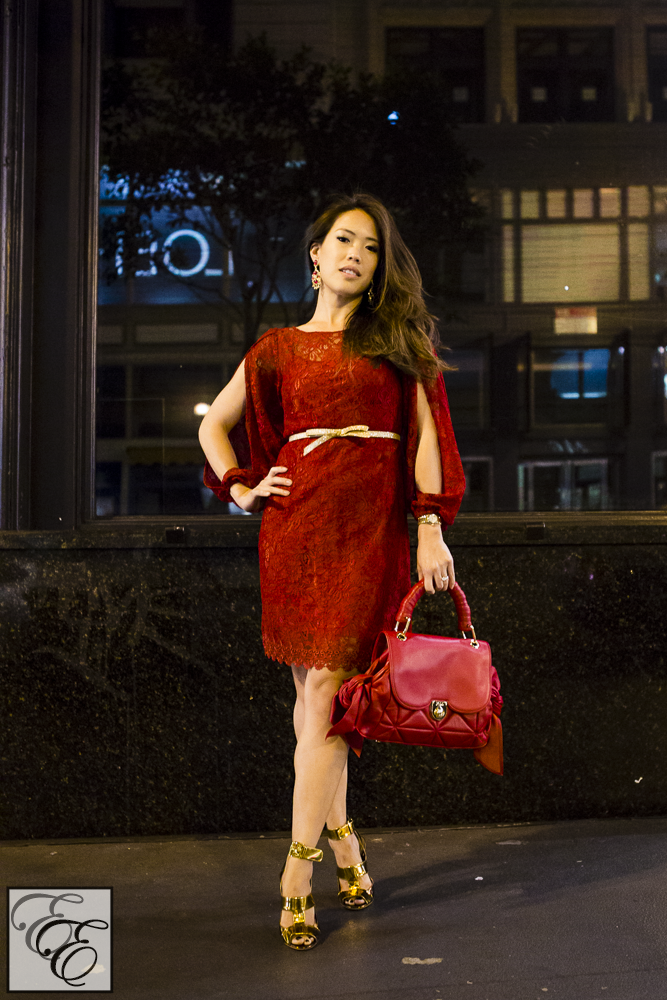 Please see the other Winter Wardrobe looks here: Episode 1: Cuddly Cardigan, Episode 2: Warm Outdoor Layers, and Episode 3: Winter Whites. Which one is your favorite, and why? Have you been inspired to incorporate any ideas into your own seasonal looks?I would be thrilled to hear if you have been!
Wishing you and yours a very happy, relaxing, and wonderful holiday season. Cheers; here's to a wonderful year here at Eye For Elegance! Thanks for reading! <3
xoxo,