We take in enormous amounts of information on a daily basis, more than we ever have in previous decades. I find myself skimming content quickly in hopes of consuming as much as I can in my small chunks of free time. But that's not the way I want to take things in.
I want to absorb information thoughtfully, poring and delighting over the written and visual details. I look for strongly-curated, eloquently-expressed voices, and that is the standard that I hold myself to for the posts that I write for you. I appreciate the time and attention that you spend here – thank you!
So, for the time-pressed individual who would like to get informed style advice and trends, here are three of my favorite fashion sources.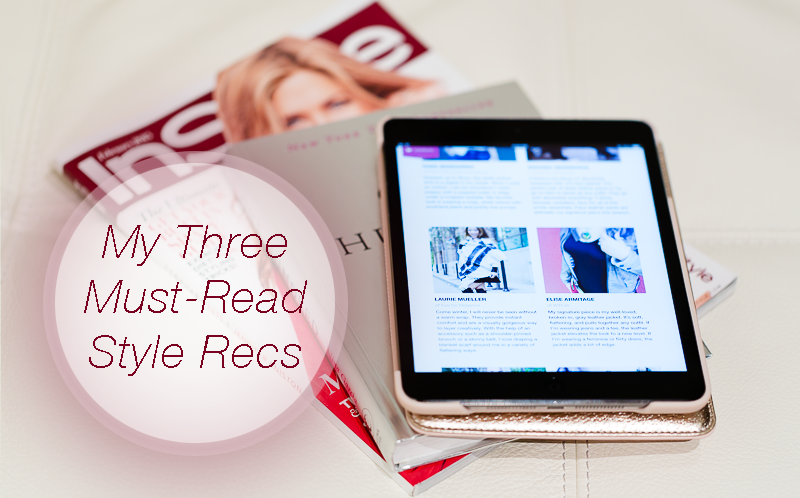 InStyle Magazine
This is a current-season trend report, multiple look books, instructional style guide, and shopping guide all in one – it is my favorite style periodical. Out of all of the fashion magazines, page for page, InStyle Magazine
has the highest concentration of useful style inspiration content. And I'll let you know something: this is an image consultant favorite. How's that for a testimonial of its credible value?
For those glued to their digital devices (and not wanting to go the route of subscribing to the digital version of a magazine), this is the creme de la creme of expert fashion blogger voices. The Glam Style app is a rich, beautifully-presented collection of fashion, healthy lifestyle, and seasonal articles (e.g. mantras and mindsets for the new year). I highly recommend snuggling up to the iPad version of this app to fully enjoy the visuals.
The One Hundred: A Guide to the Pieces Every Stylish Woman Must Own
by Nina Garcia
Remember Cliff Notes that existed for just about any subject (general or specific) in secondary/high school? Well, this book
might as well be titled "Cliff Notes for Well-Dressed Style". It is a small, incredibly easy-to-read compilation of one hundred clothing pieces and accessories that deserves a place in the chic modern woman's closet. Most of the listings are classics, some of which have already been around for decades, so it's fairly safe to say that the book should weather the test of time well enough. I enjoy the "Inside Track" tidbits which list examples of designers to look for with respect to a specific type of item.
Eye For Elegance in the Media
I'm thrilled to share that my 'Blanket Wrap' photos were featured in two fashion digital channels: the Glam Style app (has to be downloaded from the iOS app store to be accessed and will be available until the end of January; a few more days 🙂 ) and the UK-based China Blue Shoes blog! Here's screenshots and text excerpts from both.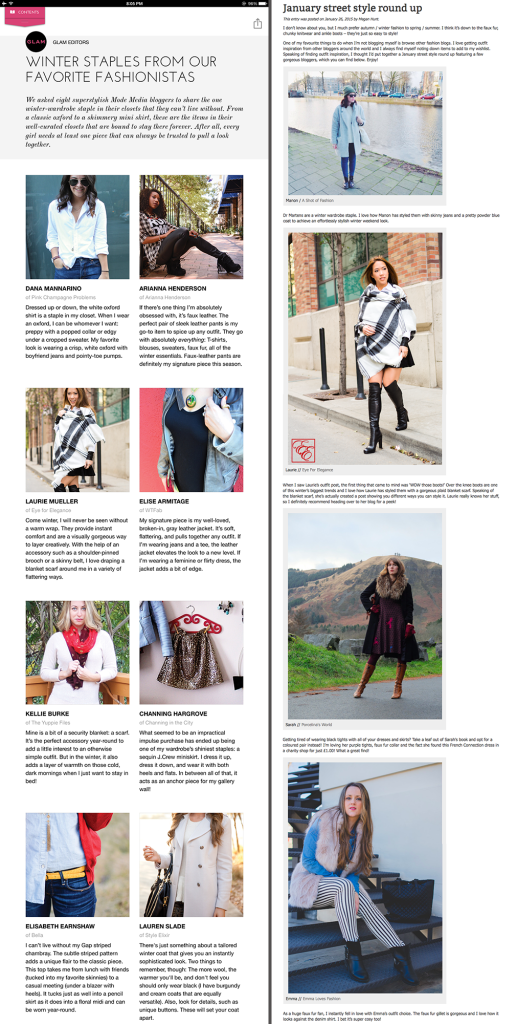 From Glam's January Style edition "Winter Staples From Our Favorite Fashionistas":
"Come winter, I will never be seen without a warm wrap. They provide instant comfort and are a visually gorgeous way to layer creatively. With the help of an accessory such as a shoulder-pinned brooch or a skinny belt, I love draping a blanket scarf around me in a variety of flattering ways." – Eye For Elegance
From China Blue Shoes' "January Street Style Round Up":
"When I saw Laurie's outfit post, the first thing that came to mind was 'WOW those boots!' Over the knee boots are one of this winter's biggest trends and I love how Laurie has styled them with a gorgeous plaid blanket scarf. Speaking of the blanket scarf, she's actually created a post showing you different ways you can style it. Laurie really knows her stuff, so I definitely recommend heading over to her blog for a peek!" – Megan Hunt
Happy reading for fashion and style inspiration, and again, thank you for reading and supporting Eye For Elegance! <3
xoxo,