It may not quite be Spring yet, but with Daylight savings time and some amazing sunny warm weather in northern California, it certainly feels like it is! As much as I've loved snuggling in my cashmere and (mostly faux) fur, I'm ready for spring's thinner layers and lighter tones.
Here's a look that works well for professional conferences and meetings, but is comfortable and easy enough to wear on the weekend for a girls' get-together (as I did), and wandering around the city.
The foundation of the outfit starts with contrasting neutral staples; a white tee and dark slacks, in this case, navy blue. To keep the outfit light and forward-looking to spring, I added a white 3/4-sleeve cotton blazer. It has ruched and small-ruffle feminine details that prevent it from looking too business-forward, and it draws in slightly at the waist to skim my shape.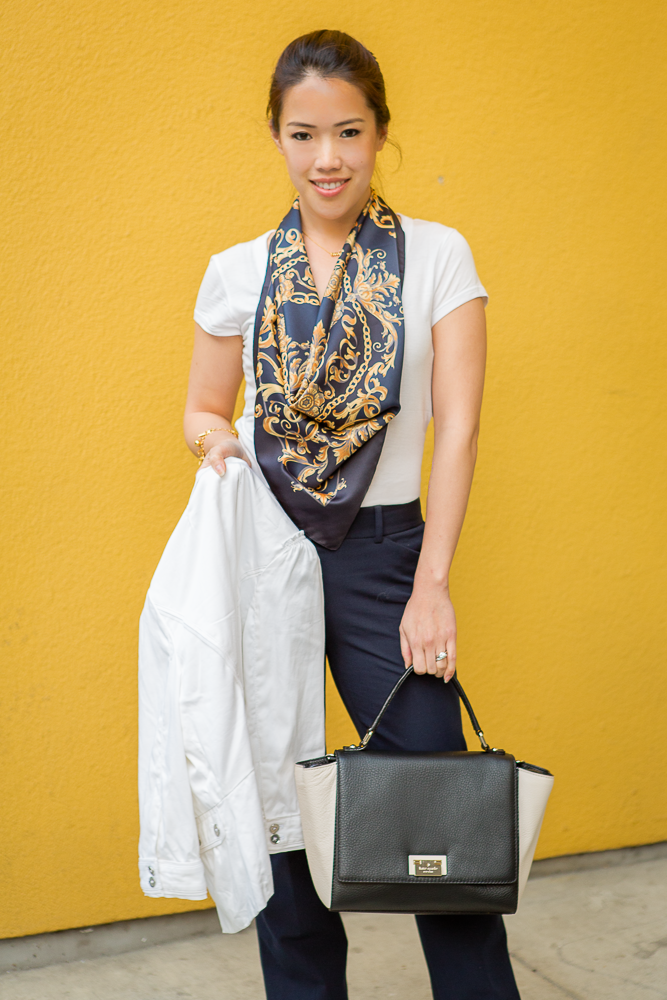 It's important that all combinations of your outfit work together. As shown above, this looks perfectly intentional as a short-sleeved outfit without the blazer.
Personal style philosophy tip: you never want to be a prisoner to your look, such as sweltering under a stifling jacket because the underlying layer doesn't stand on its own, or doesn't fully complement the other elements of the outfit.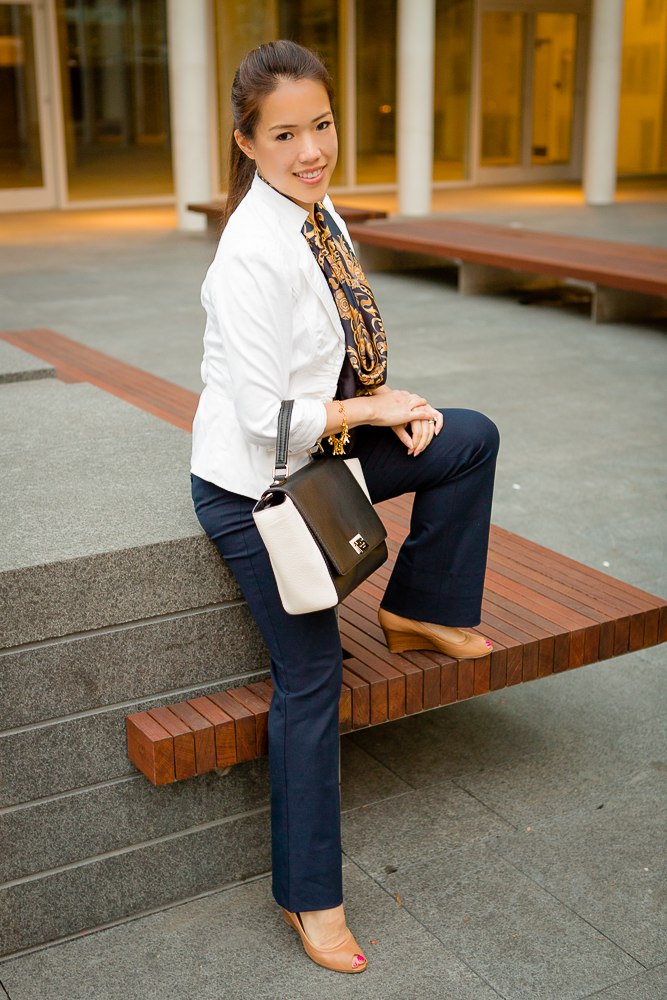 Recognize the purse or bracelet? They were two of my recommendations from the Kate Spade surprise sale that I posted about here!
The Magnolia Park Laurel purse is exactly everything that I hoped it would be; a soft but sturdy bag in classic, versatile colors.
It holds the day's essentials comfortably, it has the prerequisite cross-body strap for city strolling (but that I've taken off for a more ladylike purse look), and the expandable trapezoidal shape is great for tucking bottled water into the corner. It's already been my companion to a few conferences, and is collecting a nice roster of compliments.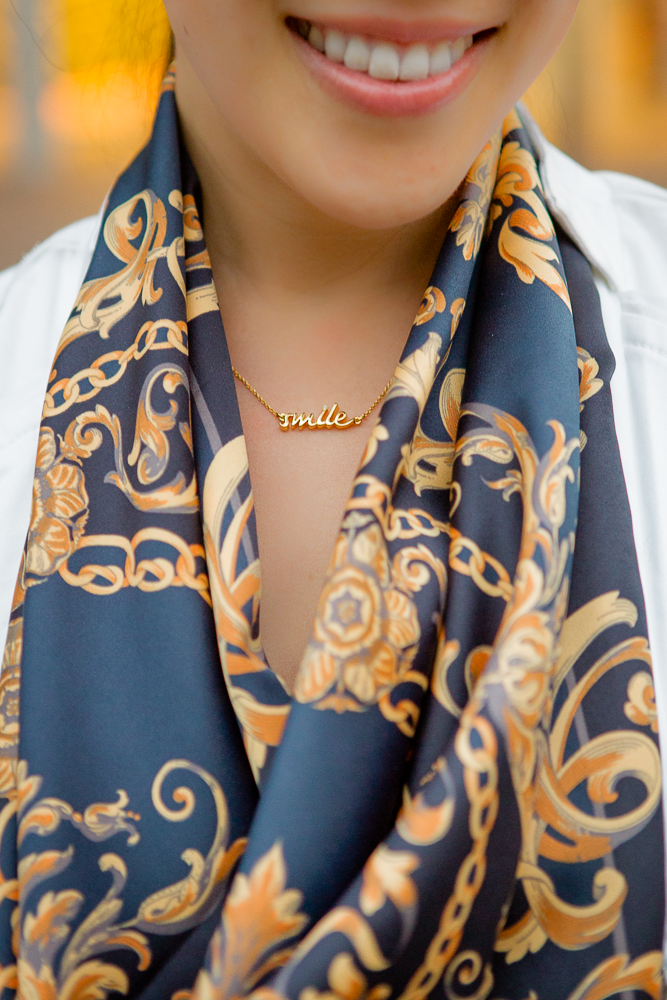 Ever since visiting Italy last year, I've been looking for a dramatic scarf embellished with gold chains, swirls, and ornate flowery decorations that are often associated with Italian fashion. This fit the bill perfectly.
The scarf is a lovely example of easy style for an incredibly reasonable price. It's a satin scarf from H&M – for $10!
Also from Kate Spade is the "Say Yes Smile" necklace (It's available on Amazon. Also, there's a bracelet version at Shopbop). The small touch of the "i" dotted with a white rhinestone is a precious addition.
I love the concept of word necklaces that personify my ideals or characteristics. When I was having some challenging times over the past few weeks, this necklace was my daily companion. It has provided me with a small but key amount of focus and strength, and reminded me to stay upbeat. (My husband was also a great source of support and strength; much love and thanks to him!)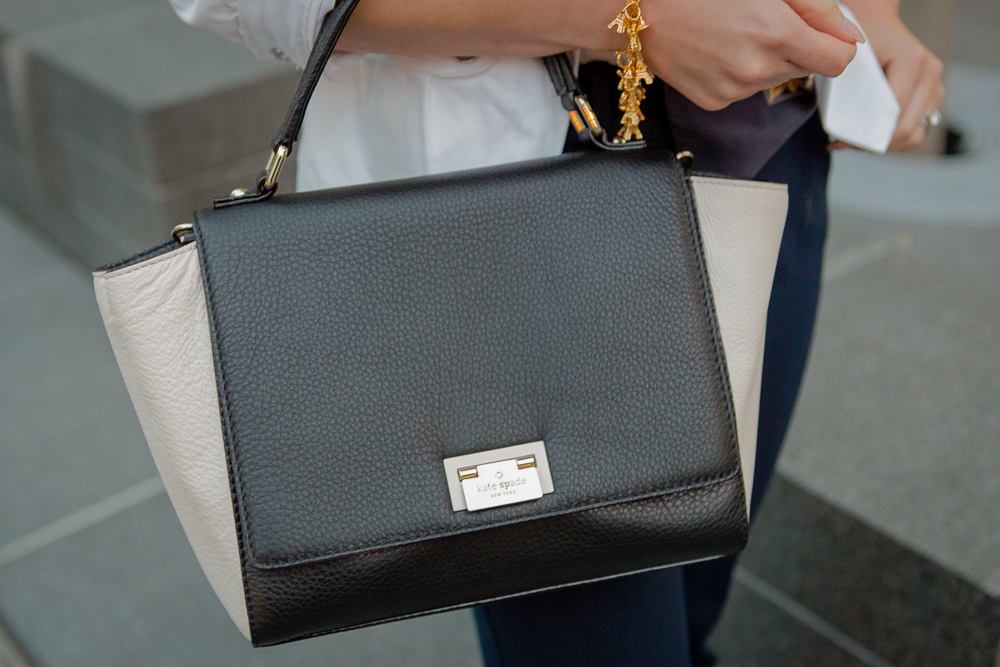 One more shot of the pebbly-soft leather bag, and the darling tours Eiffels dangling off of my wrist.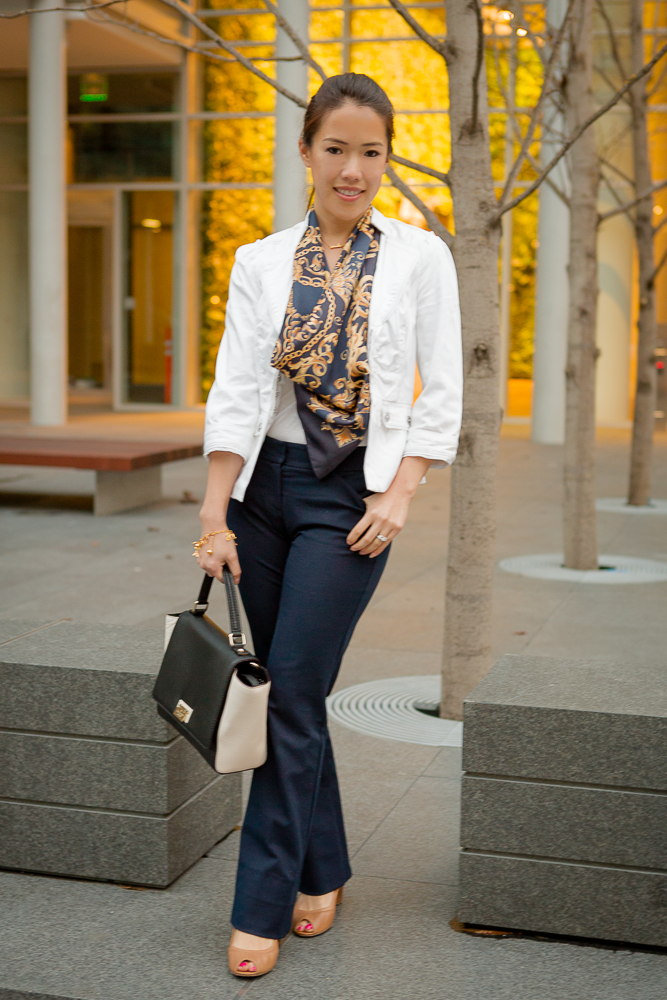 Top: Calvin Klein tee, White House Black Market 3/4-length blazer (old; similar, updated option)
Bottom: Theory Max C pants (updated version: Max 2 pants)
Shoes: Tory Burch peep-toe wedge (similar option by Tory Burch)
Accessories: H&M scarf, Kate Spade Magnolia Park Laurel bag, Kate Spade Say Yes Smile necklace, Kate Spade Parisian Lights charm bracelet
Hope you have lovely weather to enjoy as well, and are having fun putting together new spring looks! Any warm-weather favs?
xoxo.