Kate Spade has an online surprise sale today and tomorrow!
Kate Spade is best known for clean, classic handbags made with bold lines, quality materials, and gold hardware accents. The brand has also expanded to include apparel, shoe, and jewelry lines, all of which feature vivid, playful colors and designs. The accessories and handbags instantly inject bright colors into your everyday lifestyle. Fun!
Here are some of my favorites from the sale: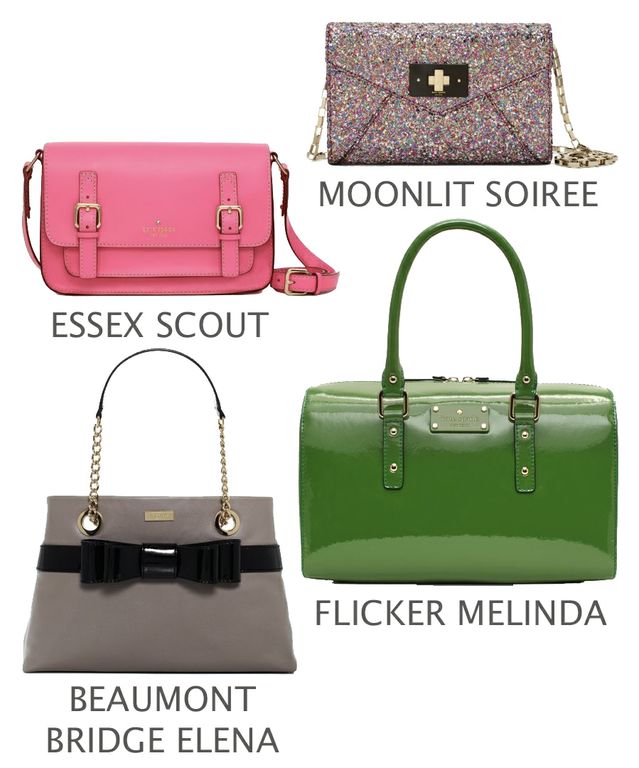 Moonlit soiree
The epitome of a party purse, this multi-colored glittering confection is literal arm candy. It shouts out "time for fun!" The rectangular gold chain and boxy shape is retro and lady-like, but the sparkle begs to be flaunted in a papparazzi moment.
Essex Scout
This is the perfect pastel spring bag for a walk through the park, a sidewalk cafe brunch, or sidewalk shopping. Basically, a sunny-day browsing companion to complement the spring blossoms popping up. At 6″ x 10″ x 3″, it's a versatile mid-sized shape, and the crossbody strap keeps it low-maintenance (say, when you want to intertwine your hands with someone else's).
Flicker Melinda
The glossy patent curved shell reminds me of both the adorably flirtatious female green M&M, and a shoutback to the 60s, when hard-cased purses were daintily paired with kid white gloves and a string of pearls. It's large enough to hide anything you throw in, but the horizontal shape (vs. deep) means that you won't spend needless time digging for your treasures.
Beaumont Bridge Elena
I saved the leading 'lady' for last! If you're looking for a solid, classy bag for regular use, this would be it. The neutral grey and black tones go with anything, especially in the transitional spring and fall seasons. The tapered shape of the bag is classic, the gold chain and anchoring rivets are luxe, and the black glossy ribbon is absolutely adorable – the finishing touch to this pretty-as-a-present purse.
As you can tell, I'm a huge fan of Kate Spade purses, and I think that you can't go wrong with any of them. The quality and design is fantastic, and when you can catch a surprise sale like this one, they're quite reasonable!
xoxo,