Hello from the Big Apple! We're here for the week, combining a little bit of work with friends and fun.
The legendary, sweltering, move-like-molasses summer heat was on full blast when we arrived on Tuesday (apparently, it was the hottest day so far this summer). We made a requisite stop at one of our favorite restaurants, Joe's Shanghai, filling our tummies with succulent xiao long bao (soup dumplings), a hearty and crisp cong you bing (scallion pancake), and juicy dou miao (pea sprouts), before wandering around the LES for the afternoon. It ended up being an impromptu tour of the neighborhood bodegas, as we sought them out almost every block for brief respites from the melting heat.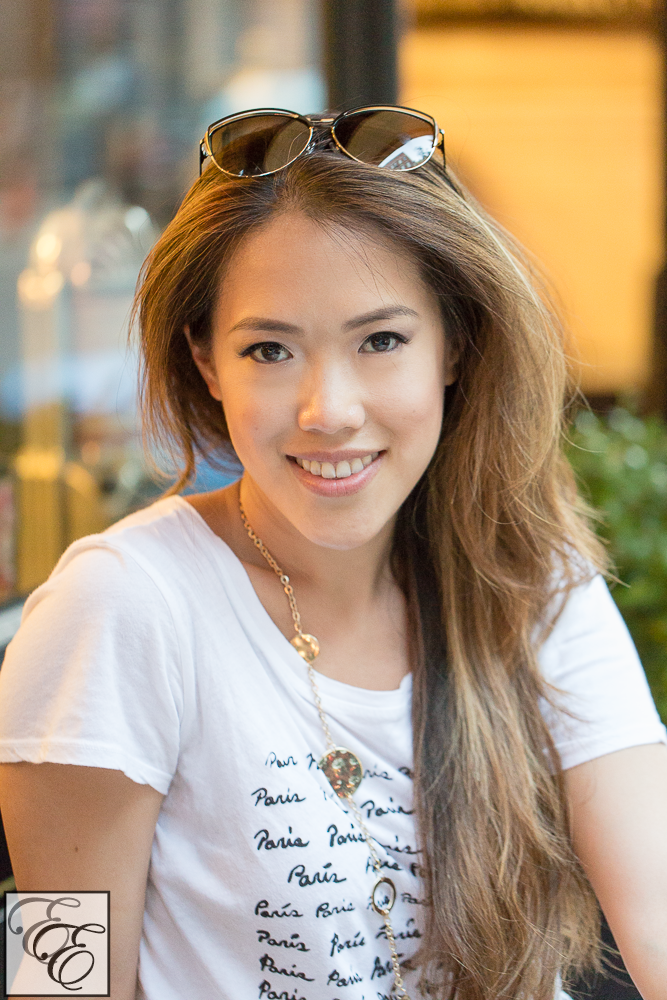 Happily, I had gorgeous weather-proof makeup, courtesy of my talented girlfriend and esthetician, Vee. A simple, breezy combo of a loose tee and silky shorts was my choice to stay cool for the day.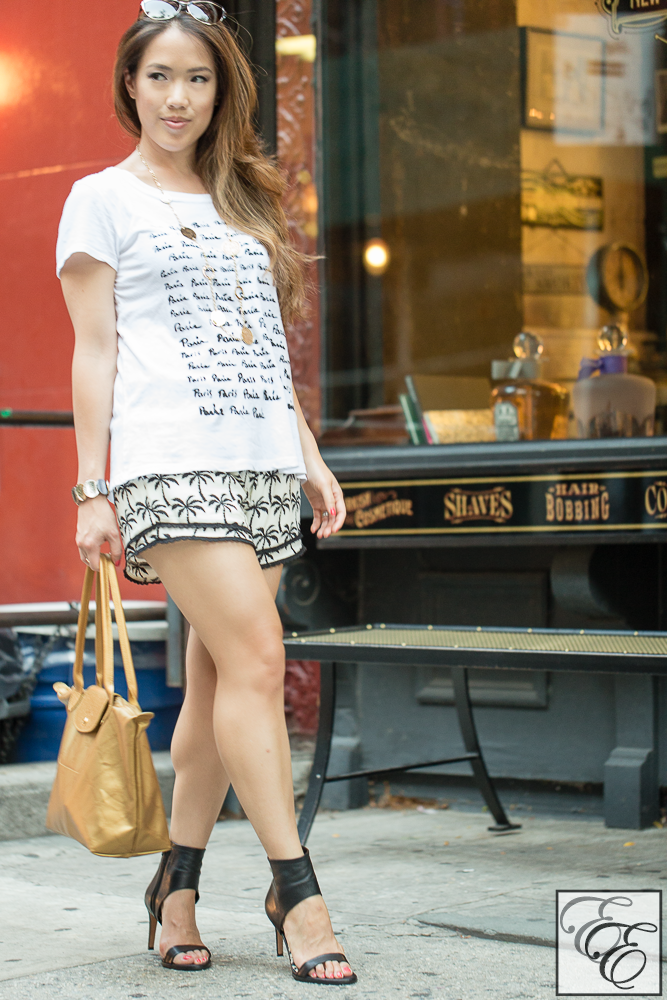 The tee is my most recent acquisition, a shopping-trip souvenir from this previous weekend. The two black and white pieces – the playful and chic 'Paris' tee and the tropical shorts – are natural mixed-print counterparts. Given my Hawaiian roots and love of Paris, they represent me perfectly!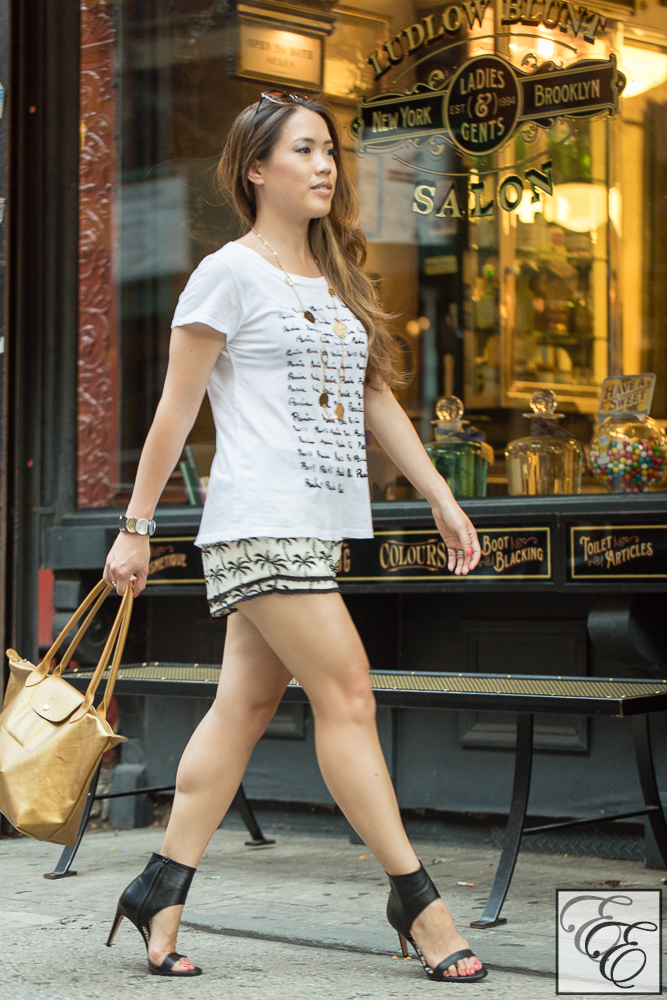 A gold Longchamp bag was the day's companion, accommodating everything from my trusty dSLR to an extra pair of sandals (the heels fit in beautifully with NYC's scene, but I didn't feel like doing extended walking in them). Gold jewelry and glam oversized cat-eye Ted Baker shades topped things off.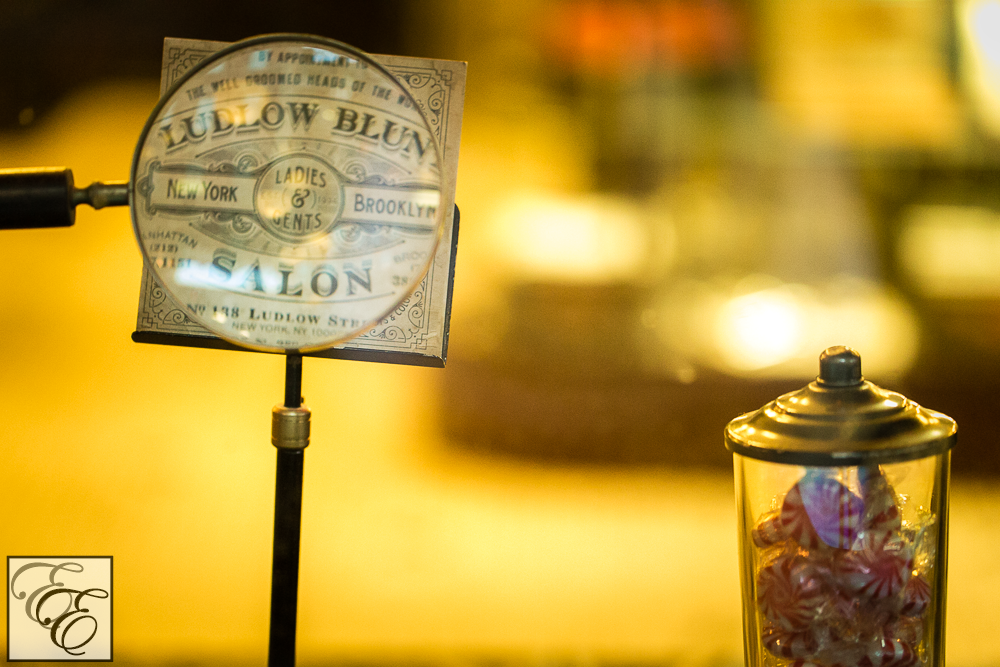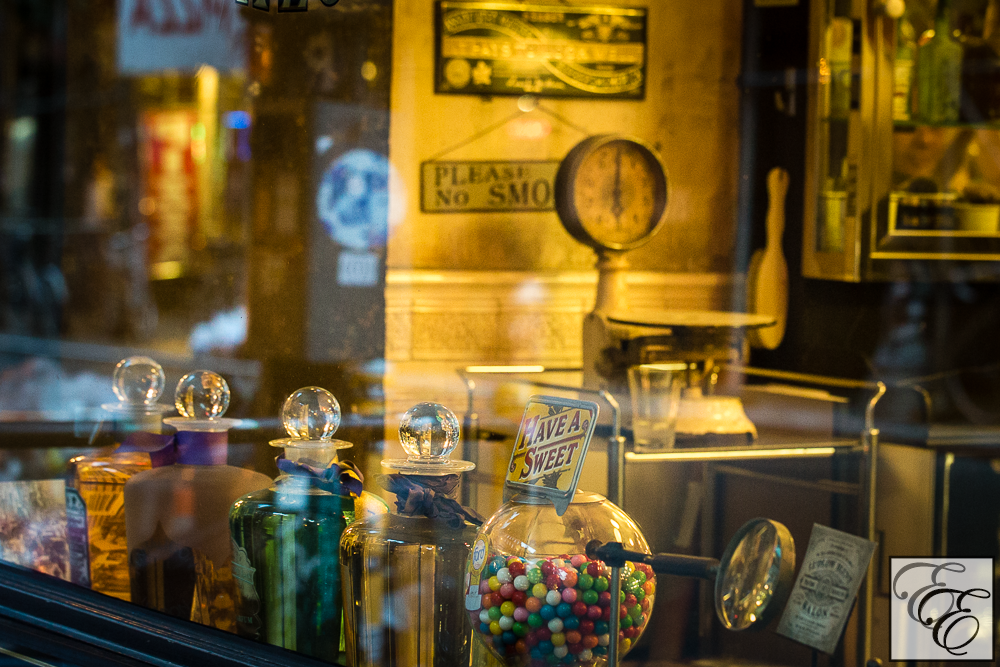 A deliciously-ornate, black-and-gold gilded, retro hair salon, Ludlow Blunt, was a serendipitous discovery and made the perfect backdrop. 🙂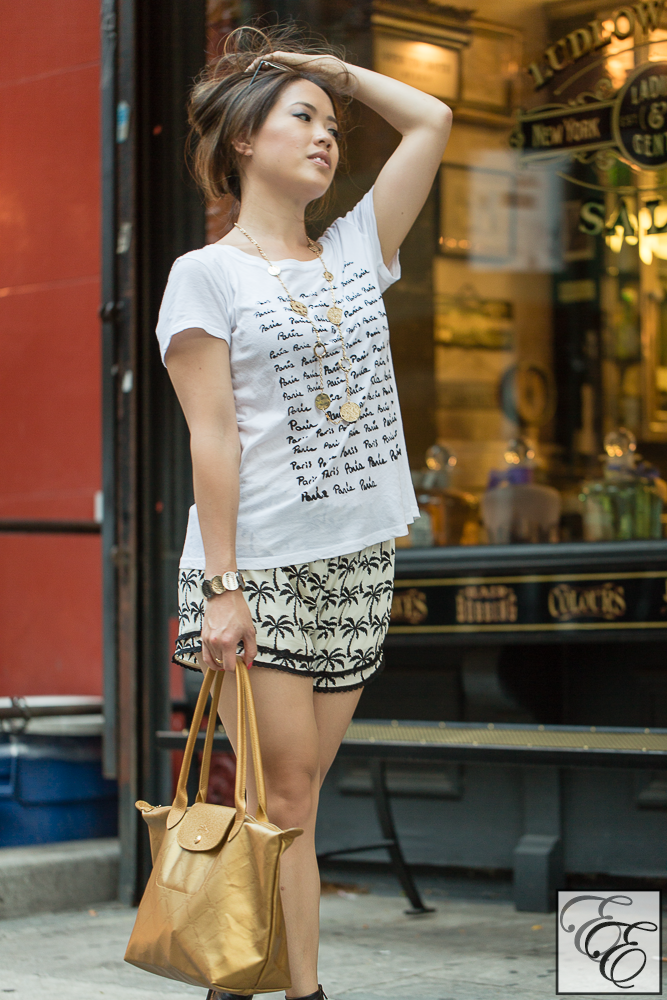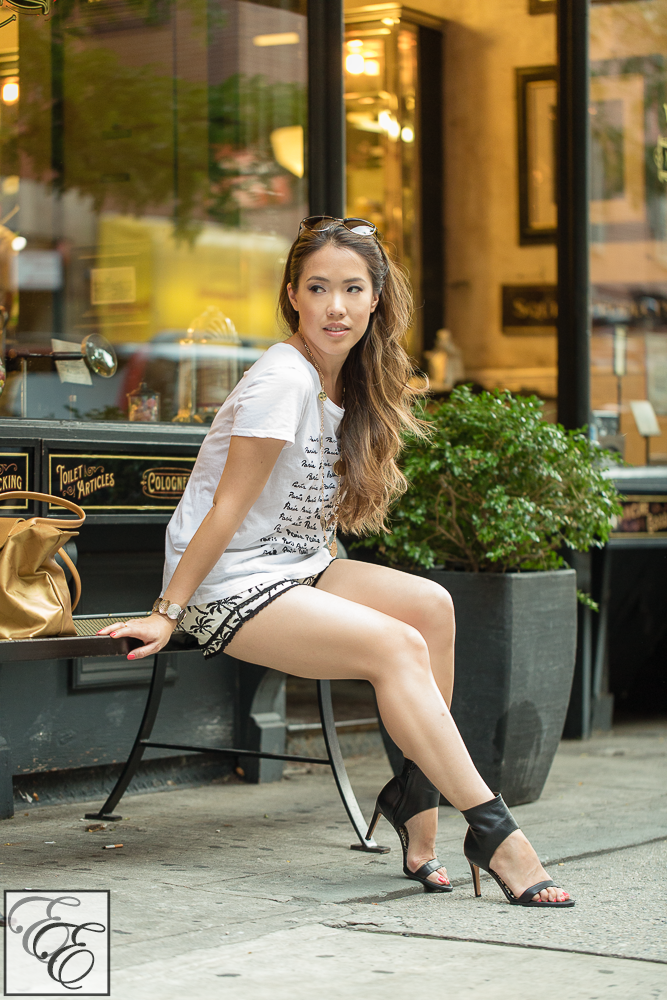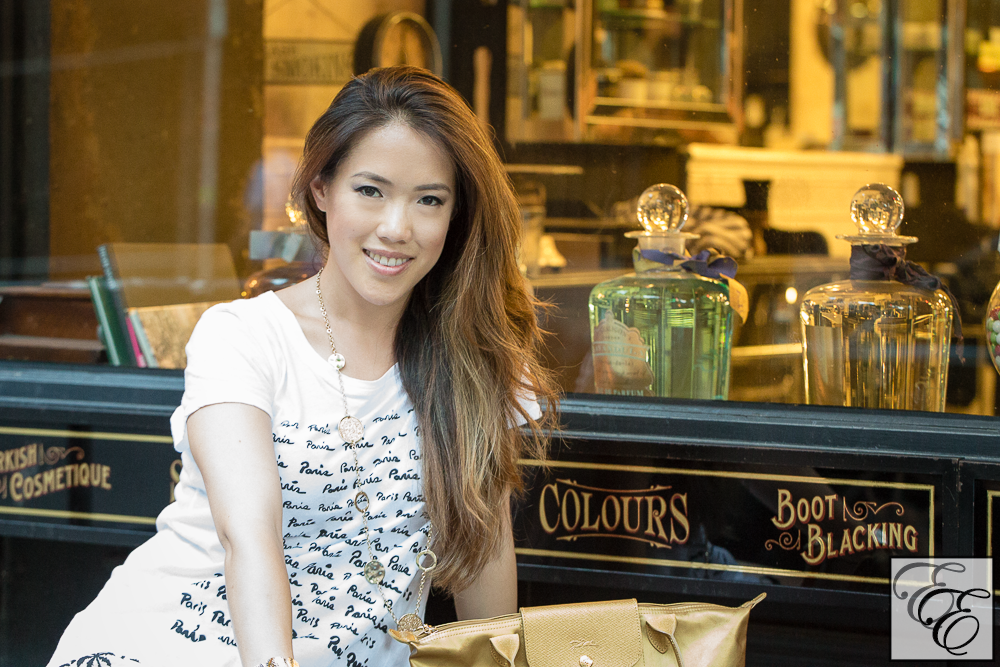 Top: Anthropologie 'Afternoon Abroad' tee
Bottom: Azelea Boutique palm tree print shorts
Accessories: Ted Baker sunglasses, Longchamp LM Metal tote bag, Vince peep-toe booties, Off Saks Fifth jewelry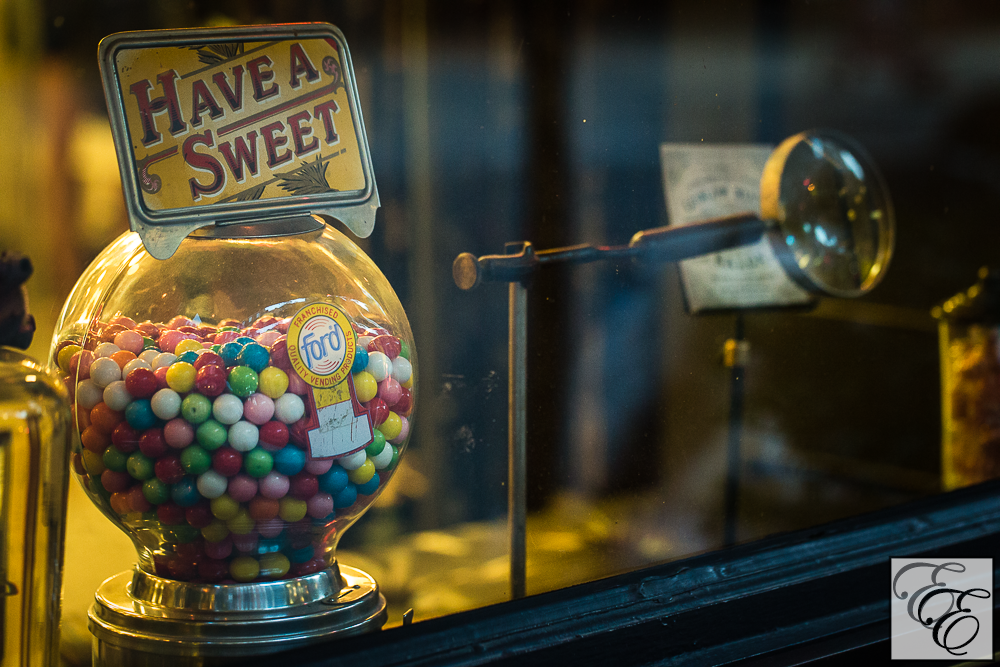 I'm thrilled to be in the city, and although I'm not attending the Mercedes-Benz Fashion week events, I hope to capture some of its energy and fashion over the next few days. Have a lovely, sweet week!
xoxo,