We've all seen the quintessential 'off-duty' model look: a slouchy, oversized tee draped over skinny jeans, topped with a soft, long woven cardigan/unbuttoned, cuffed shirt/edgy blazer, elevated by chunky booties, and framed with cool, oversized sunnies.
The 'off-duty' look is one of nonchalant ease, conveying carefree freedom and effortless style. It reflects a relaxed manner, one meant for enjoying the moment, not planning for the next ones to come.
So for fun, I'm presenting my blogger equivalent of the 'off-duty' look!
Fashionistas are always going to inject their looks with distinctive style or flair… but they're not always going to be wearing their au courant Valentino rockstuds, YSL cross-body bags, and sleek leather leggings. In 'real life', so to speak, what would this fashionista wear?
This.
When I'm putting together my weekend 'downtime' look, I go for minimalist-themed comfort. Here's one of my favorite such looks. It's easy to wear anywhere, but it's still distinctive with a touch of edgy sexiness.
My style aesthetic of easy, unstudied elegance is expressed through the flowing, draped lines and relaxed fit.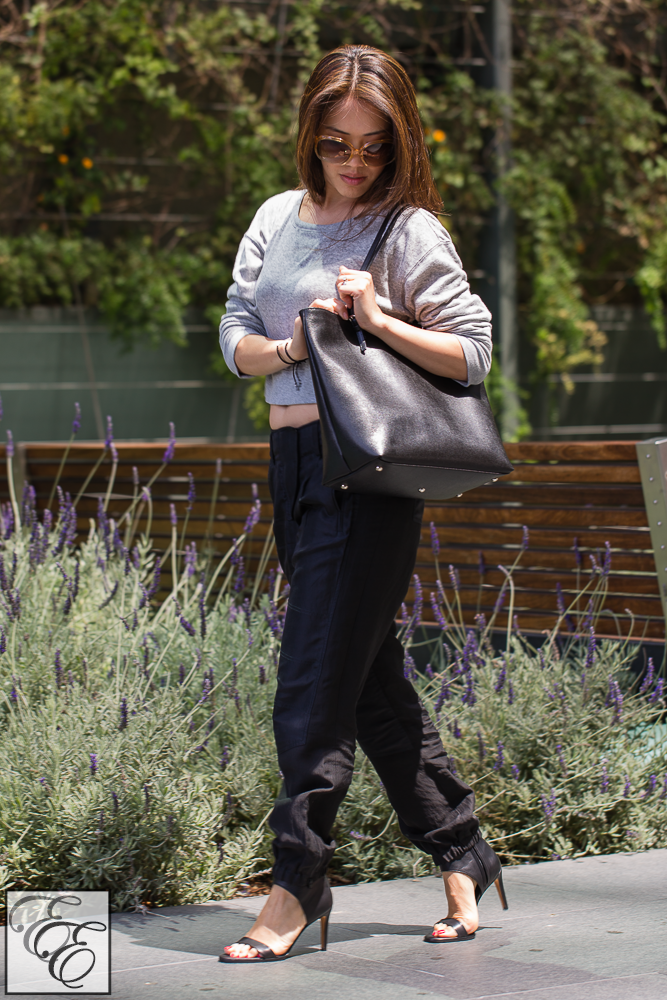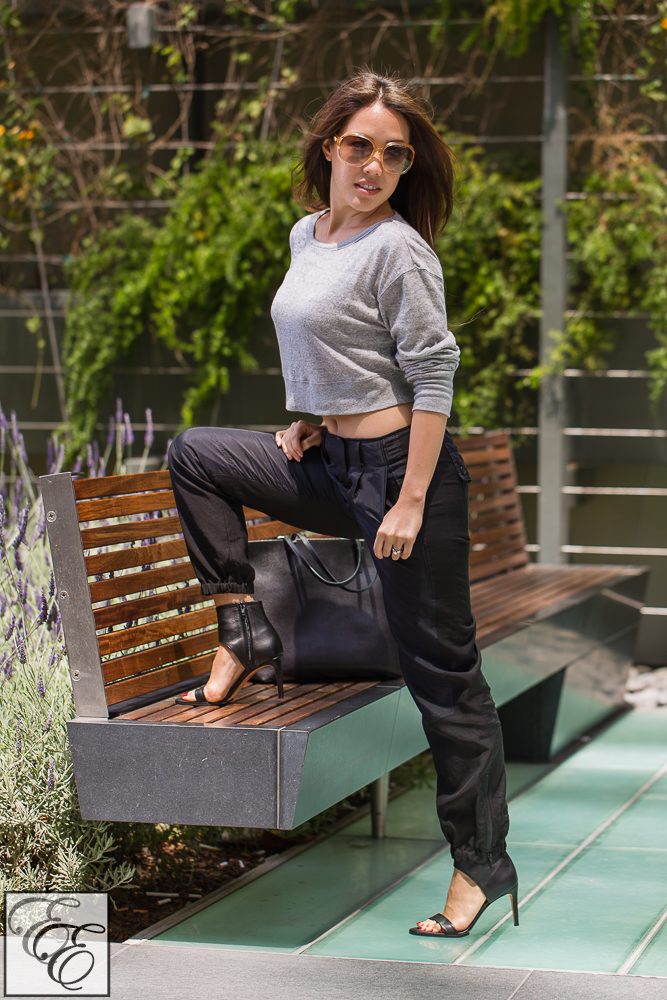 Sexy = letting a black lace bra peek out of the open-back style of the cropped sweatshirt. Rowr!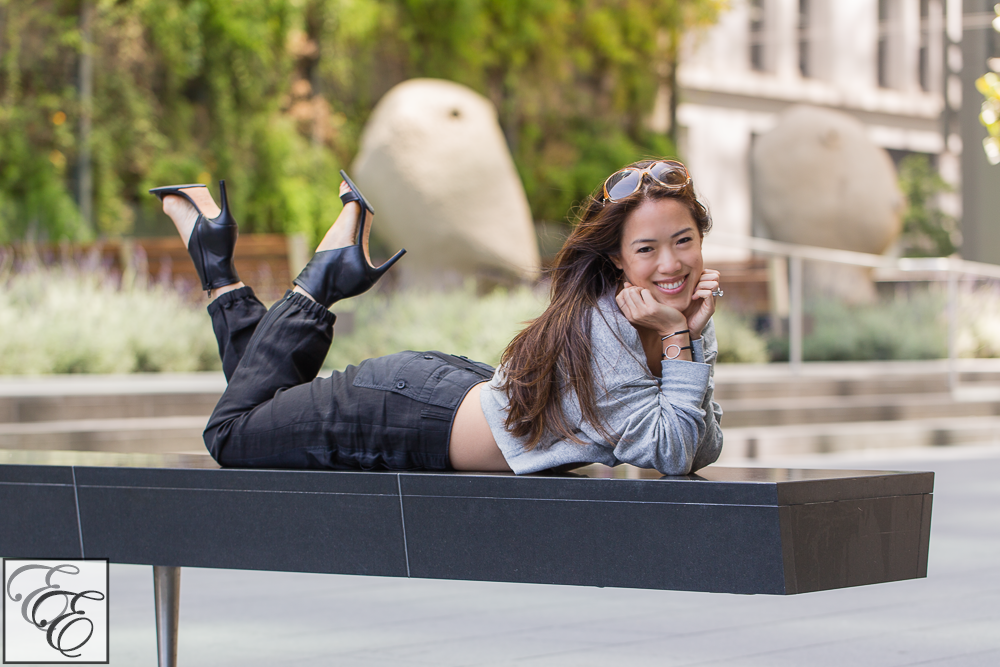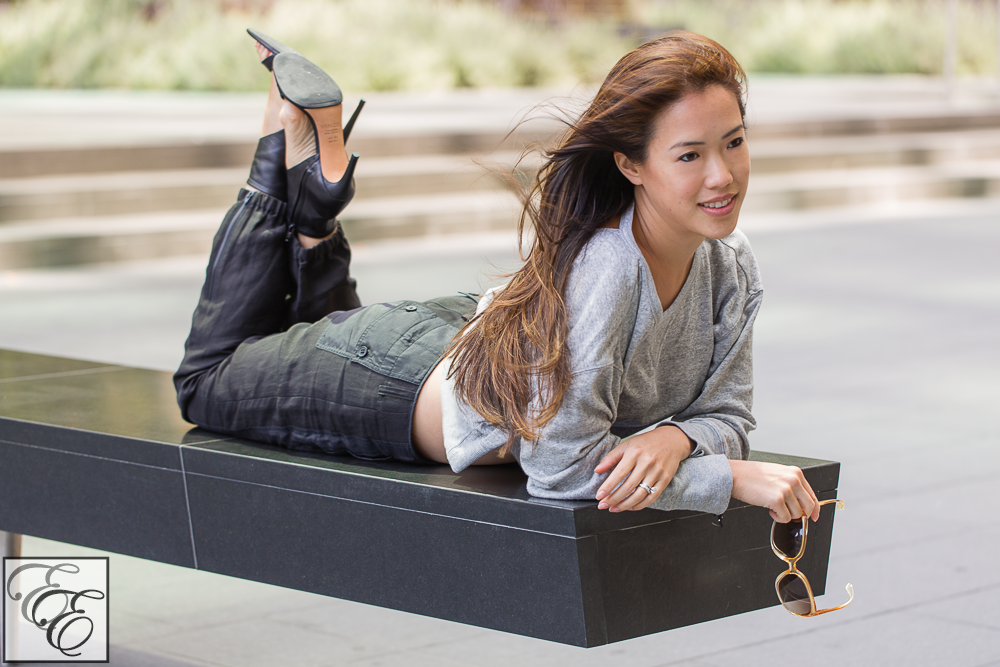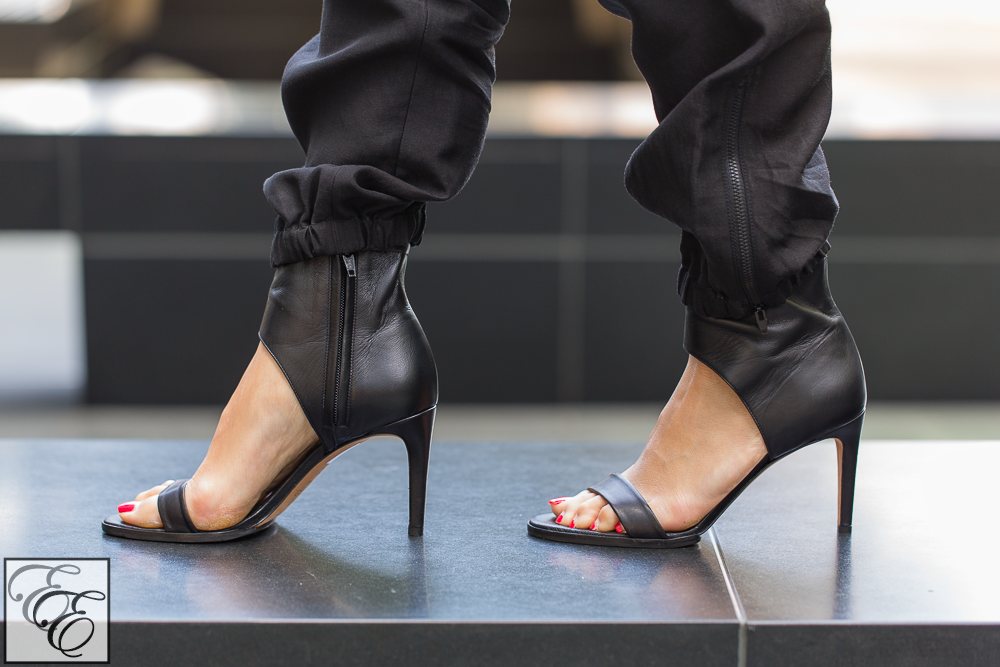 I love this Vince sandal-bootie combo, with its modern, simple silhouette of lines and curves that conform to my feet. The leather is supremely soft, and the ankle construction is sturdy and flattering.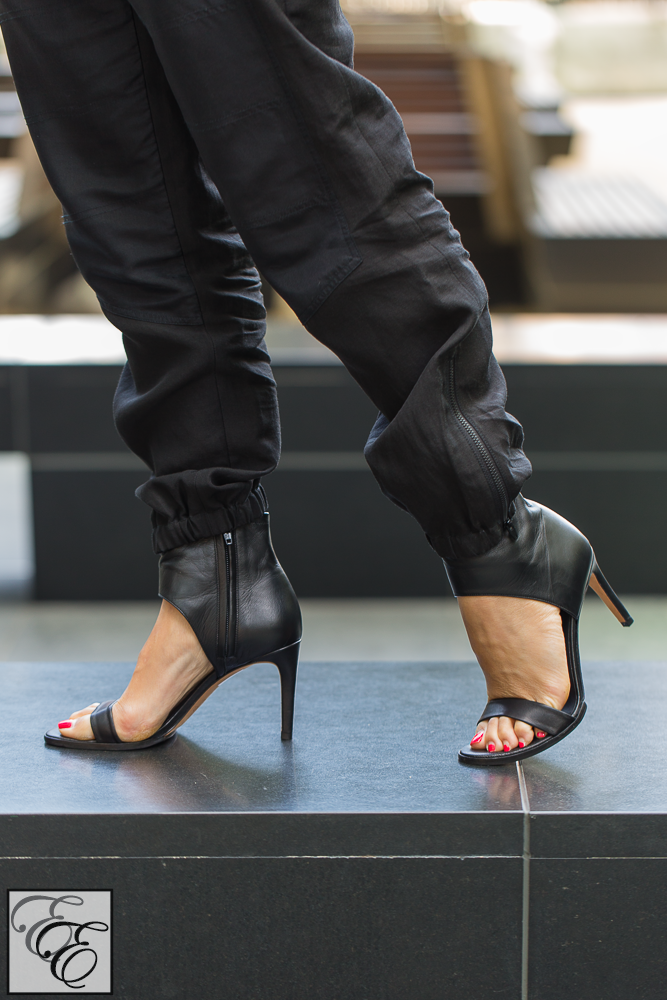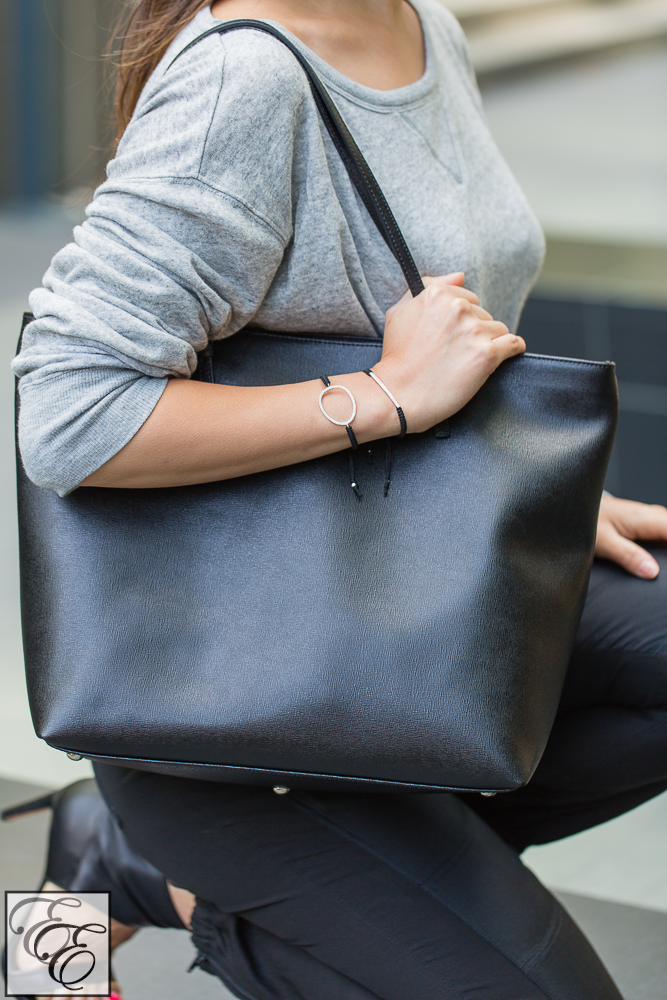 This nearly-unbranded Furla saffiano leather bag is elegant and practical for everyday use. The finely-textured glossy finish and silver metal feet are subtly sophisticated.
It's one of my go-tos, as it easily accommodates my bulky dSLR, sweater, bottled water, and anything that may come home with me as a result of the day's adventures. 🙂
The silk-cord Tai bracelets are also favorites of mine. They look delicate but they're actually quite strong. They are a delightful juxtaposition of dainty, sparkling rhinestones and tightly-woven fabric cords. This particular combo of the bar and open circle are natural partners, just like "x" and "o" are. xoxo!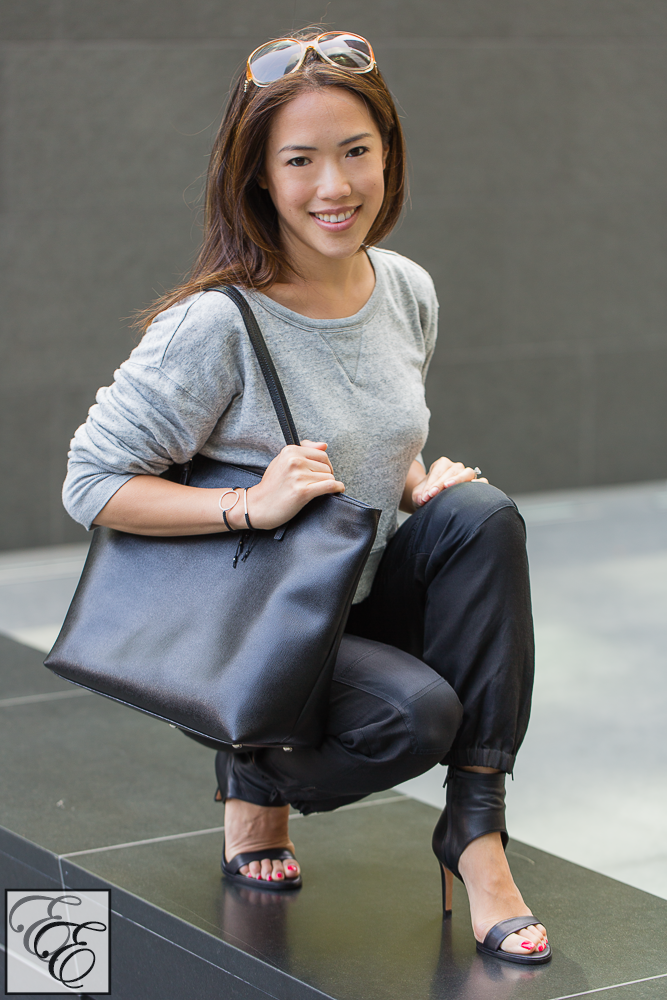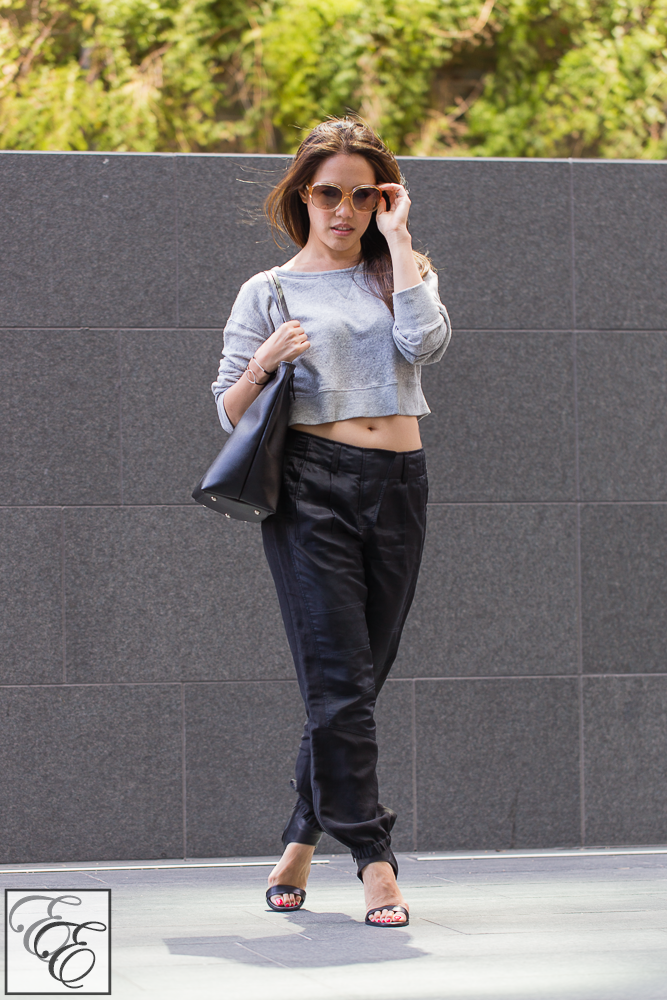 Top: BCBG cropped sweatshirt (similar: BCBG in navy blue, Free People in light grey w/ lace)
Bottom: Alexander Wang silk pants (similar: Alexander Wang, Alice & Olivia),
Shoes: Vince sandal booties (similar: Maison Martin Margiela, Salvatore Ferragamo)
Accessories: Furla saffiano leather bag, Tai bracelets, Chloe sunglasses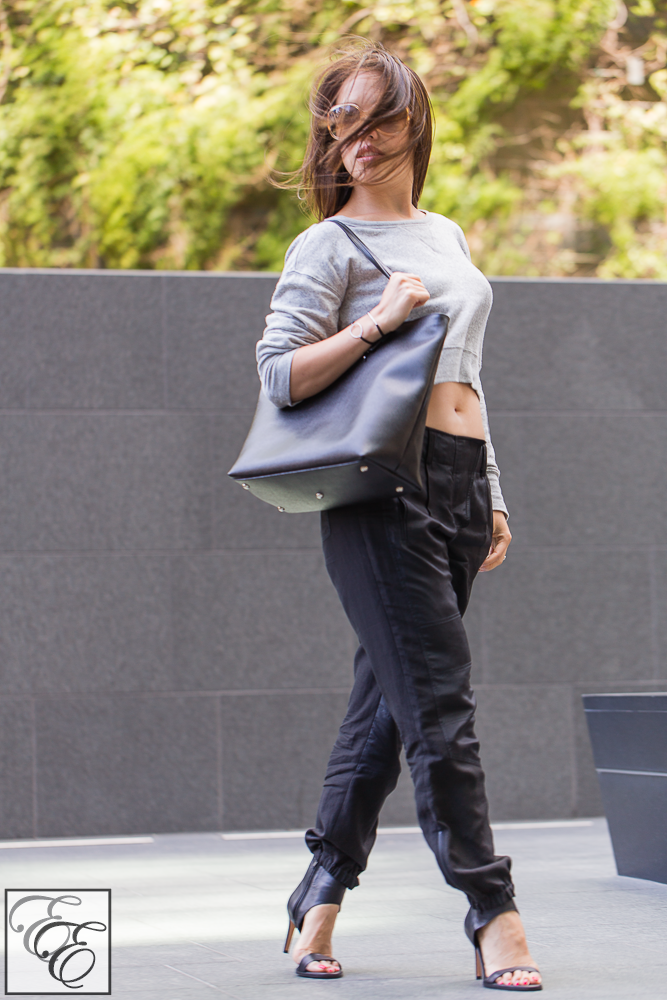 Thanks for reading and have a lovely day! I hope you've enjoyed my inspiration of bringing together a few select statement neutrals for a memorable 'off-duty' look!
xoxo,