What does your casual weekend style look like? I pulled two picks from my recent Nordstrom sale recommendations (prices are good through August 3rd) for a layered, city-appropriate look of soft neutrals. You may recognize the lace-hem sweater and the mesh suede heels?
We meandered through neighborhoods, and had a blast shooting these photos along the way while popping in and out of a food festival, rustic coffee shop, downtown shopping, and city gardens.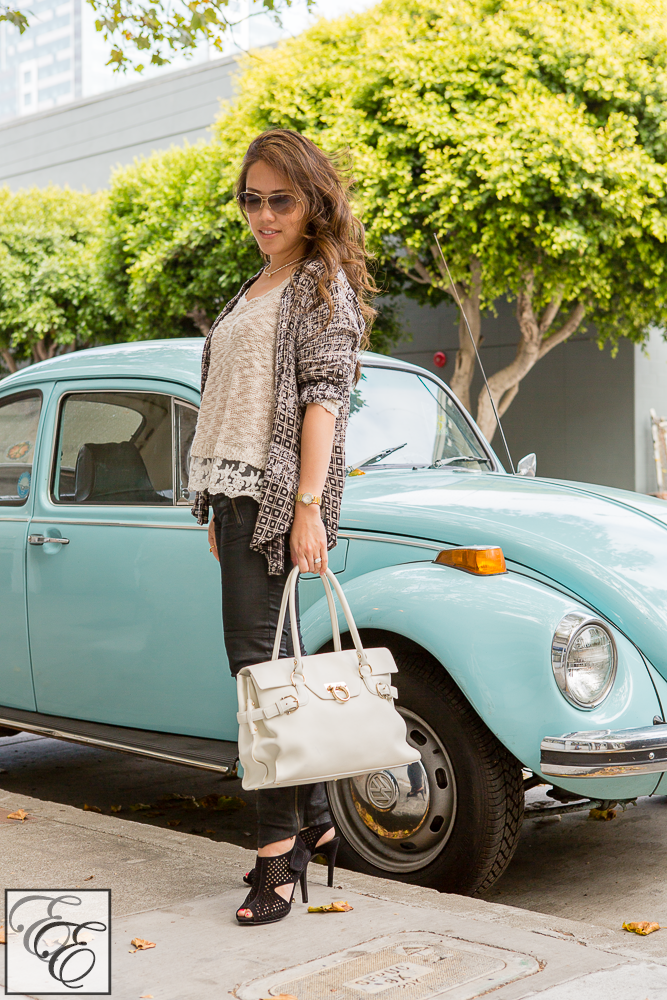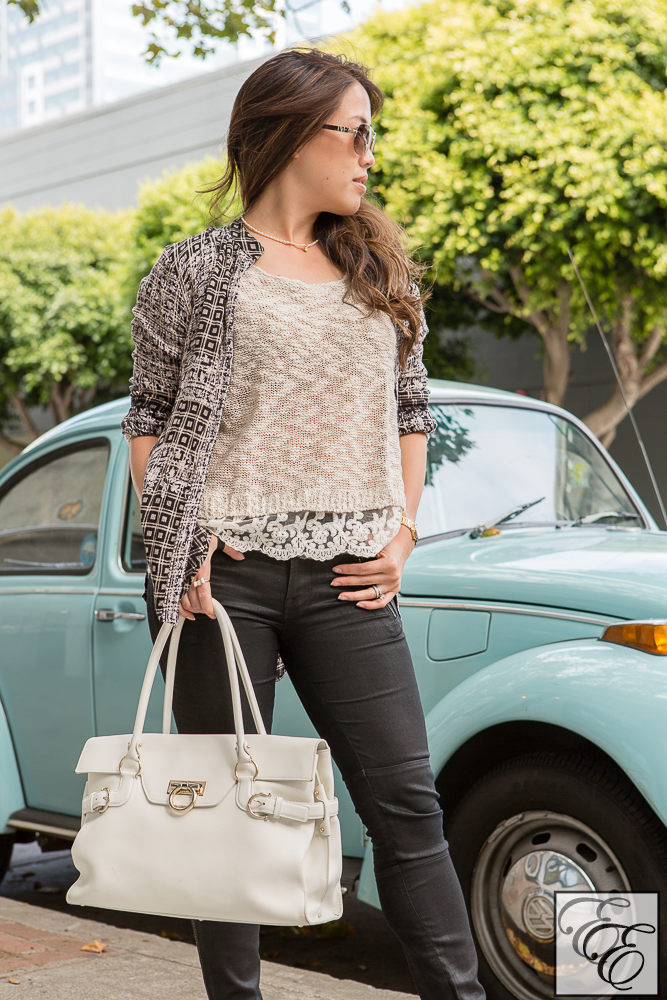 Sometimes I love the energy of bright colors, but when I want to reflect a mood of relaxed nonchalance, I stick to basic tones, and add interest with contrasting fabric textures. I usually pull and mix-and-match from staples that work virtually year-round.
Here, it's a harmonious blend of waxed denim, soft flannel, delicate lace, slouchy loose knit, suede, and structured leather. They all come together around the off-white, blush pink, and black palette.
The sleek moto-style skinnies (with side zipper detail that draws the eye up the leg) is balanced with roomy, fluid top layers.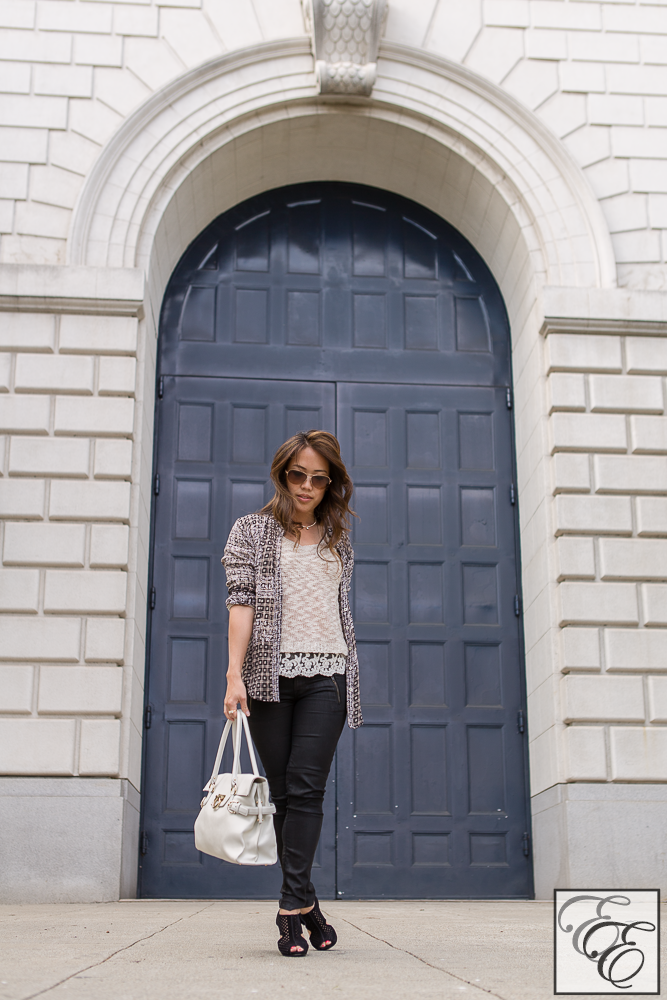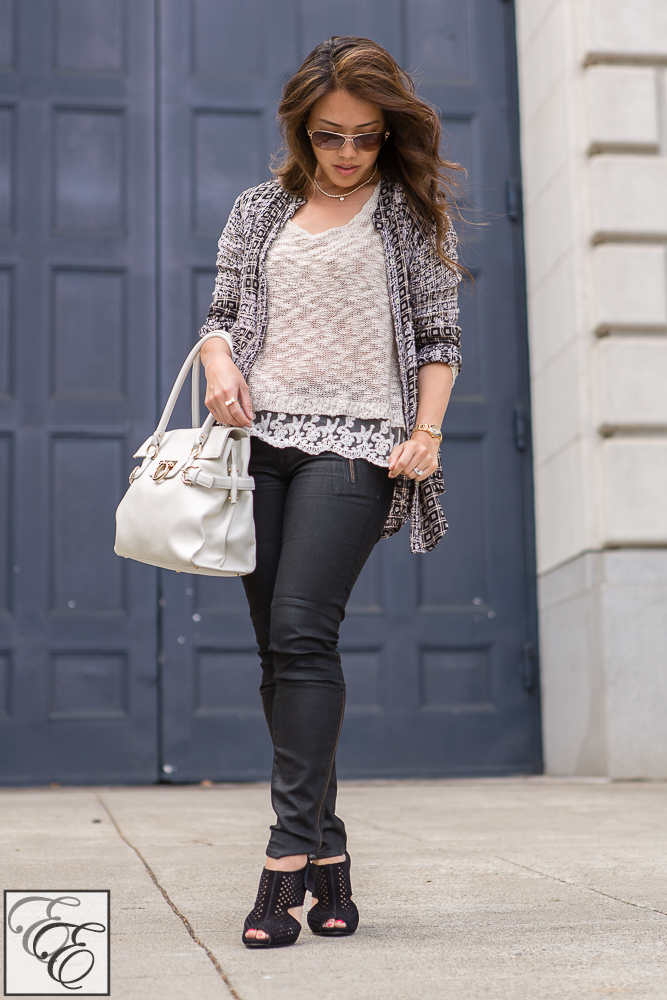 I love how the layers build upon each other – you get just a hint of skin tone through the breathable top, the lace pops against the black, and the mesh perforations and cut-outs frame the feet.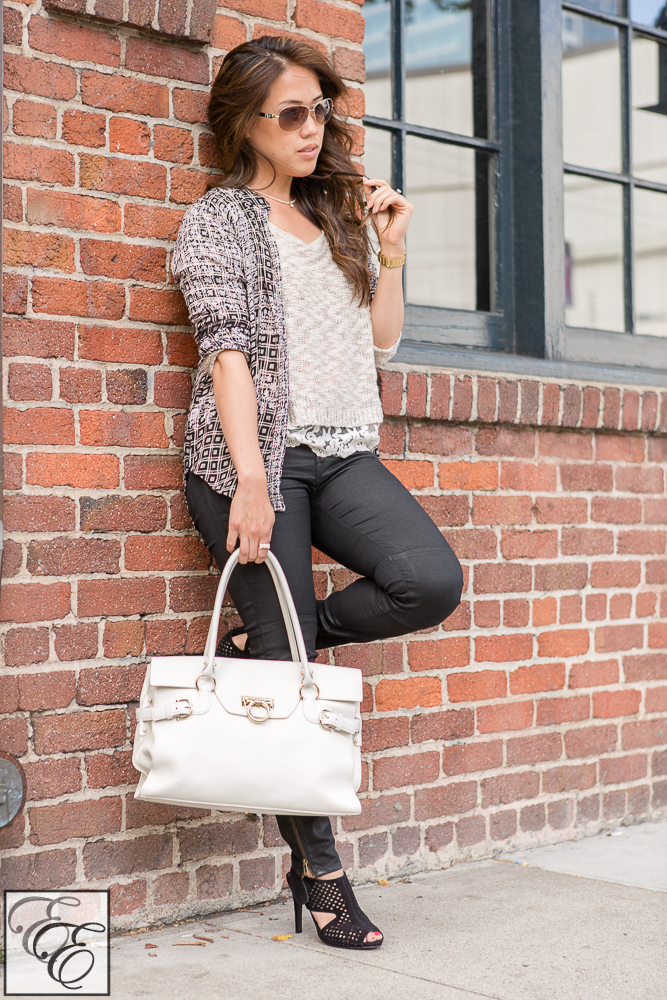 The bag is my favorite souvenir from our trip to Rome, Italy last year. I found it at a pre-owned luxury item shop; the owner sources from her personal network of actresses, celebrities, and upper-class figures, having previously been an established actress herself.
It is a classic and timeless bag, with its versatile size, sleek proportions, fold-over and latch detail (a characteristic that I associate with other high-end bags such as Hermes), and symmetrical, subtle gold detailing.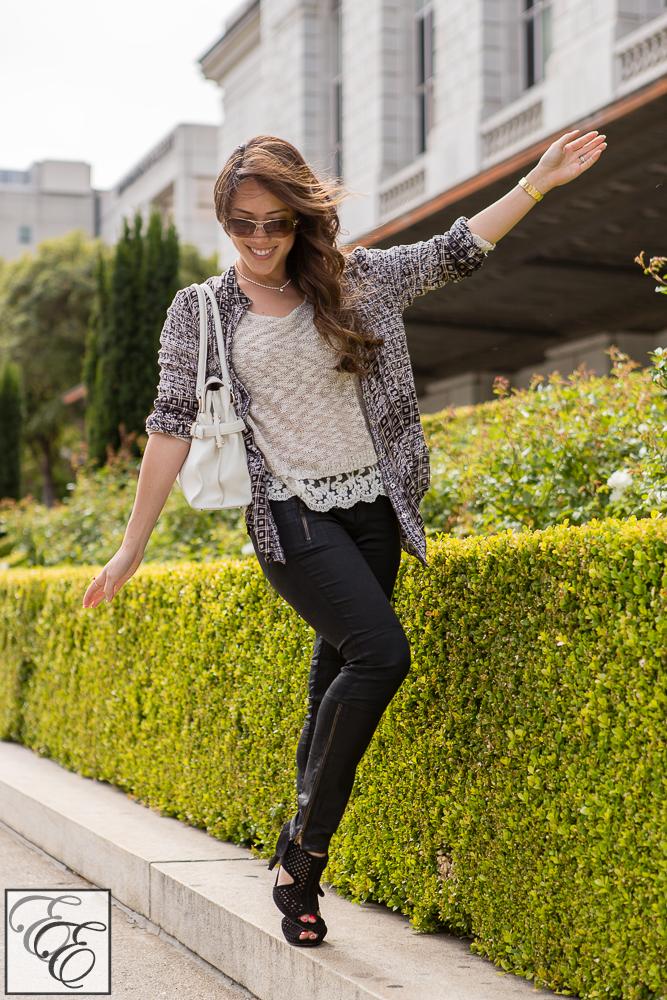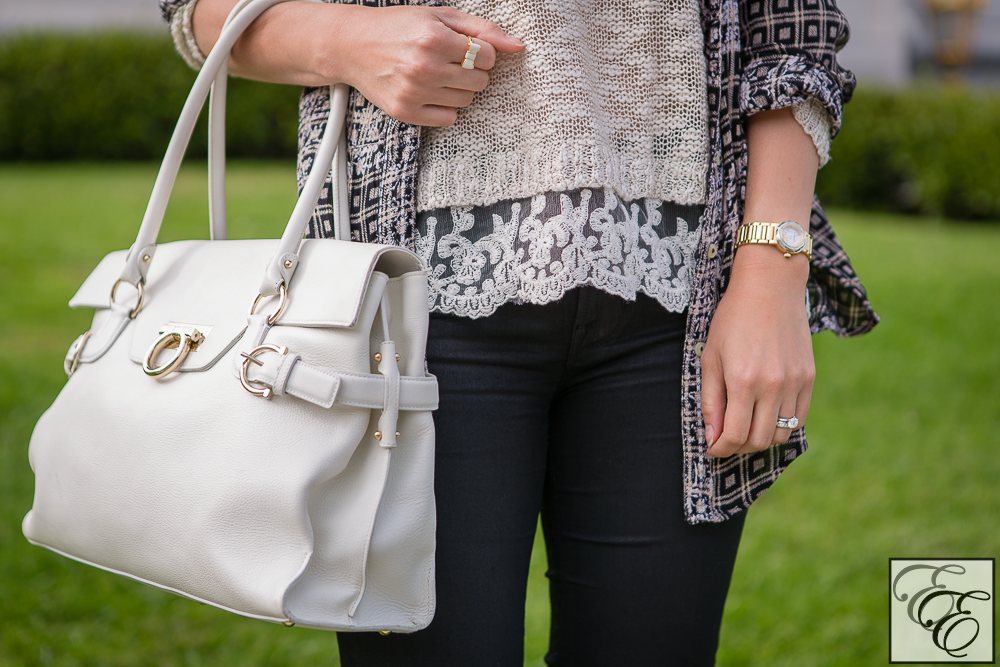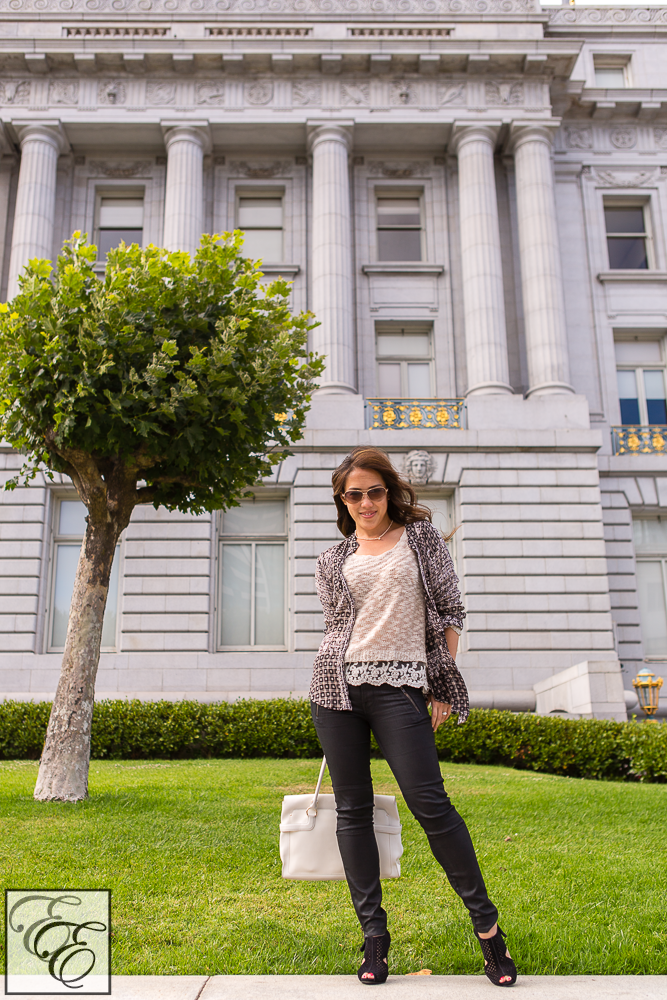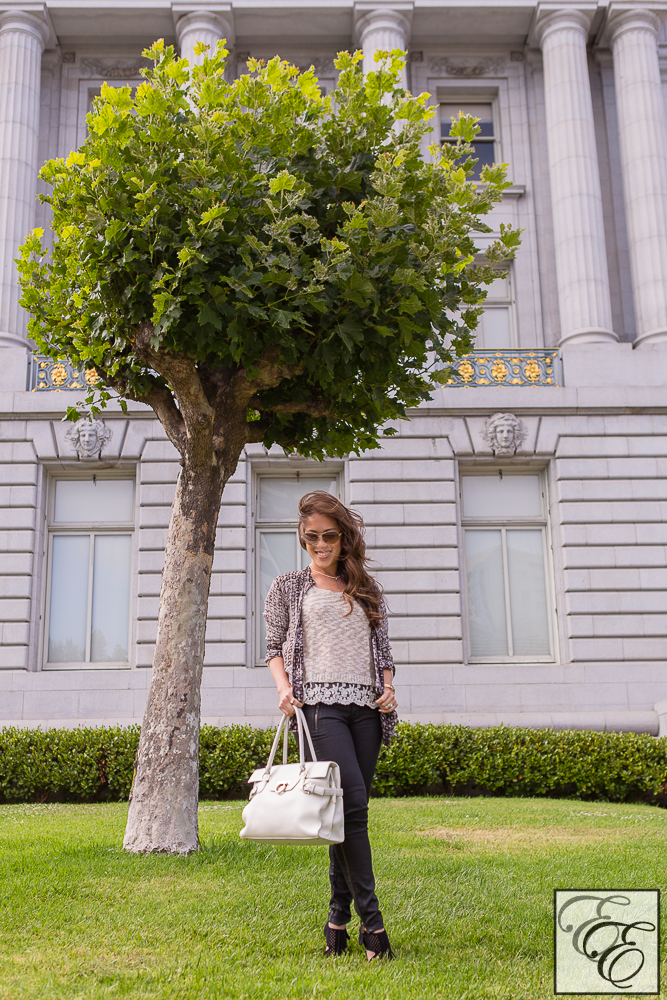 All of the items I'm wearing are great items to travel with. Each has a special detail or look that makes them unique riffs of of a standard basic, and any one of them could be switched out for a bright colored or patterned item for a more stand-out look.
I recommend inserting gel or high-quality foam pads into the footbed of the shoes to increase their comfort for long-term walking. However, in my Nordstrom sale post, you can read about how much I love Pedro Garcia booties.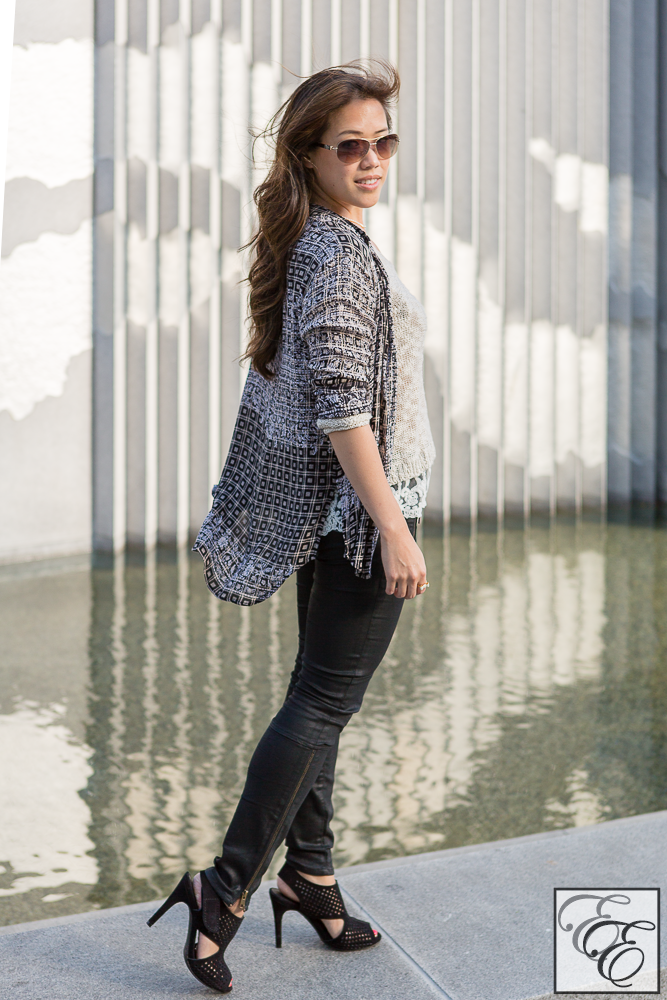 Top: Love by Design crochet hem sweater, Free People flannel button-down
Bottom: J Brand waxed skinny jeans (see current options here)
Shoes: Pedro Garcia perforated mesh peep-toe booties
Accessories: DVF aviators, Swavroski watch, Kate Spade bow ring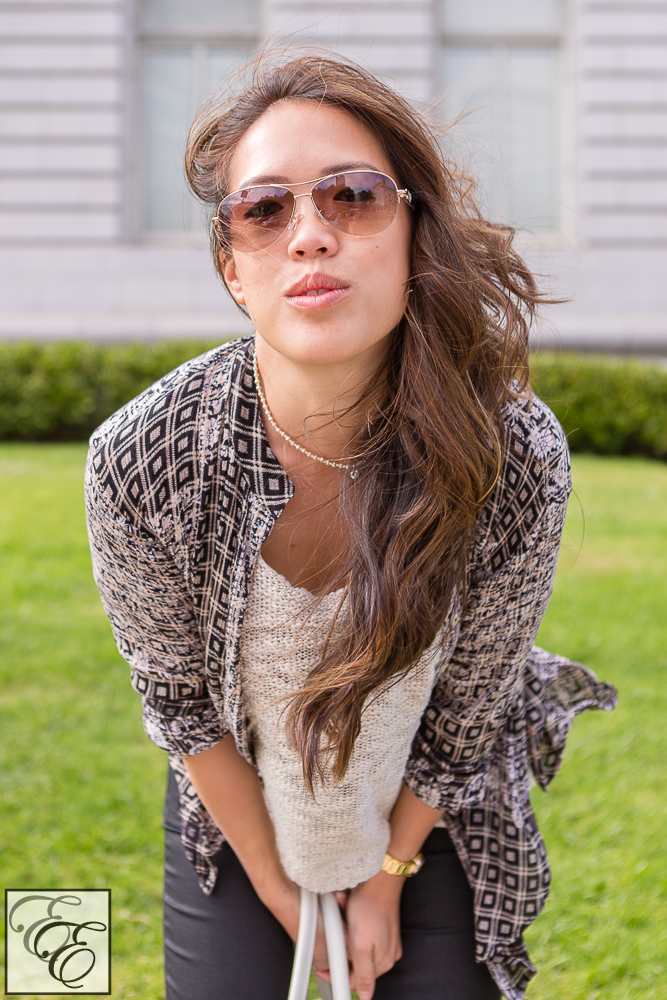 Muah! Fun, easy outfit for a fun, easy day. Do you use similar clothing pieces for your relaxed looks?
xoxo,