[This post is sponsored by Target.
All content herein solely reflects my personal thoughts and opinions.]
The weather here in the San Francisco bay area has been amazing recently; it feels like we've been catapulted directly into summer! (No complaints here.) So, as you can imagine, we're definitely taking advantage of it. The local parks are packed with people sunbathing, picnicking, and playing with their pets and/or kids. This past weekend, I enjoyed a fun swimsuit shopping spree, and then got to wear my shopping finds on a sailing adventure (my first time sailing!) out on the SF Bay with two dear friends and their new little bundle of joy.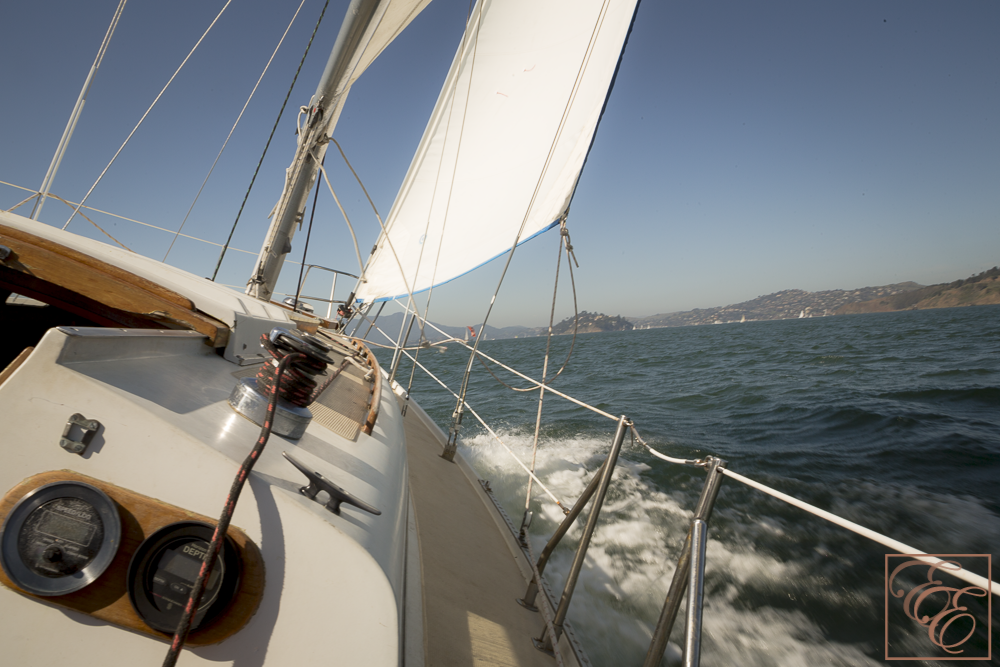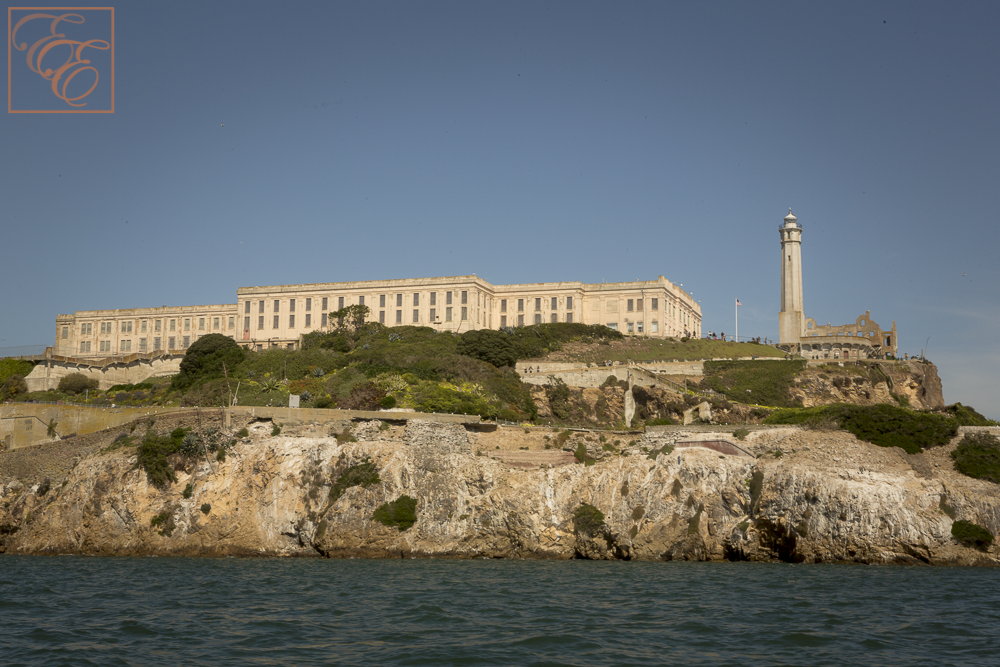 We sailed around the SF Bay, right past the infamous Alcatraz.
Have you made your way through the swimwear racks yet this season? I had quite a lot of fun diving right into the packed racks of brightly-colored swimwear at Target. They're filled with plenty of fun and flouncy, easy-to-mix-and-match pieces (with on-trend details like decorative back straps) that are perfect for your stylish, active lifestyle.
If you're looking for a versatile, flattering and chic look for your next trip to the beach or nautical adventure, read on for one of my favorite picks of the season!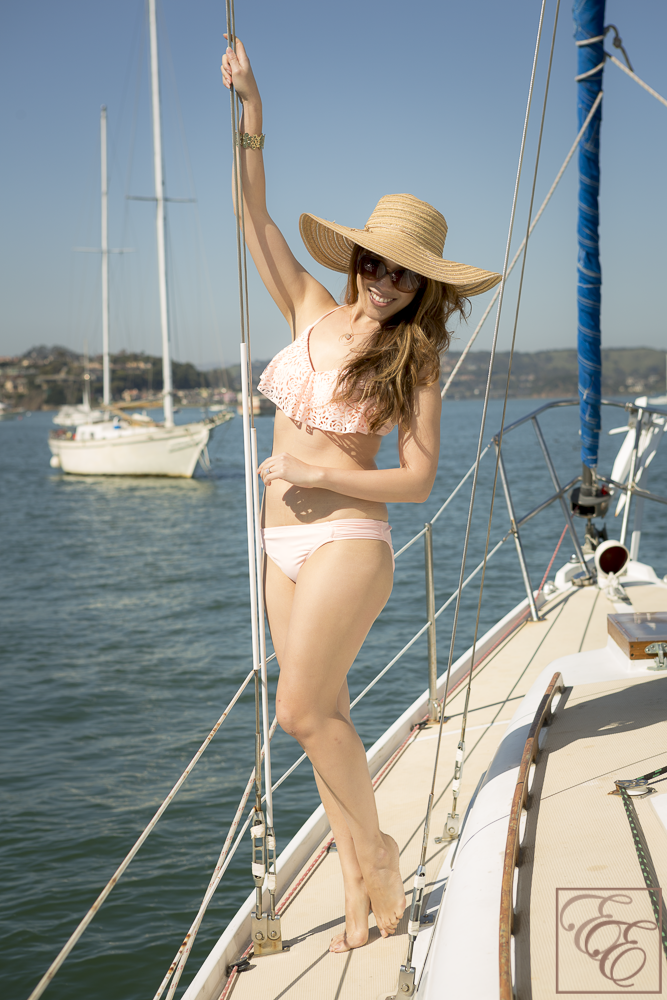 Some of the biggest fashion trends this spring include ruffles, universally-flattering neutrals, and cut-out detailing. And all of them are represented in this beautiful bikini from Target!
I love the large, soft front ruffle with intricate laser-cut florals, and the soft, feminine warm blush tone. Both the top and bottom are remarkably comfortable and easy to wear. The top, with its adjustable back straps and decorative front, is particularly flattering for those of us that are less curvaceous on top.  The bottom has a flattering hipster fit with cute ruched side detail, and full back coverage. The overall effect: demurely flirtatious, and utterly classy.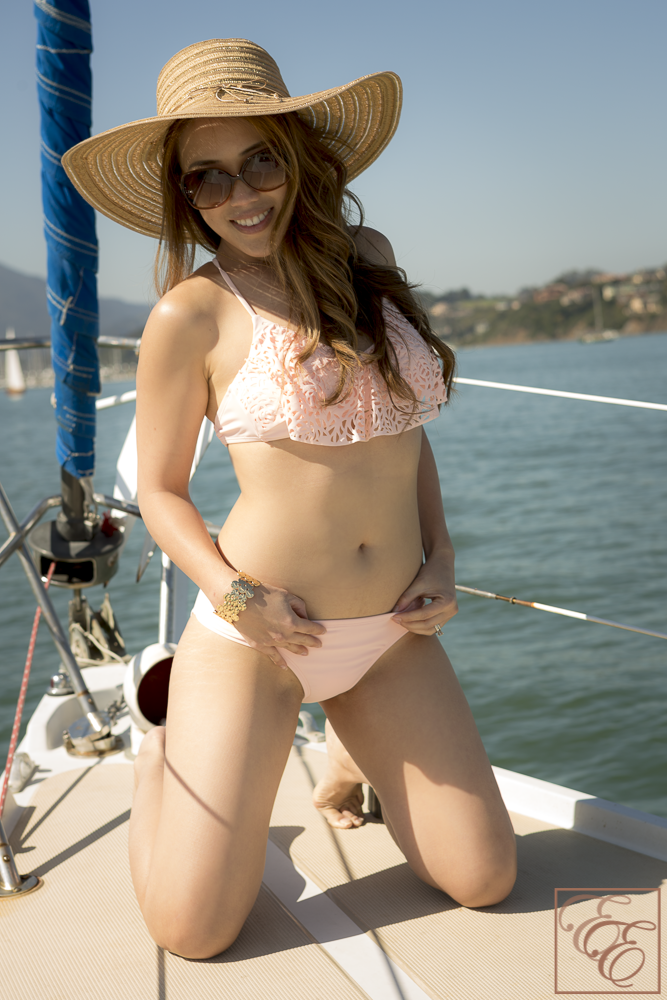 This is an ensemble that makes one feel exquisitely glamorous. And amazingly, you can create this celeb-style worthy look for less than $50 at Target! The bikini top and bottom are $33 (Target frequently has great promotions, so it's likely that you may be able to find them for even less), and the straw, gold-detailed wide-brimmed hat is $15.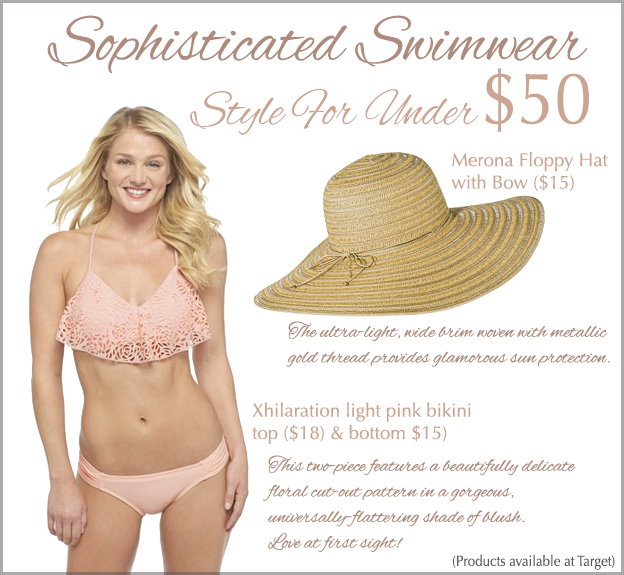 For full elite-status effect, curl your hair in soft, beachy waves, top gently with the hat (create an asymmetrical curve with the brim so that one side tilts upward, and the other curves gently over your eye, like a softly-swept bang), pull on a few large, textured gold jewelry pieces as accent, and finish with a pair of over-sized shades for optimal mysterious 'incognito' allure. (For reference, my entire outfit shown is from Target's current collection.)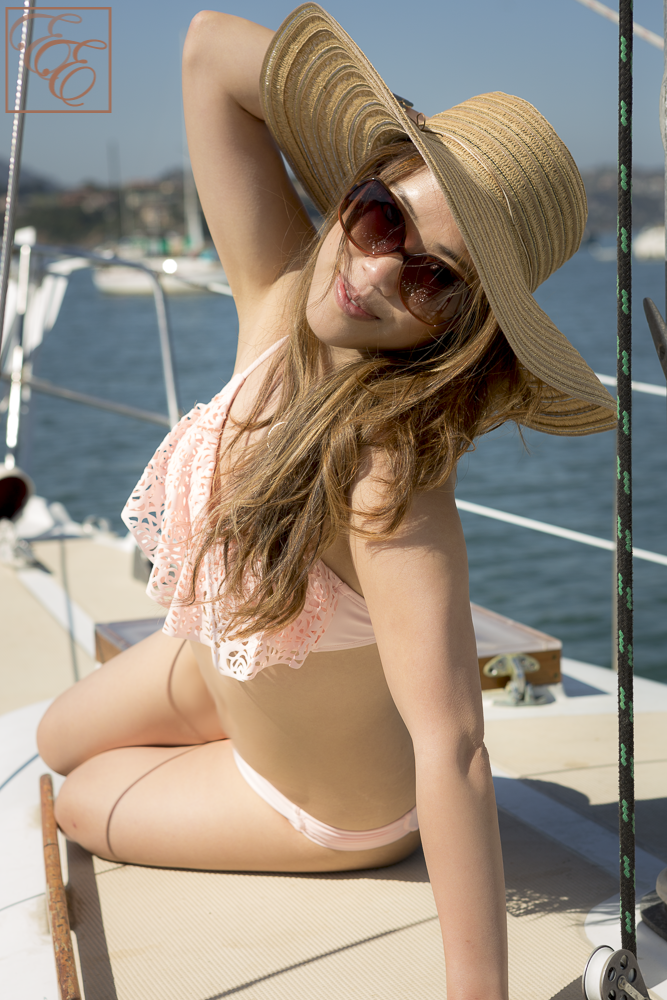 Xhilaration Strappy Flounce Bralette Bikini Top
and Ruched Hipster Bikini Bottom (both in Light Pink)
Merona Floppy Hat with Bow (Tan); Women's Fashion Stretch Bracelet (Gold);
Gradient Sunglasses (Tortoise/Peach)
I have always loved Target's commitment to providing current, high-quality designs and fashion styles for super-reasonable prices. Since childhood, I've enjoyed shopping there for everything from beautiful interior decoration accent pieces to fashion designer collaboration pieces. As such, it was remarkably fun and easy to put this look together. There are so many great, affordable style finds for fashionistas of all ages and styles!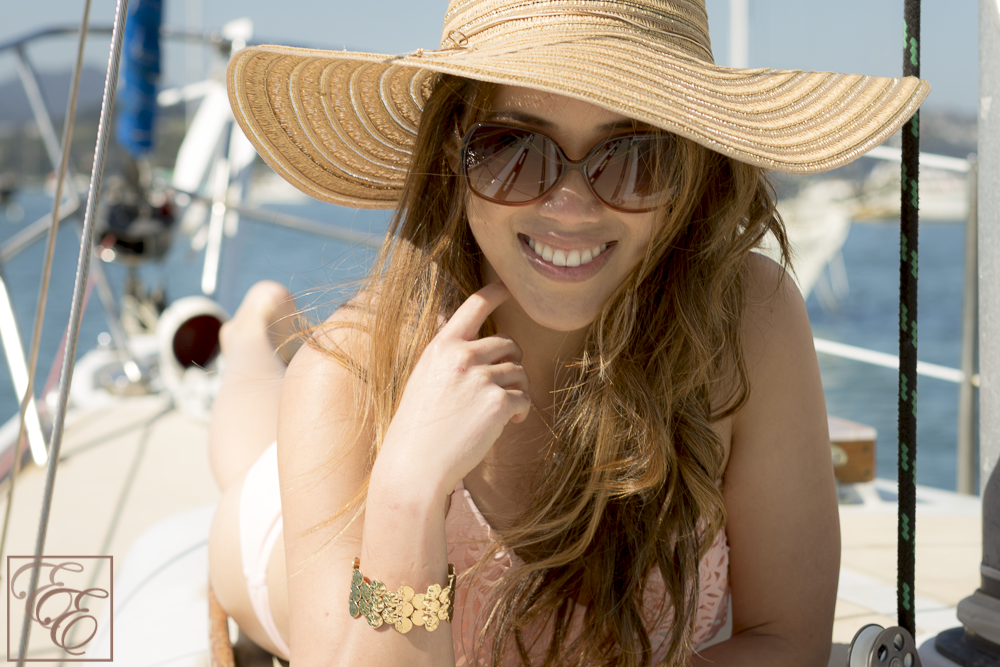 Do you have any spring break plans with your girlfriends, or upcoming summer vacation trips to plan for? If so, check out what Target has to offer; they have such a great range of on-trend swimwear, you're sure to find something that suits (no pun intended) your personal style. Have fun finding something that makes you feel special and beautiful, and then go out and enjoy the sun! Find your style – @targetstyle. 😀
xoxo,



   (Thank you for reading! Again, this post is sponsored by Target;
all content solely reflects my personal thoughts and opinions.)