Celebrate love and joy any day with these lovely heart-shaped treats with the bright taste of spring! They've quite easy to make (just like whipping up a batch of cookies) and I enjoy playing with various flavors, fillings, and toppings year-round.
This time around, I envisioned an entirely delicate, ethereal cupcake. They manifested as sweet-floral jasmine cupcakes topped with lemon whipped cream and adorable teeny-tiny heart candy confetti.
I love the cloud-like, melting texture of freshly-whipped cream. It's lighter and more sophisticated than a butter-and-powdered sugar frosting, not to mention healthier; frosting is basically several cups of butter whipped with twice the amount of powdered sugar(!) However, whipped cream's delicacy requires you to serve the cupcakes shortly after decoration. Not that you should have any problems getting them to disappear. 🙂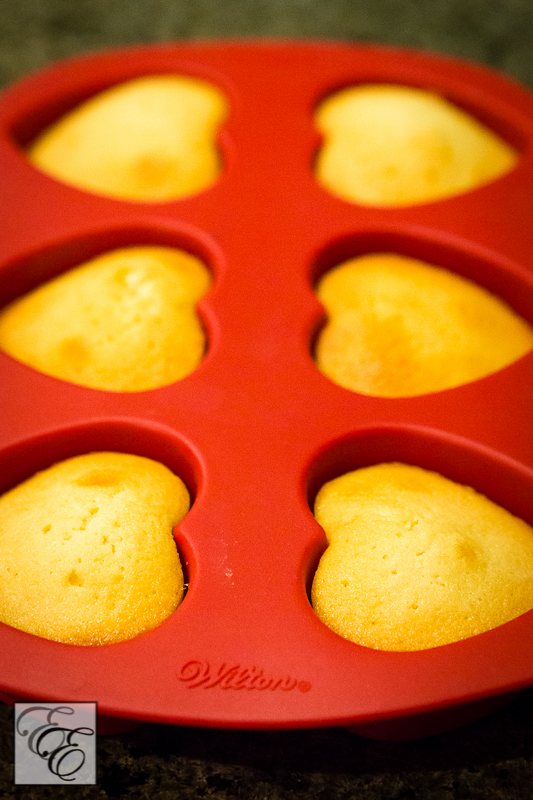 Jasmine Cupcakes
Ingredients
Cupcakes (I recommend weighing by weight for best results)
1 1/2 cups (7.5 oz) self-rising flour
1 1/4 cups (6.25 oz oz) all-purpose flour
1/2 t baking powder
1 cup (2 sticks) unsalted butter, softened
2 cups (14 oz) sugar
4 large eggs, at room temperature
1 cup nonfat milk
1 teaspoon jasmine extract
1/2 t vanilla extract
Whipped cream
1 cup heavy whipping cream
1/2 cup powdered sugar, or more to taste
1 t lemon extract
1/2 t essential lemon oil OR 1 t finely grated lemon zest
Steps
Preheat oven to 350 degrees F.
In a small bowl, combine the flours and baking powder. Set aside.
In a large bowl, cream the butter at medium speed with an electric mixer until smooth. Add the sugar 1 cup at a time, beating after each addition until fluffy. Add the eggs, 1 at a time, beating well after each addition.
Add the flour mixture in 3 parts, alternating with the milk and extracts. With each addition, beat until the ingredients are incorporated but do not overbeat. Using a rubber spatula, scrape down the batter to ensure the ingredients are well fully blended.
Carefully spoon the batter into cupcake molds or paper cups (I prefer silicon molds), filling them ~2/3 full.
Bake for 20 to 25 minutes, or until golden brown and a cake tester inserted into the center of the cupcake comes out cleanly.
If frosting, let cool completely.
In a clean glass bowl (greasy residue will inhibit the cream whipping process), whip the heavy whipping cream at medium speed just until soft peaks form and the volume is more than doubled. Do not overwhip.
Add in the sugar, extract, and oil or zest, and continue whipping at medium speed until fully mixed and the peaks are firm (should just be 10-15 seconds). If the whipped cream becomes lumpy, it is overwhipped and is not salvagable for presentation reasons…  but is still delicious to eat. ;9
Put the whipped cream in a piping bag and pipe onto cupcakes, starting from the outside and cirling inwards.
Top with sprinkles or other decoration.
Serve immediately and enjoy!
Quite honestly, a freshly-warm cupcake is just as irresistable as its adorned counterpart. The top of the cupcake forms a thin crust that seems to sparkle with sugar. Each bite yields a faint crunch that gives way to a fine, airy crumb. Far superior to any grocery store cupcake~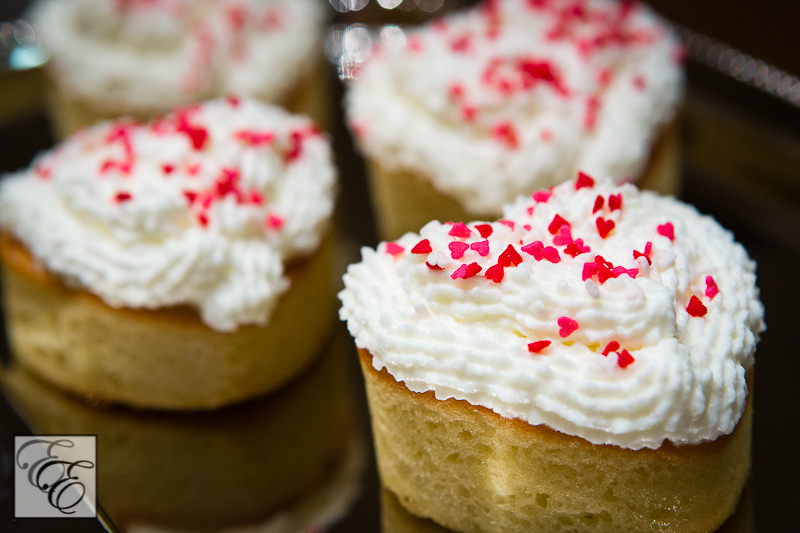 All dressed up for their photoshoot! There's something whimsical and precious about the small size of the heart sprinkles, like heart-shaped snow dusting a creamy cloud. Love. <3
xoxo,