Denim is such a versatile, enduring fabric. It does double-duty for casual workdays and weekend wear, and it's a year-round layering staple. When it's a flattering cut and isn't trying too hard (*cough* like rhinestone and stud embellishments, strategic tears, or ultra-distressed washes, all of which have come and gone over the past thirty years), denim staples have a good, long life.
This weekend was sunny but chilly, so skinny-leg cargo jeans and a soft denim jacket fit the bill. The morning was a bit colder than I anticipated, so next time I'd also layer a brown faux fur sleeveless vest over the jacket. Gotta remember that it's only January!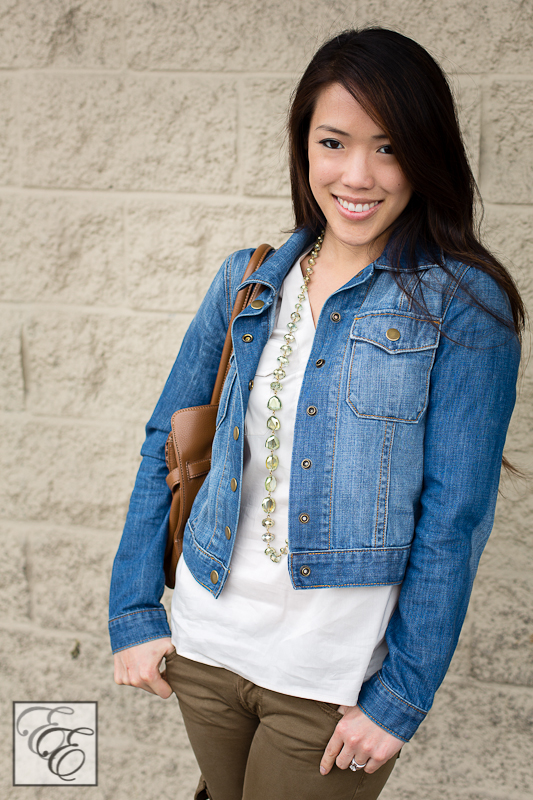 The short length of the jacket is well-suited for my petite frame, and keeping the shirt untucked emphasizes my intentional layering. Even though I was mostly going for a street-casual feel, I was compelled to add a flash of glam in the form of a long, olive-green tourmaline necklace.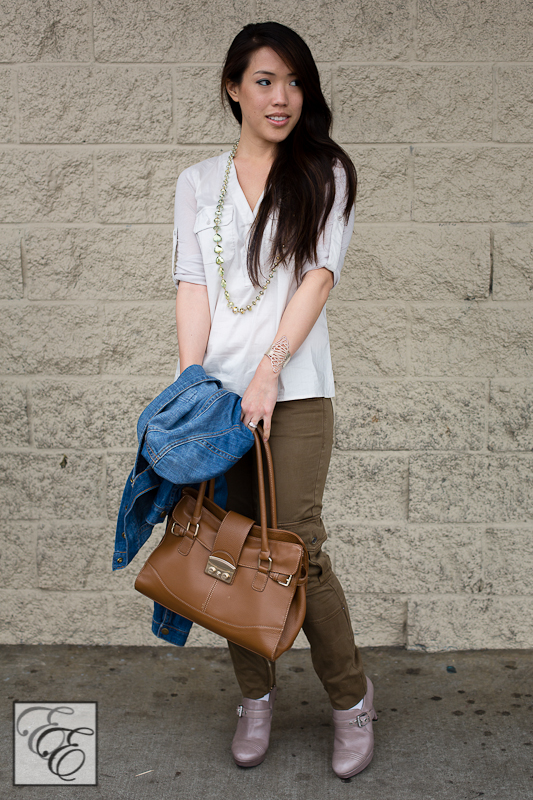 [Gap denim jacket, BCBG cuffed top, ABS Luxury cargo jeans, Rockport booties]
The top's front is a fine cotton weave that you expect from a high-quality button-down shirt, and the sleeves and back material is soft t-shirt cotton for relaxed but fitted comfort. I love the mid-arm cuffed sleeves, as most of my tops are either long or short-sleeved. Great to have length variety!
The green-brown skinny cargos have staggered buttoned pockets on both legs (the pocket on the hidden right leg is a bit higher than the visible left leg), which makes me feel a bit more tomboy-ish and utilitarian… athough I have to admit I've never actually used them yet. 🙂
Lastly, the heeled grey booties are a nice change from the traditional black. Their reasonable 3″ heel (4″ height with a 1″ platform) helps continue the line from the pant's skinny legs while still being comfortable for a day's wear.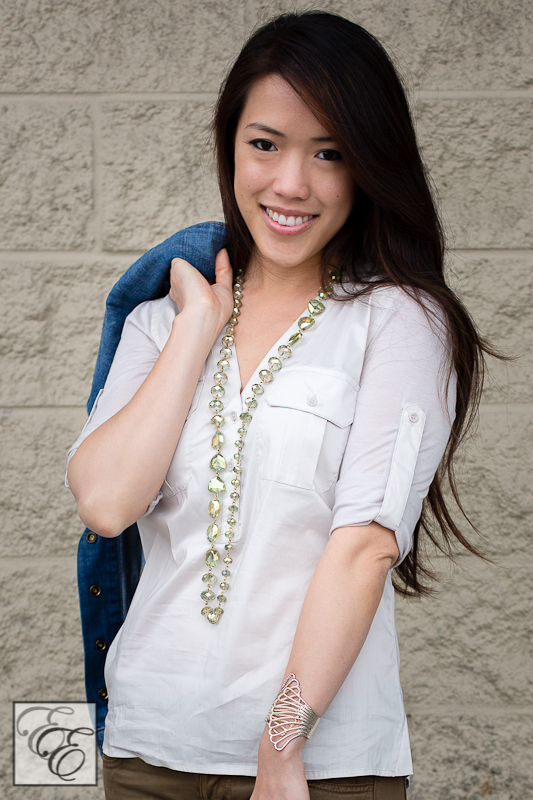 [Offset the heavier feel of denim with delicate jewelry]
I found the silver fan cuff bracelet at a boutique in LA some years back, and love it both because of the fluid overlapping design, and because the spring closure ensures that the bracelet fits snugly to my wrist. I have small wrists, so regular-sized bracelets and open cuffs just fall off my arms. Fitted versions also showcase a wrist's slimness.
The necklace's heft (it's not lightweight) and length work well together to skim the v-neckline. A long chain, such as a long strand of pearls, knotted just below the v-juncture is another option.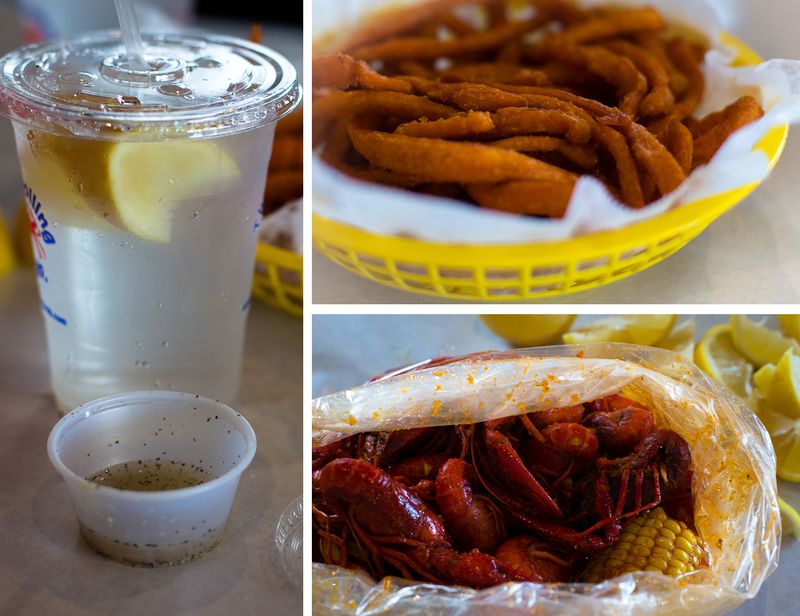 [The Boiling Crab: Vietnamese take on a Cajun crawfish boil – mouth-watering!]
So where did I go with my casually-coordinated look? We took my family to The Boiling Crab in San Jose, which I consider to be the tastiest place to go for a finger-licking, shellfish-peeling experience in the SF bay area (the chain migrated up from LA a few years ago).
It's a visceral joy and temporary return to childhood, to messily plow through piles of crawfish, shrimp, and Dungeness crab soaked in a thick, spicy paste of zesty seafood seasonings, garlic, and butter. I occasionally dip my shelled morsels into a lemon juice, salt, and pepper mixture to lighten them up. Complementary must-have sides include smoked kielbasa sausage, sweet corn coblets (likely frozen, but they effortlessly soak up the sauce; the spicy-sweet balance is awesome), and crisp-tender sweet potato fries.
This weekend might have been on the cold side (silly me), but my heart and stomach couldn't be better warmed by my family's love and enjoyment of our intimate get-together over soul-warming, Southern-style food.
Cheers,
lauriel