My parents came into town this past weekend, so we spent the day leisurely wandering around the SoMA district. We had brunch at one of my favorite restaurants in the area, Prospect, and then strolled to the Ferry Building. Prospect is upscale and modern, so my goal was to select an outfit that was all at once classy, warm (that SF wind can get to you!), and walkable (no 5″ heels).
I love how leather has been reinvented in utterly supple, indulgent forms recently in fashion. Its thin, soft texture is sturdy yet delicate, and can be wonderfully curve-hugging. Plus, it's so easy to build outfits around with just a few classic elements.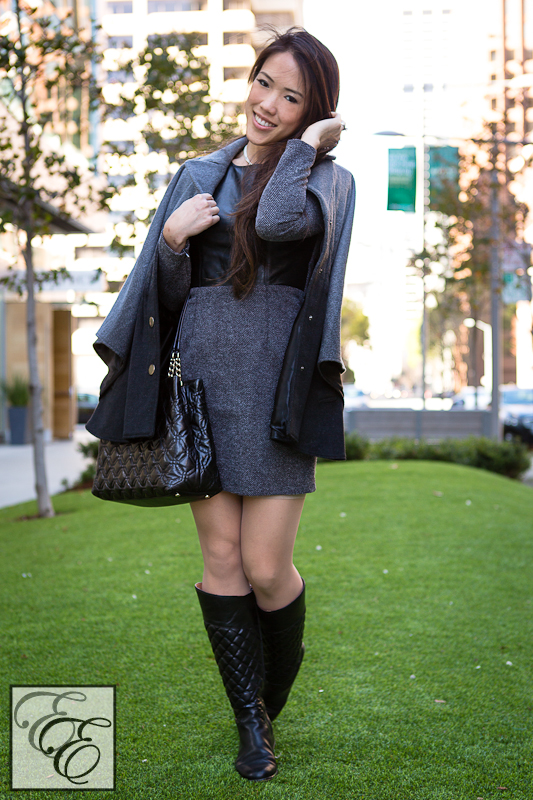 [Club Monaco Dayna Tweed dress, Aqua by Bloomingdale's cape,
Corso Como Santona quilted boots, Kate Spade bag]
This 
leather paneled wool-tweed dress
 has been in frequent rotation this winter. It keeps me snug and WARM, and fits flatteringly while allowing for comfortable movement. It's quite versatile; proper enough for the office, yet sexy and contemporary for a social appearance.
A bell-flared wool cape (Aqua by Bloomingdale's) was the obvious complementary topper. Its light grey to black gradient is an almost-perfect reversal balance of the color-blocked dress. A wide cinched waist and wide flared arms and hemline add classic feminine flair. Love! (Unfortunately, it is no longer available online and I couldn't find equivalent options.)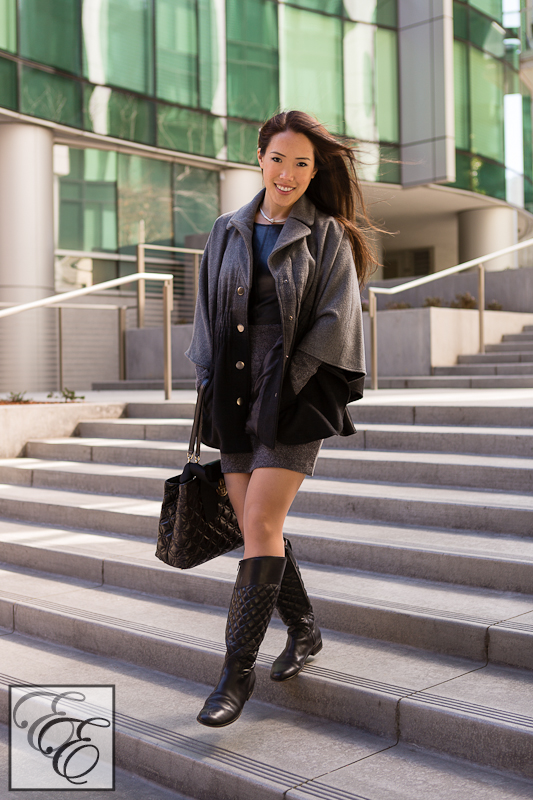 My Corso Cosmo boots are my faithful, most-loved boots, as they're both incredibly comfortable (due to a gel insert in the sole) and chic. I'm always getting compliments on them!
I got them two seasons ago, but they've been (understandably) popular enough to warrant another production run this past winter season. Given that leather is a continuing trend for next winter's fashion, I wouldn't be surprised if they re-appear in stores for another season. If so, Nordstroms half-yearly sale in midsummer would be a great time to look for them.
I enjoy the similarity in quilting patterns between the boots and the bag. 🙂 (See more details about the bag when I showcased it here.)
And lastly, I have to share the creative, beautiful breadth of brunch classics that Prospect offers. It's one of my top choices for a refined weekend brunch in the city; perfect for enjoying with out-of-town guests!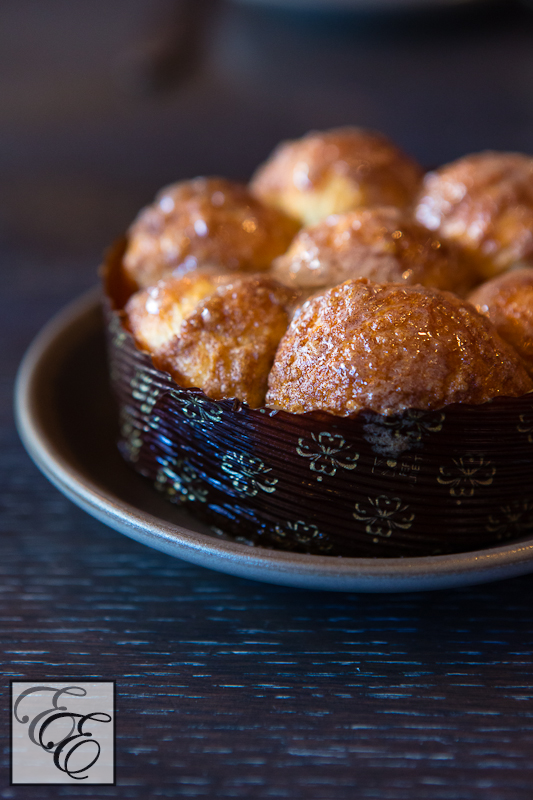 [Monkey bread; light and fluffy balls of dough coated with cinnamon and sugar buttery glaze]
[Duck pate with strawberry gelee, served with toasted bread drizzled with olive oil; it may not photograph well, but it's one of my favorites]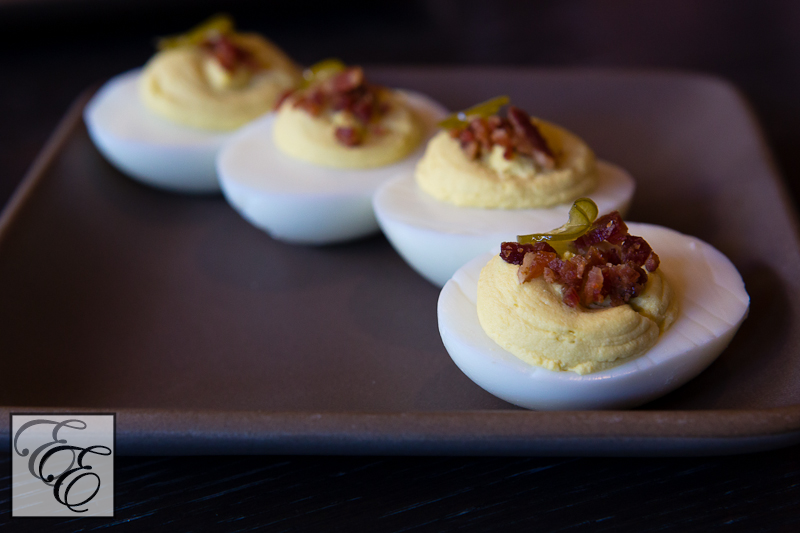 [Deviled eggs with crumbled bacon and pickled jalapeno slice]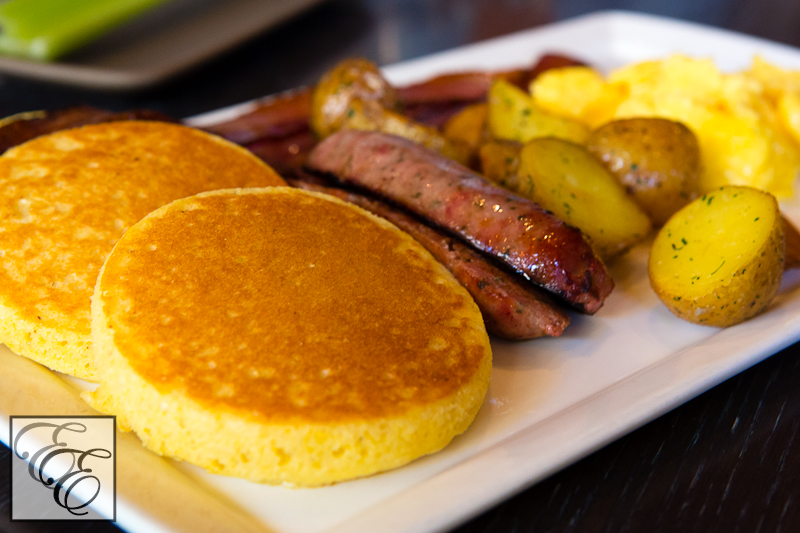 [The 'Prospector': pork apple sausage, bacon, fluffy cornmeal skillet cakes, potatoes, and eggs]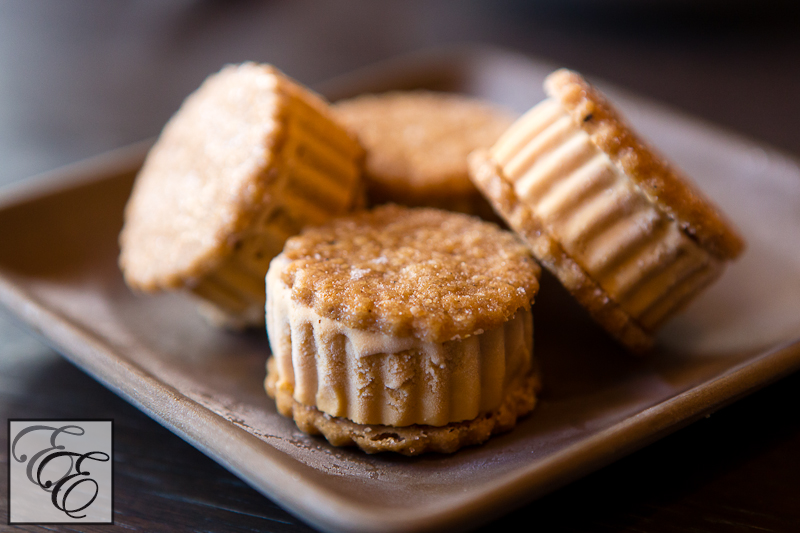 [chai tea shortbread cookies filled with roasted white chocolate ice cream – lovely!]
xoxo,