Brrr, it's the middle of winter and all I want to do is snuggle under a warm, soft blanket! So, imagine how happy I am to have options that look completely polished and put-together but feel as comforting as a onesie (purely conjecture as I have never worn, and likely never will, wear a onesie/snuggie(!)).
Scarves are some of my favorite accessories regardless of the season (spring, summer, and fall), and come winter, this blanket scarf is a beautiful alternative to a knitted scarf or muffler. The classic plaid pattern is simple and minimalist, and the winter white color is a welcome highlight in a sea of black and grey coats and umbrellas. In general, I actively seek out light and colorful winter options to keep my spirits uplifted, as well as hopefully those around me. 🙂
One can wear scarves any number of ways (see below for some fun options to wear less voluminous scarves). Today, I'm presenting two styles particularly suiting for a blanket scarf!
The casually-draped poncho look

This is a simple way to achieve blase sophistication (while still feeling like you're burrowed under your toasty blanket covers). All you need is a large brooch pin!
I start by wrapping one end of the scarf over my shoulder (the opposite one that the exposed end will be draped from) towards my back, and loosely drape the length across my front, then my back, and bring across the front one more time. I then fasten the upper corner to the scarf at my shoulder with a 4″ black crystal-studded camellia flower.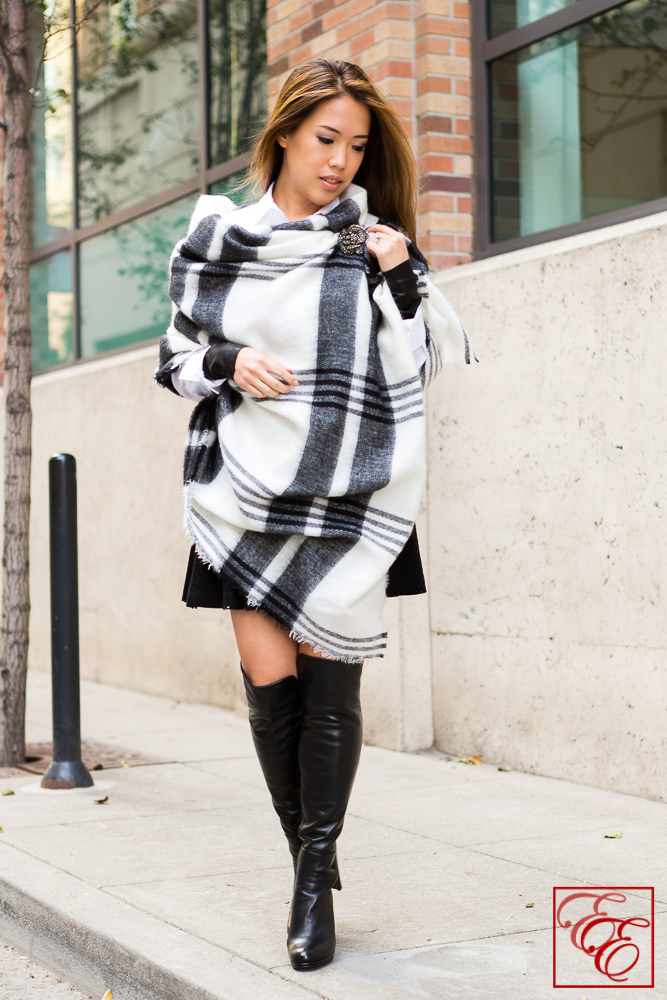 Top: Zara blanket scarf (white & red option), Theory 'Larissa 2' shirt (on sale!), Marissa Webb leather sleeves, Christian Dior red satin belt (vintage), black flower brooch
Bottom: Theory skirt, Stuart Weitzman 'Hijack' over-the-knee boots
The contrast front paneling
A neatly-draped scarf following the vertical length of your outfit transforms to become an integral part of the outfit's pattern and texture. Have fun completely transforming the feel of your skirt or dress with a contrasting scarf! Keep things pulled-together with a fairly minimalist and thin belt (a metallic chain is an alternative to fabric or leather belt); a wide belt would make the look feel chunky and bulky.
Since we have fairly mild winters in California, I can sometimes get away without tights under my dress. However, I practically live in boots the entire season. These form-fitting over-the-knee boots by my favorite boot designer, Stuart Weitzman, are super comfortable and flattering with their elasticized fabric back panel.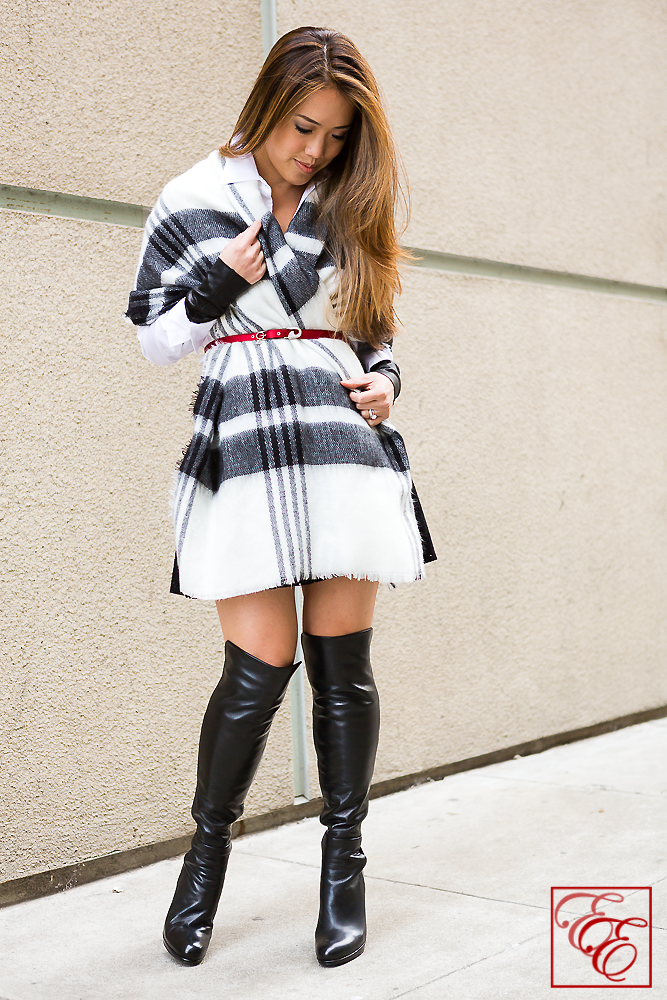 Lastly, meet my favorite new accessory of the season, the leather sleeve! An edgy, sexy alternative to long knitted gloves, they are endlessly versatile as a layering piece. As such, they've been my go-to travel companion for all my winter vacations.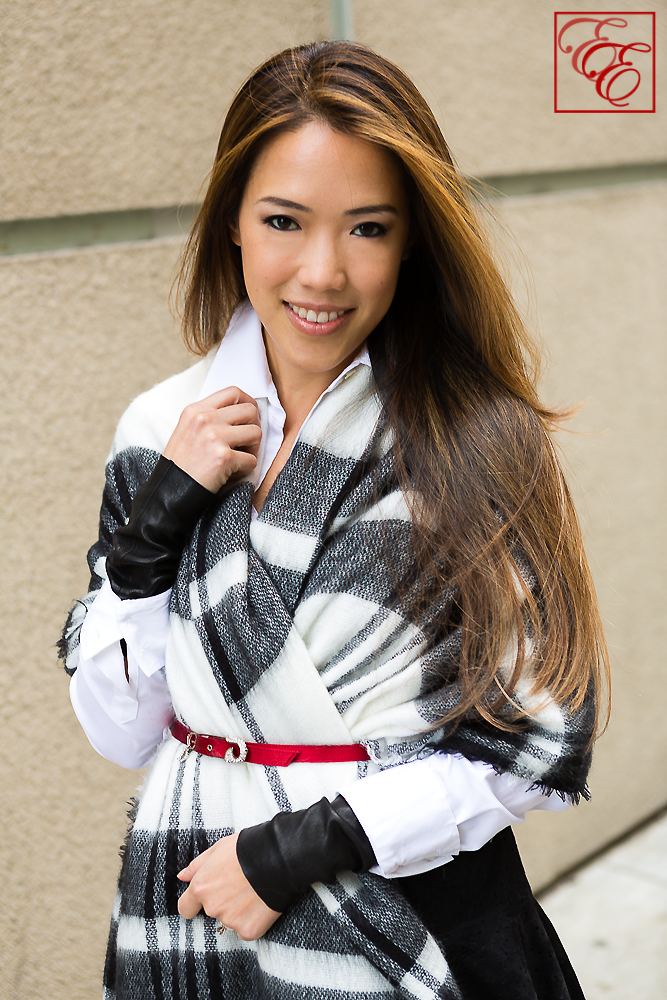 Shop the look
What do you think about the two style options? Does either appeal to you? Hope you enjoy these tips to help stay warm in style!
xoxo,


[For Pinterest reference]