This look is a throw-back, but it's so gorgeous, I figured 'better late than never'. Fortuitously, it's a suiting color palette for the late summer-early fall season.
I attended a fashion conference in LA late last year. The highlight was hearing Lyn Paolo, the costume designer of Scandal, speak. "Notice any trends in Olivia Pope's wardrobe?", she asked us. "When Olivia is a strong, confident champion ('gladiator', to use the tv series' terminology), she stands out in all white. When she's conflicted and confused, I put her in greys and muted colors." Since then, I've kept an eye out for the subtle visual cues tying style to emotion in film. (On a related note, I'm looking forward to the Scandal-inspired collection to be launched by The Limited in late September.)
How do you select your outfit's colors and textures? Do they reflect your mood?
Now that I look back at what I chose to wear that day, I recognize that I selected pieces to make a sophisticated, self-assured first impression.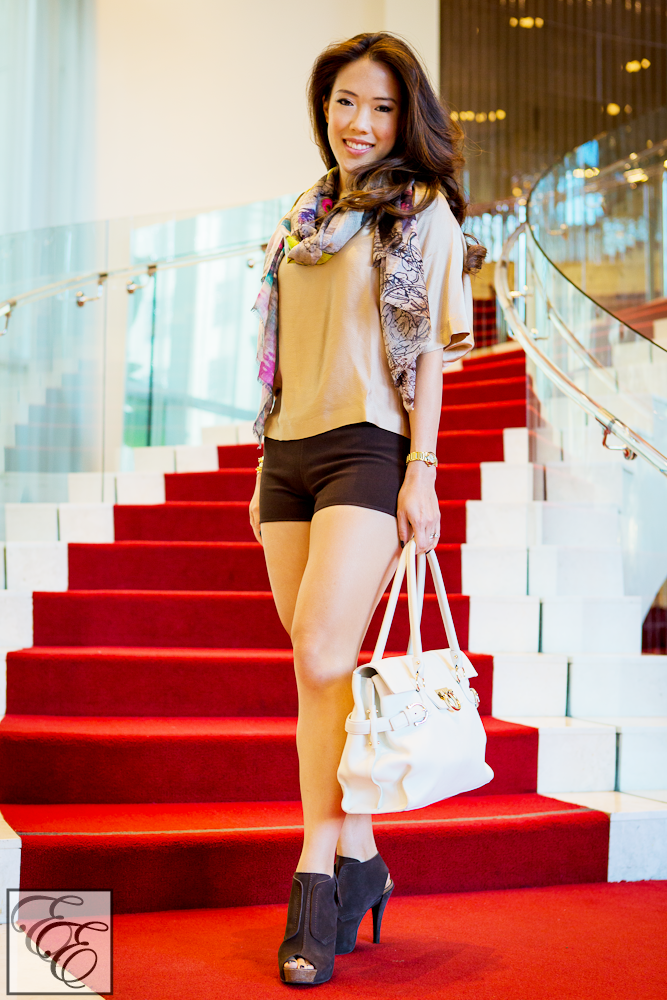 Not surprisingly, I went with my much-loved Pedro Garcia booties. They're comfortable, yet attention-getters. For a modern look, I prefer these robust-but-sleek booties over feminine pumps. Glossy black nail polish on my toes and fingertips top it off.
The Club Monaco silk top is mature and classy, but distinct – the light-toned metallic top stands out among matte colors. For daytime, I go for lustrous subtlety, saving glittery, shiny metallics for nighttime.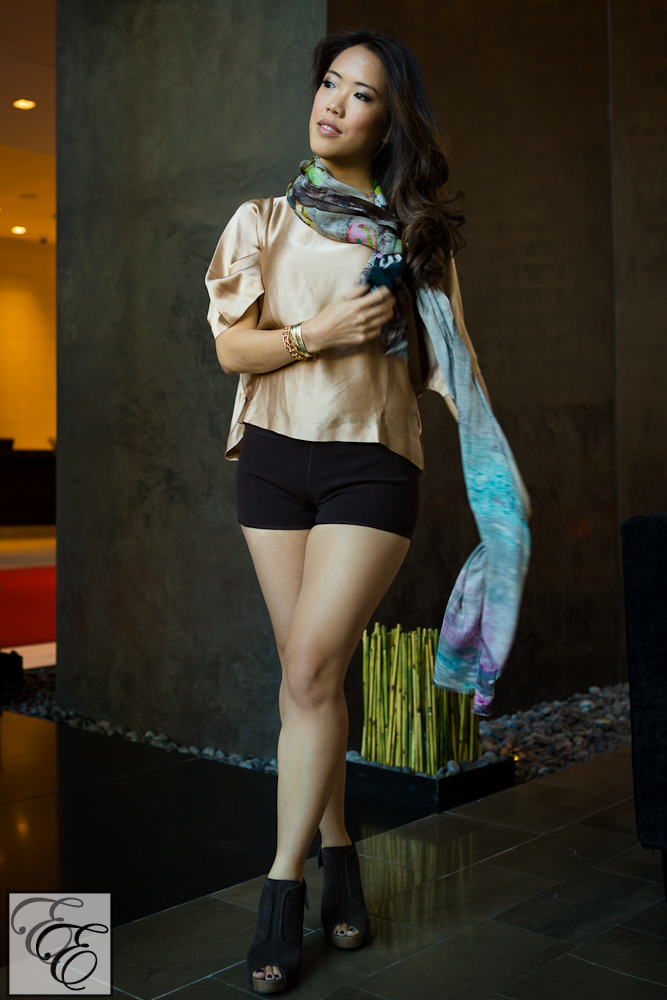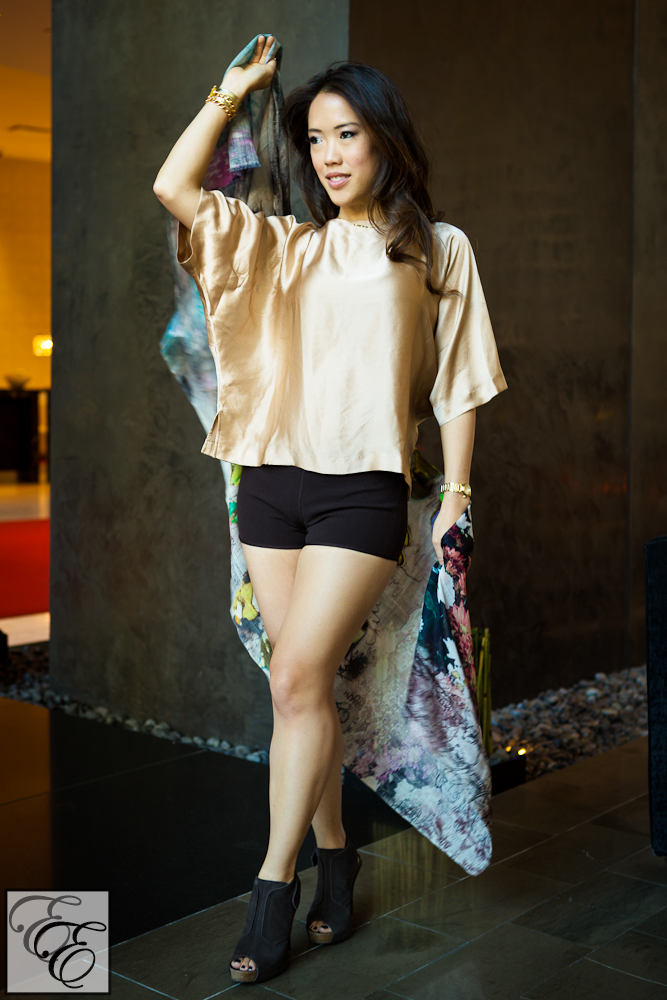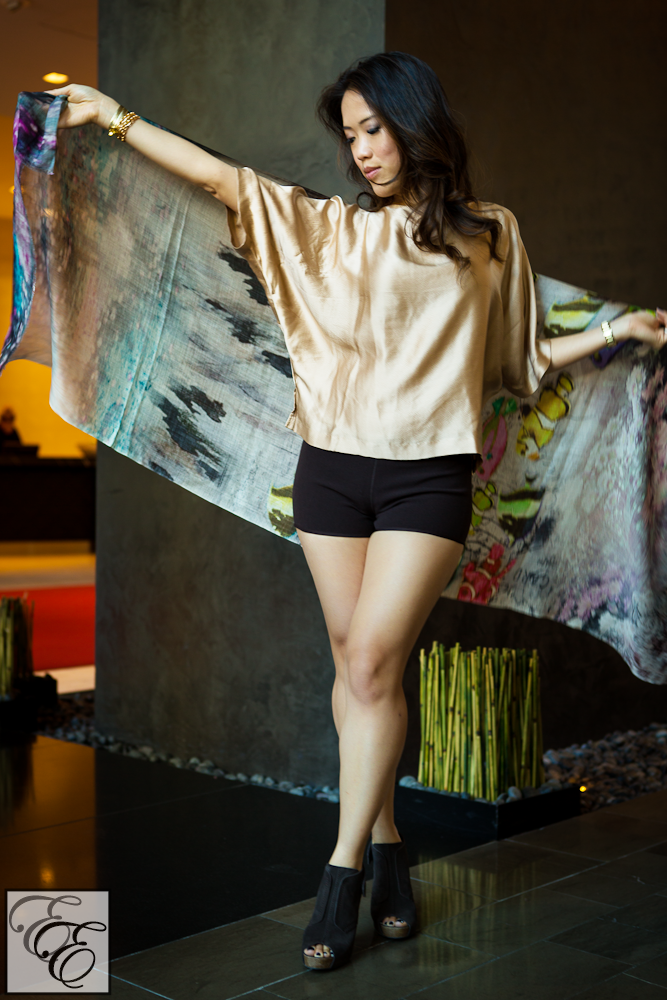 A finely-woven and dyed silk scarf is a timeless accessory. The fluid, abstract pattern of this one reflects my artistic side. With it, I channel blasé grace.
The hot pants component was a bit riskier, but one that felt 'right' for a LA fashion event. The minimal silhouette balances the volume above.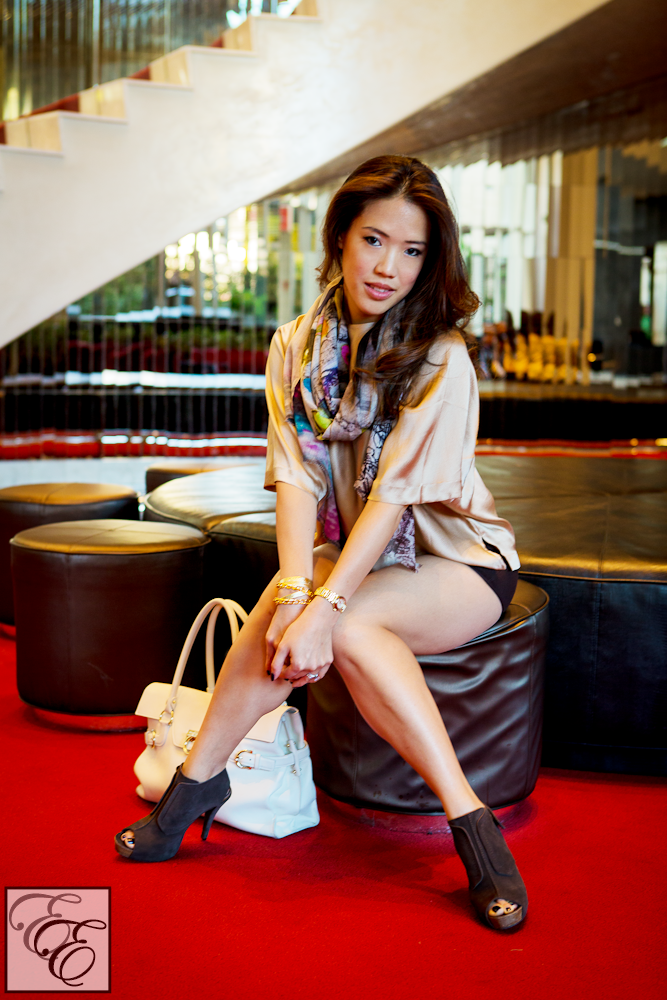 Lastly, the poise to pull it off… I take on slightly-different personas, based on what I'm wearing. That day, I was channeling urban sophisticate, aka Hollywood-hopeful model/starlet. 🙂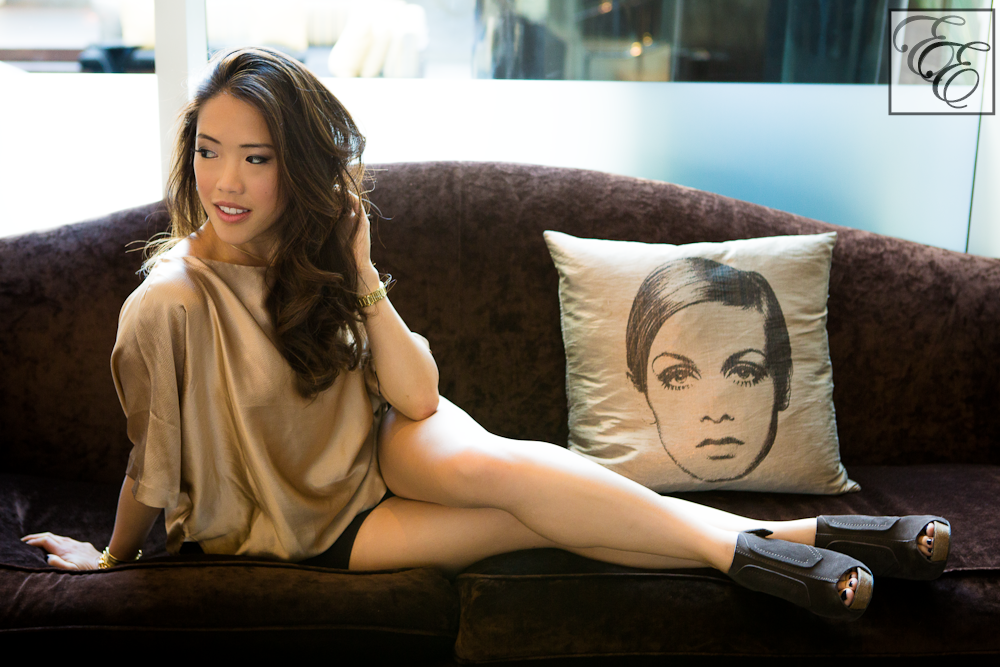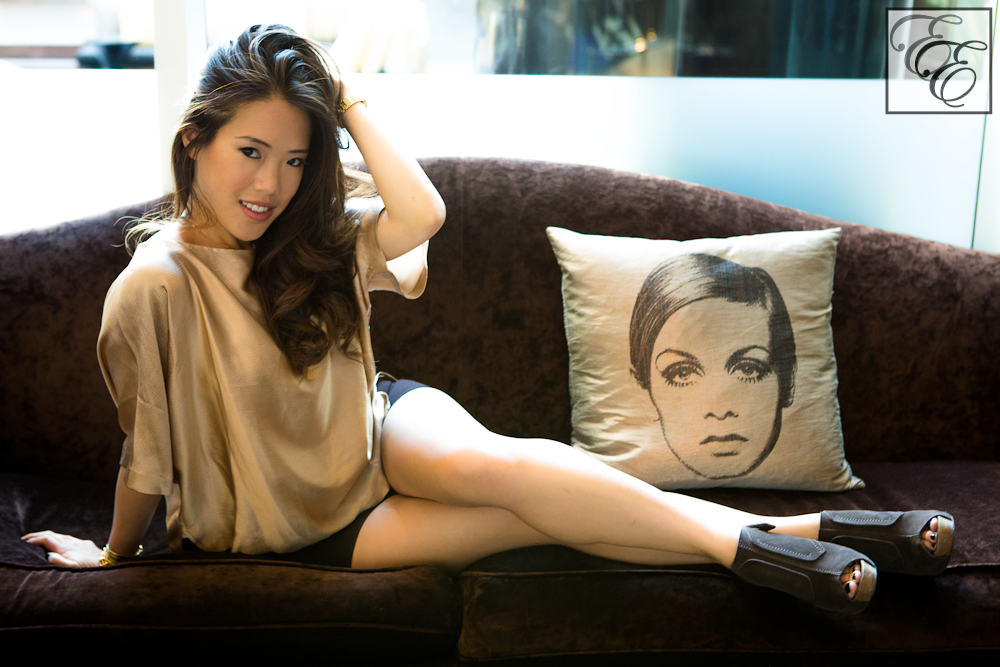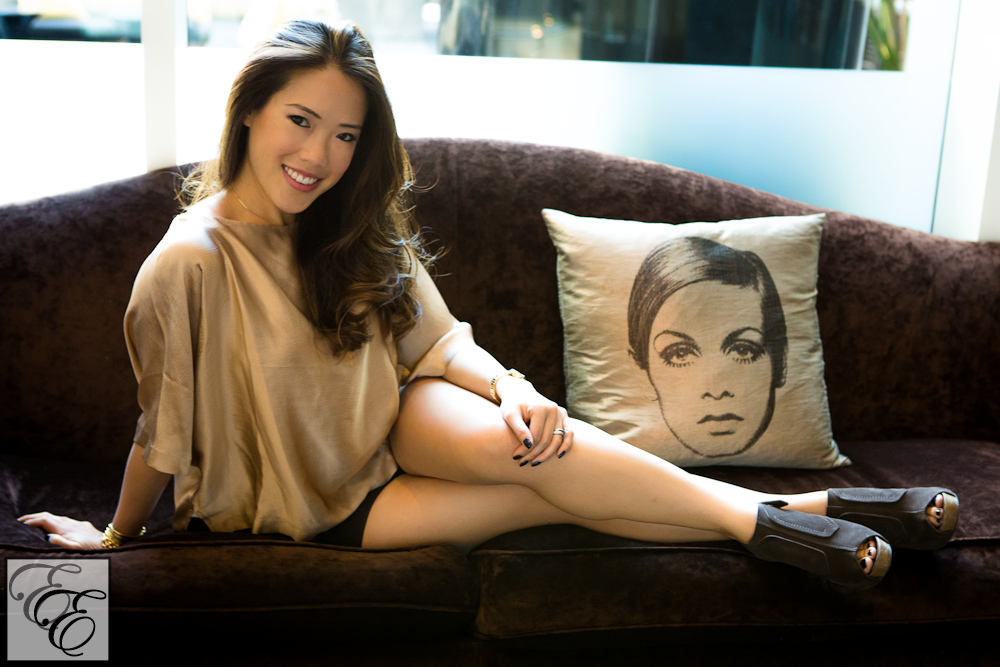 Top: Club Monaco gold silk top (similar lurex option by Vita Gottleib)
Bottom: Max Studio hot pants
Shoes: Pedro Garcia booties (similar Pedro Garcia options: Sofia perforated bootie, Simona perforated bootie)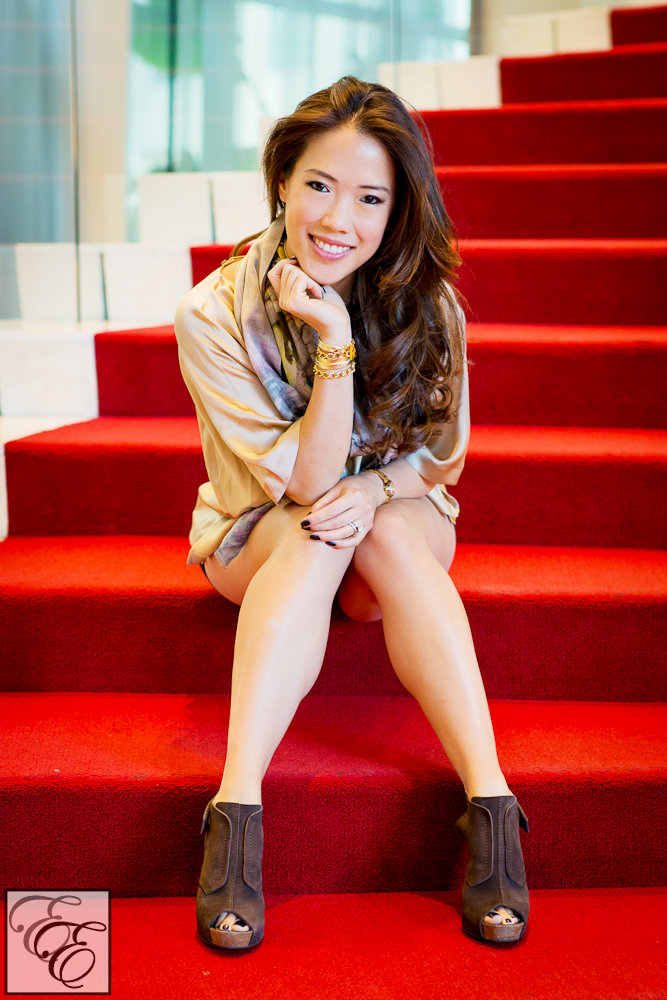 I was so, so in love with this plush, intensely-red carpet. Truly befitting of Hollywood!
I had a blast shooting here, and a small part of me wishes that San Francisco had ostentatiously glamorous places like this. It was fun to live a day of the LA lifestyle, though!
So, does your daily fashion reflect how you're feeling? Do you think that your style helps set your mood for the day?
xoxo,