This is the third episode of the Winter Wardrobe series, presented in collaboration with Nha Phan. Check out her Tumblr blog for couples photography of the outfits that I'm featuring! (Check out the first and second episodes, if you haven't already.)
One of the most sophisticated looks for winter is dressing completely in white. On the runway, models rock sleek monochromatic, modern looks. On the streets, dressing from head to toe in white – from stark optic white to creamy winter white – is an attention-riveting fashion statement that stands out in contrast to the colors of surrounding life.
The fashion principle of not wearing white after Labor Day (early September) is, thankfully, outdated. In the olden days, it originated out of practicality, but it no longer applies. As such, I enthusiastically encourage you to try out an all-white look for the winter, as I have below!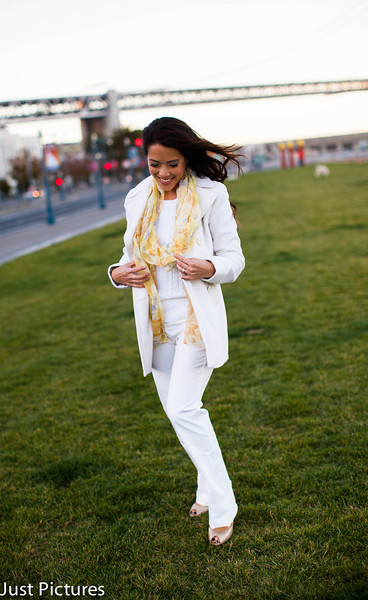 L'Wren Scott scarf
Kenneth Cole winter white classic wool pea coat (similar MK option)
525 America white knit 3/4 sleeve sweater
Theory white Max C slacks (black version)
Cole Haan gold peep-toe pumps (similar option)
My favorite way to stay warm in windy San Francisco is with a heavy wool coat. Because of that, I've collected several of varying colors and lengths over the years. My everyday jacket is a black Kai-Aackmann military style coat (similar navy blue option here), but every so often, I like to pull out this creamy double-breasted pea coat to counter-balance the predominant winter coat palette of black and dark shades of blue and grey.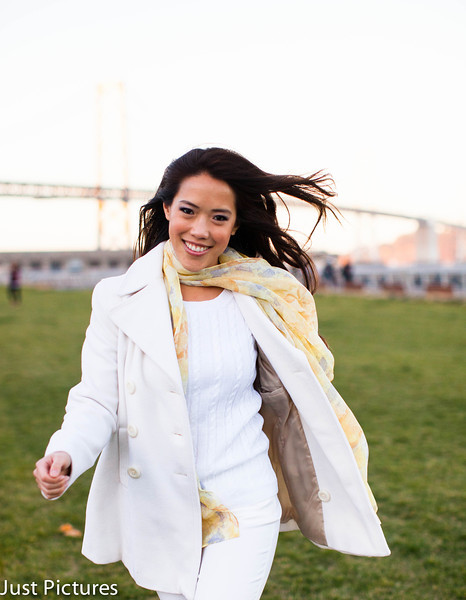 The L'Wren Scott scarf was a lovely gift from a Fashionista conference (Making It In Fashion) I attended in LA, at which L'Wren Scott was a guest speaker. It is a cheerful, diaphanous yellow floral scarf with splashes of warm grey, and the long length flutters dramatically in the wind when draped loosely around the neck. I love it!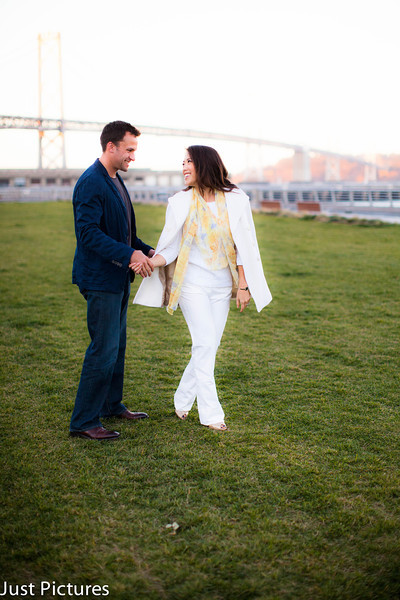 Theory pants are a good fit for those of slimmer stature (also good for taller heights; since I'm 5'3″, I have to significantly hem my Theory pants) and are made of a stretchy cotton-spandex blend that lends a flattering fit around the hip and posterior area. Theory is one of my top choices for a dress pant if you have a more slender and/or petite build.
Dressing in all white and gold made me feel glamorous, and as you can see, lends a lovely romantic air to our couples photos. So are you inspired? 🙂 How will you incorporate white into your winter wardrobe? Please share!
xoxo,