Happy Labor Day weekend! Hope you've been enjoying the end-of-summer weather and relaxing, whether you're taking a short weekend trip or staying at home. We've been doing some traveling recently, so we decided that hanging around the area would be the best. So far, we've had some great times catching up with dear friends, ranging from an all-night electronic music event to laid-back drinks at local lounges.
As a contrast getting dressed and dolled up for the nighttime events, a simple, natural look for day was the most appealing to me. Here's my fresh-faced 'no-makeup' look, along with a few closet staples, for a weekend brunch date.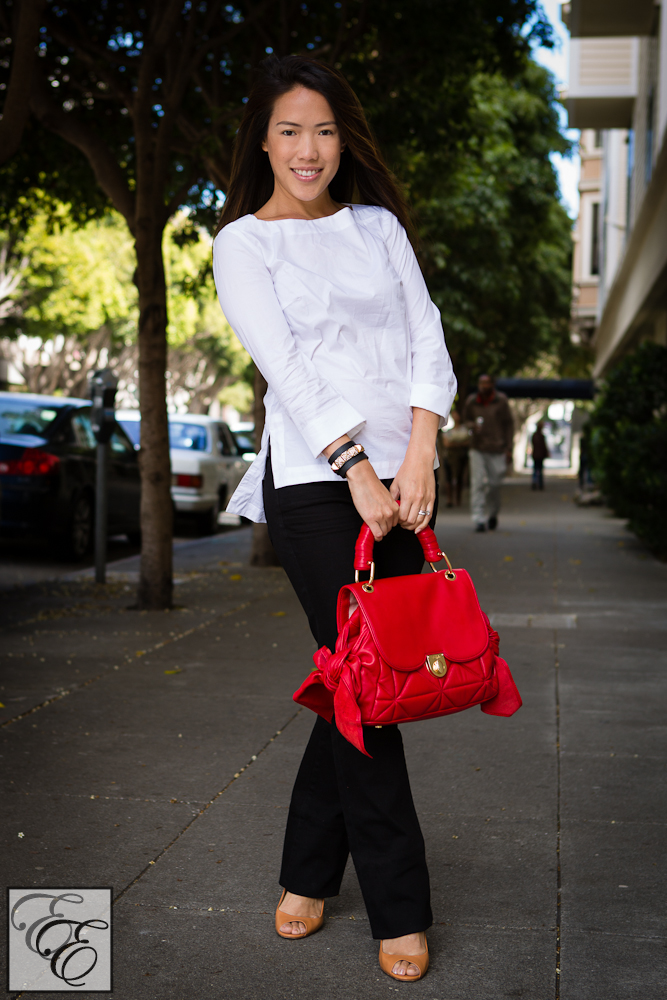 [Trina Turk white cotton boatneck top,
J Brand black demin jeans,
Ann Taylor pumps (similar option here),
Zac Posen quilted bag,
and Kenneth Jay Lane black leather studded cuff]
All it took was a morning shower and blow-out (with
this
awesome Conair dryer-and-brush styling tool), a light brushing of makeup (more details below), and a quick slip into three versatile neutrals: a fuss-free cotton boatneck top, boot-cut black denim, and tan peep-toe heels peeking out from under.
What I love about the outfit is that it's low-maintainance and ridiculously comfortable (all about stretch fabrics!), but it looks put-together. The top is by one of my favorite designers, Trina Turk, an LA-based designer specializing in luxurious and well-made pieces in stand-out patterns and colors. If you're in a shopping mood, check out their summer sale going on now. There's some beautiful, bright picks to carry fun, happy colors into your fall wardrobe, such as this adorable sorbet pink-and peach 3/4th-sleeved jacket.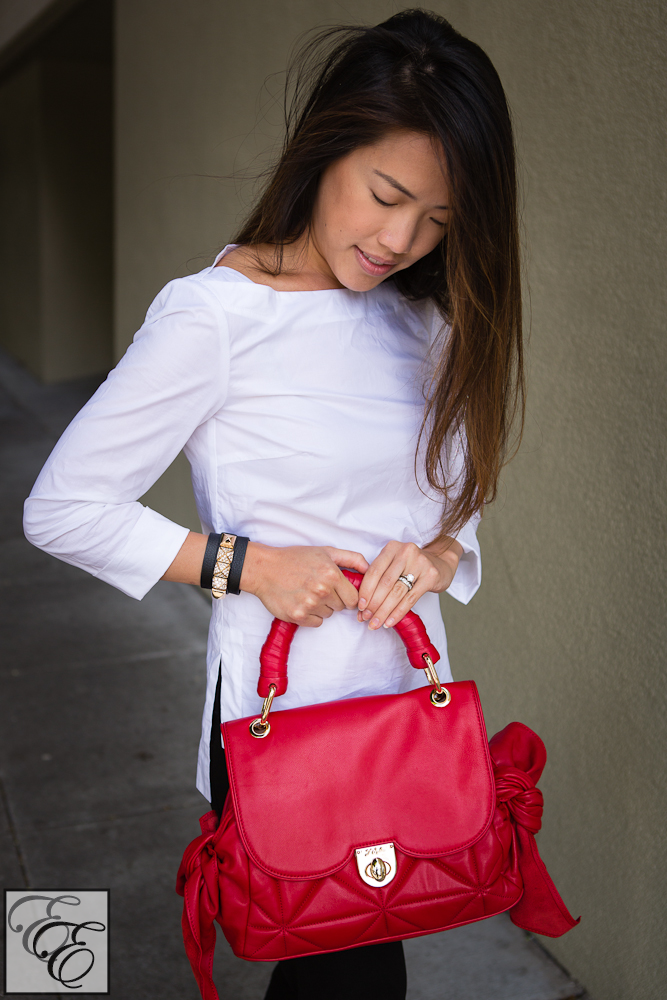 Since my clothing pieces are pretty simple, I added a little edge with a black leather studded cuff by Kenneth Jay Lane, and a big punch of color with a darling Z Spoke Zac Posen leather arm bag. Rich cardinal red and caressingly soft, it added the perfect touch of fun and femininity to my look. In particular, I adore how the side bow ties are evocative of Valentino.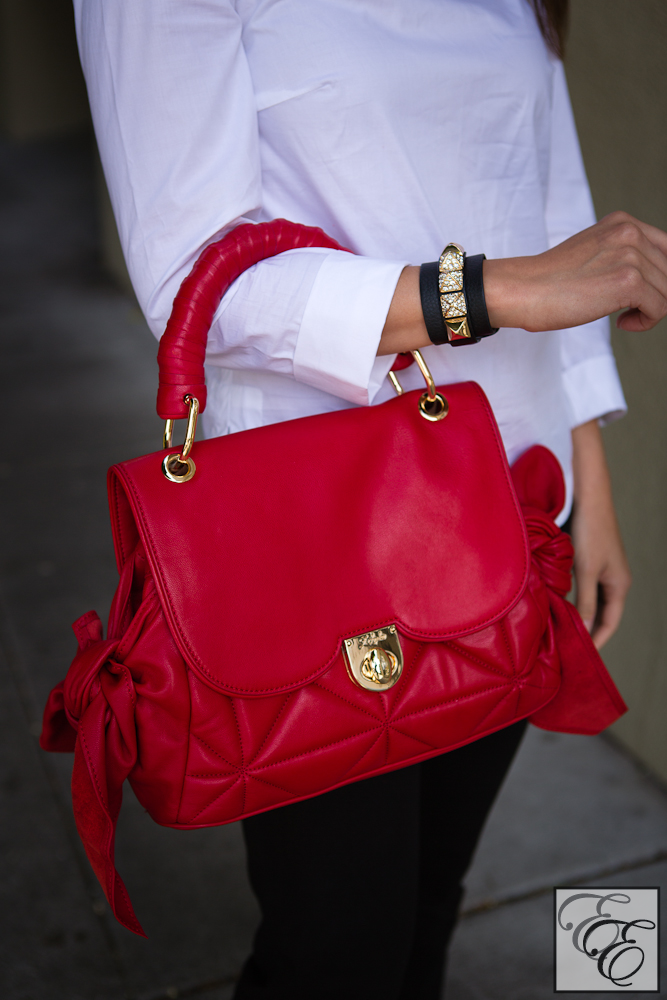 [Red leather and gold-tone hardware is a beautiful and classy combination.]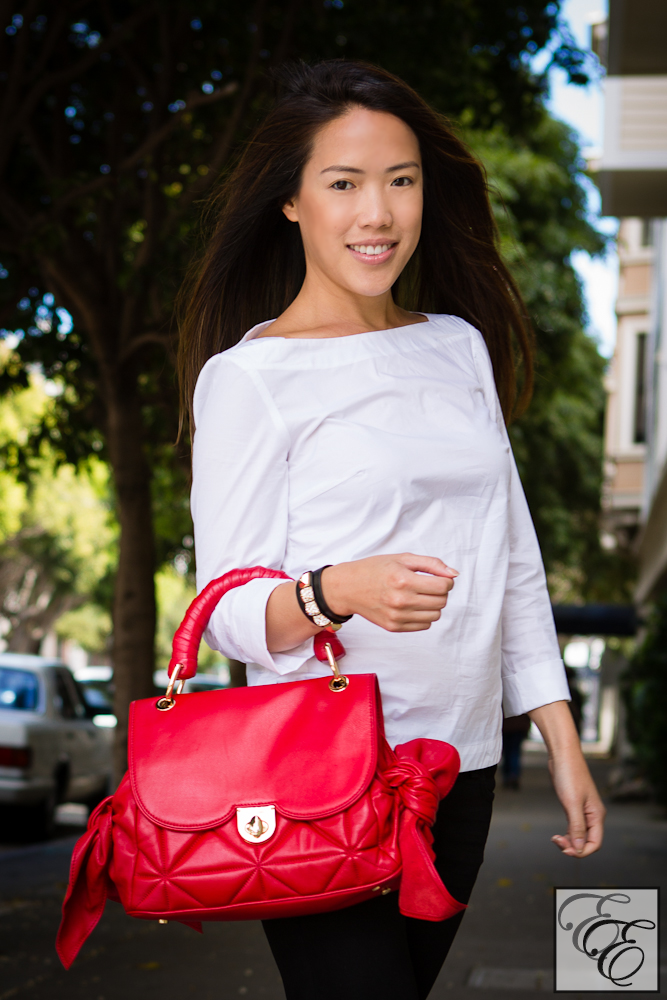 For my 'no makeup' look, I started out with my daily routine of Neutrogena moisturizer and ultra-sheer sunscreen. After a few minutes to let it soak in, I added Smashbox Photo Finish Foundation Primer and brushed on my favorite, most blendable and light-feeling foundation, Georgio Armani Luminous Silk Foundation (#6). I use a few other foundations in rotation, I've found this particular one to be the best for coverage that gives a flawless look, and yet does not look visible or caked onto the skin (apparently due to the unique formulation of flat molecular structure that creates a thinner layer than other, spherical molecular-based foundations).
I lightly sculpted my cheekbones with Tom Ford blush in Frantic Pink (a gorgeous medium pink tone with subtle gold tone), lightly defined my eyebrows with Laura Mercier Brow Definer in Warm, and gave my lips a finishing touch with a lovely nude color, Rouge D'Armani in 100 and Gloss D'Armani in Beige 103.
I put absolutely nothing on my eyes… but there is a secret story about how I make them stand out, to create a balanced but entirely natural look. Curious? I'll reveal my secret in a few weeks! 🙂
Have a lovely remainder of the weekend, and I'll be in touch soon with an exciting story and a special offer! Can't wait!
xoxo,