I was sitting in the Bangkok airport, en route from Cambodia (overflowing with both majestic temples and frenzied mosquitoes) to Phuket. Among so many stands and storefronts packed with vibrant woven cloths, dried fruits and snacks, and Thai knick-knack souvenirs, my eye was drawn to an upscale, soothingly low-light oasis of an dark-wooded recessed store.  Stacks of small gold and jewel-toned packages drew your eye upwards through the backlit shelves. This was Harnn, a Thai-based luxury lifestyle brand specializing in natural ingredient-based skincare products.
I made a beeline, and happily sniffed and rubbed my way through their extensive collection of skincare and aromatherapy products. A thoroughly moisturing and silky hand cream with a light floral and verdant scent captured my attention.
The Jasmine and Pomegranate hand cream is fortified with vitamin C, E, tannins, and rice bran oil to help moisturize dry skin. The rich, silky texture visibly smoothed my hands and the delicate scent was so relaxing, it was like indulging in a mini spa treatment.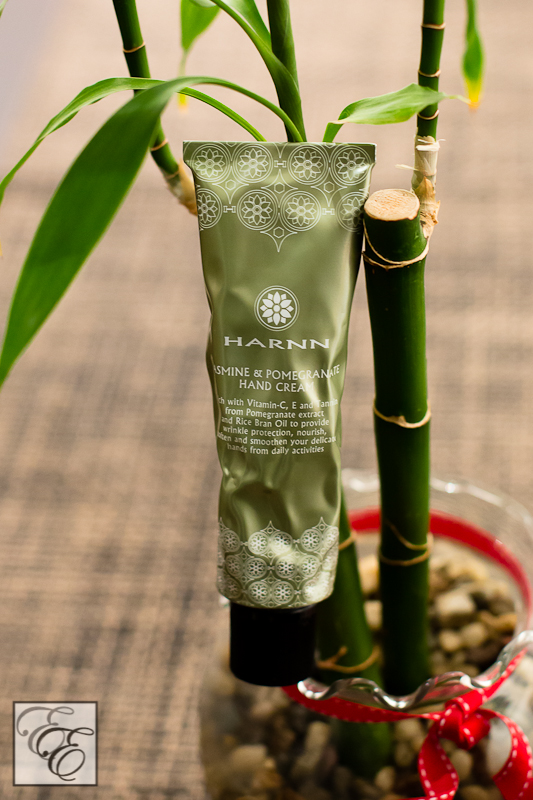 A tube of it came home with me, which I enjoy every evening before going to sleep. Best souvenir to remember an incredible trip, the highlight being a magical wedding ceremony in Phuket with some of our dearest friends and family!
xoxo,