I'm delighted that it's starting to feel like fall; I'm looking forward to cocooning myself within warm, cozy jackets! This season, we have a marvelous spread of looks and colors to choose from, from long minimalist sheaths, belted and flared feminine coats, draping capes, and on-trend layers.
My recommendations are mostly chic interpretations of timeless classics. I favor silhouettes that:
flatter, not swallow your frame,
will last multiple fashion seasons,
are both stylish AND functional, and most importantly,
make you feel great and stay warm!
[Update on the Scandal collection that I posted about here: Unfortunately, the quality and construction of the pieces I featured do not match their price point. The coats lacked either in thickness, or durability of fabric (e.g. the pressed wool will show wear easily). Also, they fit poorly. The stiff fabric – namely, in the over-sized collars and waist area –  added a significant amount of unflattering bulk to my small frame, completely swallowing it up.
The Scandal collection at The Limited may reflect the fashion aesthetic of the show, but I cannot recommend the pieces for the price. Your money is much better spent on the established, high-quality brands listed below!]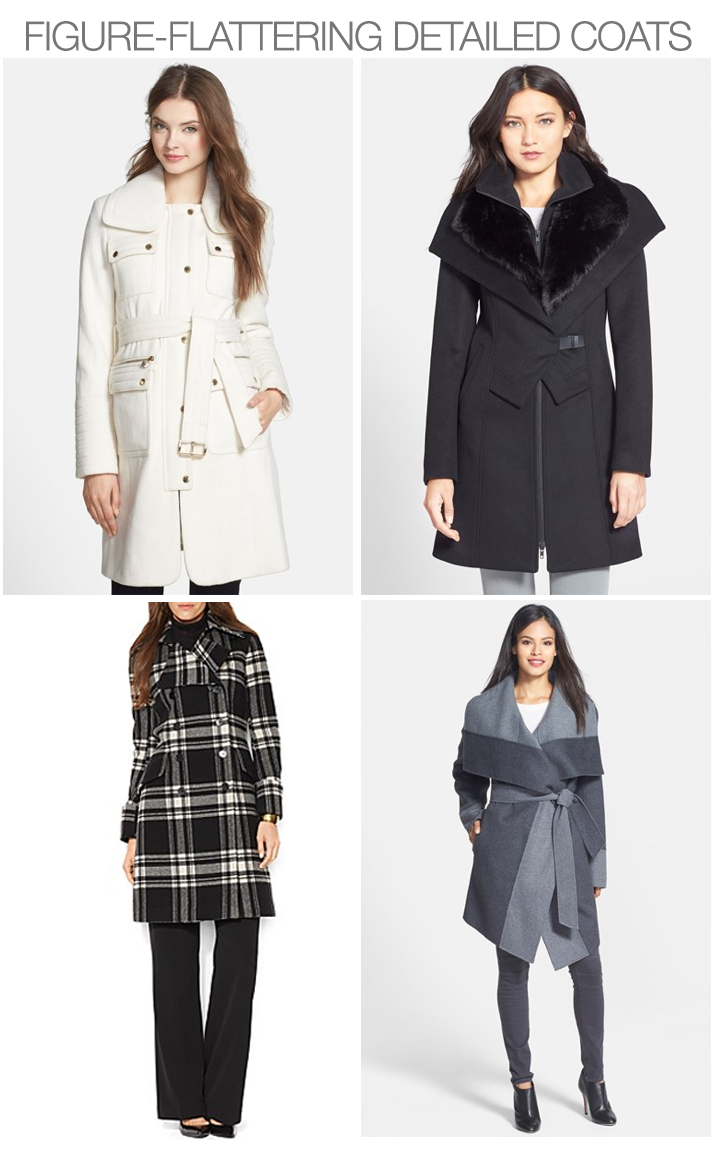 Figure-Flattering Detailed Coats
These coats are classic choices for your closet, with beautiful, distinct detailing that imbues them with plenty of modern allure.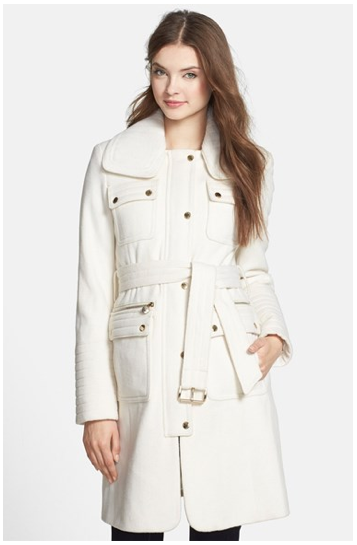 Laundry by Shelli Segal Belted Wool Blend Trench Coat ($198) – Winter white is the epitome of elegance, especially when it's liberally gilded with gold. This coat is immaculately embellished, with military-like polish, and a belted-in waist. You're sure to stand out in this, season after season.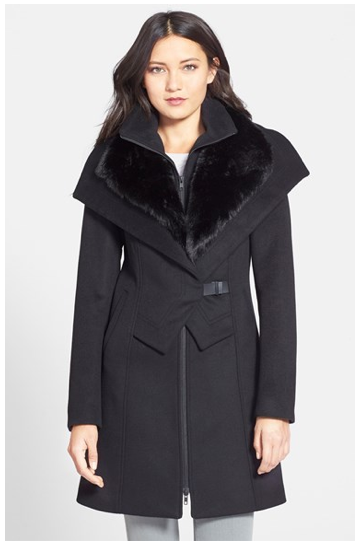 Soia & Kyo Faux Fur Trim Wool Blend Coat with Inset Vest ($475) – This is a beautifully dramatic coat with multiple layers. An inner collared vest bumps up the cozy factor, as does the detachable plus faux-fur collar. Slant pockets and the cinched waist are sleek and flattering. The coat is a great candidate for a pear-shaped body, with the stand-out shoulder balancing out the lower silhouette.
Ralph Lauren Plaid Wool Blend Coat ($498) – Plaid, rendered in a sophisticated duo-tone, is huge this season, and I'm loving it! This classic coat has a beautiful fit, and an appealing print that is forgiving for a number of body types, as it draws the eye to the pattern, rather than one's silhouette.
Diane von Furstenberg 'Mackenzie' Two-Tone Cozy Coat ($628) – This duo-toned coat – a gorgeous example of creative colorblocking – is luxurious in both look and feel. One could happily wrap themselves up in this for any occasion, from casual to couture, and look effortlessly stylish. And it's reversible! Love, love it.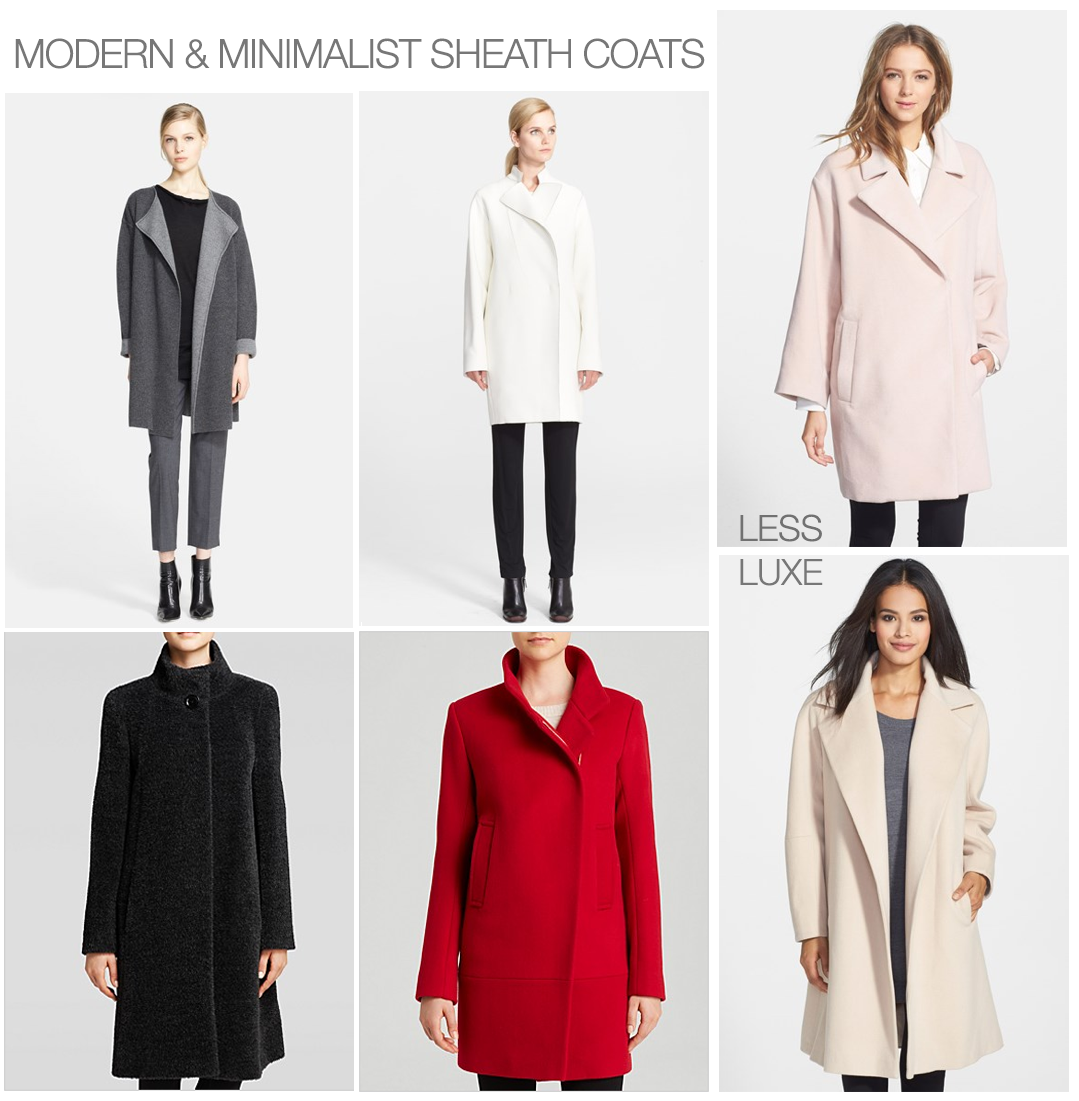 Modern & Minimalist Sheath Coats
These cocoon-style coats are perfect for the woman who enjoys simple, sophisticated, unfussy looks. She can wear them up or down, with jeans or silk, boots or stilettos.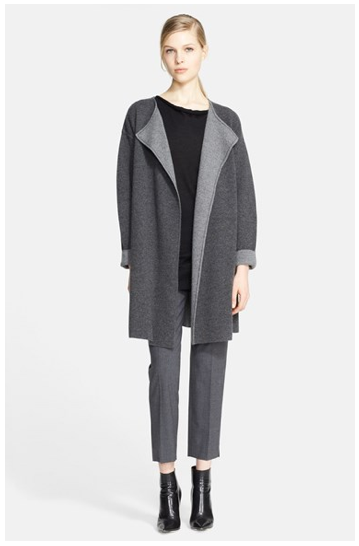 Nordstom Signature Two-Tone Cashmere Sweater Coat ($795) – Wearing this thick, luxurious cashmere coat is like being wrapped in a bear hug by your favorite stuffed animal. It is reversible for a lighter or darker look, and rolling the cuffs gives a lovely bit of contrast.
You could belt this with a wide leather belt, but a huge allure of this is casually slinging it over an oversized tunic sweater and skinny jeans. If you do so, have fun feeling like an off-duty model!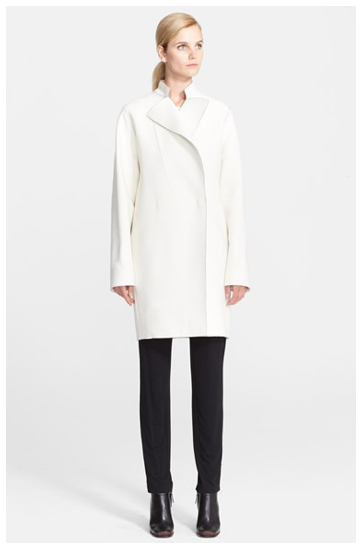 Cedric Charlier Oversize Felted Wool Blend Coat ($1,755) – This is impeccable, precise perfection for a woman who loves luxury and wants a standout piece that highlights her features. It's clean, sleek, and pleasingly minimalist. Perfect for haute-couture lovers.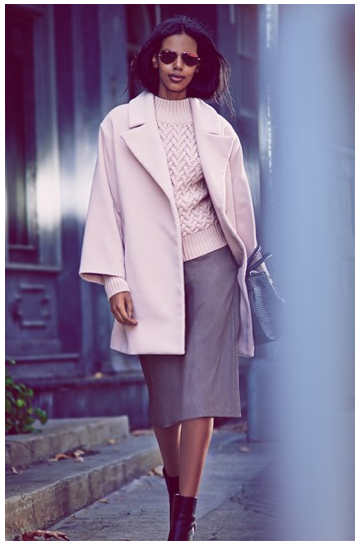 Vince Camuto Drop Shoulder Topper (LESS for $259) – This relaxed, oversized androgynous cut is versatile and comfortable, and conveys a nonchalant confidence. The pale pink is a lovely feminine touch, and  the deep side pockets are perfect for sliding your hands into, as you stride down the street.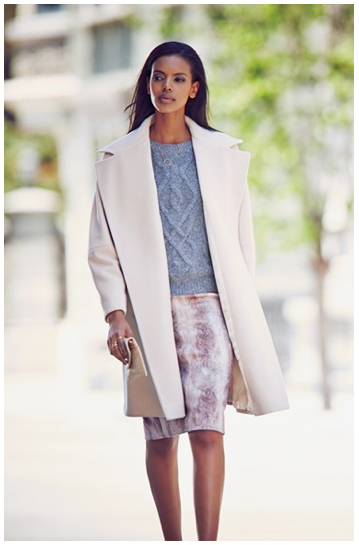 Fleurette Loro Piana Wool Clutch Coat (LUXE for $1,095) – This stately coat still has a relaxed feel, but is more refined with its wider collar that continues into a loose drape down the front, and its tapered sleeves. The subtle A-line silhouette adds a ladylike swing to the coat's motion, and the beige-tinted cream is a neutral suitable for all seasons.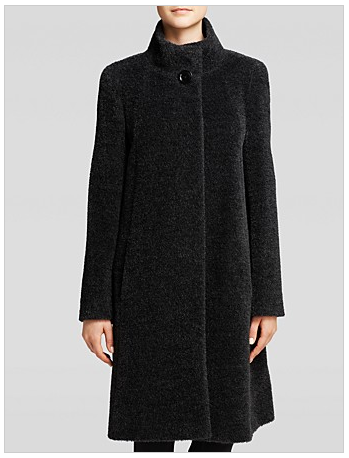 Cinzia Rocca Due A-Line Alpaca Coat ($1,250) – Cinzia Rocca coats are minimalistic luxury, the type of coat that you can pass down between generations without it ever going out of style. This is a fairly basic coat, suitable for someone who wants a long-lasting closet staple. Since an oversized button at the neck is the only embellishment, I'd add visual interest with contrasting leather gloves and/or a colorful scarf.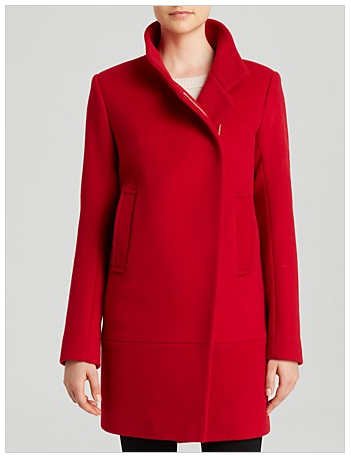 Diane con Furstenberg Asymmetric Zip Front Coat ($498) – The notched narrow funnel collar looks great when left open, and keeps your neck deliciously warm, when closed. This vibrant coat comes in both a vivid red and azure blue, and is a cheerfully-warming note in the winter.
Feminine Fit-and-Flare Coats
These coats are feminine but not girly, flirtatious, and perfect for reflecting a classic, ladylike style, aka Kate Middleton.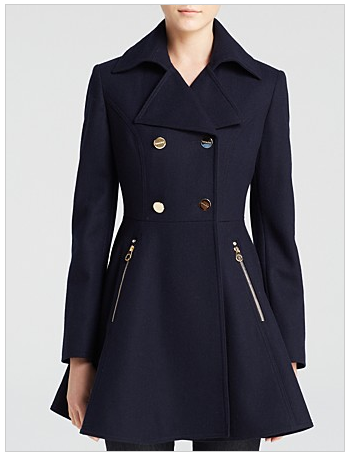 Laundry by Shelli Segal Skirted Wool Coat (LESS for $288) – The combination of the exaggerated A-line skirt flare of this coat, the deeply-notched collar, and the shiny chrome detailing, is beautifully feminine and smartly arresting. This would be a gorgeous complement to an A-line dress, and is a great way to feel fun and flirty, even when bundled up. 😉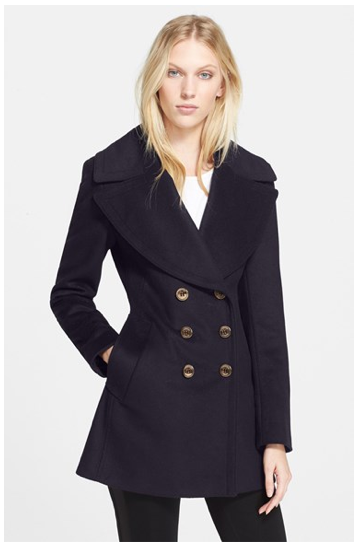 Burberry London Wool and Cashmere Coat (LUXE for $895) – This is the 'grown-up' version of the coat above. It feels a bit more mature with the wide, scooped collar, burnished buttons, half back belt, and moderate flare. It's all about understated sophistication.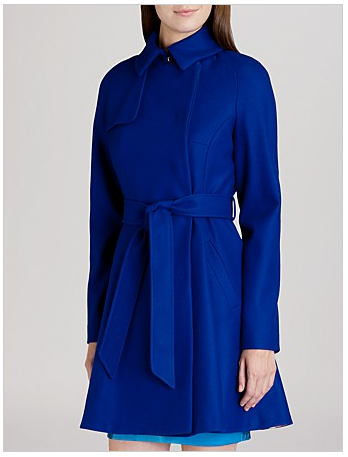 Ted Baker Albine Trench Coat ($525) – Do you remember Charlotte from 'Sex and the City'? This would definitely be her coat. It's feminine, timeless, elegant, and has a lovely warm royal blue tone. This is a great alternative to a black winter coat, and has that refined East-coast feel.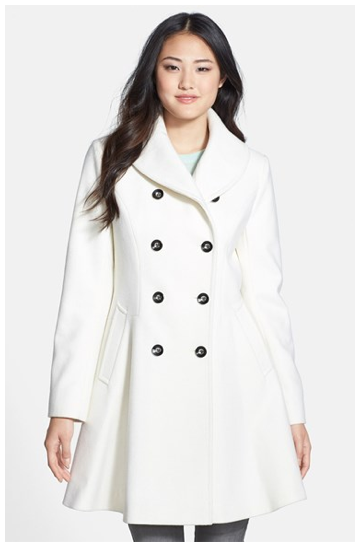 Via Spiga Skirted Wool Blend Coat ($198) – With my love of winter white, I found this fitted but flared coat completely irresistible. It would be utterly perfect with a sweater dress, tights, and over-the-knee boots. So cute!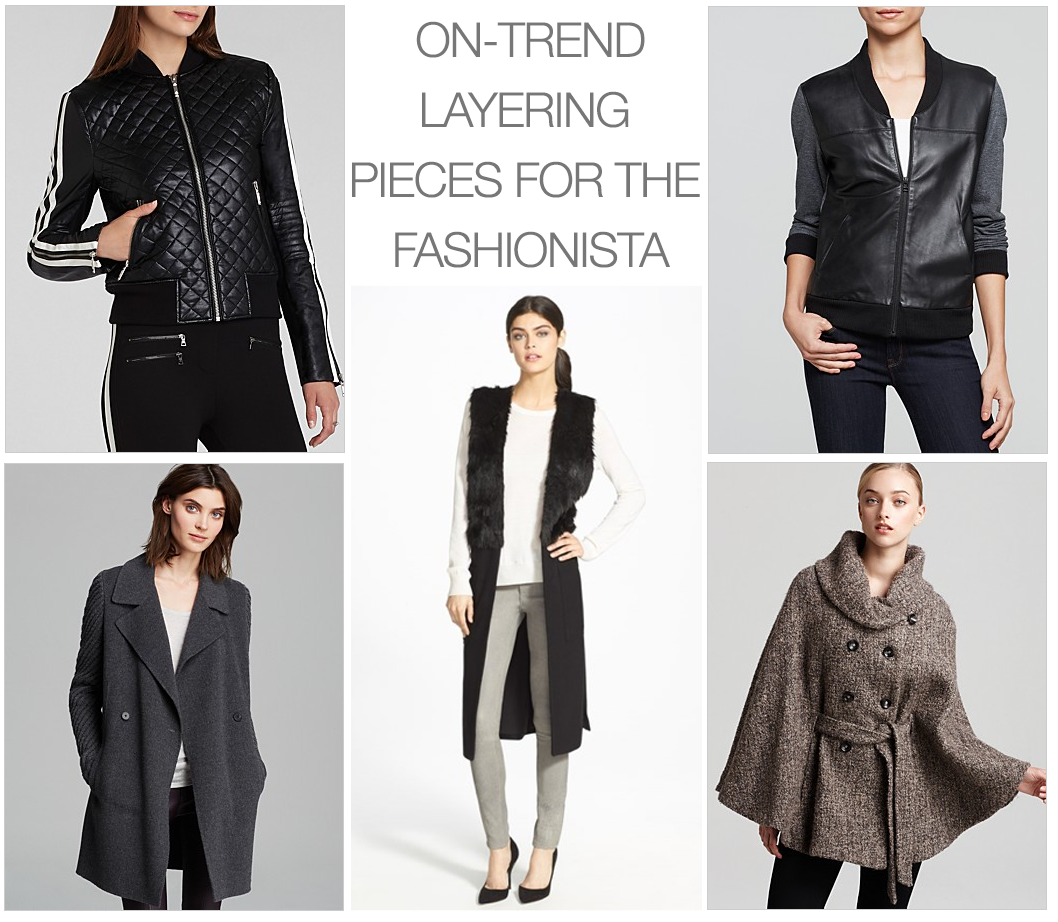 On-Trend Layering Pieces for the Fashionista
These pieces are the types that you'll see showcased on fashion blogs, on instagram, in fashion magazines… They may not be pieces that will be around in a decade, but they're a lot of fun to wear if you want to stand out fashionably.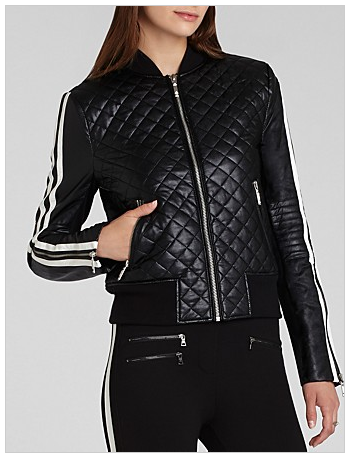 BCBGMaxAzria Morgan Quilted Faux Leather Jacket ($498) – This is the ultra-luxe version of a bomber jacket, with moto detailing in the sleeve layered with sporty stripes, and a quilted body evocative of Karl Lagerfeld and Chanel. I think Karl would quite approve.
This is such an embellishment-detailed jacket, it would look great against an all-black look with it as the showcase.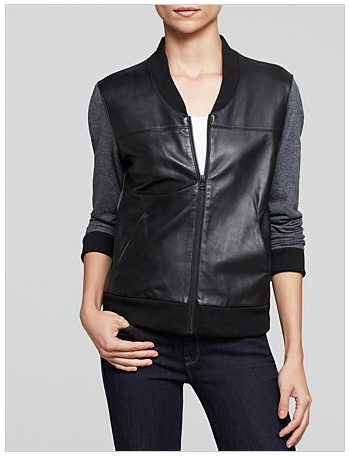 AG Adriano Goldschmied Channel Leather Bomber Jacket ($325) – This is a more subdued, luxe-looking version of the bomber jacket. It is made of a lovely combo of soft lambskin leather and grey cotton knit sleeves. A downtown girl look with just the right amount of attitude and edge.
Vince Double Breasted Knit Sleeve Coat ($745) – This knit coat, like all of Vince's offerings, has a relaxed but flattering fit, and feels luxuriously comfortable. It has that off-duty model feel, similar to some of the cocoon coats above, and the knit sleeve detail is a lovely addition.
Have fun layering this outside of cropped sweaters on top of buttoned shirts, or underneath fur or leather vests. Contrast short against long, and mix up the materials!
Trouvé Faux Fur Sleeveless Topper ($148) – It looks like this is currently out-of-stock, but I'm hoping it'll be restocked, since it's still in the pre-order stage. This is another great layering piece that already stands out with its knit and faur-fur combination.
Calvin Klein Tweed Cape ($274) – Capes are a coveted silhouette of the season, and there certainly are a lot of options available. So how does this stand out?
A belted waist gives it shape, without sacrificing warmth, with arms fitting through draped sleeves. This is in contrast to styles with long front-slits; the arms fit through these, which make the coat much more airy (and much less functional against the wind). This cape also has hidden side-slit pockets, which are key for burrowing your hands into. Lastly, the loose funnel neck frames the neck and face beautifully, but can be drawn closer for added warmth.
Those are my top coat choices for the 2014 Fall and 2015 Winter seasons. I hope you found this useful as you consider your cold-weather choices! Did any coat stand out to you, or represent your personal style?
Have fun staying warm in style!
xoxo,