There's nothing like soft warmth gently caressing you in a gentle, fuzzy embrace. I know that fur is a controversial issue, and I have consciously selected faux fur coats for my winter wardrobe, but there are a few exceptions that I'll make, and this is one of them.
My top pick for a truly luxurious season-transitional piece is Theory's winter white Maritza fur-lined cardigan. This is one wrap-around that I want to bury myself any time of day, whether it's while curling up on the couch, walking on a brisk, nippy day, or as a substitute for a stole at a formal black and white event.
The longer length is flattering for all body types, and the side pockets are at the perfect height for my hands to rest within. I have apparently inheirited poor circulation from my mom, so I'm always looking for places to warm up my hands.  (J, my husband, does the trick just as well, but I can't consider him as a cold-weather accessory, to be featured here.) 😉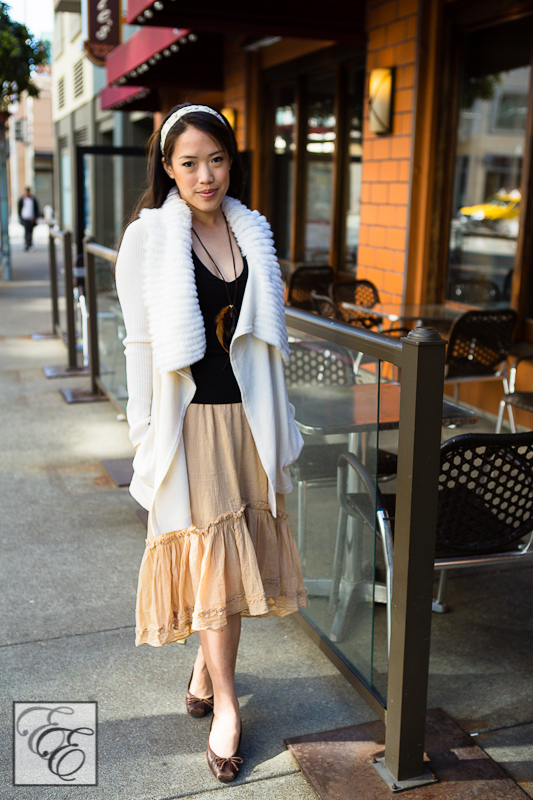 [Theory cardigan, Maxstudio skirt, Jessica Simpson ballet flats, Forever21 feather necklace]
The wool cardigan's versatility is shown here, as I chose to dress it down with a flirty, bohemian look of a simple black v-neck tank top, a ruffled 3/4-length skirt with a slight hi-low hem that causes the skirt to float when I walk, a tribal-like feather charm necklace on a brown leather cord, and comfortable, well-loved leather flats.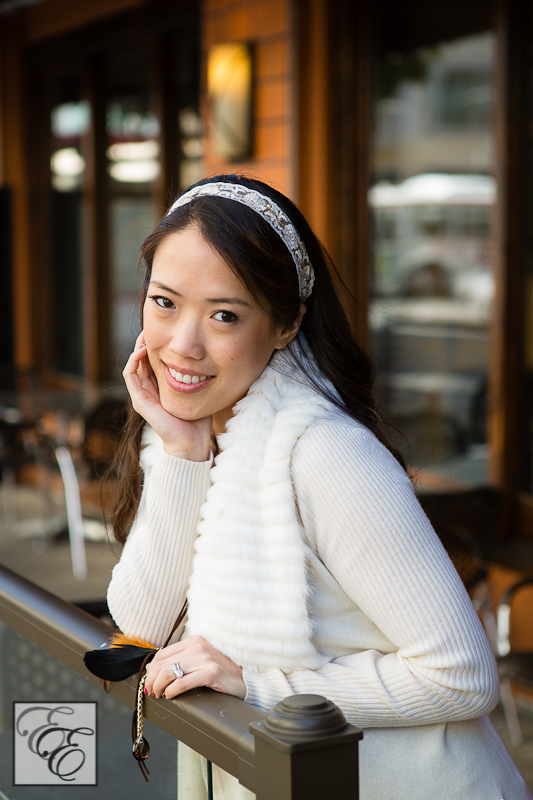 The wide, low-profile fur collar is such a feminine, soft touch that's the focal point of any outfit. I'm quite tempted to go head-to-toe creamy white. I imagine the cardigan wrapped around a light, white turtleneck, cream slacks, and pink/nude accents such as pastel pearls and a simple pump.
As to where the photos were taken, they were in front of Gussie's Chicken and Waffles, a surprisingly elegantly-decorated Southern restaurant in the Fillmore district. Lined with dark red-browns and black angular geometries and lit with warm yellow lights, this comfortable restaurant is known for its chicken and waffles – regular waffles, cornmeal waffles, and signature sweet potato waffles(!)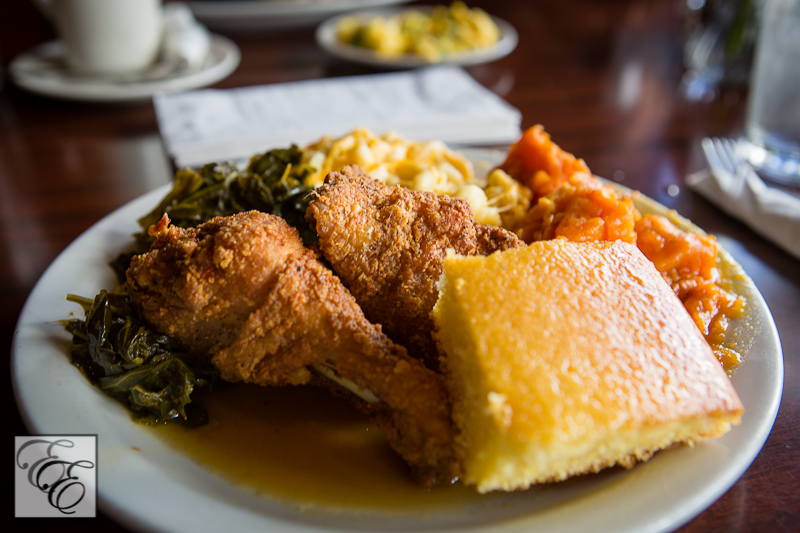 Although I was tempted by those crisp sweets, my desire to try a little bit of everything led me in the direction of an entree called the "Taste of the South", a heaping plate of crackling-crisp chicken (the skin is like incredibly crunchy!), honey cornbread, collard greens with bits of ham, mac and cheese – noodles liberally melded with thick strings and chunks of cheese, and candied yams that more than held up to their dessert-like name.
The outfit and the meal are equally self-pampering and decadent. The purr-fect way to celebrate a lovely long weekend. *mew*!